---
Exploring a World of Wonder
By Neal Broverman
Originally published on Advocate.com January 04 2013 9:00 AM ET
If you've seen RuPaul's Drag Race, Million Dollar Listing, Party Monster, The Fabulous Beekman Boys, The Eyes of Tammy Faye, or Tori and Dean, you know the oeuvre of World of Wonder. The Los Angeles-based production company just celebrated 21 years of wacky shows, movies, and documentaries and is still led by its dynamic and flamboyant founders Fenton Bailey and Randy Barbato (shocker: they're both gay). Working with photographers who've captured some of their muses, from Chloe Sevigny to Chaz Bono, the guys put together a huge coffee table book about WOW: The World According to Wonder. We caught up with Bailey and Barbato to talk about the past two decades, their hilarious WOW Report, celebrity, failure, and LaToya Jackson.
The Advocate: So, what was it about 21 years that made you want to look back?
Bailey: It wasn't 21, it was going to be 20. But it took three years to put this together! That's one reason. Twenty-one also seemed good because we're old.
Barbato: Also, in general, if you don't write a book about yourself, who's gonna? Number two, I feel like we have a different Hollywood story to tell that might be inspirational to people. Our success is based on failure and so much of what we do is perceived as marginal and out of the box. So, we felt motivated to share that.
Bailey: The other thing was, on one hand, yes it's us telling our story but the idea of it was, by having Tony Craig and Idris Rheubottom take these pictures of all these people we've worked with over the years, it was to say thank you to them; this extraordinary collection of people who've been in our life.
Barbato: To celebrate our world of wonder.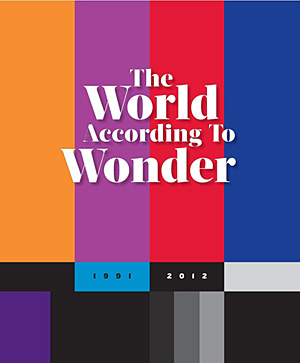 Some of the most interesting people are spread through the book's pages.
Bailey: It's this mixture; you'd never expect to find this one group of people under one roof.
World of Wonder started with cable access, but you guys knew each other way before that. You met at NYU and formed a rock band, right?
Bailey: We left the story of our band, the Pop Tarts, out. Maybe for Volume II. We met at film school and, at the time, making films was very difficult. Naively, we thought it would be easier to make pop music than movies. So we thought we'd fund our films with a string of pop hits.
Barbato: We failed at both.
Bailey: There were no pop hits and no movies.
Barbato: But it was a fabulous time. We were in the graduate program, living in the East Village and four blocks from the Pyramid club on Avenue A. So a lot of times we'd cut classes and go to happy hour at the Pyramid. That was the beginning of our real education.
When you started making shows and, eventually, movies, when did you think, We could actually do this and make a living at it?
Bailey: Never.
Barbato: We still don't.
What project have you done that you feel hasn't gotten the attention it deserved?
Barbato: All of our projects (laughs). That's hard. Part of me thinks, all of the projects we've never made, But, that's not it.
Bailey: The truth is, if you're in TV, or even in pop culture, you want to reach as broad an audience as possible. And one of the things we've always run into is being told. 'That's nice but that's a very marginal idea, or niche.' In general, there's an assumption when something is niche, only a few people are going to be interested in it, but I don't think that's true. In pop culture, the more specific a thing, the more likely people are going to be interested. Generally, people know much more now because there's so much more media and, as a result, they're interested in things they don't know about. It is a continuing dynamic in our work; presenting ideas that executives say are too niche. I think audiences are much more curious than we give them credit for.
Was RuPaul's Drag Race seen as too niche?
Bailey: This is a show we pitched for about 10 years. It wasn't until Tom Campbell came here and headed up development that he suggested we take it out. We were like, 'No. We've taken it everywhere. To Logo a million times. No one's going to buy this show." We've been told no one wants to see drag queens on TV, or that's so gay and very niche and marginal. We even were told that at Logo. So it did take a long time. If it wasn't for Tom Campbell, we would have given it up.
It wouldn't work without RuPaul. You actually worked with Ru at the beginning of WOW. How do you guys maintain successful relationships so long?
Barbato: We have a history; we're sisters. Even over 20 years ago when RuPaul would walk down the street in a jock strap and boots, we could still have really exciting and intellectual conversations. He's always been in our soul family and always been a star. The history just makes all that richer. Back then we used to hang out in the East Village and he wore a jock strap. Now, we hang out on Hollywood Boulevard and he shows up in Yves St. Laurent and has his own office on the top floor of World of Wonder. And he's exactly the same. Same with James St. James, one of the co-editors of the WOW Report, and Stephen Saban of the WOW Report. We know them from the club days.
Bailey: That speaks to why we wrote the book. The secret to longevity is refusing to go away. That was the message we wanted to share.
Speaking of James, the WOW Report is so fun and really reflects your taste. How did it start and how did James get involved?
Barbato: The WOW Report started almost 10 years ago. It was just a list of 10 things we saw as interesting.
Bailey: Like an email blast.
Barbato: It very much reflected the same sensibility of what the Report is now, but it wasn't a blog. Even back then, when it was just an email, we had this vision of creating this online destination that reflected our sensibility and would attract an audience with similar sensibilities. It took a while to get to that place. That was the original vision and it just seems natural to invite Stephen Saban and James St. James to curate it. They were, again, people who we connect with. And they're brilliant writers. The thing about Stephen is when he was a nightlife editor at Details, we were always trying to get him to write about us when we were in the Pop Tarts and he never did. So the ultimate solution was to hire him.
Reading the WOW Report, it looks like you guys have so much fun in that office on Hollywood Boulevard. How do you get anything done?
Barbato: Right now, we're wearing caftans and wigs (laughs). It's a really special place filled with special people. There's a great vibe. Every now and then Fenton and I have to be grumpy to keep people in line. That energy is the World of Wonder. It's all these unique people who work here and it gets a little crazy sometimes.
Would you ever consider a reality show about WOW?
Barbato: They'd have to pay us a lot of money. Talk to us in about five years. When we have plastic surgery.
With your many projects, who was the most fun to work with?
Bailey: There are two extremes almost. The very first show we did was a public access show and we had John Sachs and Dean Johnson. They were both these amazing characters and artists. It was the downtown, East Village scene. Madonna wasn't the only person to come out of that. It was such an amazing, creative time and to have the luck to be there then was just incredible. But fast-forwarding to the present, with the film we just finished, The Editor's Eye, we got to meet and interview all the fashion editors who are still alive that worked at Vogue. I know Grace Coddington is getting a lot of attention and I love it, but what's interesting is Polly Mellen, Carlyne Cerf, Camilla Nickerson, Jade Hobson; these are all incredible characters. Whether it's 20 years ago or now, the world is full of these interesting people. I don't think there are boring people in the world, everyone's interesting, it's just finding the frequency.
What's next for you guys?
Bailey: LaToya Jackson!
Barbato: We're working on a show with LaToya and we're very excited. And we're talking about doing a Pop Tarts documentary. It's really about fame and we might use our failed attempt at pop stardom to talk about fame and the big lie and the disease of celebrity.
Bailey: Celebrity is the engine of our culture; it's always fascinated us, but we never knew a way in. Then we realized, our own massive failure as wannabe celebrities is the way in. It's early. It could be a giant, self-indulgent wank.
The World According to Wonder (World of Wonder Books, $110) is out February 5.
---
Links:
[1] http://www.advocate.com/
[2] http://worldofwonder.net/
[3] http://www.amazon.com/World-According-Wonder-Fenton-Bailey/dp/0985583401
[4] http://www.advocate.com/arts-entertainment/books