---
She Hears Dead People, Even Gay Ones
By Denise Warner
Originally published on Advocate.com January 08 2013 6:00 AM ET
Concetta Bertoldi has a gift, and whereas some people would squander or exploit a gift as special as this, Bertoldi is doing a world of good with it. Having a warm heart, open arms, and her brother's spirit guiding her, Bertoldi listens and learns from her gay brother Harold, a man who died of AIDS 21 years ago. That's right, you heard me. She hears dead people. Crazy as it sounds — and as much popular culture might paint mediums, psychics, and clairvoyants as charlatans — Bertoldi's story is different and her believers are many.
Bertoldi, a New York Times best-selling author of three books including Do Dead People Watch You Shower? is a full-time medium with a two-year waiting list and is regularly consulted by members of Britain's royal family, American celebrities, politicians, and others.
She learned from an early age that she had this ability, although unsure what to do with it and scared to tell anyone other than family, she kept it to herself, staying in the proverbial closet about who she was. As a young girl, she says she learned about kindness, strength, and humanity through her (then living) brother Harold, a gay man, who came out to his family at the age of 19 — a brave move, she says, both for those times and for a teen with a Sicilian Italian father. Her father's reaction to Harold's coming-out, she recalls, was impressive. He said, "I don't give a fuck what anybody thinks, you're my son, and I love you, and if anyone has a problem with that, they better come see me!"
Bertoldi adds, "It was then I knew what kind of people I was raised by, and they were beautiful human beings." She affectionately calls her now deceased mother, father, and brother her "God Squad."
Her mother was raised in a Catholic orphanage, under brutal conditions, and never held the horrific experiences she encountered there against God. The family found strength in their religious beliefs and themselves.
"My mother and father were married in the 1950s, she was Irish, he was Italian, and back then it was considered a mixed marriage, and they had their own struggles. But I was lucky, my mother was spiritual woman, and I was raised to trust God and decide for myself what I wanted to believe in. Which works out perfectly for someone who hears dead people." Her father's father had this ability too, so her parents were prepared for it. Bertoldi herself says she was never frightened by her abilities. As a child, her mother would sometimes ask her to help people, if she knew a friend who had lost someone.
But for the young medium, it was her brother Harold ("a beautiful person who was ahead of his time") who finally convinced her to go public with her gift. "Harold was such a good person — he had a friend who went to jail, a black man with two small sons, and my brother raised those boys from the time they were little. He was doing the gay parenting thing before it was even acceptable in society the way it's becoming today."
Harold wasn't without his own struggles. He was attacked by several men one winter night in New York's Chelsea neighborhood. They beat him so badly, she recalls, they broke his leg and left him unconscious, in a snow bank, for dead.
When Harold woke up in a hospital bed, Bertoldi said to him, "I hate that this happened to you, I'm so mad at the people that did this. I hate them! Aren't you angry?"
After looking at a cross on the wall, Harold told her, "If the Lord can forgive the people for what they did to him, then I can forgive these guys for what they did to me." So, no, Harold wasn't angry. He found strength in his beliefs.
Harold died in 1991 of AIDS complications, and, Bertoldi insists, he spoke to her from "the other side" soon after, telling her, "We need you. We need your voice. We need you to deliver our messages."
Bertoldi also knew that she could help people. With her signature keen sense of humor, confidence, and support from both sides, she was ready to do good in the world.
It was then that Bertoldi came forward and in a way came out publicly about her abilities. She was nervous about it. She had a mainstream job as a receptionist, but Harold's message had an impact. So too did her husband, who told her, "Listen, you took calls from the second floor all your life; now you're taking calls from the top floor!"
Despite the husband, Bertoldi says she's "just a half bag of doughnuts short of being gay, " referring to her 50-year friendship with her best friend, Mushy, who is also married.
"Mushy told her third husband, 'If you even think about coming between her and I, you'll go before she goes.'" She says she would never be able to do what she does without Mushy by her side. "There's nobody who knows me better, she knows everything about me, and I'm comfortable and safe in her company. We do everything together, she's involved in every aspect of my work, and I'm very fortunate because she is somebody I can trust. We're each other's family."
Her latest book, Inside The Other Side, is, in fact, dedicated to Mushy. She says her gay friends often tell her that she and Mushy are "as married as you could be possibly be."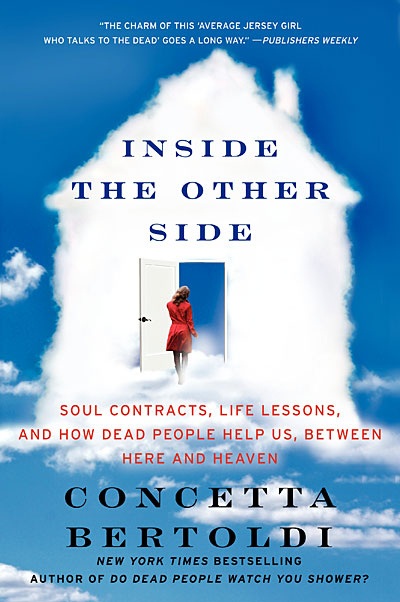 What does Bertoldi want LGBT folks to know? "God wants all of us. He doesn't care if you're gay, straight, bipolar, if it's a suicide death, if you label your religion, if you don't — he wants us all. He created everything on this earth, and he wants us to love each other. It's these man made rules that piss me off."
Bertoldi finds comfort herself in the comfort she's providing for people who are seeking answers, in letting someone know that their loved one is OK, that passing over was beautiful for them, that God loves them, and it was an amazing homecoming for them. She says that was the first thing Harold told her. "He told me he was loved, God loved him, and because he was gay, he was a 'chosen child,' and there were things that he was meant to do while here. He taught us about his lifestyle, about the person he was, and he was letting me know now what it was like on the other side. And also, how it's the complete opposite of what people here on earth would say about it. People here will say, 'If you're gay, God isn't going to take you.' Really? I mean, people really think that. It's so stupid. It's usually motivated by money or some holier-than-thou belief, and I'm telling you, it's just not the way on the other side, and people, all people, need to know this."
And for the skeptics? "Your father is telling me you look exactly like him," she tells this writer. "He's telling me September is a significant month." I do look like my father, and we have back-to-back birthdays in September. Since Bertoldi didn't know my last name, it seems unlikely she could have Googled this information about my father, now dead for 25 years.
Bertoldi, it seems, is best at calming the fears that most of us have — gay or straight — about dying, with her messages from those who have passed.
"They don't want us to be in pain, they don't want us to suffer, they want us to be happy," she says. "They understand all things when they cross over, especially unconditional love.
---
Links:
[1] http://www.advocate.com/
[2] http://www.concettabertoldi.com
[3] http://www.advocate.com/arts-entertainment/books