---
Author Conversation: Talking Inspiration With Lesbian Novel Authors Robin Summers and Karis Walsh
By Clea Kim
Originally published on Advocate.com March 28 2013 3:00 AM ET
Karis Walsh and Robin Summers are both authors of award-winning lesbian novels. Walsh is the writer behind Sea Glass Inn, Worth the Risk, and the Rainbow Award-winning Harmony, published by Bold Strokes Books. Summers's debut novel, After the Fall, is the winner of two 2012 Golden Crown Literary Society Awards, two 2011 Rainbow Awards, and a 2011 Lesbian Fiction Readers Choice Award. Walsh is releasing her new novel, Improvisation, in May 2013, while Summers is currently working on her second novel. The two authors recently came together to talk about their books, writing, and life.
Karis Walsh: You and I first met two summers ago in the Adirondacks at a Bold Strokes Books retreat and we found we had a lot in common, despite our many differences. Both of us were first-time authors then, with the same editor.
Robin Summers: Yes, we're both lucky enough to work with Ruth Sternglantz, who is utterly fantastic. She became my number one cheerleader, and therefore also my most profound critic. She wanted to see the book succeed, and so I knew her edits – no matter how painful – were designed to make my book the best it could be.
You can really trust her to take care of your characters and your story, and that's so important to me. We'll be starting the editing process on my fifth book, a romantic intrigue called Mounting Danger, soon.
And here I'm still working on book number two! [Laughs] My first novel, After the Fall, took me nearly three years to write, on and off, with a lot of fits and starts, and several really crazy rewrites. I know you were able to write your first novel, Harmony, in a lot less time. I wish I could be disciplined enough to write daily, but I find that given my job [public policy in Washington, D.C.] I'm often too exhausted by the time I get home to do any writing, no matter how much I may want to write. Most of the time I write on Saturdays and Sundays, so over the course of several months, that's how I build up. Do you write every day?
I wish I did. I have aspirations to write every day, but I don't. But I think one of the benefits of my job – I teach horseback riding and I ride and do a lot of physical work outside – is that it clears my head. When I'm riding a horse a lot of times I'll get ideas. Your mind is kind of freed up to move forward and come up with new thoughts while your body's engaged in what it's doing.
When you've had a day like that, do you go right home and write?
I'll jot down the lines of dialogue or ideas right away or they disappear. But I wrote my first two books in a very linear fashion, so unless I was at the point where I wanted to insert whatever I'd thought of, I couldn't write it. I had to write step-by-step. My third one, Sea Glass Inn, I wrote kind of all over the place. It was connected by a series of paintings, so once I wrote those scenes I was able to jump around more than before. That was very different for me because I usually have a very organized structure and I follow it in a straight path.
Another big difference. I've certainly learned over the years that I have to outline to some degree, but I do it under protest. I find if I have too much structure, I get completely bored with what I'm writing, and then I don't want to write it. I'm like a five-year-old that way. But things changed a bit with the book I'm writing now, Season of the Wolf. Having to write a proposal for the book, instead of just submitting the completed manuscript like I did with After the Fall, forced me to go deeper. I had to break out the index cards, because I realized as I was writing out the proposal that I had these gaping holes in the plot. So it actually ended up being a very good process even though I hated every minute of it.
I love the proposal part, coming up with new ideas and starting to see the threads that will connect the characters. You start to have those little epiphanies about who they are and what's going to happen. But the daily sitting down and writing is difficult for me, and I'm trying to work on that. I don't have a specific place where I write, but I have certain pens I use, and I have lots of colored index cards and sticky notes. When I finish a scene, I like to rip up my notes and throw them on the floor around me. That way I can see the accomplishment scattered on the ground like confetti from a parade. What does your work space look like?
I write my best outside for some odd reason. Of course, that makes it a little difficult in the winter to get anything accomplished. I wrote the first half of Season of the Wolf on a little deck outside my apartment. Deck is a strong word – it was really more of a landing. But I put a little chair and a little table out there, and I had my thermos of coffee and my computer, and that was it. I'd sit out there for eight to ten hours and be completely happy. I miss that deck.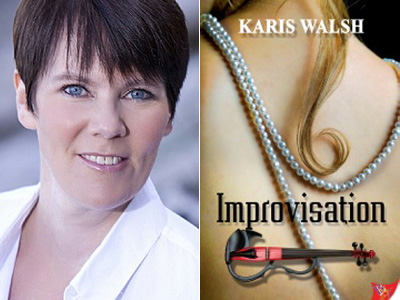 I'd have a hard time writing outside in Washington [state]. The paper would get soggy from all the rain.
I bet. Speaking of which…your books are all set in the Pacific Northwest. Do you think - besides familiarity - that there's a reason you set your books there?
I have a very close connection to my home. I love this area and the general attitude of the people here and that helps define who my characters are and who I am. So yes, it's very much a choice that this area is a strong presence in my books.
I also have a very strong connection to places where I have lived or places that I'm familiar with. I think they impact the characters, to some extent – certainly their values. I like the idea of writing about places that I grew up in, places that I care about. I think it adds something. So when you start a book, do you start first with an idea or a concept? Or do you start with the characters? Or does it depend?
It depends. My first book, Harmony, was sparked by the idea of a woman falling in love right before her wedding. My second book started with a strong concept of the character Jamie. For my third book, I could see the artwork and the ocean beach and the bed and breakfast. I could see images in my head and I just kind of turned them into a story. The fourth one, Improvisation, is a spin-off from Harmony, so that started with the characters as well.
I know when I wrote After the Fall there were some elements that were definitely from my life and my experience, things that I intrinsically felt and understood, even though so much of the book was nothing like my life – I've certainly never survived an apocalyptic plague. It's interesting how little things creep in from your life. I think it's different in everything you write, how much of you is going to come out, but they say that you write what you know for a reason. You do write what you know, whether it be little elements here and there or whether it be big pieces.
And you used the first person voice, so it seems more personal. I've been writing my romances in third so I can shift between the two characters. But you did some interesting things with point of view…
Especially given my insanity of changing point of view twice and having to go back and rewrite huge chunks of the book. Not a process I would recommend to anyone.
That's not easy…
No. After the Fall is written from two points of view. The primary point of view - that of the main protagonist, Taylor - is in first person present. The other point of view – which has been subject of some controversy – is not the other protagonist, Kate, but of a third character, a boy by the name of Duncan. And that's told in third person past, which was definitely a question that came up when I submitted the book to Bold Strokes, not only because I was using a non-primary character as one of the main points of view, but because of the switching back and forth between first and third person. I'd never written anything in present tense in my life, so that was sort of a strange choice. But it felt very necessary for that character. Taylor's experience is very raw, I think, and to really get at the truth of her experience, I felt like it had to be like she was talking right to the reader.
The immediacy of the situation really hit home because of that.
Whereas with Duncan's point of view, the third person, you didn't need that immediacy. You needed more of his narrative take on what was happening, to get outside of Taylor's head a little bit, which was why I felt like it was so necessary.
It was such a powerful book and such a powerful situation that these characters were in. And the reader really felt that with the way you wrote Taylor in the first person and the present tense. But we were given brief breaks with the slight distance from Duncan, and the perspective on what was happening – it was very easy to read that way because it flowed so well and didn't keep you at such a high intensity level without giving you any relief.
I appreciate that. I think for some readers, it's just too jarring for them to jump back and forth like that, and I totally respect and understand that it's not to everyone's taste. But I tried to use the voice and the narrative to fit the story and to help tell the story, rather than feel like I needed to fit in some specific box. So, I'm glad to hear that, at least for you, it paid off. I think if the entire book had been in Taylor's head, that would have been a very dark place to be for a lot of that book, and I didn't really want to depress the readers completely. It's bleak enough.
But that leads to the message of optimism and hope that comes through this book. There's a plague, it's post-apocalyptic, she's been through some very terrible things and is struggling to connect and trust again… But there's a sense of hope in the human spirit and what you can accomplish, and what you can join together and do – and it's just a beautiful thing. And you need that darkness to give you that kind of hope.
If our lives were all perfect all of the time, we would never appreciate anything because there'd be nothing to compare it against. I questioned myself a number of times. Am I being truthful? Am I really getting to the heart of this, and am I going deep enough? Because I felt that if this book was going to have any kind of resonance it had to feel honest, and that meant writing some things that were really hard to write. But the point was really to get to that hope. I was interested in the character's journey from this horrible, bleak place to a place where she felt like not only was she just surviving, but she could figure out a way to actually live again. And take that risk, which funny enough was the title of your book second book, Worth the Risk. That optimism and hope is definitely a big part of what you write.
I do believe that normal, everyday people are capable of transcendent love. And whether that love is romantic or platonic, I think it has the ability to transform us, and we can use it to transform the world around us and become heroes. Just normal people. We can be someone's hero by vanquishing loneliness, or we can be heroes in a more general sense by fighting for people or animals that need our help. Even if I move into other genres – I have my romantic intrigue coming soon, and I've done some paranormal stories and I loved writing those – romance will, for the foreseeable future, be first and foremost what I'm writing about. Those little details of falling in love, not just the big conflicts that keep people apart until the very end. The steps along the way are just so beautiful to see, getting to know people and learning about them. I really love writing those moments.
For me, I think there's a sort of similarity and difference. I'm going to probably be a genre-hopper. Season of the Wolf is a suspense novel, with a fascinatingly creepy serial killer, but it's also more of a contemporary romance. But I'm continually intrigued by the idea of people who are very damaged and broken but somehow find the courage within themselves to overcome those things. And most often that is with the help of someone else. They're able to find that courage within themselves through the eyes of someone else. I think that's one of the pervading themes throughout my books.
So healing love is going to be a common thread?
Yeah, I think so. And like you said, it could be romantic, it could be platonic, it could be a lot of things, but - I definitely have experienced this in my life – love and family and relationships are what sustain us, and what I think will move us forward. They help us see those parts of ourselves that maybe we either wouldn't otherwise see or have the courage to find.
So without going into detail, both you and I have been through a tough few years. Does that add depth to your writing, or does it make it more challenging?
I think pain always adds depth. I lost my mom at a very young age, and that has definitely influenced my writing over the years. But when my dad passed away last May, I couldn't write at all. He'd been sick for about 6 months, and it had just been one gut-wrenching turn after another for all of us, but most of all for him. He was so brave, and he deserved so much better. After he died, I just didn't have it in me to write for a long time, which made the grief that much harder because I generally deal with things by writing about them. But finally I did start writing, if for no other reason than I wanted to write for him, and it has helped. I have to say I am very grateful to have an understanding publisher and editor who have bent over backwards to give me the time and space I've needed.
That's one of the many benefits of working with a company like Bold Strokes. The publishers and editors know you personally and they understand when you're unable to write because you're grieving or ill or moving through life transitions. They support you as a person, not just as an author.
So true. So what's the advice you'd give to aspiring writers?
Finish your book. Sit down and finish it and send it out. That's the only way you're going to get published. You never know what can happen until you try.
And write. Write all the time. I know when I was writing After the Fall, there were periods when I would stop writing and I would hate it and think it was the biggest piece of drivel ever written. And my partner kept saying to me, "It doesn't matter if you ever get published. If you finish your book, you'll have written a book. How many people can say that?" And that was the thing that kept me going. Even if no one ever read it besides her, having written it would be an accomplishment in and of itself. You don't have to be published to be a writer, but you do have to write.
ABOUT THE AUTHORS
Karis Walsh is the author of Sea Glass Inn, Worth the Risk,and Rainbow Award-winning Harmony, published by Bold Strokes Books. Her fourth book, Improvisation, will be released in May 2013. Her short stories have appeared in anthologies from Bold Strokes and Cleis Press. She is a horseback riding instructor in Washington State. Visit her at kariswalsh.com.
Robin Summers is an Illinois native who works in public policy in Washington, D.C. Her debut novel, After the Fall, is the winner of two 2012 Golden Crown Literary Society Awards, two 2011 Rainbow Awards for LGBT Fiction and Non-fiction, and a 2011 Lesbian Fiction Readers Choice Award. She is currently working on her second novel. Find her on facebook.com/RobinSummersWritingor visit her website at robinsummerswriting.com.
---
Links:
[1] http://www.advocate.com/
[2] http://www.boldstrokesbooks.com/products.php?product=Sea-Glass-Inn-%252d-by-Karis-Walsh
[3] http://www.boldstrokesbooks.com/products.php?product=Worth-the-Risk-%252d-by-Karis-Walsh
[4] http://www.boldstrokesbooks.com/products.php?product=Harmony-%252d-by-Karis-Walsh
[5] http://www.boldstrokesbooks.com/
[6] http://www.boldstrokesbooks.com/products.php?product=After-the-Fall-%252d-by-Robin-Summers
[7] http://www.kariswalsh.com/
[8] file://localhost/RobinSummersWriting
[9] http://www.robinsummerswriting.com
[10] http://www.advocate.com/arts-entertainment/books