---
PHOTOS: Global Male Bonding Through Bodybuilding
By Christopher Harrity
Originally published on Advocate.com November 01 2013 4:00 AM ET
Bodybuilding has a notably long history. Still, its mainstreaming is a recent phenomenon in the United States where it was first popularized by Arnold Schwarzenegger during the late '70s and early '80s. To see large all-male-only groups from around the world dedicated to bodybuilding is revealing about those cultures.
And that's why Universal Hunks is such a captivating visual tour of musclemen from all parts of the globe that includes photographs, posters, advertisements, magazine and comic book covers, product packaging, and more. Author and collector David L. Chapman considers the eroticized, politicized, and commercialized male image through history and evaluates its fascinating cultural context by country and continent.

Chapman's collection includes bodybuilders from more than 70 countries — from Zulu warriors to Japanese acrobats, German strongmen to Egyptian athletes. (Go to Arsenal Pulp Press for more information.)
Check out selections from Universal Hunks on the following pages >>>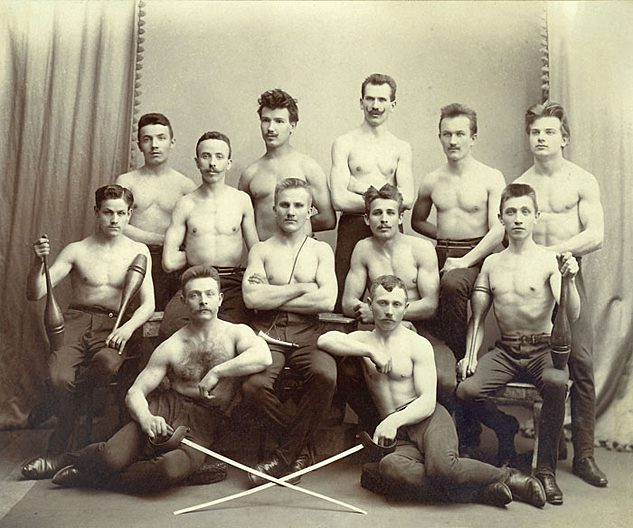 In April 1902, a dozen Sokol athletes from Bohemia went to Vienna for a meet and proudly had this photo taken by Ferdinand Grega, a professional photographer in the Kleine Sperlgasse.
When this photo of a group of Zulu tug-of-war athletes appeared in Health & Strength Magazine in 1903 just after the Boer War, it reflected British curiosity to know more about South Africa and the people who lived there. Treating non-white natives with respect was something rather new for Europeans, so this photo marks a change in thinking.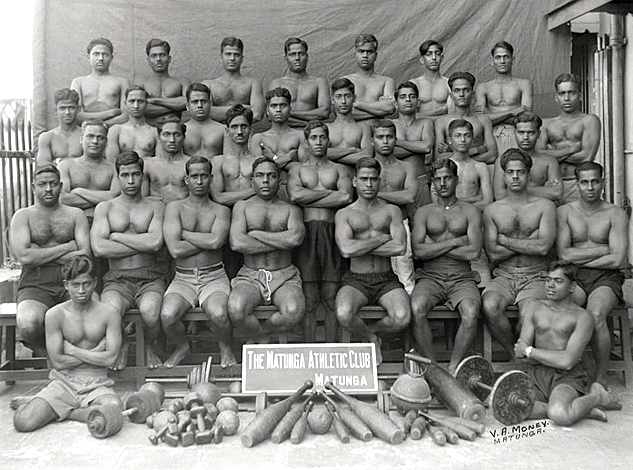 The Matunga Athletic Club in the Mumbai suburb of the same name started out as a weightlifting organization but eventually branched out into other sports, most notably football and basketball. The club is still in existence — and still turning out members as resolute as these. Photographer V.A. Money took this group photo around 1935.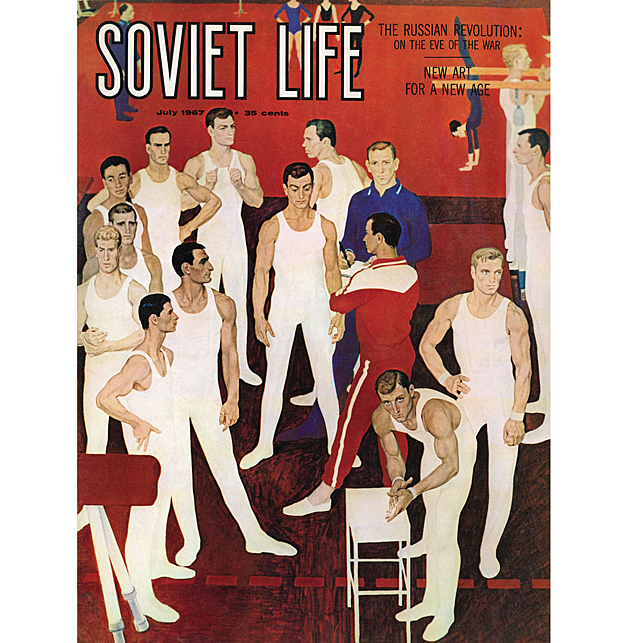 In 1964, Dimitry Dimitrievich Zhilinsky (b. 1927) created Gymnasts of the Soviet Union. The tempera on wood painting was meant to showcase the strength, grace, and beauty that the New Soviet Man was capable of attaining. Soviet Life (1956–91) was distributed in North America, and it constantly touted the glories of the socialist system. If every male in Russia looked like these gymnasts, there might have been a lot more defections to the East.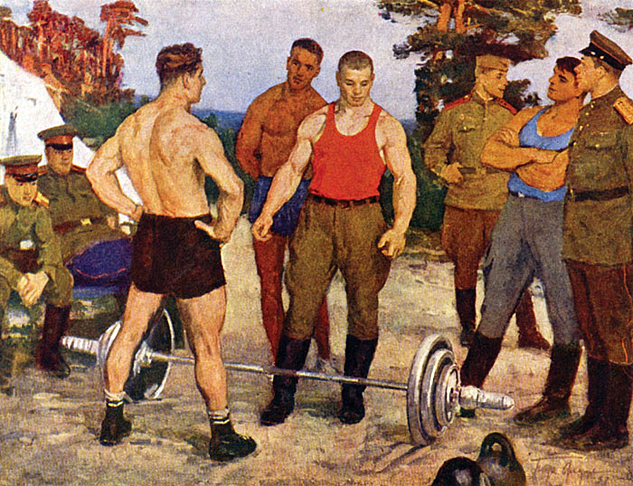 Soldier's Strength is a magnificent example of Soviet propaganda art. The artist, Boris Fedorovich Fedorov (1922–84), specialized in military subjects. His own career as a soldier reached a high point when he was among those who stormed the Reichstag in the final battle for Berlin in what the Russians call "the Great Patriotic War". This work, glorifying Russian military manhood, was created in 1957 during the height of the Cold War.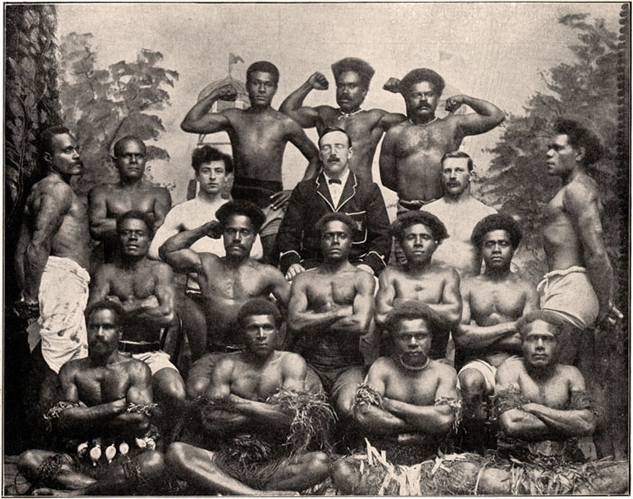 New Zealand physical culturist F.A. Hornibrook, center in blazer, enjoyed helping young men to become more muscular and healthy. He took his message as far as Fiji, where he found a group of native men who would display their muscles before the camera. Hornibrook wrote about the dangers of white "racial decay," although he believed he was bringing the benefits of good health to what he must have considered a backward people.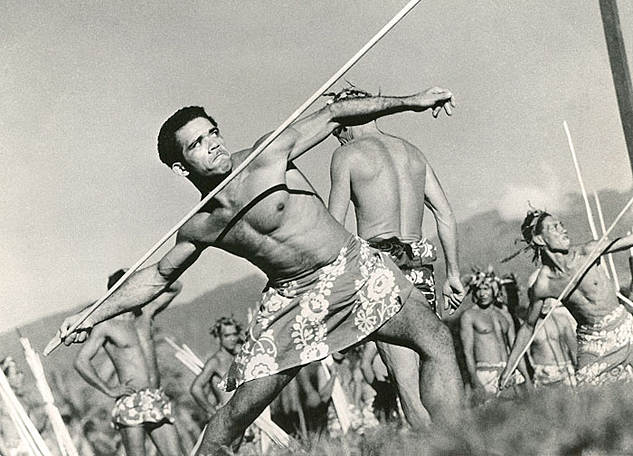 Every fourteenth of July (on French Independence Day), Polynesian natives from all over French Oceania gather at Papeete in Tahiti to celebrate and participate in traditional games including rock-lifting competitions, racing while carrying heavy loads of fruit, and spear-throwing. This news photo from the 1950s shows stalwart young men who hurl their javelins at a coconut atop a tall pole.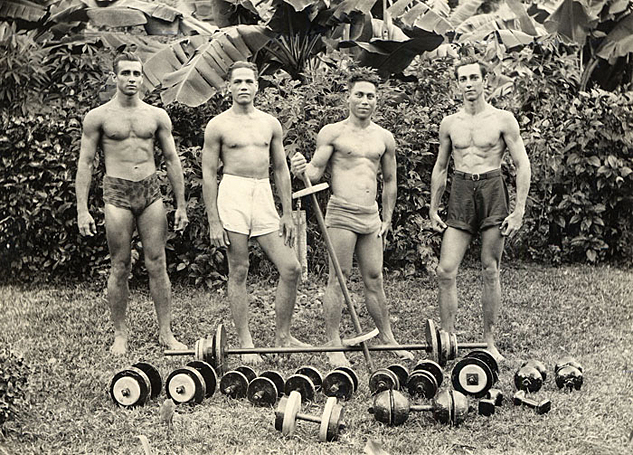 The US invaded and annexed the island of Guam during the Spanish-American War of 1898. American forces were stationed on the small island, and during the 1930s a small group of American and Indigenous Chamorro friends got together to form an amateur group of lifting enthusiasts. The inscription on the back of this card reads, "Agana WL [weightlifting] Club." The four young men have an impressive collection of weights, suggesting an association with the military base.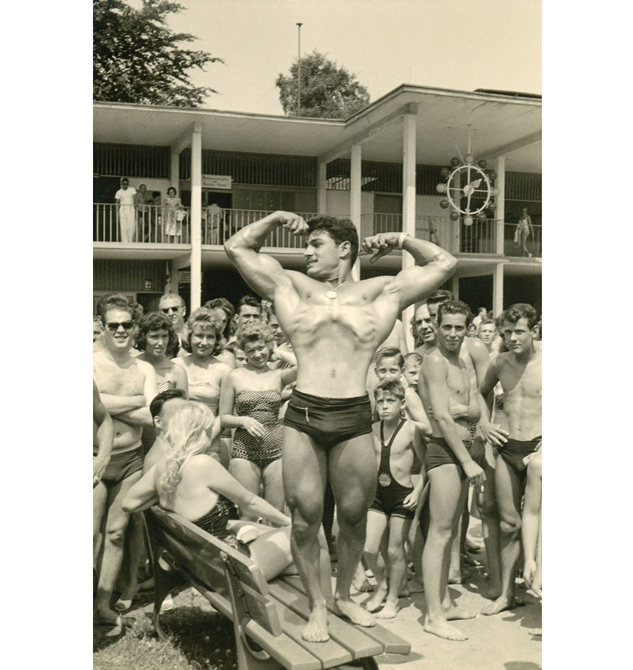 In 1957, the Shah sponsored the World Weightlifting Championships in Tehran, but the Islamic revolution and economic sanctions have since curtailed the country's participation. In the summer of 1961, this young Persian posed for an admiring throng at a German swimming pool. He has inscribed the back in Farsi, "To my beloved sister," and signed the photo "Sayeed."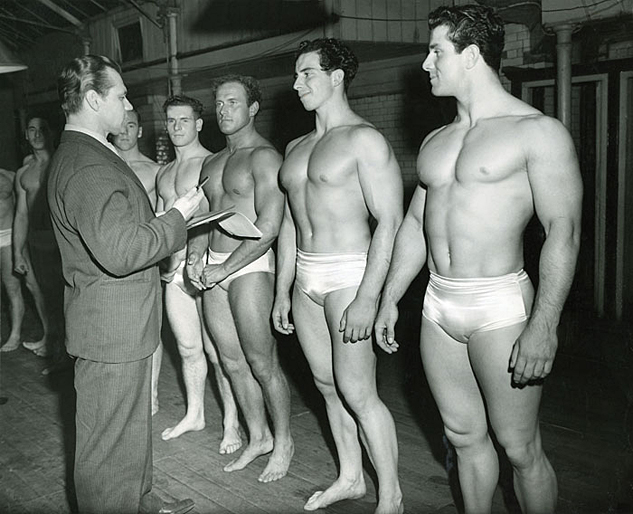 Anglo-American bodybuilders brought the idea of contests to the field of physical exercise. Building a fine physique is all well and good, but it's more fun if you're in competition with someone else. Here are the finalists of the 1949 Mr. Britain contest. American judge John Grimek (1910–98), who was declared Mr. Universe the previous year, looks over the lineup. The winner was Reg Park (1928–2007), the first man in the row.

Serge Nubret (1938–2011) was born on the Caribbean island of Guadaloupe, but he and his family moved to France in 1950. By 1958, he was convinced that he could become a world-class bodybuilder, and dedicated himself to building a superb physique. Perhaps the best description of Nubret's effect was found in an obituary in the Canadian publication MuscleMag, from fellow bodybuilder Ric Drasin: "With the glow of sweat on his dark skin, he looked like a highly polished statue. Every ripple in his muscles reflected light, and you could see them twitch under his skin with every movement, much like a racehorse. He was quite a sight to see, even for a fellow bodybuilder." An unknown photographer took this photo in the mid-1970s.
Universal Hunks is Chapman's twelfth book, and the next in his incredibly popular series on bodybuilding and the muscular human form. (Don't miss American Hunks and Venus with Biceps: A Pictorial History of Muscular Women.)
---
Links:
[1] http://www.advocate.com/
[2] http://www.arsenalpulp.com/bookinfo.php?index=383
[3] http://www.advocate.com/arts-entertainment/books