---
New Comic Puts Gay Men in the Superhero and Villain Roles
By Jacob Anderson-Minshall
Originally published on Advocate.com May 01 2013 5:00 AM ET
Husbands is a Web-based sitcom that revolves around two gay celebrities (an athlete and an actor) who wake up from a drunken night in Las Vegas and find themselves married. Not wanting to set back marriage equality by getting divorced, Cheeks and Brady decide to stick it out and find they may be perfect mates after all. This graphic novel of the same name, Husbands (Dark Horse Books, $14.99) — written by the Web series creators Brad Bell (a.k.a. Cheeks) and Jane Espenson (writer and executive producer of Buffy the Vampire Slayer) — is an anthology of six Husbands comics previously published by Dark Horse Digital. It features the art of Ron Chan, Natalie Nourigat, M.S. Corley, Ben Dewey, and Tania del Rio.
Each installment exploits the artistic styling and traditional storyline of an iconic comic genre, drawing Cheeks and Brady as characters in superhero, spy, fairy tale, detective, intergalactic war, and Riverdale High stories (the latter being home of the famed Archie gang). The book opens with the newlyweds unwrapping wedding presents and discovering that one gift is a comic book that magically transports them into these different realms, where they must learn some important lessons before they can return to the land of flesh and bone.
That plot device is apropos, because this graphic novel is reminiscent of a self-published one-off you can have made starring your favorite nephew as the hero of his very own comic book. That's not to say Husbands isn't an enjoyable diversion. It is. But this certainly isn't a dark, postmodern, cutting-edge, or even deeply engaging graphic novel. However, if you are a fan of the Web series, adorable gay couples, and wit, you won't be disappointed. The comic book characters stay true to their on-screen Husbands personas even when they are playing superhero versus villain or alien versus space hero.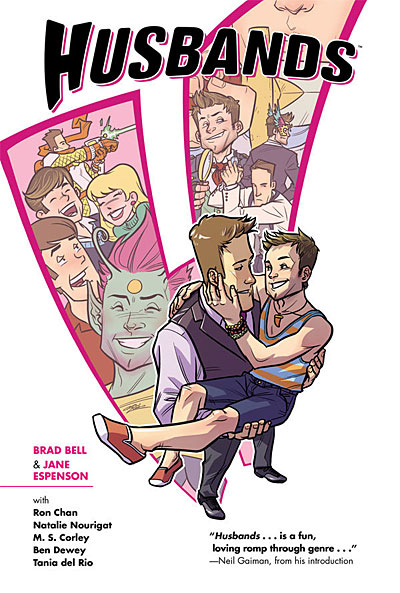 And there is something particularly enjoyable about seeing these iconic stories retold to feature gay men in the leading roles. Having a gay man in both the hero's shoes and the supporting role (which is too often filled by a bubble-headed blond woman) actually highlights and underscores the (often negative) gender stereotypes that still dominate many comic books. Particularly successful in this arena is the chapter "The Well-Intentioned-but-Oblivious Prince and the Justifiably Belligerent Peasant or Equally Ever After," in which Cheeks is the belligerent peasant being rescued by Prince Brady.
Cheeks complains, "I was literally inches away from solving this problem myself."
To which Brady replies, "But heroism is what I do… Gives a man purpose." It points out the simple truth that rescuing another man may make one man feel purposeful but might leave the other man feeling a little less manly. In the end, though, it takes the two men working together to escape the castle and head into the future where we are assured they will live equally ever after as King and King.
That's pretty much the lesson in all six installments of the Husbands comic: Brady and Cheeks have to work together and combine their sometimes competing styles in order to succeed. It may be simple and straightforward, but at least it's not a bad lesson for newlyweds to learn.
The creators developed clever plot twists and visual metaphors around those competing styles. For example, Cheeks likes to go at things head on, while Brady is a work-inside-for-change kind of guy — so we see an alien Cheeks wanting to fire on an enemy's ship while the space hero Brady would rather go on board and sabotage the vessel from inside.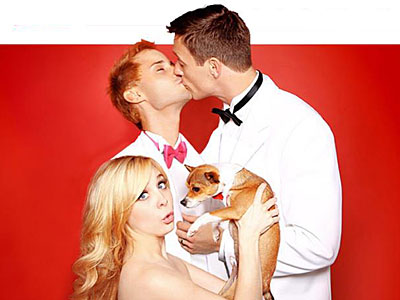 Bell (top left) and castmates from the live action Web series
Still, the characters are never in real peril, and everything gets resolved quickly and wrapped up neatly, much like the Web series itself, which many fans think — probably because of the medium — suffers from the episodes being too short. Each webisode ends at the point where a TV show would cut away for its first commercial break. It may also come as no surprise that the Cheeks personas are more fully formed and central to these stories than other characters. That's probably a natural side effect of Cheeks being the alter ego of creator-writer Brad Bell. These stories seem to suggest that while there may be two heroes, there can only be one star.
While Brady gets short shrift, the couple's friend Haley could have been eliminated entirely. She pops up in each installment but sometimes seems shoehorned in, as in "Equally Ever After," where she appears in a single panel. It's almost as though the writers were contractually obligated to put her in but forgot to create storylines to justify her presence.
One noteworthy aspect of the hardbound collection is the making-of material in the back, which includes the original outline, rough sketches, and a historical breakdown of a page, demonstrating the input of various players (writers, editors, publishers) in this project. Artists and readers will appreciate the behind-the-scenes look at how these stories progressed from original pitch to final product. This collection is best suited for Husbands fans (of which there are many, including me) and anyone tired of the compulsory heterosexuality in many comics. But be warned: Hardened addicts of darker, cynical, postmodern adult serials would probably find the book far too lighthearted. (DarkHorse.com)
---
Links:
[1] http://www.advocate.com/
[2] http://LoveHusbands.com
[3] http://www.darkhorse.com/Books/22-099/Husbands-HC
[4] http://www.advocate.com/geek