---
Shaping Sound, Changing the Face of Dance
By David Artavia
Originally published on Advocate.com June 05 2013 5:00 AM ET
Once in a generation, there is a group of artists who change the trajectory of a genre. By delivering new ideas and innovative interpretations of storytelling, they dedicate not only their hearts but also the very core of their being to their audience.
With a captivating storyline, Emmy-nominated choreographers Travis Wall, Nick Lazzarini, Teddy Forance, and Kyle Robinson are changing the face of dance with their new company, Shaping Sound, which just kicked off a 13-city North American tour. The show pulls viewers deep inside the imagination to experience love, loss, and fantasy in a dance spectacular.
The company consists of 14 world-class dancers, including So You Think You Can Dance all-star Jaimie Goodwin. The company's creation was documented on Oxygen's hit show All the Right Moves and proved that watching two gay guys and two straight guys create beautiful dance pieces together is a guaranteed recipe for amazing television.
The red carpet premiere for Shaping Sound in Los Angeles May 19 attracted a star-studded lineup of who's who in the dance and choreography world. Among the attendees were former American Idol judge Paula Abdul, singer Lance Bass, director-choreographer Adam Shankman, Dancing With the Stars judge Carrie Ann Inaba, actors Missi Pyle and Laura Linda Bradley, and Dance Mom Abby Lee Miller.
When asked what makes a great dancer, Wall responds with one word: "Intention."
The intention of the Shaping Sound collaborators is clear: to "shape" the minds of their audiences. These dance advocates are no different from previous pioneers in the art world who challenged their generation to think differently. And as with the work of those predecessors, the magnitude of Shaping Sound doesn't sink in until the production is over. Only then does the audience understand that these artists not only brought new meaning to their craft but in so doing also changed its course forever.
"We had a small idea and didn't know it was going to become a company," Wall says. "It's inspiring to even think about how this has happened and how many people believe in it. This is our dream. To tour the country with your best friends and not only do what you love to do but also get paid for it."
In today's world, being a dancer means that paying jobs are hard to come by. The passion an artist posesses is measured by the love they have for their craft. Having the courage to live your art is a rare gift — one that requires a supportive community that understands the challenges.
The spirit of the dance world has always been unlike any other. The bond dancers share resonates within one another's experiences, and the resulting freedom of expression is appreciated and understood as if it were one's own. There are no words in dance — the language comes from the heart, spoken through the body.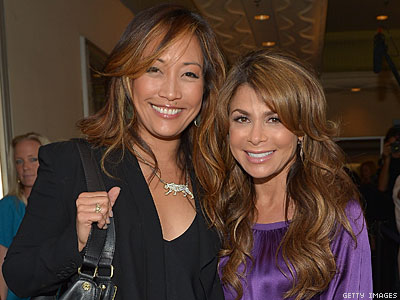 At left: Carrie Ann Inaba and Paula Abdul attend the launch of Shaping Sound Dance Company's first national tour.
"Dancing gets in your skin," says Abdul. "It's something that changes your life for the rest of your life. It gets into your heart and it doesn't leave you. It's such an outlet for happiness, for sadness, for everything. The bar will always be raising. This show is impeccable. It's impeccable dancing and impeccable dancers."
In the past decade, as reality dance shows have gained popularity, they've brought new legions of fans and have given the medium a new outlook. The people who were once obliged to stand behind the singers and told to "just dance" are now becoming celebrities themselves. Kids are throwing their football away to sign up for dance classes.
"When I was a kid, my mom signed me up for all the sports," Lazzarini says. "I really wanted to be in some sort of organized sport. I was not good in any of them. My mom took me past the dance room at the rec center, and I was like, I want to do that. It brought me around a community of people that were really accepting and allowed me to be myself."
On a related note, Robinson speaks of overcoming stigma as a straight male dancer. "I think a lot of straight guys had been worried about being stereotyped as gay," he says. "And that's why a lot of them don't continue to dance later in life and end up going to sports and other things."
Choreographer Adam Shankman, producer of the Step Up movies, agrees. "The number of straight guys who are dancing in those Step Up movies far outpace the ones who are gay, [so] I think it has shifted to a certain extent — certainly in the hip-hop community," Shankman says. "To my knowledge, there hasn't been a famous dancer since the 1950s, certainly other than Baryshnikov and the like, but they were multi-threats. Now they can actually be dancers, and they have names, and choreographers also have names. I just never thought I'd see it in my lifetime."
It's no secret that gay people have always been welcomed in the arts. And in the past few years, shows such as Glee, Smash, So You Think You Can Dance, Modern Family, and the recently canceled The New Normal have introduced mainstream America to gay people to an extent that seemed unimaginable 30 years ago.
According to GLAAD's most recent report analyzing LGBT visibility on television, there are 31 LGBT scripted characters represented on the five broadcast networks — an increase from the previous season. In addition, there are 19 recurring characters on prime-time broadcast scripted series, and 26 additional recurring characters on cable. Out celebrities like Neil Patrick Harris, Bass, Wall, and Lazzarini are pushing that visibility forward even further.
"Modern Family is amazing, and I think it's doing wonders to change a lot people's opinions," says Bass. "Especially in middle America." Bass came out publicly in 2006 with much support from his fans following his record-breaking career with the boy band 'NSync. "The more that people get to know those types of characters, the better it's going to get. Once they get to know a gay person, it's like, Oh. This is what's it's all about? I think it's so important to be very visible as a gay celebrity. I'm always for the privacy of celebrities, but right now in this time and age, I think it's very important to have people like Neil Patrick Harris and everyone else to really show who they are, because as a kid I didn't have anyone to look up to."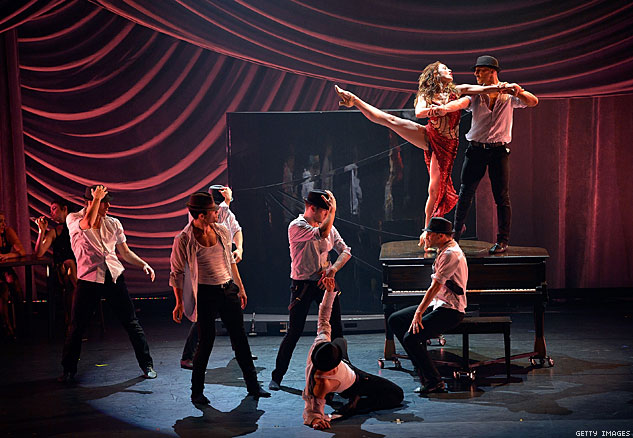 Above: Shaping Sound Dance Company performs at the opening of its first national tour.
Abdul, who has seen her fair share of closeted celebrities, concurs. "People have got to feel whole and be themselves, and I feel that the more you're able to be yourself, that's what life's all about," she says. "That's when you're able to really be at peace with yourself. It pains me when people are suffering that way. I definitely think that you need to have courage to be whole."
Dance Moms star Miller has her own hypotheses on why gay people are so numerous in the dance world. "I have two theories on this," she says. "Number 1: I think that gay people go into the arts because it's very accepting. It's very loving and kind and very open. My other philosophy is when [young boys] go into dance studios and girls are splitting and stretching and dressing right in front of them, the novelty wears off. They're surrounded by naked girls. They're bored!"
But the face of dance is changing. When a few straight teenage boys were asked why they wanted to join dance, the ubiquitous response was, "To meet girls."
The artists of Shaping Sound have but one intention: to make people think. It is a rare occurence to leave a theater and feel like you're floating away, changed and moved by what you witnessed. The more these artists are allowed to create, the better it is for whoever watches them.
To buy tickets or to see the tour schedule, visit www.shapingsoundco.com.
---
Links:
[1] http://www.advocate.com/
[2] http://www.shapingsoundco.com/
[3] http://www.glaad.org/publications/whereweareontv12
[4] http://www.advocate.com/arts-entertainment/dance