---
Director Rashaad Ernesto Green Takes Us to Gun Hill Road
By Jase Peeples
Originally published on Advocate.com March 29 2013 8:00 AM ET
Can a father's love for his family overcome his street-hardened ideals of manhood and masculinity? That's the question out writer-director Rashaad Ernesto Green presents in his debut feature Gun Hill Road. The film tells the story of Enrique (Esai Morales), a father who returns home after three years in prison to find he no longer knows the family he left. His wife struggles to hide an emotional affair and the child he left behind is now transitioning from Michael to Vanessa (the complex role is played expertly by actress Harmony Santana).
Winner of the Best Acting Ensemble award at the Ashland Independent Film Festival in North Carolina and nominated for the Grand Jury Prize at the Sundance Film Festival, Gun Hill Road is a heartfelt exploration of a family both divided and intertwined. With Gun Hill Road now available on DVD, Green took the time to tell us about his influences for the film, casting an unknown transgender actress, and the unique obstacles he overcame to achieve his vision.
The Advocate: In addition to growing up in the Bronx, what were some of the other reasons you decided to tackle the themes of Gun Hill Road?
Green: I grew up in various parts of New York City, and the Bronx has remained home to most of my family. One of my family members has a transgender child. Watching the struggle within his family and seeing the love he has for his child inspired me to make the film.
How much did your own experiences shape the film's script?
As an artist, I also experienced a strain in the relationship I have with my own father. Although not the exact experience, I can relate, as most people can, to a child who has an outlook for their lives that differs with that of their parents.
Do you feel holding on to traditional gender norms is holding us back as a society?
We are far away from letting go of traditional gender norms. As an artist, I have an obligation to challenge the status quo. I attempt to open up hearts and minds by presenting characters and situations that challenge the way we think and cause us to look deeply at ourselves. It is only through self-awareness that we will ever grow as a society.
You cast transgender actress Harmony Santana in the role of Vanessa even though she had no previous acting experience. Was it important for you to cast an actual member of the trans community over an experienced actor?
I knew from the start I wanted to cast the role nontraditionally, in other words, outside of the normal means of finding talent through an agent or casting director. In order to portray the character and story authentically, it was essential to find someone who lived as closely to the life experience of the character as possible. Harmony was that godsend.
How did you approach the casting process when you were searching for Vanessa?
The search was absolutely grueling. I pulled my hair out for weeks and kicked myself for writing myself into a hole. We stumbled in and out of 18 and over nightclubs at 3 a.m., cruised Christopher Street bars and the piers, attended every youth organization meeting, dance ball, and function you can think of. Eventually, we found Harmony working at a parade booth in Queens. She was the right age and type, showed up on time to the audition, had that special something I had been looking for, and was dedicated to learning the craft of acting.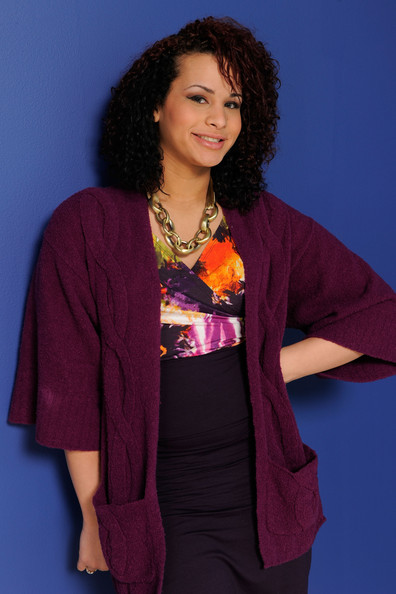 Was there pressure from producers to cast an experienced actress over a trans actress?
The real pressure was time. They cautioned and warned me of the problems that may occur with working with a nonexperienced actress. I simply explained that finding the genuine article was essential to the film's success. They gave me the green light so long as we found her sooner rather than later.
After Harmony was cast, did she offer any insight from the perspective of a trans person that caused you to make any changes?
I didn't make any significant changes to the film after Harmony was cast, but I can't imagine that we would have been as successful in truthfully presenting Vanessa's struggle had we not found Harmony. I had done a fair amount of research beforehand and spoken with a number of transgender females that by the time we found Harmony, she was able to step right in and breathe life into the character.
Not being trans, were you concerned how the trans community would respond to Vanessa?
I was very concerned with presenting Vanessa's character as authentically as I possibly could, especially when writing the script. By the time production rolled around, I had armed myself with enough research, spent so much time within the trans community, made friends, asked the right questions, and presented the character of Vanessa with respect, humanity, and dignity that I no longer feared the reaction. I was confident that I had done my due diligence and her authenticity would not be called into question.
What's next? Do you have any new projects on the horizon?
I'm currently in Portland, Ore., working on NBC's Grimm as part of NBC's directing program. I'm also writing a television series that's inspired by my family and about to break ground on my next feature script that I will produce with my brother.
---
Links:
[1] http://www.advocate.com/
[2] http://www.advocate.com/print-issue/advance/2011/08/05/actress-perfect-harmony-trans-drama
[3] http://www.amazon.com/Gun-Hill-Road-Esai-Morales/dp/B00ANGIC4W
[4] http://www.advocate.com/arts-entertainment/film