---
9 Great New Scary Movies With LGBT Themes
By Diane Anderson-Minshall
Originally published on Advocate.com April 25 2013 2:20 PM ET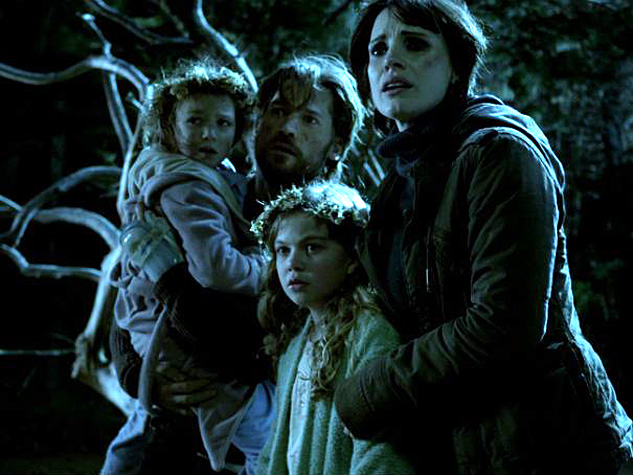 Mama
Fans of Jessica Chastain (Zero Dark Thirty) will find plenty to like in the subversively feminist little tale about one mother's twisted love that's masquerading as blockbuster horror film. Produced by the master of thinky thrillers, Guillermo del Toro, and co-starring Game of Thrones hottie Nikolaj Coster-Waldau, the film is available on Blu-ray Combo Pack, DVD, and on demand on May 7 (it's already available on digital download). The flick follows two little girls who vanish from their suburban neighborhood on the day that their parents are killed. Coster-Waldau (as the uncle) and Chastain (as his girlfriend Annabelle) want to adopt the sisters after they are later found alive, feral, and living in a decrepit cabin in the woods. Annabelle does not want children, these or her own (she even celebrates a negative pregnancy test early in the film) so she seems an unlikely mother figure. No worries, the kids seem to have come with their own parental unit, perhaps something odd and unnatural that's been parenting them all these missing months. The edge-of-seat moments in Mama are enough but the story here is really best reading between-the-lines. It's a treatise on who is allowed to parent and who isn't, who gets to make the rules around unfit parents, and it's an issue that's particularly key for LGBT parents. Annabelle is a bass playing, Joan Jett type, perhaps thought to be unfit as a mother but really shows she is by the end; she could be transgender or lesbian or even bisexual. In fact, in my viewing, I just assumed she was the latter.
Bonus: The Blu-ray and DVD sets offer extra features including an in-depth look at the digital and practical effects that went into making the film, deleted scenes, feature commentary, and the original short that the movie Mama was developed from with interviews with the filmmakers that tracks the bloodline of the feature and explore the changes that were made to transition to a feature-length film.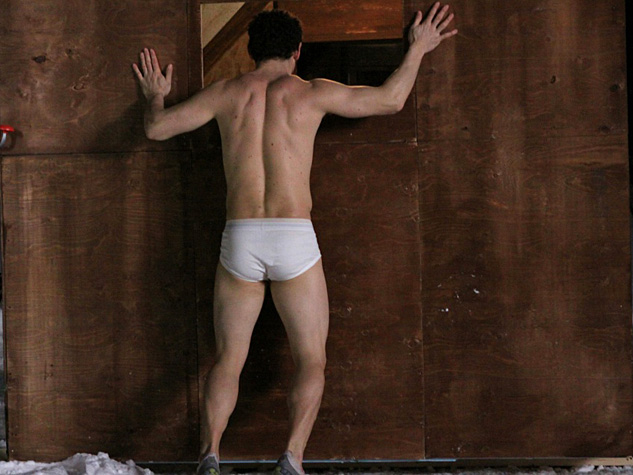 Eddie the Sleepwalking Cannibal
Fans of Ira Sachs' great 2012 gay film, Keep the Lights On, and it's award-winning star Thure Lindhardt, might be surprised by Lindhardt's latest turn as a creatively stifled artist in the clever dark comedy, Eddie the Sleepwalking Cannibal. This quirky soon-to-be cult film, which opened in theaters and on demand earlier this month, Lindhardt is Lars, a former darling of the art scene who takes a teaching job at a tiny college in some remote, snow capped Candian town after falling on hard times. One of Lars' new students is Eddie, a mute and gentle hulk of a man, who has been left homeless by a recent death. When his boss convinces Lars to take Eddie in (the film posits that he does so to impress a girl, but we know that's not true), Lars discovers the guy is a sleepwalker, a homicidal one. The sight of Eddie's first kill (of a wild) is horrifying but also strangely enthralling, and it inspires Lars' best painting in years. Soon Lars is pushing Eddie to make deeper cuts to the town's already tiny population, all for the name of art. In the process though, the two men develop a sweet and loving relationship that is makes this film at its heart a sweet-hearted romance between two men who don't even realize they are falling in love. Plus, you know, there's the bonus gory reality of cannibalism, a takedown of the pretentious art world, and the splendor of Eddie in his tighty whities hunting small town bigots in the dead of night. The director, Boris Rodriguez, calls the film "playfully malicious;" add the phrase "subtextually gay" and you got Eddie in a nutshell.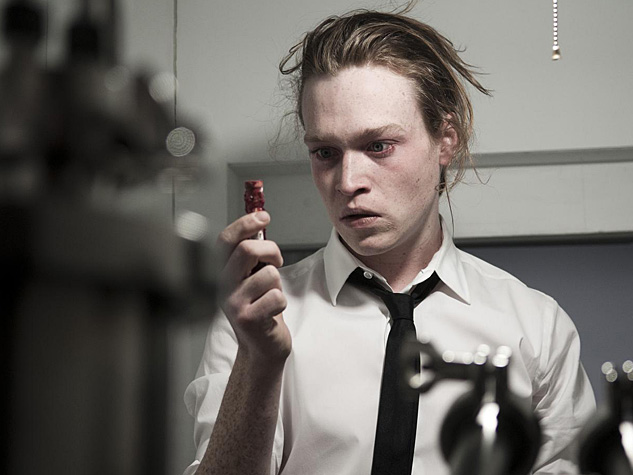 Antiviral
When your father is originator of the body horror genre, the pressure is on. But filmmaker Brandon Cronenberg (son of David, the director of The Brood, Dead Ringers, eXistenZ, M. Butterfly, and numerous other films) has done the family name proud with Antiviral, a flim that just may be the country's first transgender horror film even though the T word is never once mentioned.
This striking body-horror debut offers a moody and fascinating depiction of a future world so obsessed with celebrity that people will pay to have infections injected in themselves if the originator of the virus is a Hollywood star. In this dystopian world, Syd March (played with understated precision by Caleb Landry Jones) works at the Lucas Clinic, whose profitable business is based on deliberately infecting paying customers with diseases harvested from top celebrities, thus providing a "biological communion" between stars and fans.
The founder of the clinic tells his employees that "celebrities are not people. They are group hallucinations." It's a telling statement that frames the vivid and stylized film's dark narrative.
Syd also manages to make some extra cash selling viruses to the black market, but he has to sneak them out after injecting them into his own body. When he harvests a virus from Hannah Geist, the country's hottest starlet, she dies and he must find out what killed her before it kills him too. (Like all body horror films, this one too has undercurrents that could allude to HIV infection.)
As Syd moves through his world, his physical body vividly deteriorating, his fixation on Hannah broadens. But it's never sexual, though, even as it's made clear that Hannah is among the country's most desirable females. The film speaks of asexual penetration (the virus is in him, she is in him), alludes to Hannah being gender variant or gender non-normative (allusions to rumors about her body, that she's "deformed" or has no labia, for example), and leads us to believe that Syd doesn't want to do Hannah, he wants to be Hannah.
There's no missing the film's incisive takedown of modern popular culture, but less astute viewers might mistake Syd's attachment to Hannah for heteronormative obsession. It's hard to miss the transgender elements, though, whether it's through bodily function, or through scenes in which the clinic leader tells onlookers, "I think sexual politics are involved because of cell penetration by the virus. The original host takes on the role of the male, and the newly infected takes on the female. The infected changes gender to infect others."
The ending, which I won't spoil here, takes the idea of genderless penetration to its most visceral and perhaps cringe-inducing state. Well done, young Mr. Cronenberg.
Errors of the Human Body
Written and directed by Eron Sheenan, Errors of the Human Body, which opened in theaters this week, is on the surface about Canadian geneticist Geoff Burton, a researcher who relocates to the harsh landscape of Dresden, Germany, after his infant son has died of a rare viral genetic mutation and his wife has left him. Burton, played by Michael Eklund (who is spot on as a man in decline), is there to work on a groundbreaking project, a human regenerative gene called the Easter gene. A creepy medical thriller meets thinky sci-fi, Errors offers (and needs) very little gore. It is about more than just a man battling his own demons. It's a disturbing and upsetting take on the personal and ethical horrors of modern genetic engineering, vacillating quite often and disturbingly between real science and science fiction.
Adding to the atmosphere is the fact that the film was shot on location at the Max Planck Institute of Molecular Cell Biology and Genetics in Germany, which delivers a disconcertingly "real" feel of a scientific-based story that's both alienating and compelling in its vision. The film asks the questions, uneasily, about how much people should be able to control and what we're allowed to transform ourselves and the world around us. And reading between the lines, it's also about what lengths we can go to in order to become or remain parents. The film is slowly, quietly chilling and Eklund gives one of the year's best performances.
=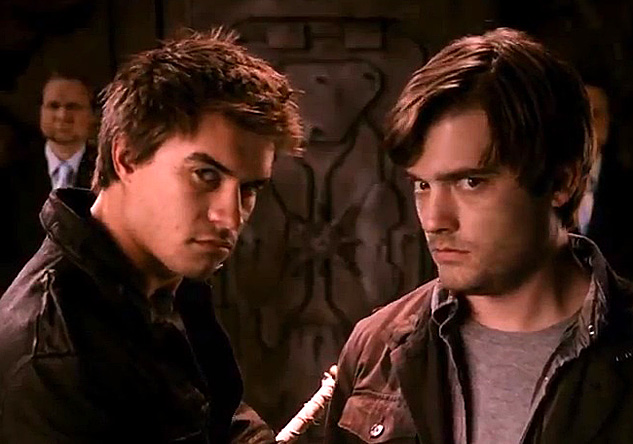 John Dies at the End
Now on Blu-ray, DVD, VOD, and download, John Dies at the End is a rare smart horror movie that uses cerebral scariness instead of naked co-eds getting slashed. In fact, there are so many cute guys (and Paul Giamatti, who is also executive producer) at the center of this trans-genre horror flick based on David Wong's audacious book that you might not even notice the film even has women in it. Written and directed by cult legend Don Coscarelli (who geeks love because he made the Bruce Campbell-starrer Bubba Ho-Tep), John Dies centers around the Soy Sauce, a drug that promises an out-of-body experience with each hit and sends users adrift across time and space. But not everything that comes back is alive. Or human. Or safe. So with an otherworld invasion afoot, humanity needs a hero. What it gets instead is Rob Mayes and Chase Williamson as John and David, symbiotic college dropouts who can't even hold down jobs but are nevertheless damn cute to watch saving the world in this supernatural action horror comedy. Bonus: The discs include deleted scenes, a monster design featurette, Fangoria interviews with Coascarelli and Giamatti, and more.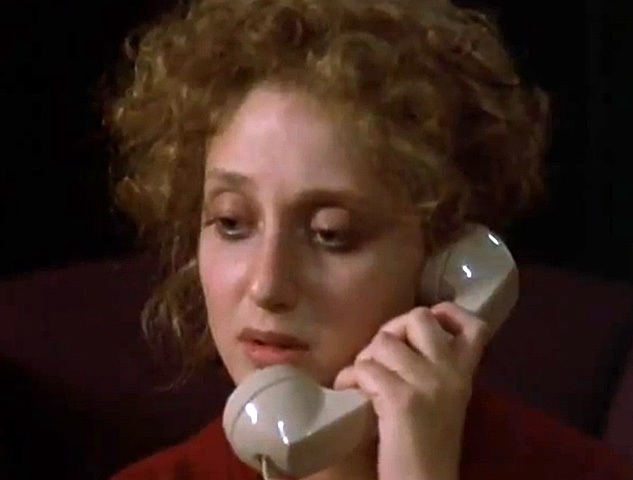 When a Stranger Calls/Happy Birthday to Me
Mill Creek Entertainment released a a bevy of '80s classics this month as Blu-ray double features and among the winners is this great combo pack: When a Stranger Calls and Happy Birthday to Me. When a Stranger Calls stars Carole Kane, who some might remember from some feminist or LGBT fare like Annie Hall, Office Killer, Dog Day Afternoon, or Even Cowgirls Get the Blues, and anyone under 35 remembers her from Wicked (she was Madame Morrible on Broadway), Ugly Betty (Justin's acting teacher), or Girls (Chloris from AA). The first 20 minutes of this film are among horror's scariest — and inspired the opening of the Scream films — as Kane, a young babysitter, who answers harassing phone calls including one that asks, "Have you checked the children?" in pre-caller ID days. The film's maniac (and titular stranger) is played by gay English actor Tony Beckley, who was terminally ill during filming. Since Beckley had starred in director Fred Walton's short film, The Sitter, upon which this was based, Walton refused to replace Beckley even though critics complained he was too frail to be convincing as a killer. (Incidentally, his 1980 death was listed as cancer, but at least one friend later told reporters she thought it was AIDS, which at that time had not been named.) Beckley and the film's producer, Barry Krost, had been together 15 years at the time.
The other whopper on this double pack is Happy Birthday To Me, easily one of the best slasher flicks ever made. It's not quite as subversive as Slumber Party Massacre (which was, ironically, written by lesbian literary pioneer Rita Mae Brown), but the film makes for a tasty pre-Heathers takedown of teen culture. It follows a popular high school senior Virginia Wainwright (played by Little House on the Prairie's Melissa Sue Anderson) survives a freak accident, but suffers from memory loss and traumatic blackouts. She's back at her school and all her friends are being murdered and viewers are left to wonder: is she the killer or the next victim? If you believe in the subtextuality of queerness in horror films (the killer is always a marginalized person with an identity outside the norm), this one is a doozy. And while it may (or may not) offer up a classic Final Girl, the film is a rarity in that the victims aren't just scantilly-clad girls; there are many male victims here, including one who is killed by a phallocentric sheeshkabob shoved down his open mouth.
---
Links:
[1] http://www.advocate.com/
[2] http://keepthelightsonfilm.com/
[3] http://www.millcreekent.com
[4] http://www.advocate.com/arts-entertainment/film