---
The Advocate's 18 Favorite Films at Outfest 2013
By Daniel Reynolds Sunnivie Brydum and Diane Anderson-Minshall
Originally published on Advocate.com July 11 2013 4:00 AM ET
There's a lot to love about this year's Outfest, one of the nation's largest LGBT-oriented film festivals. The stellar lineup kicks off today with the David Sedaris-inspired film C.O.G. and concludes on Sunday with the high school comedy G.B.F. Over 10 days, Outfest features 155 films from 28 countries, including dramas, comedies, documentaries, and shorts from both distinguished names and rising talent. As Los Angeles prepares for the stars of the rainbow screen to light up its theaters, The Advocate has compiled a list of 18 of our favorite films showing this year, for your consideration.
Get the lowdown on all the films you can't miss at Outfest 2013 on the following pages.
Interior. Leather Bar.
Saturday, July 20, 7 p.m. at DGA 1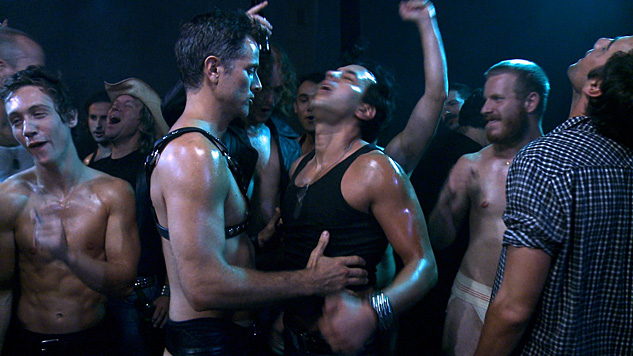 If you didn't already love James Franco — the actor, director, art student, and LGBT advocate — this would be the movie that would change that. Co-directed by James Franco and Travis Mathews, the setup for Interior. Leather Bar. is compelling: The director of the 1980 film Cruising, in which Al Pacino starred as an undercover cop investigating a murder in New York's gay leather scene, was forced by the MPAA to cut 40 minutes of sexually explicit material in order to avoid an X rating. It was long rumored that those scenes included graphic gay sex scenes, including one in which Pacino himself was at least a watcher, if not a doer. Those 40 minutes have never been seen, so Franco and Mathews set out to re-imagine what might have happened in those lost scenes. But this film is not 40 minutes of porn. Instead, it's a full film about the making of a film, with a mix of straight and gay actors and crew exploring the dynamics of what it means to perform in a sexually explicit gay film about BDSM. Listening to lead Val Lauren (the Pacino character) talk on the phone about Franco's theory about challenging social sexual norms we all grew up with, and hearing his friend ask how Lauren, who is straight, will feel when Franco's experimentation leads to a dick up his ass, is real, raw, and provocative. It's an immensely watchable hybrid film that's both radically transgressive and enjoyable to ponder for hours afterward.
If you're intrigued by this film, check out director Christina Voros' documentery, Kink, which was produced by James Franco and follows the painful but oh-so-pleasurable world of five San Francisco–based BDSM workers, on July 18, 8:30 p.m. at Redcat.
Who's Afraid of Vagina Wolf?
Friday, July 19, 7:15 p.m. at DGA 1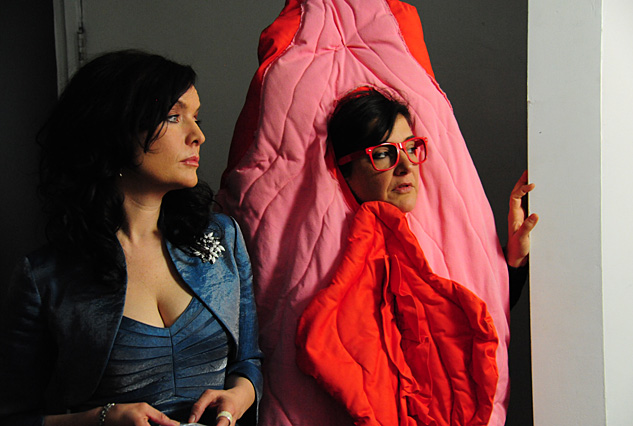 This hilarious all-female comedy stars Anna Margarita Albelo, who also directed the film, as a perpetually stuck middle-aged lesbian living in Los Angeles. Staring down the barrel of 40 years on this earth, Anna has no job, no girlfriend, and lives in a friend's garage. Searching for meaning — and something to occupy her time — the eccentric filmmaker begins writing a lesbian remake of Who's Afraid of Virginia Woolf. That's when she meets Katia (played by True Blood and The L Word actress Janina Gavankar), who serves as Anna's muse and leads the forlorn filmmaker on a journey of self-discovery, redemption, and creation. Keep an eye out for fellow queer favorite actors Guinevere Turner (Go Fish) and Carrie Preston (True Blood, The Good Wife).
Bridegroom
Saturday, July 13, 1:30 p.m. at DGA 1
In 2011, Tom Bridegroom, 29, accidentally fell off a roof in Los Angeles and died. His untimely death sparked a chain of events that led his partner of more than five years, Shane Bitney Crone, to create a YouTube video that chronicled the legal and social barriers that prevented him from attending the funeral of the man he loved. The video, titled "This could happen to you," went viral, and its success inspired Crone to produce Bridegroom, a documentary that further explores the couple's story.
While the 10-minute YouTube video sketches out the timeline of events through title cards — Tom's death, his family's threats of violence against Shane, and the hospital's refusal to release information — the 80-minute documentary offers an in-depth portrait and expansion of the video that has gained nearly 4 million views to date. The film includes interviews with friends and family, and video footage of Tom and Shane's life, courtship, and love. Even the voice of Tom, a talented singer in his lifetime, appears as part of the soundtrack of the documentary. Though Shane was banned from Tom's funeral, in Bridegroom, he has given his partner a touching memorial. For many, it will also offer a compelling case for the necessity of marriage equality.
"Anyone watching this documentary could wish they had the love that Tom and Shane had," says Josh, a friend of the couple featured in the documentary. "That's what you dream about at night. And they had it."
Deepsouth
Friday, July 12, 8 p.m. at DGA2
Monday, July 15, 12 p.m. at Sundance Sunset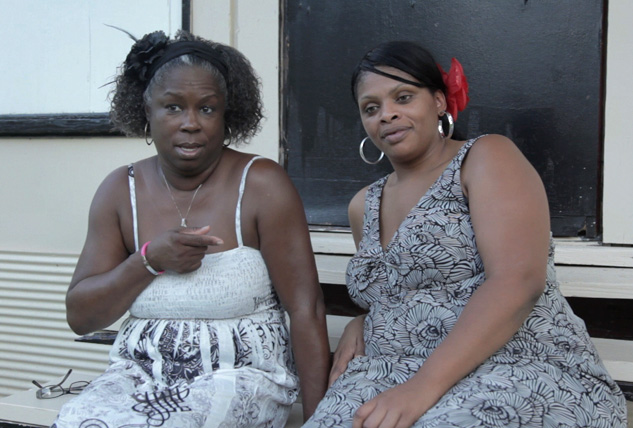 This riveting look at the healthcare crisis around HIV and AIDS in the rural South, director Lisa Biagiotti's Deepsouth puts a personal face on the epidemic. There are the women — Monica and Tammy — who run an HIV resource retreat in Louisiana with almost no money, and Josh, a young, gay black man who is trying to stay in college while dealing with HIV, poverty, and cultural ignorance. All compelling stories, but the face that gets you most in this documentary is Kathie, the (presumably 60-something) director of AIDS Alabama, who is constantly lobbying, fighting, cold-calling, speaking, and otherwise working so hard to get money allocated to her state, to her region, that she seems literally worn out at the end. In fact, the film closes on a scene where she wants to go to bed — we want her to go to bed — but there is still so much to be done. Both sad and maddening, and at times heartwarming, this is a must-see doc for anyone who thinks that AIDS is over, that Obamacare solved everything, or that people of color aren't adversely affected by the HIV crisis.
The Most Fun I've Ever Had With My Pants On
Saturday, July 13, 9:30 p.m. at DGA2
Monday, July 15, 9:30 p.m. at DGA2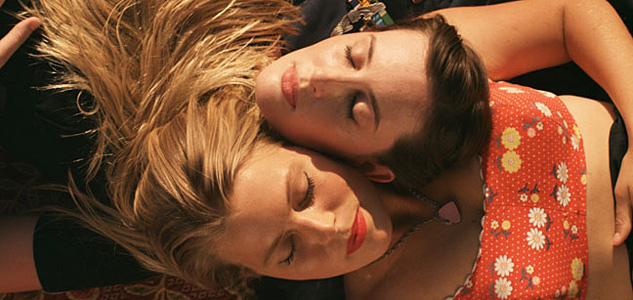 Drew Denny's first feature film, The Most Fun I've Ever Had With My Pants On, debuted at the 2012 Seattle International Film Fest to a packed house — a trend that continued when the film screened at both the Mill Valley and AFI Film Festivals in 2012. The visually stunning, earnest film follows two best friends, played by Denny (as Alex) and Sarah Hagan (as Liv), as they road-trip across the country's national parks to scatter ashes that actually belonged to Denny's father. After caring for her formerly estranged father as he succumbed to pancreatic cancer, Denny says the film "was like an exorcism of grief — in front of my friends and a camera." The title comes from a favorite saying of her late father's: "Killing someone is the most fun I've ever had with my pants on."
The film is a heartfelt, fearless leap into autobiographical storytelling by Denny, an out performance artist with an educational pedigree in filmmaking, who grew up in evangelical Texas. Denny now lives in New York, where she's pursuing several forthcoming projects, including a sophomore feature about two female dancers who fall in love at first touch, another about sexual assault in the military, and a documentary focused on a transgender hairdresser who caters to transmasculine people and butch women "in need of tight fades and community."
Valencia
Sunday, July 14, 8:30 p.m. at REDCAT Theater
Based on the groundbreaking literary memoir by iconic queer author Michelle Tea, Valencia enlists the services of 20 different filmmakers to piece together an ensemble retelling of Tea's turbulent 20s, full of hard drinking, hard loving, and righteously damning "the man." Just as Tea's memoir gave a printed voice to a generation of lesbians who came of age in the 1990s, the highly-anticipated film re-imagines Tea's tropes for a modern, radical, and genderqueer crowd. Each chapter of Tea's life is portrayed by different actors, in shorts helmed by distinct directors, including Outfest favorites Silas Howard and Cheryl Dunye. Despite its ensemble composure, the film emerges as a powerful rumination on the universal experience of being young, heartbroken, and ecstatic, all while discovering who you are and what you stand for.
C.O.G.
Thursday, July 11, 8 p.m. at Orpheum Theater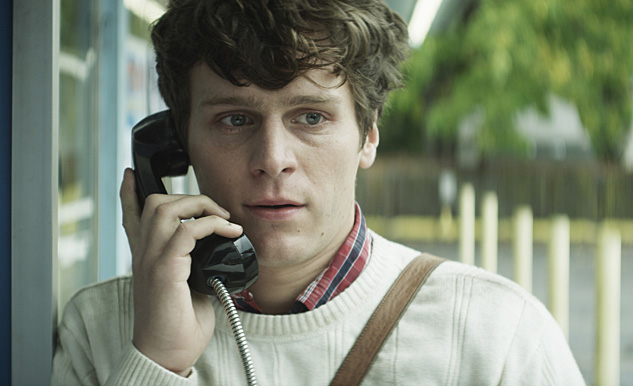 Few films at Outfest are set to attract as much attention as C.O.G., the first film adaptation gay author David Sedaris has ever allowed of his work. Written and directed by Kyle Patrick Alvarez, the film follows a cocky Northeastern college grad who travels to Oregon to work on an apple farm with a girlfriend (we can't tell if it's a girl who is a friend or a girlfriend). After she strands him there, he ends up at a factory where he meets an aggressive, working class gay man — and runs like hell from him in one of the movie's funniest scenes. The film stars Jonathan Groff, the Tony-nominee who is best known as Rachel's ex on Glee. Groff lends a curiously introspective, is-he-or-isn't-he allure to the fish-out-of-water story. Is he an uppity gay Yale grad? Or a love-spurned straight guy, pretending to be more highbrow than he really is? His supporting cast, especially American Horror Story's Denis O'Hare, as well as Corey Stoll, Dean Stockwell, Casey Wilson, and Troian Bellisario, offer compelling (and sometimes heartbreaking) performances as well. Either way, the movie is winner — a slow, thoughtful, sometimes hilarious little gem.
TransVisible: Bamby Salcedo's Story
Sunday, July 14, 6:30 p.m. at REDCAT Theater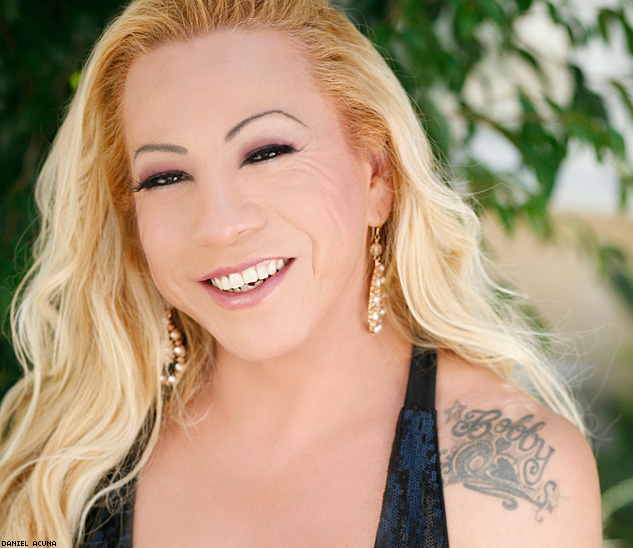 Outfest marks the world premiere Dante Alencastre's documentary about the life of renowned Los Angeles-based trans Latina activist and leader, Bamby Salcedo, following her personal challenges to a transformative rise to prominence in the local trans community. Salcedo's personal story shares the narrative of many trans immigrant women of color — who find themselves trapped by drugs, prison, sex work, and more —but more interesting is how she's moved through loss and become a resilient advocate for social justice in multiple, overlapping communities her life has touched, including HIV-positive people, Latina, youth, and LGBT communities.
Salcedo is currently at the helm of the nation's largest transgender youth program at the Children's Hospital Los Angeles. TransVisible follows Salcedo's creation of the life-saving Angels of Change program for trans youth, and her feminist advocacy for the Translatina Coalition. And though we still see the effects of the haunting loss of former partners to drugs or discrimination when Salcedo speaks, it's clear that she's a woman who has come into her own in mid-life, rising to greater heights than many in the same stead, and who seems both lovable and unstoppable. That makes TransVisiblea heartwarming and human story — a rarity in a media that still portrays trans women as freaks. After the film there will be a Q&A panel with Alencastre and Saldedo, followed by a reception.
Gore Vidal: The United States of Amnesia
Saturday, July 20, 11 a.m. at DGA 1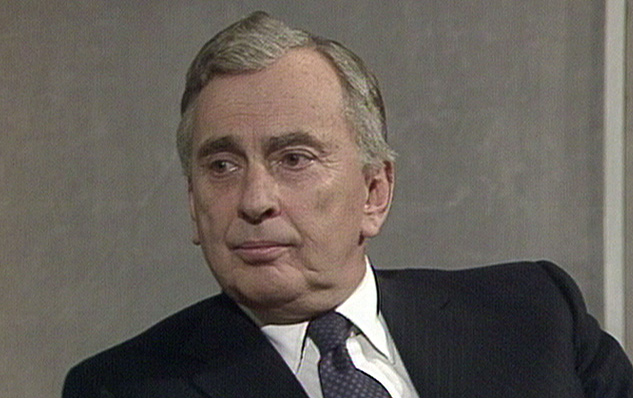 "I must say, I know quite a lot of people underground here," said the late writer Gore Vidal, standing near his tombstone in the opening scene of Nicholas Wrathall's "Gore Vidal: The United States of Amnesia." And indeed, the 89-minute film is a veritable Who's Who of American luminaries both living and dead — from Jacqueline Onassis and John F. Kennedy, to actors Paul Newman and Tim Robbins, to writers Truman Capote and Christopher Hitchens, who all numbered among the friends, colleagues, and occasional enemies of the late writer.
Vidal's privileged upbringing, intelligence, and access to the worlds of politics and entertainment make him an ideal narrator of not only his own story, but also American history. And Filmmaker Nicholas Wrathall gives him a worthy medium, combining one-on-one interviews in the near present with historical footage that traces Vidal's life from the young scion of a political dynasty to one of the foremost gay writers and political commentators of the past century. The waters of politics — and Hollywood — are often murky, and Vidal, who died in his Hollywood Hills home last summer, sliced through them with his signature wit and powers of perception. The film also devotes itself to understanding Vidal's personal life, from his first love at the elite New England institution Phillips Exeter Academy, to his partner Howard Austen, with whom Vidal shared his life for more than half a century.
The Other Shore
Friday, July 19, 5 p.m. at DGA 2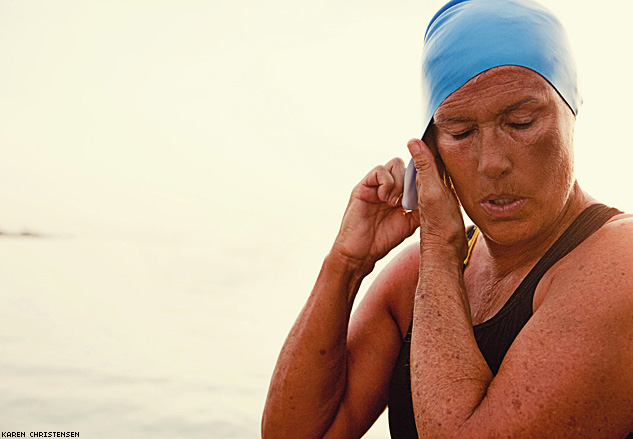 More than 30 years ago, champion swimmer Diana Nyad was a national darling. Her journeys — which included a record-breaking swim around Manhattan and a long-distance trek from the Bahamas to Florida — garnered her accolades and admiration from the media and public alike. But one goal eluded her. In 1978, Nyad attempted to become the first person to swim the 103-mile expanse from Havana, Cuba to Key West. However, the 28-year-old athlete's journey was interrupted by turbulent waters, which pushed her off course and forced her to abandon her hopes of completing her mission. At the age of 60, Nyad, whose last name references the water nymph of Greek myth, resumed training to complete this expedition. Brimming with inspiration, this 96-minute documentary trains its lens on the journey of Nyad — who overcame sexual abuse as a teenager to become one of America's foremost out athletes — as she prepares for her 60-hour trek of storms, stings, and shark-infested waters toward the other shore.
Ian Harvie: Superhero
Thursday, July 18, 5 p.m. at DGA2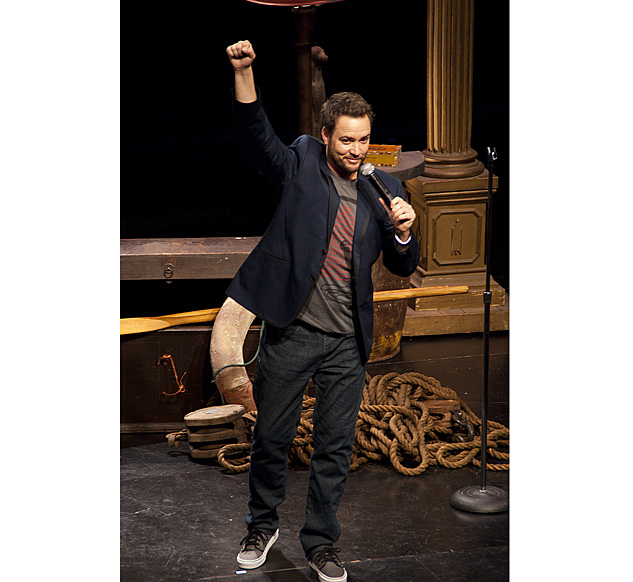 Ian Harvie is hot and hilarious. In this doc, thought to be the first full-length comedy special from a transgender comedian, he talks about everything from his genitals (the FUPA acronym will stay with you, so we won't ruin it here) to his fear of bathrooms to why he's a queer man who only dates girls. It's a must-see for anyone who likes their comedy a bit transgressive. Margaret Cho, with whom Harvie has toured, is the film's executive producer, and the wonderful Liam Sullivan (of vast Internet fame) directs.
Breaking the Girls
Saturday, July 20, 8:30 p.m. at Ford
Ladies, this is one film you do not want to miss. The latest from two lesbian legends: director Jamie Babbit (director of But I'm a Cheerleader) and screenwriter Guinevere Turner (who wrote American Psycho, among others) share screenwriting duties with Mark Distefano, resulting a lovely, twisty lesbian Hitchcock-inspired thriller. A cute but rebellious 20-something college student and bartender Sara (played by Agnes Brucker of Private Practiceand Murder By Numbers) loses her job, then her housing and her scholarship, thanks to a frenemy. She's in need of a friend, when in swoops Madeline Zima (who hasn't been this good since Californication). Zima plays Alex, a rich lesbian whose last girlfriend dumped her for her wealthy stepfather — the last remnant of a living family she had. Alex is spoiled and dark and a bit obsessive, and she soon gets Sara tangled in a web of murder, lies, and danger. It's not quite Unusual Suspects, but it has a couple of twists you can't see coming, and in between, a whole bunch of hot Sapphic action. What's not to love?
I Am Divine
Sunday, July 14, 9:30 p.m. at DGA 1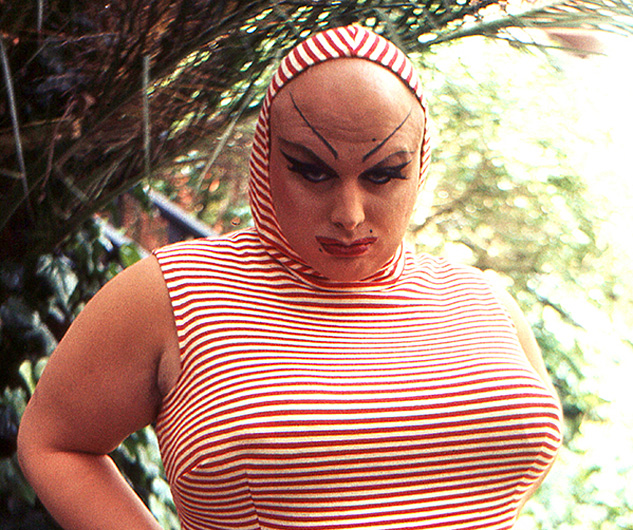 Jeffrey Schwarz is no stranger to the art of the documentary. The Los Angeles-based filmmaker opened Outfest last year with Vito, a stellar portrayal of the gay rights activist Vito Russo. This year, he returns to Outfest with another portrait of a gay legend, I Am Divine, which chronicles the life and times of one of America's most famous and controversial drag queens. Divine is perhaps best known as John Waters' muse — the drag queen who, in her quest to become the filthiest person in the world, ate dog feces in the cult classic Pink Flamingos. But Schwarz literally cuts the crap, providing a candid portrait of the man behind the makeup — Harris Glenn Milstead — and his rise from an overweight and effeminate child from the Baltimore suburbs to "Drag Queen of the Century," as dubbed by People magazine. The documentary includes interviews with John Waters, Ricki Lake, Bruce Vilanch, Tab Hunter, Michael Musto, and many more of Divine's friends and contemporaries.
The Happy Sad
Saturday, July 20, 1:30 p.m. at DGA 1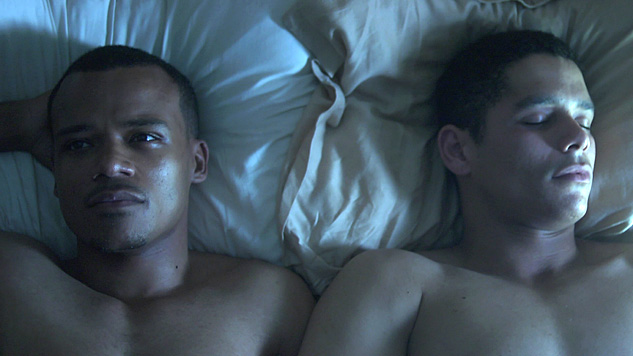 Filmmaker Rodney Evans, who made the winning film Brother to Brother, is back with The Happy Sad, a romantic drama that does a pretty convincing job of exploring modern relationships. It is — if the young generation has any say — a film of its time, one in which everyone is, if not sexually fluid, then open to sexual experiences that can't be easily boxed in. While you might think The Happy Sad will turn out to be just another in a long line of films where a straight person has a same-sex affair, then decides its not for them, leaving a queer lover in the lurch, you'll be pleasantly surprised. At its heart, it's a film about the politics of open relationships and the sociality of bisexuality.
In the Name Of…
Wednesday, July 17, 9:45 p.m. at DGA 1
Saturday, July 20, 7pm at REDCAT Theater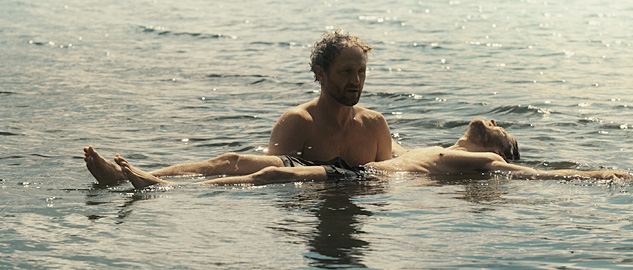 Father Adam (Andrez Chyra) has recently moved to a small village from Warsaw, Poland, to found a center for boys. They are, for the most part, a rowdy but innocent lot, whose confessions to their new priest generally consist of smoking pot and drinking beer in their off-hours. But one confession, followed by a nighttime tryst between two of his charges, leads to the death of one of the boys. And the locals, who were initially enamored of their handsome new priest, begin to question the circumstances surrounding Adam's transfer from the city to their small town. The 2013 Teddy Award-winner of Best Feature Film at the 63rd Berlin International Film Festival, In the Name Of… is a drama that is both politically and sexually charged, probing corruption in the Catholic Church as well as the often tempestuous collision of faith and love.
Test
Thursday, July 18, 8:30 p.m. at Ford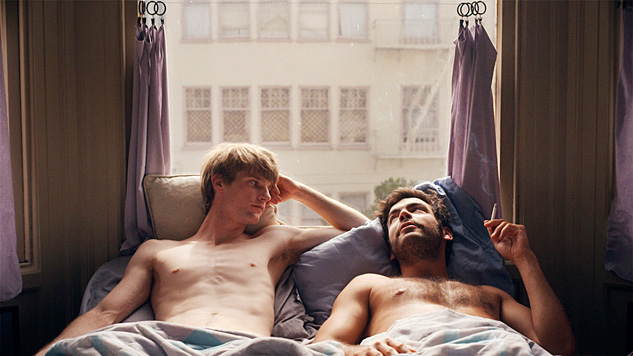 Set in 1985 in San Francisco, Test is a breathtaking little film about the early days of AIDS, the first HIV test, and life as a young gay man in a burgeoning artistic career. Comparisons to Parting Glances, the beloved and critically acclaimed '90s film, are warranted, but Test also has a dancer's sensibility, a lithe fluidity to the narrative that lends itself well to the story. The lead character, Frankie, is a modern dancer, bullied at work for his lack of masculinity and his inability to be macho on the dance floor (in a dance company filled with gay men, mind you). Frankie's also trying to become the man he's meant to be — whatever that is — find love (or sex), and decide whether to get "the" test. It's a reminder to viewers who are too young to remember what life was like before AIDS, but in a sexy way; like when Frankie and a love talk about whether they've ever used condoms — the answer is no, because in 1985 those are for straight boys — and end up in bed blowing them up like balloons. And because director Chris Mason Johnson was a former choreographer himself, the scenes of the dancers are always beautiful and captivating too. The film's showing at L.A.'s historic outdoor screening venue only adds to the whole experience.
Pit Stop
Monday, July 15, 7 p.m. at DGA 1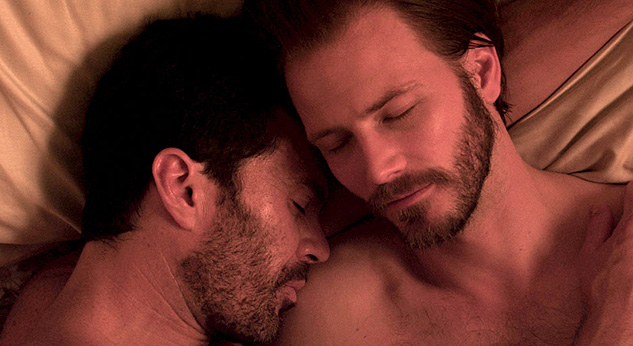 Pit Stop is all but destined to evoke inevitable comparisons to Brokeback Mountain. Both films are dramas that feature blue-collar men in the American West, drawn to one another despite the rigid codes of masculinity demanded by their upbringings. Coincidentally, these films also both have Asian-born directors that understand the importance of setting — the mountains, the desert, the dust-covered Texan convenience store — in conjuring the isolation that comes with this code. But whereas the doomed romance of Jack and Ennis is the force that drives its film's narrative, Pit Stop, which is set in more contemporary times, is unafraid of dwelling in the quiet moments. As its main characters grapple with the trials of their daily lives — Gabe (Bill Heck), a father that lives with his child and ex-wife Shannon (Amy Seimetz), and Ernesto (Marcus DeAnda), a man haunted by one ex-lover that will not leave his house and another in a coma — the viewer comes to acutely feel and understand the loneliness of these characters, which is heightened by the presence of those that once loved, then abandoned them. The main characters only encounter each other toward the end of the film. But the payoff is rich, and the final scene will leave your mind lingering at this Pit Stop for days to come.
G.B.F.
Sunday, July 21, 8 p.m. at Ford
For popular teenagers Fawcett (Sasha Pieterse), Caprice (Xosha Roquemore) and 'Shley (Andrea Bowen), this season's must-have accessory — and golden ticket to being Prom Queen — is a G.B.F., or a gay best friend. The only problem? There are no gay men at their school — who are out, at least. But a Grindr-like app allows the girls to identify the closeted Tanner (Michael J. Willett) and adopt him as their own, transforming him from a shy social outcast to the high school's hottest commodity. But not everyone is pleased with Tanner's sudden rise to stardom. Mormon extremists and homophobic ex-boyfriends lurk around every corner, not to mention Tanner's old friend Brent, whose jealousy of and attraction to Tanner is a zesty recipe for drama. Megan Mullally offers a hilarious performance as Brent's eager-to-please and overprotective mother. Directed by Darren Stein of Jawbreakerfame, G.B.F. is a fun and frothy romp through high school with nods to Pygmalion, Mean Girls, Glee, and John Hughes.
See the full schedule of films screening at Outfest 2013 here.
---
Links:
[1] http://www.advocate.com/
[2] http://www.outfest.org/tixSYS/2013/filmguide/
[3] http://www.advocate.com/diana-nyad
[4] http://www.advocate.com/arts-entertainment/film