---
The LGBT Films of Sundance
By Daniel Reynolds
Originally published on Advocate.com January 08 2014 7:00 AM ET
Nearly 50,000 visitors are expected to attend this year's Sundance Film Festival, which runs January 16 to 26 in Park City, Utah. One of the nation's largest independent film festivals, Sundance boasts around 200 movies from a variety of genres, with many featuring LGBT themes, characters, directors, and writers from around the world. But which to see?
From The Case Against 8, a behind-the-scenes look at the first marriage equality case to reach the Supreme Court, to The Foxy Merkins, a lesbian "prostitute buddy comedy," here are 23 stellar comedies, dramas, documentaries, and shorts that celebrate queer life.
Film stills and descriptions courtesy of the Sundance Institute.
World Cinema Dramatic Competition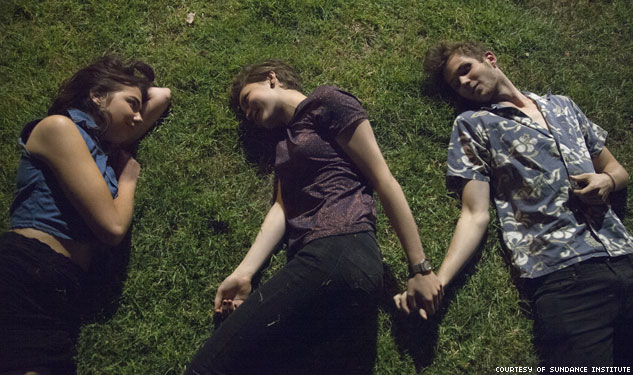 52 Tuesdays
Australia (Director: Sophie Hyde; screenplay and story by Matthew Cormack; story by Sophie Hyde) — Sixteen-year-old Billie's reluctant path to independence is accelerated when her mother reveals plans for gender transition, and their time together becomes limited to Tuesdays. This emotionally charged story of desire, responsibility, and transformation was filmed over the course of a year — once a week, every week, only on Tuesdays. Cast: Tilda Cobham-Hervey, Del Herbert-Jane, Imogen Archer, Mario Späte, Beau Williams, Sam Althuizen. International premiere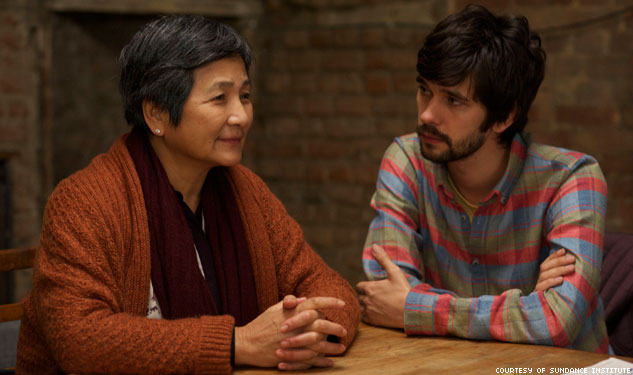 Lilting
United Kingdom (Director and screenwriter: Hong Khaou) — The world of a Chinese mother mourning the untimely death of her son is suddenly disrupted by the presence of a stranger who doesn't speak her language. Lilting is a touching and intimate film about finding the things that bring us together. Cast: Ben Whishaw, Pei-Pei Cheng, Andrew Leung, Peter Bowles, Naomi Christie, Morven Christie. World premiere. Day 1 film
World Cinema Documentary Competition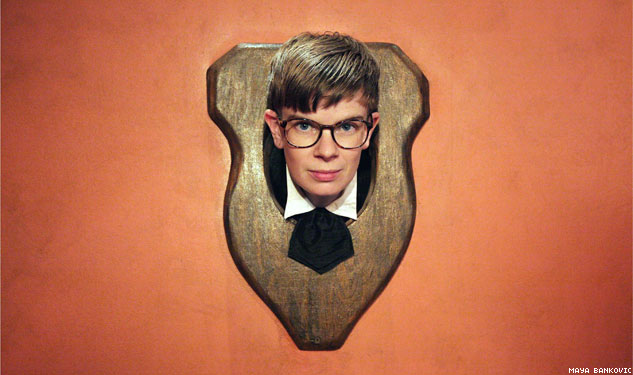 My Prairie Home
Canada (Director: Chelsea McMullan) — A poetic journey through landscapes both real and emotional, Chelsea McMullan's documentary/musical offers an intimate portrait of transgender singer Rae Spoon, framed by stunning images of the Canadian prairies. McMullan's imaginative visual interpretations of Spoon's songs make this an unforgettable look at a unique Canadian artist. International premiere
U.S. Dramatic Competition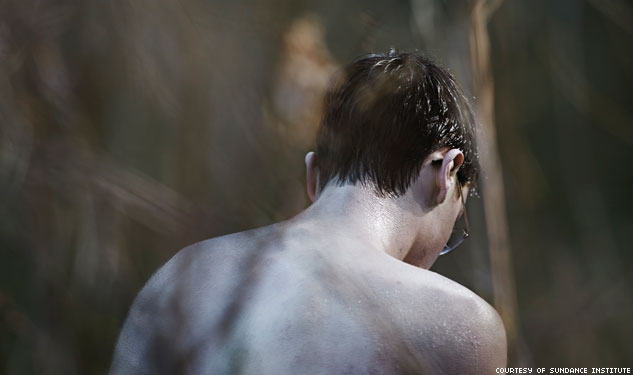 Jamie Marks Is Dead
USA (Director and screenwriter: Carter Smith) — No one seemed to care about Jamie Marks until after his death. Hoping to find the love and friendship he never had in life, Jamie's ghost visits former classmate Adam McCormick, drawing him into the bleak world between the living and the dead. Cast: Cameron Monaghan, Noah Silver, Morgan Saylor, Judy Greer, Madisen Beaty, Liv Tyler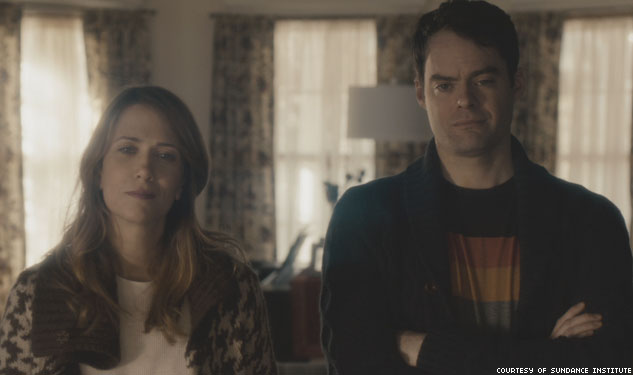 The Skeleton Twins
USA (Director: Craig Johnson; screenwriters: Craig Johnson, Mark Heyman) — When estranged twins Maggie and Milo feel that they're at the end of their ropes, an unexpected reunion forces them to confront why their lives went so wrong. As the twins reconnect, they realize the key to fixing their lives may just lie in repairing their relationship. Cast: Bill Hader, Kristen Wiig, Luke Wilson, Ty Burrell, Boyd Holbrook, Joanna Gleason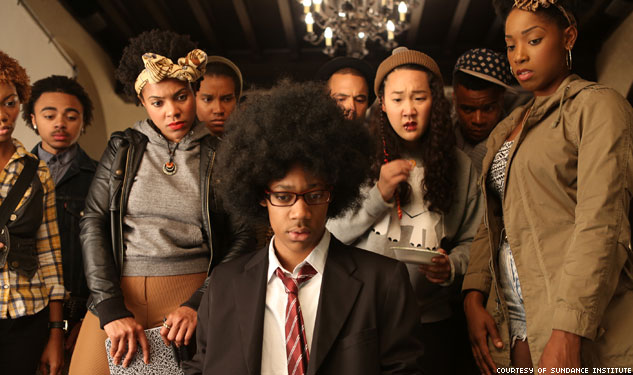 Dear White People
USA (Director and screenwriter: Justin Simien) — Four black students attend an Ivy League college where a riot breaks out over an "African American" themed party thrown by white students. With tongue planted firmly in cheek, the film explores racial identity in postracial America while weaving a story about forging one's unique path in the world. Cast: Tyler Williams, Tessa Thompson, Teyonah Parris, Brandon Bell
U.S. Documentary Competition
The Case Against 8
USA (Directors: Ben Cotner, Ryan White) — A behind-the-scenes look inside the case to overturn California's ban on same-sex marriage. Shot over five years, the film follows the unlikely team that took the first federal marriage equality lawsuit to the U.S. Supreme Court.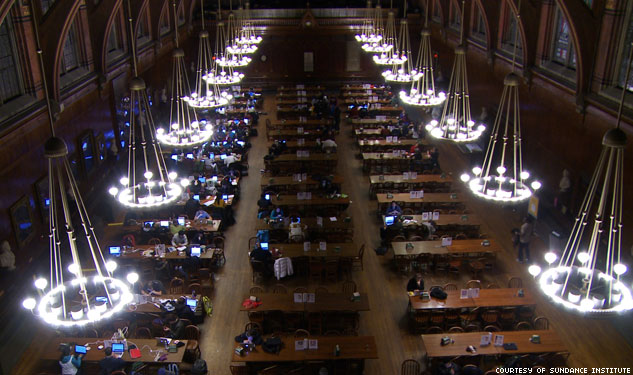 Ivory Tower
USA (Director: Andrew Rossi) — As tuition spirals upward and student debt passes a trillion dollars, students and parents ask, "Is college worth it?" From the halls of Harvard to public and private colleges in financial crisis to education startups in Silicon Valley, an urgent portrait emerges of a great American institution at the breaking point.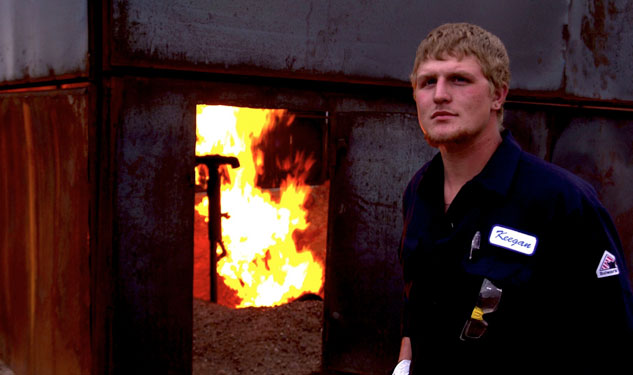 The Overnighters
USA (Director: Jesse Moss) — Desperate, broken men chase their dreams and run from their demons in the North Dakota oil fields. A local pastor's decision to help them has extraordinary and unexpected consequences.
NEXT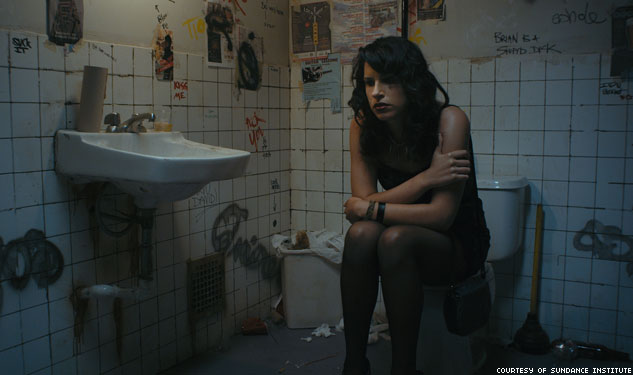 Appropriate Behavior
USA, U.K. (Director and screenwriter: Desiree Akhavan) — Shirin is struggling to become an ideal Persian daughter, a politically correct bisexual, and a hip, young Brooklynite, but fails miserably in her attempt at all identities. Being without a cliché to hold on to can be a lonely experience. Cast: Desiree Akhavan, Rebecca Henderson, Halley Feiffer, Scott Adsit, Anh Duong, Arian Moayed. World premiere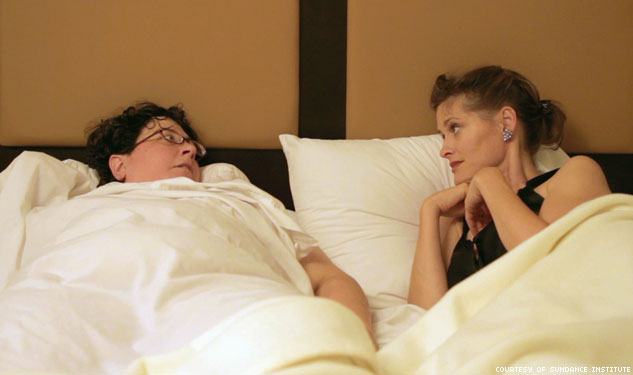 The Foxy Merkins
USA (Director: Madeleine Olnek; screenwriters: Lisa Haas, Jackie Monahan, Madeleine Olnek) — Two lesbian hookers work the streets of New York. One is a down-on-her-luck newbie; the other is a beautiful — and straight — grifter who's an expert on picking up women. Together they face bargain-hunting housewives, double-dealing conservative women, and each other in this prostitute buddy comedy. Cast: Lisa Haas, Jackie Monahan, Alex Karpovsky, Susan Ziegler, Sally Sockwell, Deb Margolin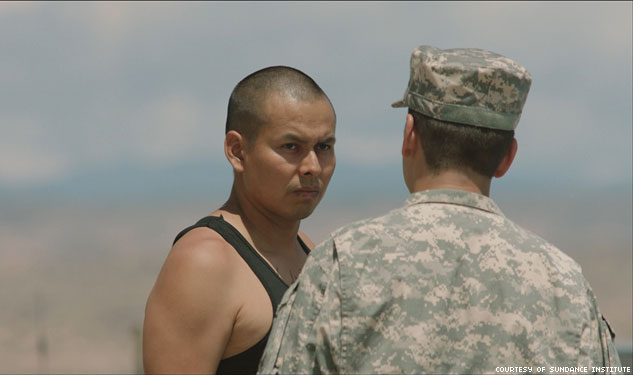 Drunktown's Finest
USA (Director and screenwriter: Sydney Freeland) — Three young Native Americans — a rebellious father-to-be, a devout Christian woman, and a promiscuous transsexual — come of age on an Indian reservation. Cast: Jeremiah Bitsui, Carmen Moore, Morningstar Angeline, Kiowa Gordon, Shauna Baker, Elizabeth Francis
Spotlight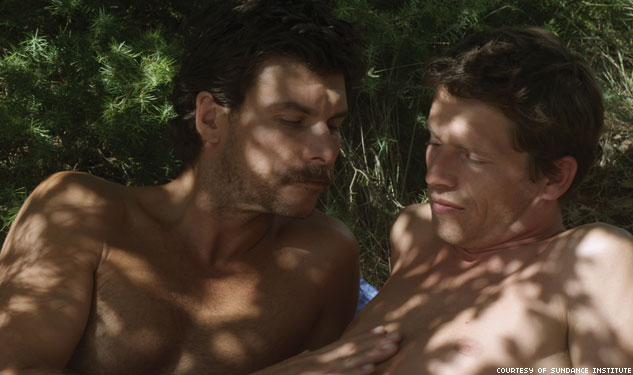 Stranger by the Lake
France (Director and screenwriter: Alain Guiraudie) — Frank spends his summer searching for companionship at a lake in France. He meets Michel, an attractive, mysterious man, and falls blindly in love. When a death occurs, Frank and Michel become the primary suspects. Stranger by the Lake is an erotic thriller testing the limits of sexual desire. Cast: Pierre Deladonchamps, Christophe Paou, Patrick d'Assumçao
New Frontier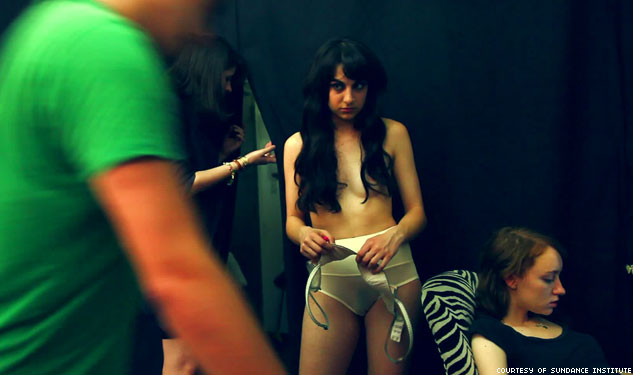 I Love Your Work
Artist: Jonathan Harris
I Love Your Work is a beautifully designed interactive documentary by Jonathan Harris about the private lives of nine women who make lesbian porn. It consists of more than 2,000 10-second video clips, taken at five-minute intervals over 10 consecutive days — around six hours of footage. Cast: Dylan Ryan, Jincey Lumpkin, Ela Darling, Ryan Keely
I Love Your Work from Jonathan Harris on Vimeo.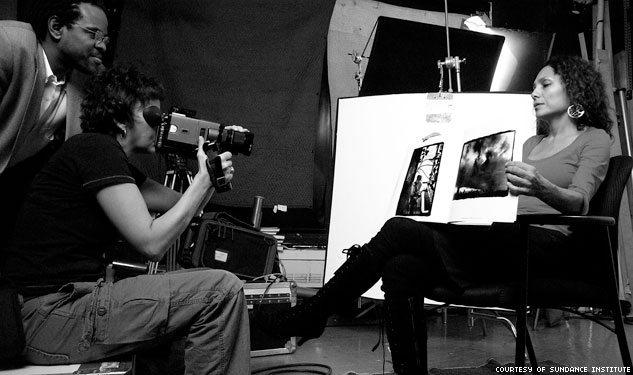 Through a Lens Darkly: Black Photographers and the Emergence of a People
USA (Director: Thomas Allen Harris; screenwriters: Thomas Allen Harris, Don Perry, Paul Carter Harrison) — Through a Lens Darkly is an epic film that moves poetically between the present and the past through the work of contemporary photographers and artists. Their pictures and stories seek to reconcile legacies of pride and shame while giving a voice to images long suppressed, forgotten, or hidden from sight. World premiere
Premieres
Love Is Strange
USA (Director: Ira Sachs; screenwriters: Ira Sachs, Mauricio Zacharias) — After 39 years together, Ben and George finally tie the knot, but George loses his job as a result, and the newlyweds must sell their New York apartment and live apart, relying on friends and family to make ends meet. Cast: John Lithgow, Alfred Molina, Marisa Tomei, Darren Burrows, Charlie Tahan, Cheyenne Jackson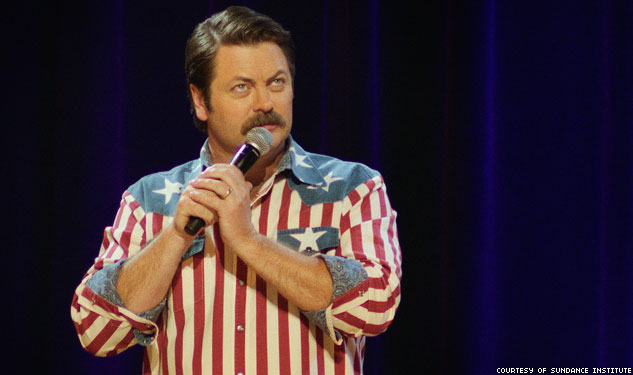 Nick Offerman: American Ham
USA (Director: Jordan Vogt-Roberts; screenwriter: Nick Offerman) — Warning: minor nudity and not suitable for vegetarians. This live taping of Nick Offerman's hilarious one-man show at New York's historic Town Hall theater features a collection of anecdotes, songs, and woodworking/oral sex techniques. The routine includes Offerman's 10 tips for living a more prosperous life, so hearken well. Cast: Nick Offerman
Documentary Premieres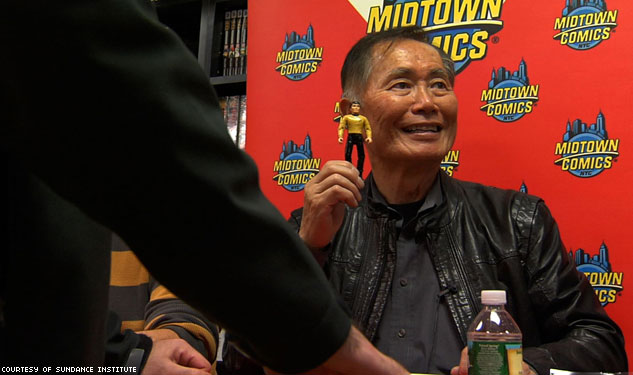 To Be Takei
USA (Director: Jennifer Kroot) — Over seven decades, actor and activist George Takei journeyed from a World War II internment camp to the helm of the Starship Enterprise, and then to the daily news feeds of five million Facebook fans. Join George and his husband, Brad, on a wacky and profound trek for life, liberty, and love.
Shorts

Best
U.K. (Director: William Oldroyd; screenwriter: Adam Brace) — With his wedding only moments away, a man and his best friend confront their future.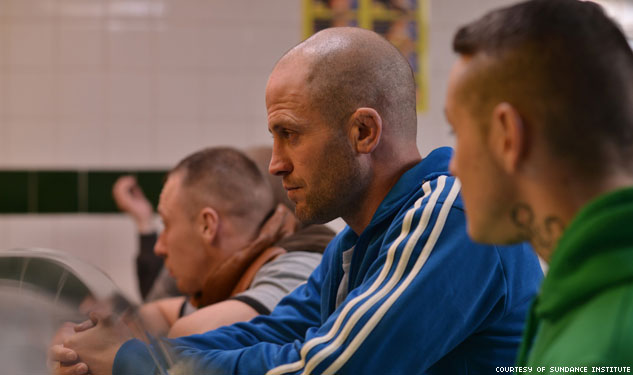 Burger
U.K., Norway (Director and screenwriter: Magnus Mork) — It's late night in a burger bar in Wales...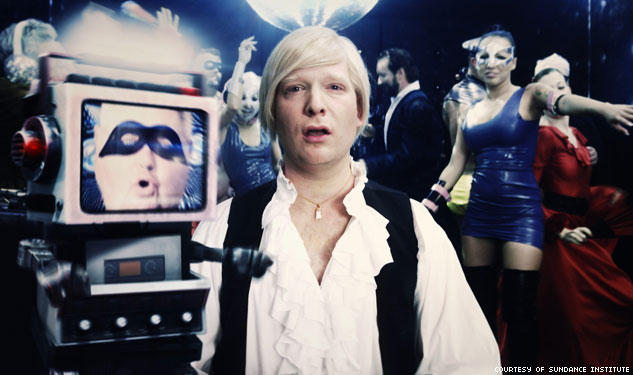 MeTube: August Sings Carmen
Austria (Director and screenwriter: Daniel Moshel) — Georges Bizet`s "Habanera" from Carmen has been reinterpreted and enhanced with electronic sounds for MeTube, a homage to thousands of ambitious YouTube users and video bloggers, and gifted and less gifted self-promoters on the Internet.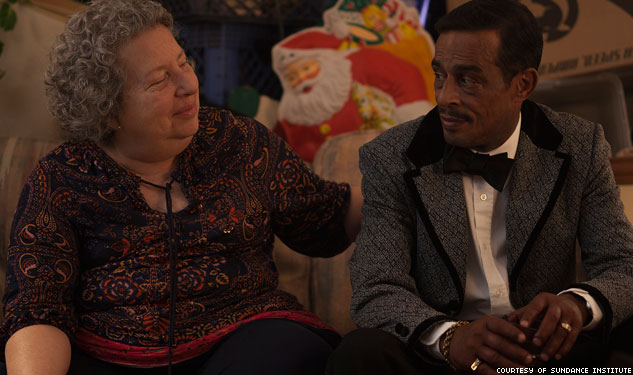 Rat Pack Rat
USA (Director and screenwriter: Todd Rohal) — A Sammy Davis Jr. impersonator, hired to visit a loyal Rat Pack fan, finds himself performing the last rites at the boy's bedside.
---
Links:
[1] http://www.advocate.com/
[2] http://www.sundance.org/festival/
[3] http://vimeo.com/63008995
[4] http://vimeo.com/number27
[5] https://vimeo.com
[6] http://www.advocate.com/arts-entertainment/film