---
Mommies Dearest: Mothers and Gay Sons on Film
By Advocate.com Editors
Originally published on Advocate.com January 16 2014 9:00 AM ET
Philomena, starring Judi Dench, was nominated for best picture and best actress with today's Academy Award nominations. If you haven't seen it, go immediately. We can't say anything about it until you do, as it's an entire movie of spoilers and plot twists. While we wait for you to do that, enjoy these notable mother-and-gay-son films.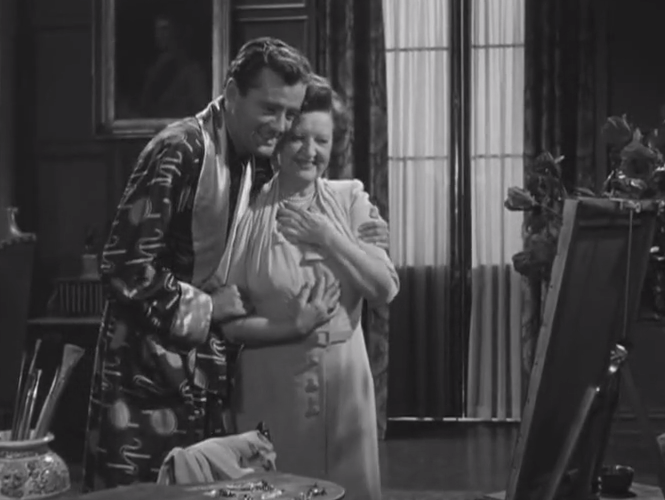 Strangers on a Train (1951)
Robert Walker plays adorable psychopath Bruno, who is itching to off his father. He crushes on tennis pro Guy Haines (played by bi actor and dreamboat Farley Granger) and tries to persuade Guy to trade murders (Bruno murders Guy's wife) so they can both have an alibi. Marion Lorne (you will know her as Aunt Clara from the TV show Bewtiched) plays Bruno's dithering and completely indulgent mother. This scene below shows the perverse dynamic between mother and son that director Alfred Hitchcock explored over and over again in his films.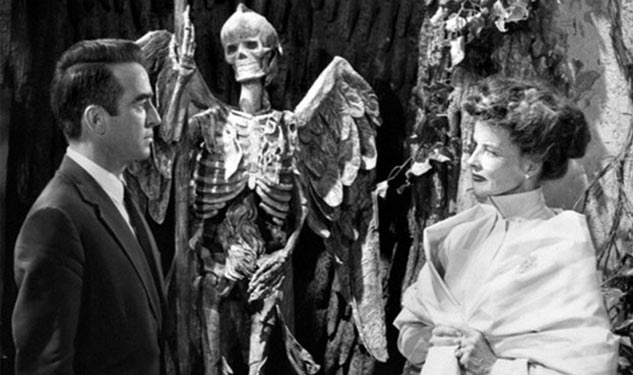 Suddenly, Last Summer (1959)
The gay son in Tennessee Williams's story is a ghost, in that the entire film is about him, but he is already dead when it begins. The only son of wealthy widow Violet Venable died while on vacation with his cousin Catherine. What the girl saw was so horrible that she went insane; now Mrs. Venable wants Catherine lobotomized to cover up the truth. Williams is at his darkest here, with some scriptwriting help from Gore Vidal. Montgomery Clift plays the doctor investigating the case and unwittingly becomes a stand-in for the lost gay son and cousin to, respectively,Katharin Hepburn as Violet and Elizabeth Taylor as Catherine. Incest-y with a touch of cannibalism.
Below, Gore Vidal in a clip from The Celulloid Closet on censorship and the making of the film: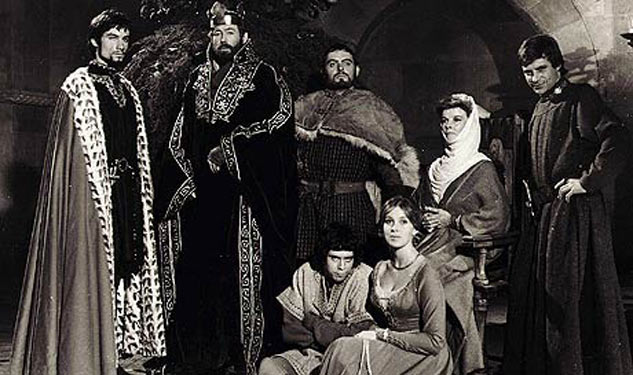 The Lion in Winter (1968)
This film raises the question: Who is the bigger queen? We would have to say that Katharine Hepburn, in her Academy Award-winning performance as Eleanor of Aquitaine, would win that battle. Anthony Hopkins plays her gay son, Richard the Lionheart, who eventually succeeded his father, Henry II, played by Peter O'Toole, as king of England. The story concerns Henry finding out that King Philip II of France is plotting against him and that Philip has had an affair with Richard, which is totally understandable as Philip is played by a young and dreamy Timothy Dalton.

Below, Anthony Hopkins on the making of the film: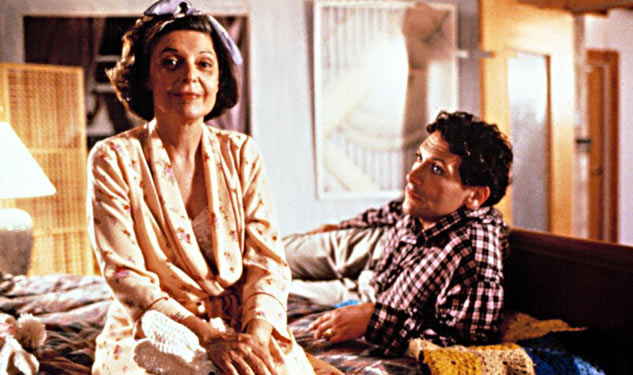 Torch Song Trilogy (1988)
The story centers on Arnold Beckoff, a torch song-singing Jewish drag queen living in New York City in the late 1970s and 1980s. Harvey Fierstein's 1982 play transitioned beautifully to the screen. Although we would have loved to have seen Estelle Getty (who appeared in the stage version) as Arnold's (Fierstein's) mother, Anne Bancroft eats it up in the film version.
Below, witness one of the virtuoso arguments between Arnold and his mother: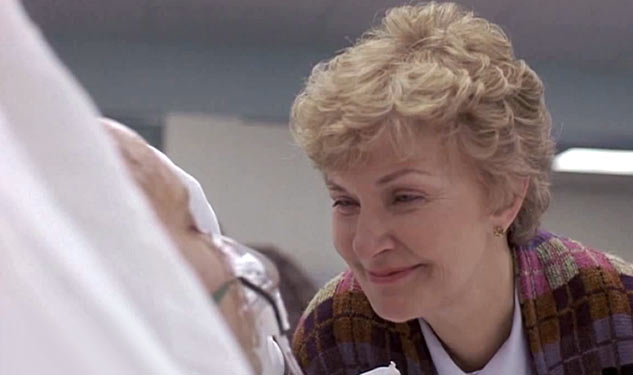 Philadelphia (1993)
In Philadelphia, one of the first mainstream Hollywood films to deal with AIDS, Joanne Woodward plays Sarah Beckett, the super-supportive mom anyone would dream of having. As her gay son, Andrew (Tom Hanks), makes plans to sue the law firm that fired him for having AIDS, she says, "Well, I didn't raise my kids to sit in the back of the bus. You get in there and you fight for your rights, OK?" Toward the end of the film, as Andrew lies dying in the hospital, her parting words are "Good night, my angel. My sweet boy."
See Wooward and Hanks in a crushingly sad clip below: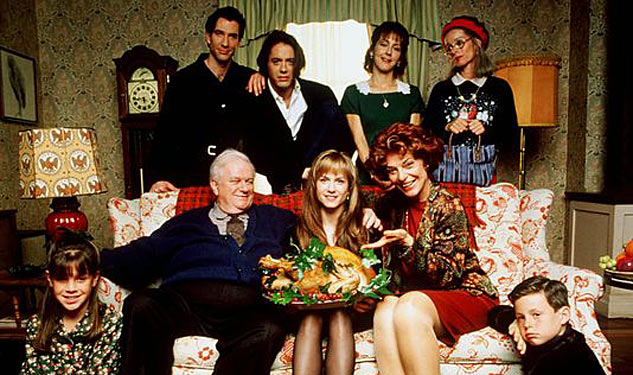 Home for the Holidays (1995)
Robert Downey Jr.'s performance as gay son Tommy is one of the highlights of this terrific Thanksgiving-set comedy, directed by Jodie Foster, about a family that will likely make yours look a lot less dysfunctional. He and his mom, Adele (the great Anne Bancroft again), have pretty much a "don't ask, don't tell" relationship, but they do get along. "You're a pain in my ass. You have bad hair. But I like you a lot," he tells her. The only really homophobic family member is sister Joanne (Cynthia Stevenson), who's outraged that Tommy and his partner have gotten married. "How embarrassing," she says. But he has another sister, Claudia (Holly Hunter), who's way cool. She's upset only because she didn't know about the ceremony, and before she finds out about it, she fears that Tommy and his partner have broken up, as he's brought a different guy to Thanksgiving dinner. But then she learns a little more about that guy, Leo (hunky Dylan McDermott) ... well, watch the movie.
Below, the whole damn film, while it lasts, on YouTube. Happy Holidays.
Twilight of the Golds (1997)
Cowritten by Jonathin Tolins and based on his stage play, this drama gets down to the very root of the mother-and-gay-son connection. The spine of the plot: Would you choose to keep your unborn child if you knew the child was going to be gay? Faye Dunaway gives a wrenching performance disclosing the complex feelings she has toward her gay son, David (Brendan Fraser.)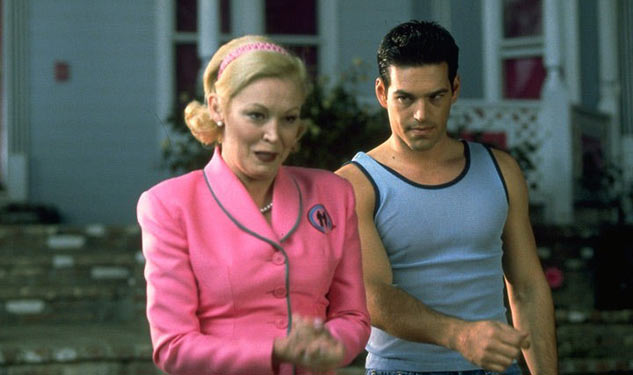 But I'm a Cheerleader (1999)
No homosexual rehab camp is complete without a deliciously perverse camp director clad in a Pepto-Bismol pink suit and her hunky closet case of a son (the handyman) sporting skin-tight booty shorts. Oscar nominee Cathy Moriarty stars as Mary Brown, a wonderfully campy June-Cleaver-gone-berserk type of homophobe who blatantly ignores her son Rock's (gorgeous Eddie Cibrian) proclivity for striking poses as he strokes his gardening tools for the viewing pleasure of the same gay teens who're supposed to overcome their "affliction" under Mary's care. See the trailer below: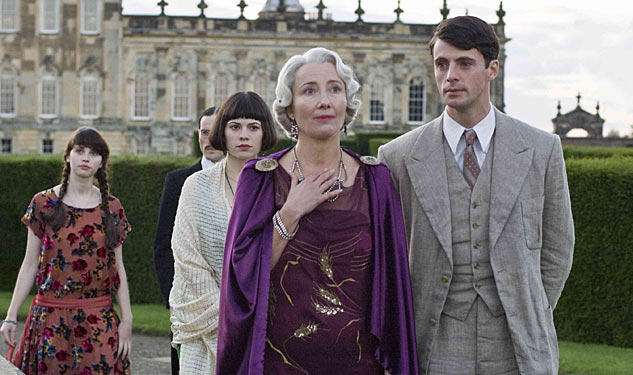 Brideshead Revisited (2008)
Emma Thompson plays the severe Lady Marchmain, the matriarch of a fantastically wealthy aristocratic British family. She is also deeply Catholic. Ben Whishaw is cast in the role of her son, the teddy bear-carrying Sebastian Flyte, one of the most notable and flamboyantly gay characters in English lit. Matthew Goode (pictured to the right of Thompson, above) as Charles Ryder plays the love interest for both Sebastian and his sister Celia in the film based on Evelyn Waugh's novel of British society between the wars.

The always-entertaining Emma Thompson on the film below: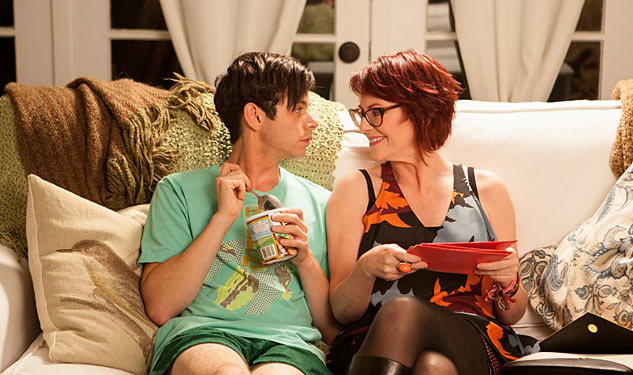 G.B.F. (2013)
No gay man could ask for a better mother than Megan Mullally, who plays precisely that role in G.B.F. (an acronym for "gay best friend"), a new teen comedy directed by Darren Stein (Jawbreaker) and written by George Northy. In G.B.F., Mullally shines as the mom eager to have her son Brent (Paul Iacono) come out to her as he struggles with a potential crush for his friend Tanner (Michael J. Willett), whose own impromptu coming-out makes him a must-have accessory for their high school's popular girls. To make her son feel more comfortable with his sexual orientation, Mullally orchestrates screenings of Brokeback Mountain, speaks frankly about safe sex, and reminds her son that her love is indeed unconditional. In this movie about the vicissitudes of popularity and coming out in high school, it is comforting to have a role model for parents of gay best friends everywhere.

Check out G.B.F.'s official trailer, which includes some hilarious lines from Megan Mullally, below.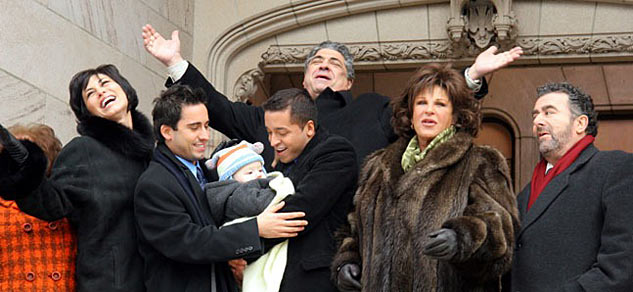 Oy Vey! My Son Is Gay! (2013)
OK, we admit. We didn't see this one. But, hey, it's Lainie Kazan, so we had to add it. This farce is about mother Shirley Hirsch (Kazan) and her agenda to get her son (John Lloyd Young as Nelson) married to a nice Jewish girl. Nelson is busy hiding in the closet with his hot little boyfriend, Angelo (Jai Rodriguez of Queer Eye for the Straight Guy fame). Hilarity ensues, identities are revealed, tears are shed, rights are supported. Surprisingly, this film was not made in 1988. Sure are a lot of Jewish mother-son films out there, huh?
---
Links:
[1] http://www.advocate.com/
[2] http://www.out.com/entertainment/popnography/2014/01/16/oscar-noms-lee-daniels-shut-out-dallas-buyers-club-scores-big
[3] http://www.advocate.com/arts-entertainment/film