---
Hot Sheet: Take a Holiday Break
By Advocate.com Editors
Originally published on Advocate.com December 21 2012 7:20 PM ET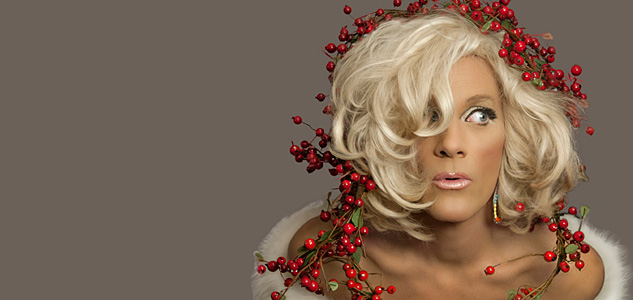 10. THEATER: A Very Tawny Christmas
Obie-winning actor-writer-director David Drake (The Night Larry Kramer Kissed Me) brings his new drag creation, disco one-hit wonder and showbiz survivor Tawny Heatherton, to his hometown of Baltimore for two nights only, December 28 and 29, in A Very Tawny Christmas at Spotlighters Theatre. The show is a benefit for Spotlighters, and proceeds will assist the company with renovation of its space.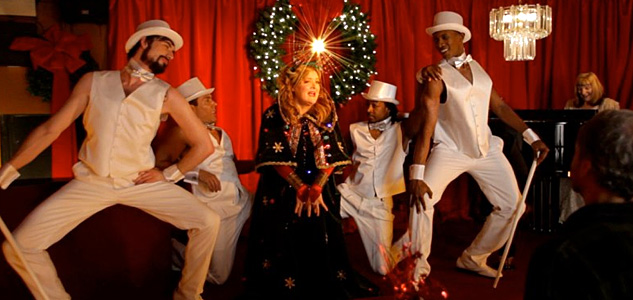 9. FILM/DVD: Scrooge & Marley
This variation on A Christmas Carol gives us Ebenezer Scrooge as the greedy, Christmas-hating owner of a Chicago gay bar. Of course, he learns kindness and generosity in the end, thanks to a few ghostly visitors. The cast includes David Pevsner, Tim Kazurinsky, Bruce Vilanch, David Moretti, and Megan Cavanagh. You can see the movie on the big screen in Chicago or Vancouver, Canada, in the coming days (with holiday music as an extra at the Chicago dates) or buy it on DVD or Blu-ray to enjoy at home.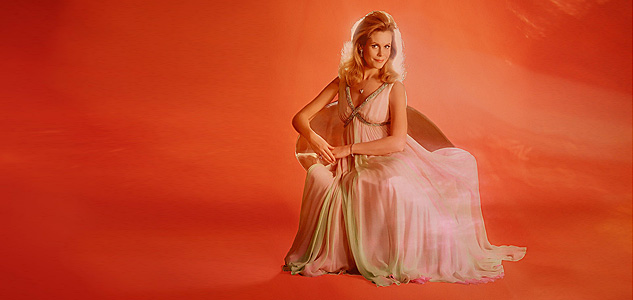 8. BOOKS: Twitch Upon a Star: The Bewitched Life and Career of Elizabeth Montgomery by Herbie J. Pilato
Most know Elizabeth Montgomery as the seriously cute Samantha Stevens on Bewitched, but the late actress lived a fascinating life. Not only was she and her second husband, Bewitched producer William Asher, good friends with President Kennedy, she was an activist. Montgomery was a staunch liberal who did charity work for AIDS, marched in a gay pride parade with her costar Dick Sargent, protested the Vietnam War, rallied for peace and advocated rights for the disabled. And, if you didn't notice, it was pretty important for the Bewitched producers to examine the roots of discrimination, even if it was toward those who practice witchcraft. At Amazon.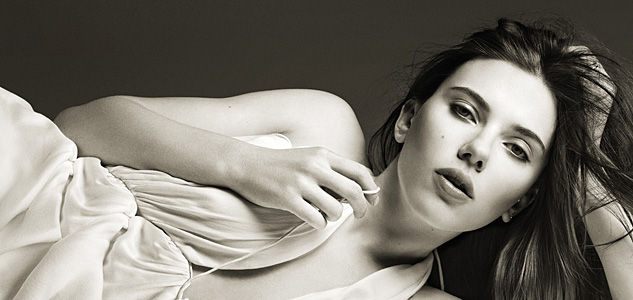 7. THEATER: Cat on a Hot Tin Roof
The newest Broadway production of Tennessee Williams's classic about passionate Maggie the Cat and her closeted gay husband, Brick, stars Scarlett Johansson and Benjamin Walker, under the direction of Rob Ashford. The show began previews this week and runs through March at the Richard Rodgers Theatre.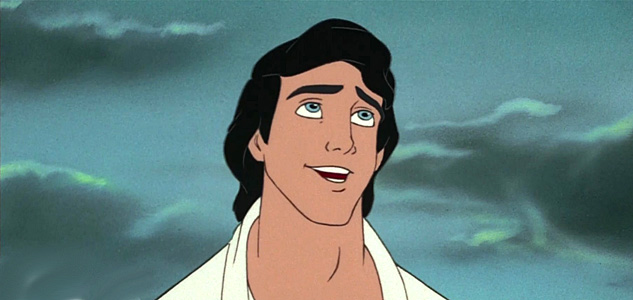 6. BOOKS: The Disney Song Encyclopedia by Thomas Hischak and Mark A. Robinson
You don't have to be a Disney über fan to enjoy an afternoon with the Disney Song Encyclopedia. The latest edition of this book is chock full of fun facts: Did you know that Steven Sondheim wrote the jazzy "More" for Dick Tracy (1990), memorably sung in the trailer by Madonna? Also, Disney has it's own version of the birthday song, titled "Happy, Happy Birthday" written in 1983 to avoid dealing with the copyright issues that occur with the song, "Happy Birthday" that most people sing when it's time to blow out the candles. Above, Prince Eric from The Little Mermaid; on the home page, Prince Ferdinand from Snow White.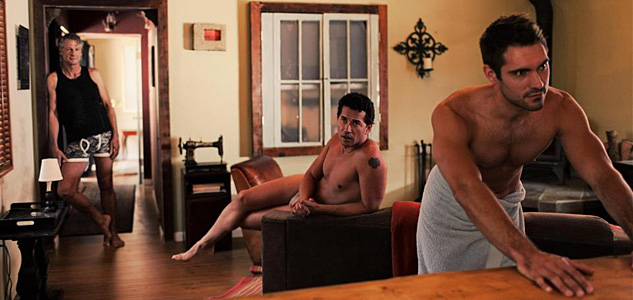 5. DVD: The Men Next Door
Director Rob Williams' sixth film, The Men Next Door, tackles the motherload, as it were, of all gay plotlines. Doug (played by Eric Dean) is a 40-year-old gay man just looking for love, and finding it right next door, with two different men. Jacob (Michael Nicklin), a smart, thoughtful 50-year-old man who came out later in life couldn't be more different from Doug's other love interest, adventurous 30-year-old Colton (Benjamin Lutz). But what Doug doesn't catch right off the bat is that Jacob and Colton are actually father and son. Get paternal with this hilarious, award-winning comedy, now available on DVD from Guest House Films.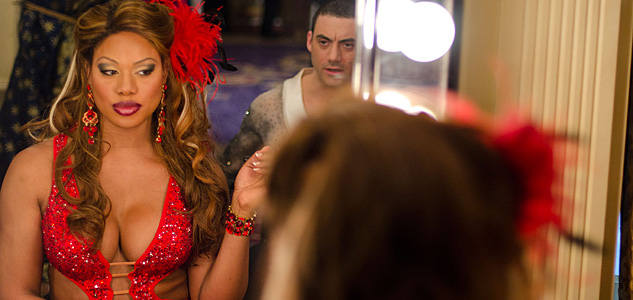 4. STREAMING FILM: Musical Chairs
Director Susan Seidelman's (Desperately Seeking Susan) latest film, Musical Chairs, is now available streaming free online for a limited time. A unique blend of dance, drama, and romance, the film stars newcomers Leah Pipes and E.J. Bonilla as a pair of unlikely lovers in New York who must navigate a labyrinth of challenges as they both try to break out of their restrictive — but polar opposite — worlds to find one another and themselves. A truly heartwarming story of overcoming challenges and quieting the critics in one's head, the film also stars transgender actress Laverne Cox as a sassy wheelchair-bound transgender dancer who shows female lead Mia (Pipes) that ballrooom dancing need not be a pastime reserved for the fully able-bodied. Seidelman says she wanted to share the film as a holiday gift to encourage viewers to embrace diversity in all its forms, be it physical, cultural, or gender-based diversity. Watch the entire film free through December 31, right here.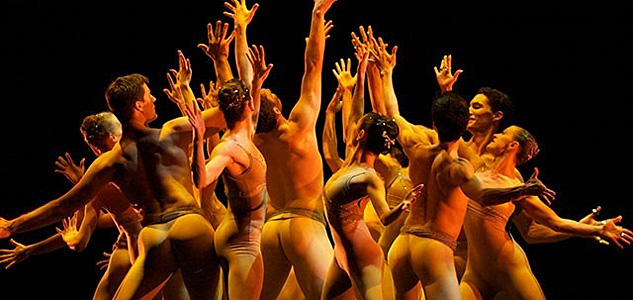 3. TV: Joffrey: Mavericks of American Dance
The latest installment of the excellent American Masters series on PBS takes a retrospective look at the first quintessentially American dance company, the Joffrey Ballet. Narrated by the incomparable Mandy Patinkin (Homeland), the 90-minute documentary is the first to go behind the scenes of the revolutionary company that changed the face of American dance by seamlessly integrating modern and traditional ballet to create something entirely unique. The film follows the company through its founding in 1956 by Robert Joffrey and Gerald Arpino, touring the country in a borrowed station wagon, to its rise as one of the world's most exciting and prominent ballet companies. Watch the trailer below, and catch the full film on PBS at 9 p.m. EST on December 28.
Watch Trailer: Joffrey: Mavericks of American Dance on PBS. See more from American Masters.


2. MUSIC: True, Solange
The last album by Solange Knowles (yes, Beyonce's little sis), Sol-Angel and the Hadley Street Dreams, was a delightful and interesting confection of girl-group harmonies and trippy world music. The award-winning songwriter has delivered again with True, her seven-song EP out now. While lead single "Losing You" is a lovely R&B ditty that's both mournful and upbeat, all the tunes are excellent — perfect fodder for the treadmill or a thoughtful drive. Download now!


1. FILM: Les Misérables
The beloved musical comes to movie screens Christmas Day, with Hugh Jackman, Russell Crowe, Anne Hathaway, and Amanda Seyfried starring and Tom Hooper (The King's Speech) directing. Early reviews are mixed, but the film is already racking up award nominations. It's definitely a must-see for anyone who loves epic stories, big emotions, and soaring musical numbers.
---
Links:
[1] http://www.advocate.com/
[2] http://www.spotlighters.org/holidaycabaret.html
[3] http://www.scroogeandmarleymovie.com
[4] http://www.amazon.com/Twitch-Upon-Star-Bewitched-Montgomery/dp/1589797493/ref=sr_1_1?ie=UTF8&qid=1356108839&sr=8-1&keywords=twitch+upon+a+star+the+bewitched+life+and+career+of+elizabeth+montgomery
[5] http://www.catonahottinroofbroadway.com/#home-page
[6] http://www.amazon.com/Disney-Song-Encyclopedia-Thomas-Hischak/dp/1589797132/ref=sr_1_2?ie=UTF8&qid=1356108855&sr=8-2&keywords=disney+song+encyclopedia
[7] http://www.guesthousefilms.com/movies_themennextdoor.html
[8] http://www.guesthousefilms.com
[9] http://www.advocate.com/print-issue/spectator/2012/04/10/laverne-cox-new-challenge-trans-actress
[10] http://bit.ly/MusicalChairsStream
[11] http://video.pbs.org/video/2312264479
[12] http://www.pbs.org/wnet/americanmasters/
[13] http://www.lesmiserablesfilm.com/
[14] http://www.advocate.com/arts-entertainment/hot-sheet