---
Hot Sheet: Ursa Major
By Advocate.com Editors
Originally published on Advocate.com July 19 2013 4:30 PM ET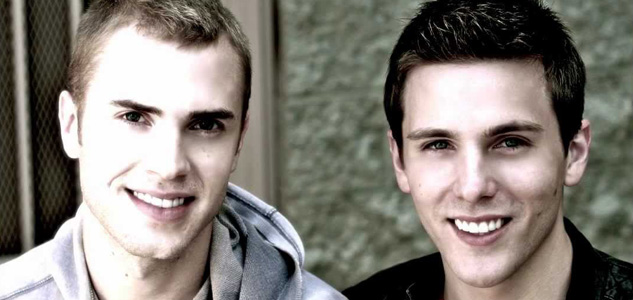 10. FILM: Bridegroom
In 2011, Tom Bridegroom (above right), 29, accidentally fell off a roof and died. His untimely death sparked a chain of events that led his partner of more than five years, Shane Bitney Crone (above left), to create a YouTube video that chronicled the legal and social barriers that prevented him from attending the funeral of the man he loved. And that YouTube video inspired this film. Due to popular demand, Bridegroom the documentary is adding screenings at Outfest in Los Angeles this weekend. This is the film that former president Bill Clinton famously introduced at its premiere, saying, "This is really on one level a wonderful, sad, heartbreaking, yet exhilarating and life-affirming story, and on another level, it's a story about our nation's struggle to make one more step in forming a more perfect union." It's already the winner of Tribeca's Heineken Audience Award and clearly picking up more buzz. The next screening is Sunday at 4 p.m. at the Director's Guild of America in Hollywood. (Find ticket information here.)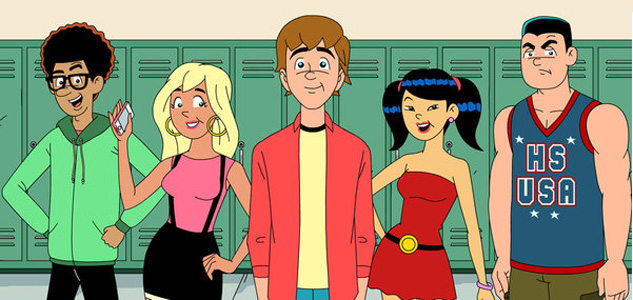 9. TV: The Premiere of High School USA!
As part of Fox's new Animation Domination High-Def, the network is rolling out two new animated series: Axe Cop and High School USA! Fans of Parks and Rec will be drawn to the badass crime fighter Axe Cop (voiced by Nick Offerman, aka Parks' Ron Swanson) and his band of vigilante sidekicks (our favorite is Giancarlo Esposito as Army Chihuaha). And while it has some fun queer casting like Megan Mullally, we're most excited about High School USA!, a new Archie-style comic series in which two girls lez out in episode one. High School follows a group of super-positive Millennial students confronting all the unique challenges of growing up in a modern world, like cyber-bullying and embarrassing sexting incidents. In the first episode, "Bullies," teen Marsh learns a valuable lessen about bullying and then Cassandra (voiced by Mandy Moore) gets ready for the "It Gets Better After High School" dance. The show premieres on Fox Sunday, July 21 at 9:30/8:30 p.m. Central.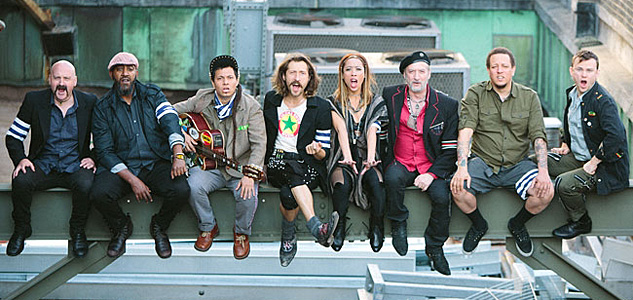 8. MUSIC: Pura Vida Conspiracy, Gogol Bordello
Pura Vida Conspiracy is the newest album from Gogol Bordello, the gypsy band — actually comprised of gypsies —from New York. The band is known for its theatrical, carnival-like concerts, ocassional collaborations with Madonna, and the song "Let's Get Crazy," used in European Coca-Cola campaigns in 2012. The band's sixth studio album drops Tuesday, with a sound that is Eastern European-folk mixed with punk, and some rock thrown in for good measure.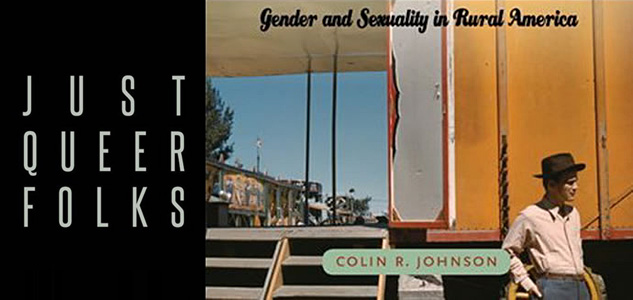 7. BOOK: Just Queer Folks: Gender and Sexuality in Rural America
Think LGBT folks were limited to mostly urban environments in the first half of the twentieth century? Think again. Colin Johnson's new book, Just Queer Folks: Gender and Sexuality in Rural America (Temple University Press) explores the seldom-discussed history of same-sex intimacy and gender nonconformity in rural and small-town America during a period when the concept of homosexuality was just being formed. Instead of focusing on "identity," Johnson takes a queer historicist approach, and finds "a startlingly unruly rural past in which small-town eccentrics, 'mannish' farm women, and cross-dressing Civilian Conservation Corps enrollees were often just queer folks so far as their neighbors were concerned." The book wonderfully dispels a lot of stereotypes, including the notion that queer history is always urban history.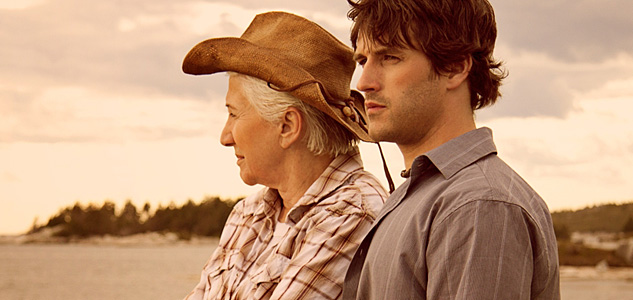 6. DVD: Cloudburst
Thom Fitzgerald (The Hanging Garden) directs Oscar-winners Olympia Dukakis and Brenda Fricker in his critically acclaimed lesbian road movie, Cloudburst. Dukakis and Fricker have excellent on-screen chemistry as a long-term but still passionate lesbian couple who escape from the nursing home to road trip from Maine to Nova Scotia to get legally married. You'll root for this latter-day Thelma and Louise to have a happy ending to their journey, on which they pick up a handsome gay male hitchhiker and encounter various other complications. The film, which slowly made its way through the festival circuit last year to broad international acclaim, finally has a U.S. release date; Cloudburst will be available on digital platforms on Tuesday, and on DVD July 30 from lesbian-owned distributor Wolfe Video.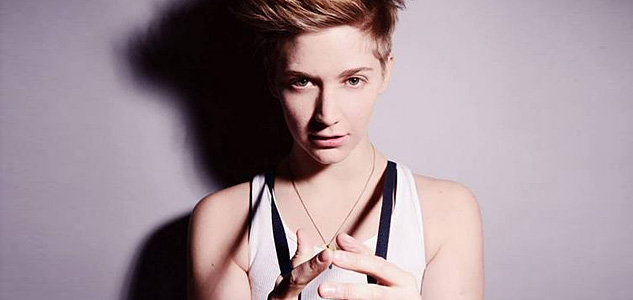 5. MUSIC: Julia Weldon, Light Is A Ghost
New York-based singer-songwriter Julia Weldon might be the most soulful singer you've never heard of. The 30-year-old New Jersey native has been making East Coast audiences swoon for more than a decade with her heartfelt lyrics, and aching, tender voice. Weldon's sophomore album, Light Is a Ghost, debuts Friday with a release party at Brooklyn's legendary Knitting Factory. Light Is a Ghost reveals a tender, multitalented out artist with impressive depth as she's backed up on 12 tracks by a full band. The album's digital release is scheduled for August 20, according to Weldon's website.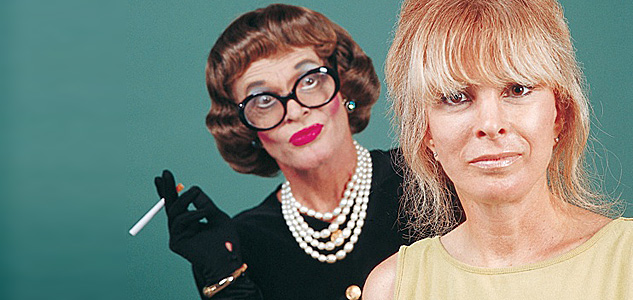 4. THEATER: Me and Jezebel
Twenty years ago, Elizabeth Fuller's comedic play Me and Jezebel, based on a true story about the queen of Hollywood, Bette Davis, hit the stage. In 1985, Davis came to Fuller's home in New England for dinner and stayed. For weeks. In one short month, Davis conquered suburbia, took over the Fullers' home, and changed their lives forever. And yes, there is a séance. Snapple Theater, 210 West 50th Street, NYC.

3. EVENT: Bear Week in Ptown
This is the last weekend for Bear Week in Provincetown, an annual mecca for gay men of all ages who embrace body hair and themselves. Outside of the sun and partying, get a laugh with one of the LGBT comedians in town. Kate Clinton is on stage nightly at The Crown & Anchor, and the Carousel of Comedy 7:30 p.m. show at Post Office Cabaret includes Kristen Becker and our own comedy editor, Jami Smith, followed by a late show with Justin Martindale at 10 p.m. Check out PTownBears.org for a list of other events happening this weekend.

2. THEATER: Homo the Musical!
B-movie director Lola RocknRolla, and acclaimed theater performer/director David Drake, are teaming up to bring one of the most sex-filled, gut-wrenching, dildo-throwing musical events ever seen at the New York Musical Theater Festival. Homo The Musical! tells the story of a gay alien from Planet Homo, who invades the religious mid-American town of Pleasant Valley Pines and sparks a city-wide sexual revolution that creates scandal among the most conservative of citizens. It's campy, has a killer punk-rock score, and Drake (who is known for his Obie-winning performance in the longest-running solo show in New York theater history, The Night Larry Kramer Kissed Me) will be directing this show. Homo The Musical! hits the stage on Tuesday at 8 p.m.; Thursday at 5 p.m. and 9 p.m., July 26 at 5 p.m., and July 27 at 9 p.m. (Get more details here.)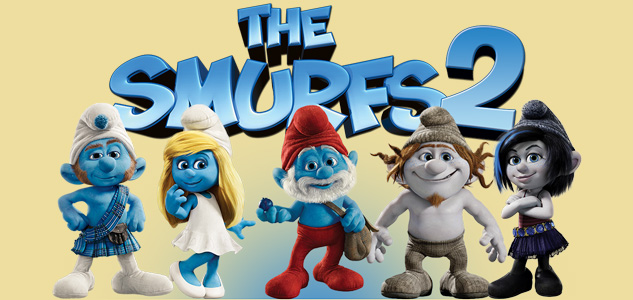 1. FILM: The Smurfs 2
The Smurfs sequel gets a little naughty! Our favorite tiny blue creatures return this summer for The Smurfs 2, out everywhere on July 31, with cast members Neil Patrick Harris, Jayma Mays, and Katy Perry. This time around, the evil Gargamel creates Smurf-like creatures called the Naughties, and then kidnaps Smurfette because she knows the spell to make the real Smurfs, leaving the other Smurfs to team up with their human friend to rescue her. Gargamel takes Smurfette to Paris, where she must find out if the Naughties are friends or foes. The Smurf movies are made mainly for kids, but have that edgy humor that makes it entertaining for adults, too. And anything starring NPH has our stamp of approval. Watch the trailer below:
---
Links:
[1] http://www.advocate.com/
[2] http://www.outfest.org/tixSYS/2013/xslguide/eventnote.php?notepg=1&EventNumber=3778
[3] http://www.foxadhd.com/
[4] https://itunes.apple.com/us/album/pura-vida-conspiracy/id662182219?ign-mpt=uo%3D4
[5] http://wolfereleasing.com/info/title/cloudburst/
[6] http://juliaweldon.com/
[7] http://bk.knittingfactory.com/event/?id=3660424
[8] http://www.meandjezebeltheplay.com/tickets.html
[9] http://www.onlyatthecrown.com/entertainment/performer.php?id=7
[10] https://www.seatengine.com/event/2462
[11] http://PTownBears.org
[12] http://homothemusical.com/
[13] http://www.nymf.org/tickets/2013-events/homo-musical
[14] http://www.advocate.com/arts-entertainment/hot-sheet