---
Hot Sheet: Stranger Danger
By Advocate.com Editors
Originally published on Advocate.com January 23 2014 9:22 PM ET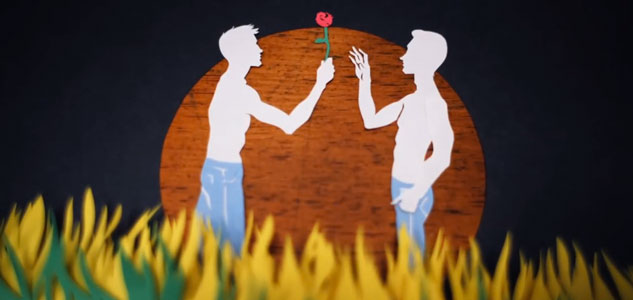 10. MUSIC: Is There Anybody Out There? by A Great Big World
You probably know this New York duo from their single "Say Something," to which Christina Aguilera contributed after she heard it. Their debut full-length album, Is There Anybody Out There?, just came out, featuring that haunting tune as well as the Macklemore-light song "Everybody Is Gay." Affirming? Trite? You be the judge. — Neal Broverman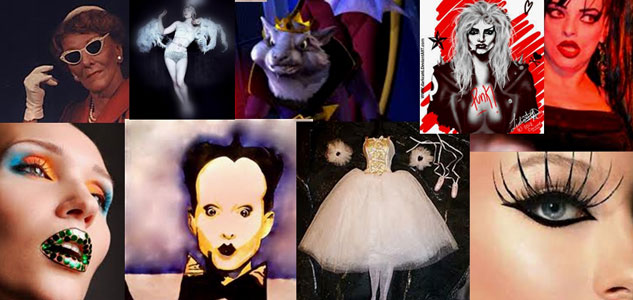 9. DANCE: Diversi-Tease
It may be cold outside in Minneapolis this time of year, but there will be plenty of hot action inside the city's Ritz Theater during Diversi-Tease, an LGBT-inclusive three-day festival of burlesque, drag, vaudeville, and cabaret that begins Thursday. Presented by the Burlesque Dolls, an affiliate of Twin Cities troupe Ballet of the Dolls, the event will feature more than 40 acts over five shows and offer classes for the general public, welcoming dancers of all ages, sizes, and genders. "I think it's really important to promote and show how within this genre it is so diverse," Burlesque Dolls member Queenie von Curves told the Twin Cities' Lavender Magazine. "Whether it's 'I don't fit into a gender,' or 'I fit into both genders.' Maybe I'm a bigger girl. It doesn't really matter who you are or where you come from as long you can bring it." Order tickets and register for classes at Ritz-Theater.org. — Trudy Ring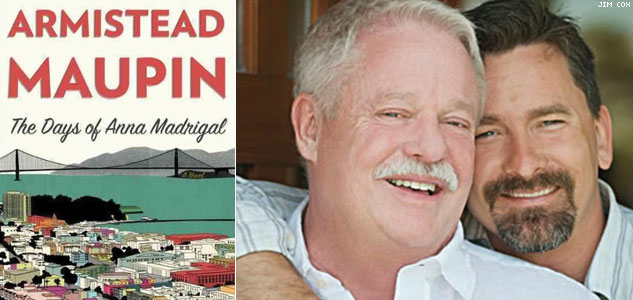 8. BOOKS: Tales of the City: The Days of Anna Madrigal by Armistead Maupin
For those of you following along at home, this is Armistead Maupin's ninth installment in his Tales of the City series, following a group of friends through love, kids, businesses, and drugs, drugs, drugs. The series has been going on since 1978 and has essentially been unfolding in real time. The Days of Anna Madrigal, which involves a road trip to Burning Man, will be the last entry in the much-beloved series. — Michelle Garcia
7. THEATER: A Great Wilderness
A counselor at an "ex-gay" camp in Idaho begins to question his beliefs when one of his charges goes missing in Samuel D. Hunter's play, having its world premiere at the Seattle Repertory Theater. A Great Wilderness was commissioned by Seattle Rep and workshopped at its 2013 New Play Festival, and its subject matter is deeply personal to Hunter. "I wrote this play as an exploration of what my life could have been," he says. "I went to a fundamentalist Christian school growing up, and came out when I was 17. I was faced with two options: self-actualization, being the person I was meant to be, and trying to figure out how to reconcile that with the religious life I had always known, which gave me great comfort and structure; or denying that part of myself and embracing my religious life for better or worse. I chose the first option, and this work is my examination of the latter." The show opened last week and runs through February 16; tickets and info here. — Trudy Ring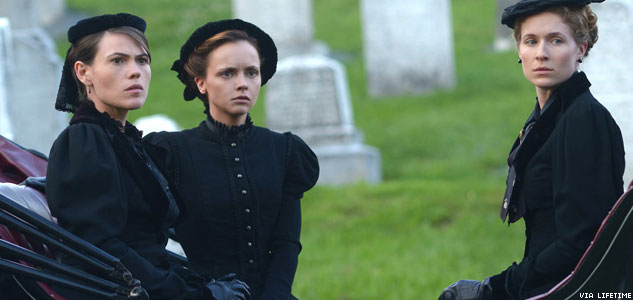 6. TV: Lizzie Borden Took an Ax
In Lifetime's Lizzie Borden Took an Ax, premiering this weekend, Christina Ricci stars as one of America's most famous maybe-murderesses, Lizzie Borden, who was accused of hacking her parents to death at their Massachusetts home in the late 19th century. The movie, which also features the talented Clea DuVall as Lizzie's loyal older sister, Emma, is a suspenseful whodunit that portrays the ensuing trial and media sensation caused by the possibility of a young woman's involvement in her parents' brutal killing. (DuVall, in an interview with The Advocate, called Borden "that era's O.J.") Ricci is deliciously eerie in her portrayal of Borden, and audiences may find both creep and camp value in the latest incarnation of one of America's most infamous trials. — Daniel Reynolds
Lizzie Borden Took an Ax premieres Saturday at 8 p.m. on Lifetime. Watch the trailer below.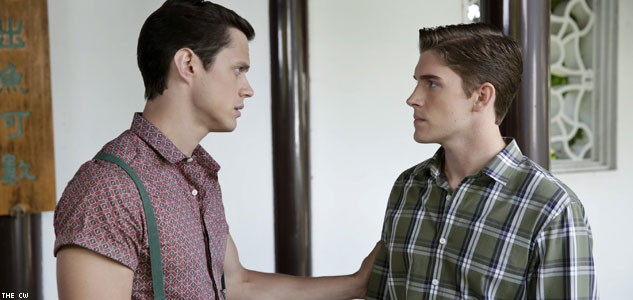 5. TV: The Carrie Diaries
On the heels of last week's episode, which focused on the effects of the AIDS crisis on the gay community of New York City in the 1980s, tonight's new entry of The Carrie Diaries finds Carrie (AnnaSophia Robb), Mouse (Ellen Wong), Maggie (Katie Findlay), and Walt (Brendan Dooling) deciding to go to their senior prom — at the Waldorf Astoria — together for a final hurrah. Larissa (Freema Agyeman) offers Carrie an opportunity that makes her rethink her plans for the next year, while Mouse learns a secret about Donna LaDonna (Chloe Bridges) that could threaten her reign as queen bee. Meanwhile, Sebastian (Austin Butler) hides a big decision from Carrie. The Carrie Diaries airs at 8 p.m. Eastern on the CW. — Jase Peeples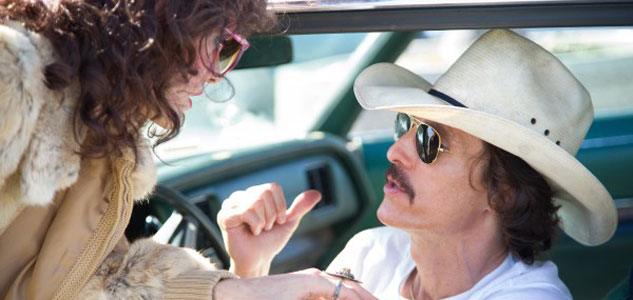 4. DVD: Dallas Buyers Club
Dallas Buyers Club, the epic true story of one man's fight for survival, arrives on Blu-ray and DVD February 4. With bonus features that include deleted scenes and a look inside the movie, the home video release of the Academy Award–nominated film brings home the Golden Globe–winning performances of Matthew McConaughey as Texas cowboy Ron Woodroof, who sees his freewheeling life overturned when he's diagnosed as HIV-positive, and Jared Leto as Rayon, a transgender woman who is dying of AIDS and battling drug addiction. Together the two overcome their differences and unite a band of outcasts in a struggle for dignity and acceptance. — Jase Peeples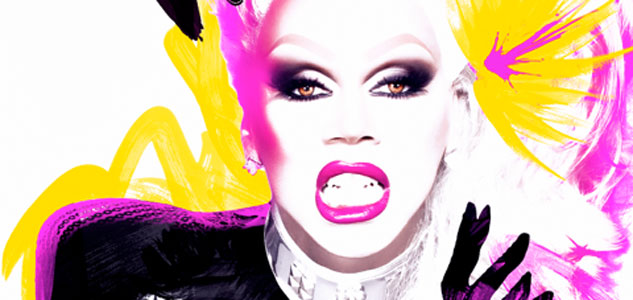 3. MUSIC: RuPaul Presents: The CoverGurlz, a New Collection of Classic RuPaul: Songs by the Queens of RuPaul's Drag Race Season 6
We can't think of a more perfect way for Logo and Ru to promote the latest season of Drag Race: having each competing queen cover one of Ru's classics. Get ready for "Click Clack (Make Dat Money)" from Bianca Del Rio, "Ladyboy" from Gia Gunn, "T-Chaser" from Joslyn Fox, and 11 other scandalous songs. The iTunes album is out Tuesday, as are 14 accompanying videos on the YouTube channel WOW Presents. The new season premieres February 24. — Neal Broverman
2. THEATER: Brokeback Mountain, The Opera
If you love opera and Brokeback Mountain, we'll predict that you'll enjoy Annie Proulx's adaptation of her novella into an epic opera. Proulx's collaboration with Charles Wuorinen will premiere Tuesday at Teatro Realin Madrid. According to Out, the opera is fiercely dedicated to the source material, which Proulx says is not a sentimental story: "It is a story about rural regional homophobia ... in a situation that needlessly ends in tragedy. It is only a romantic story if you think the inability to conquer fear and self-loathing are romantic."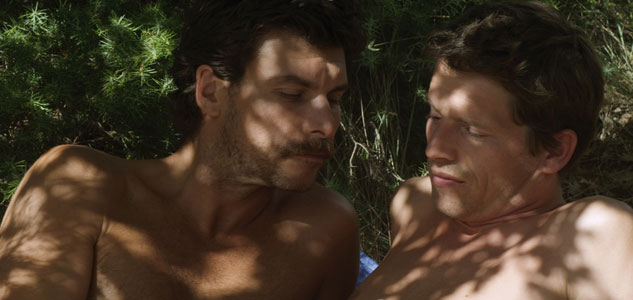 1. FILM: Stranger by the Lake
Stranger by the Lake, a French drama directed by Alain Guiraudie, has received much acclaim from both critics and festivals, including Cannes, which honored the film with its Queer Palm award. Stranger follows the story of Franck (Pierre Deladonchamps) and his flirtation with Michel (Christophe Paou), a handsome man he encounters on a beach that gay men frequent for flirtation and sunbathing. Summer loving quickly turns sour, however, when Franck witnesses Michel drowning another man in the lake, an act he keeps a secret in order to protect the man with whom he has fallen in love. An investigation into the murder ensues, and as suspicions run high, Franck must walk the razor-thin line between fear and infatuation. — Daniel Reynolds

Stranger by the Lake premieres today at the Film Society of Lincoln Center in New York City. Watch the trailer below.
---
Links:
[1] http://www.advocate.com/
[2] http://www.ritz-theater.org/
[3] http://www.seattlerep.org/Plays/1314/GW/Synopsis
[4] http://www.out.com/entertainment/music/2014/01/09/how-brokeback-mountain-opera-came-be
[5] http://www.advocate.com/arts-entertainment/hot-sheet