---
ARCHIVE: Sting on Kissing Guys
By Tiara Chiaramonte
Originally published on Advocate.com November 12 2013 5:25 AM ET
Rock legend Sting took his act from amphitheaters and stadiums and for an intimate acoustic set at Magicopolis in Santa Monica, Calif., to promote his new album, The Last Ship, Monday night.
Sting performed with artists from his record label Cherry Tree Records, Matthew Koma, Ivy Levan, the Hunts, and Michael Kiwanuka.
In honor of Sting's new album, here's a look back at his cover interview with The Advocate in 1996. The then-45-year-old star had been crossing over into acting and recently played a bisexual character in the film The Grotesque.
On the following pages are a few of our favorite quotes from that interview, accompanied by photos of his set on Monday.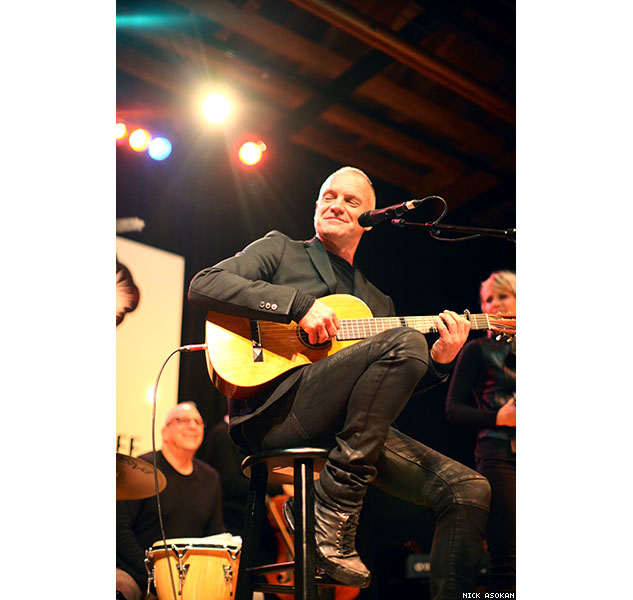 The Advocate: When you did your gay sex scenes in The Grotesque, did you feel anything for the other actor sexually?
Sting: I think that's very dangerous, because the easiest way to portray someone in love or someone in lust is to be in love or in lust. That's a very easy thing to fall into. If you're making love to a beautiful man or a beautiful woman — it's a quite attractive idea to your body.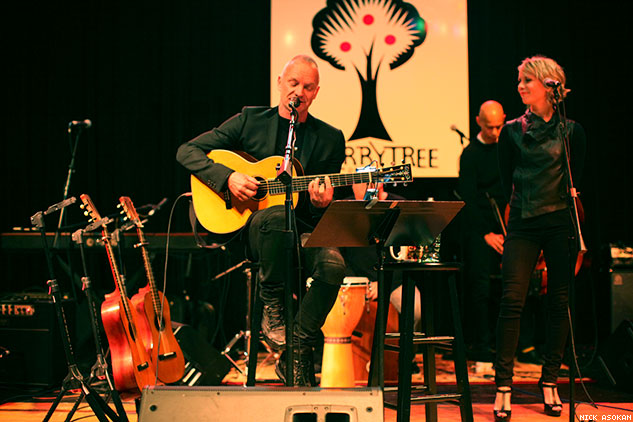 The Advocate: So, Sting, did you enjoy kissing the male actor or not?
Sting: [Laughs] OK. It wasn't entirely unpleasant.

The Advocate: Was that a surprise to you?
Sting: Yeah. I mean, I've been conditioned like most people. The idea that there are taboo areas of the body. To kiss someone on the lips is one of those areas. It's a symbolic thing. So all right, I did it, and the actor I kissed was the same as me: He'd never done it before with a man. Now we both have. So I suppose we're gay now.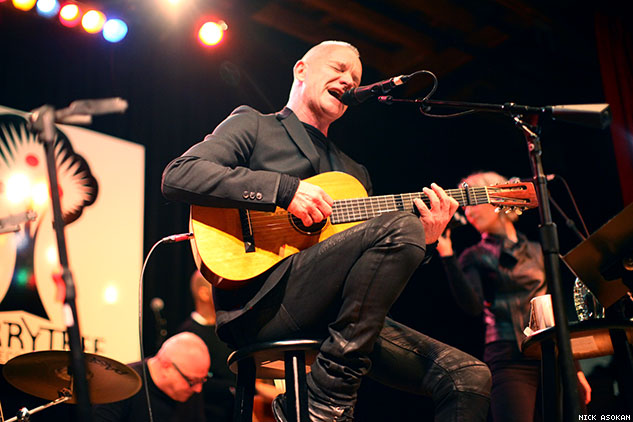 The Advocate: Have you heard the joke "Is he gay or just British?"
Sting: I don't think of that as a joke. Did we invent camp, or did we not? I think the British gay movement was probably a pioneer. Noël Coward thought of himself as one of the stately homes of England — even though it was against the law until quite recently. Homosexuals have a place in society. I think the British have a great affection for them.
The Advocate: You've always been candid about representing yourself as a very sexual person. I read how you do yoga to enjoy sex longer. Has your sexual appetite ever led you to a homosexual experience?
Sting: No. I haven't had a gay relationship — although I do have very close, loving relationships with the men I work with, other musicians. It's a very tight community, a very close bond — and I love it. But it's not sexual.

The Advocate: How do you draw the line?
Sting: Well, thanks to the gay community, we men can actually follow our feelings and demonstrate our affections for each other without being afraid. I'm perfectly willing to hug the people I work with. I do it all the time. I think the generation before us — our fathers — they would shake hands, and that would be it. There would be no hugging or affection.
---
Links:
[1] http://www.advocate.com/
[2] http://www.sting.com/news/article/1022
[3] http://www.advocate.com/arts-entertainment/music