---
PHOTOS: Stars Reveal Skin, Favorite Scary Movies at Halloweenie
By Daniel Reynolds
Originally published on Advocate.com October 31 2013 2:15 PM ET
Fred and Jason's Annual Halloweenie is a "spook"-tacular that draws one of the year's hottest costumed crowds in support of the Gay Men's Chorus of Los Angeles. This year's party, the eighth annual event, was held in the downtown Los Angeles Theatre and drew a host of celebrities (and many drag Miley Cyruses) in support of the chorus's Alive Music Project, which works to stop bullying by bringing music education to L.A. public schools.
In the spirit of the evening, The Advocate spoke with Lindsey Shaw, Newlyweds: The First Year's Jeff Pedersen and Blair Late, Peter Marc Jacobson, Lance Bass, and more, to find out their favorite scary movies. Don't miss their responses as well as the many "sin"-tillating costumes of the party's attendees on the following pages.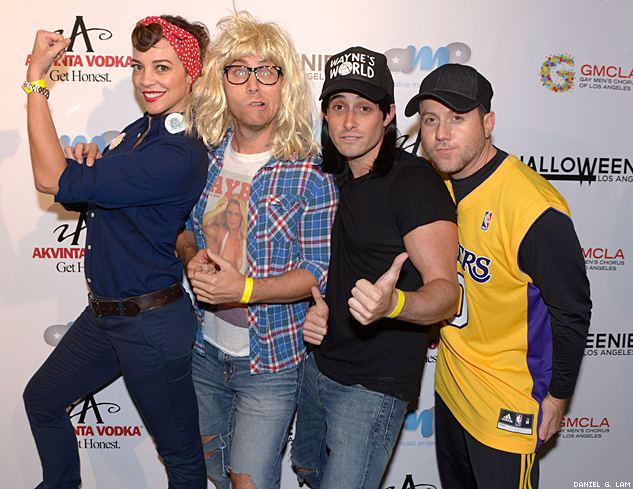 Lance Bass and fiancé Michael Turchin, in costume as Wayne and Garth from Wayne's World, both choose The Shining as their ultimate horror flick. "It's hard to make [genuinely] scary movies anymore, but they did it right," Bass says of the 1980 Stanley Kubrick film, starring Jack Nicholson. "My mother made me watch it when I was 10 years old," adds Turchin. "It stuck with me." Their creative costumes were chosen by listeners of Bass's radio program, Dirty Pop With Lance Bass, on Sirius XM.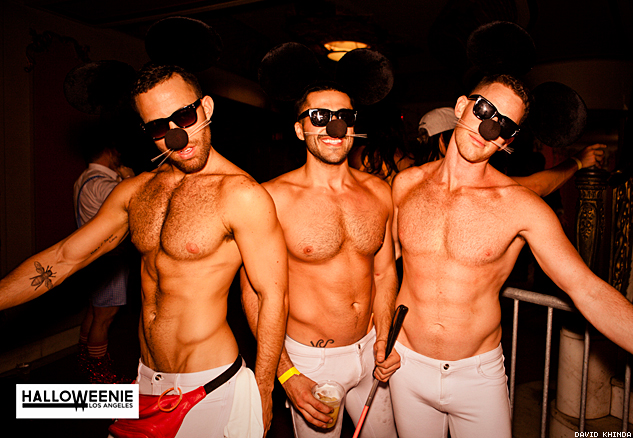 Three blind mice model eye-catching ensembles.
There's nothing "ambiguously gay" about newly married couple Jeff Pedersen and Blair Late, stars on Bravo's Newlyweds: The First Year. Unlike Bass and Turchin, the duo have different cinematic tastes. "Exorcist has to be the number 1 best," says Pedersen (left). "And, I think, closely following that would be the Michael Myers [films]." Late, on the other hand, favors more suspense-oriented choices. "I would say Silence of the Lambs," he says. "And we just saw Prisoners, with Hugh Jackman and Jake Gyllenhaal, and I was terrified. Serial killers are what scare me. Not exorcisms."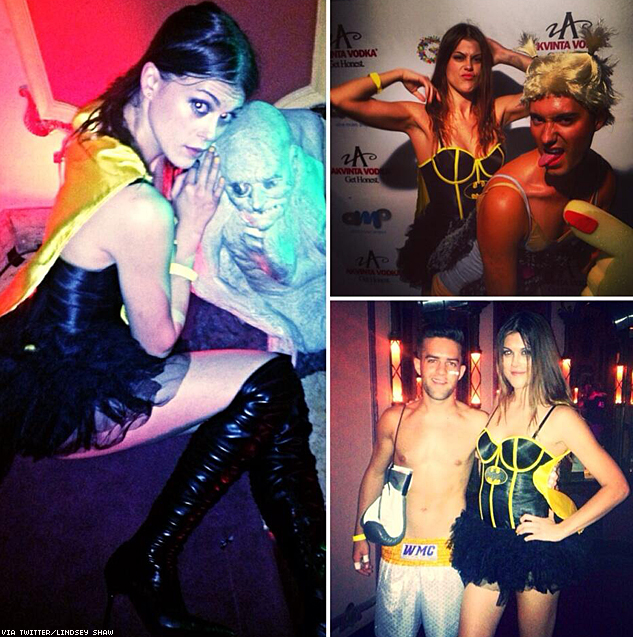 In a nod to fans, Pretty Little Liars actress Lindsey Shaw battles crime and Miley Cyrus as Batgirl on the black carpet. One of her favorite films involves another possessed girl — it's The Exorcism of Emily Rose, a combination horror movie–courtroom drama based on true events involving crime, death, and exorcism.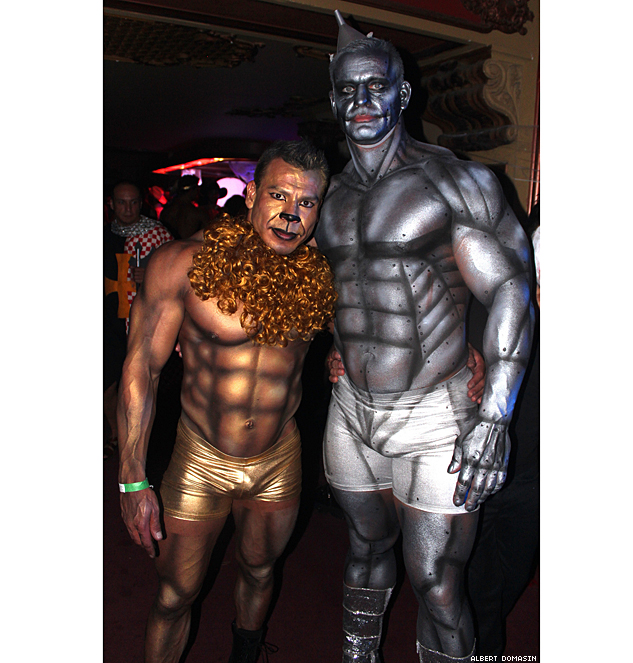 As Dorothy would say, "Toto, I don't think we're in Kansas anymore."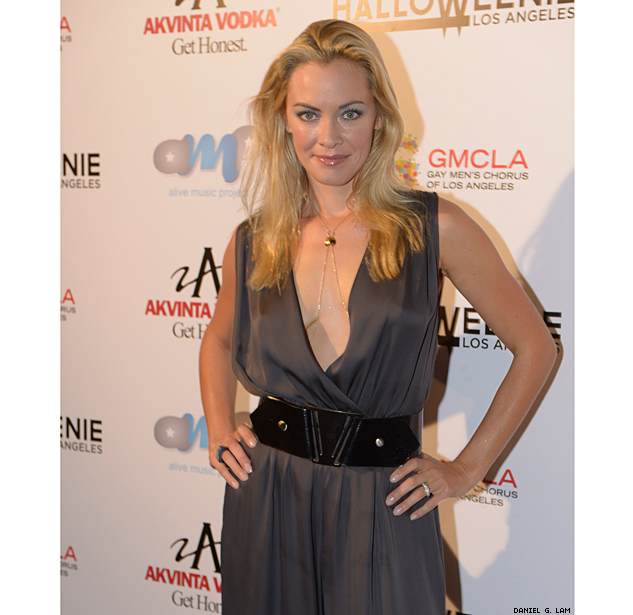 Terminator 3 actress Kristanna Loken had a mouthful to say about her favorite scary film: Teeth, a 2007 horror comedy about a girl who has incisors in her vagina. "It's funnily scary," Loken says.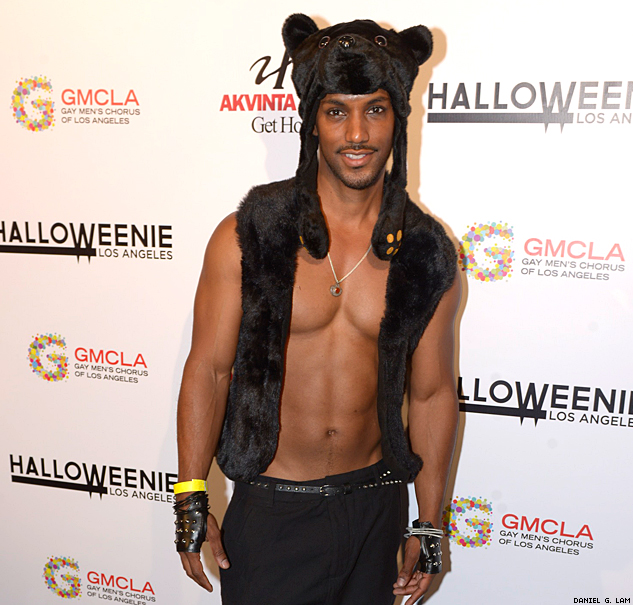 Noah's Arc's Darryl Stephens "bears" his abs on the Halloweenie black carpet.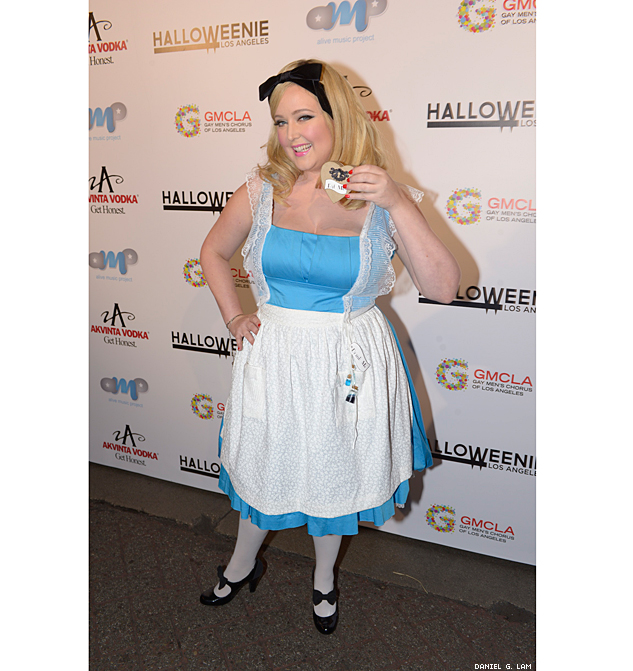 Katrina Parker, tailing the White Rabbit, holds up an "Eat Me" treat while dressed as Alice. The Voice songstress revealed that she gets a chill from the Tim Burton remake but still prefers the wondrous 1951 animated film.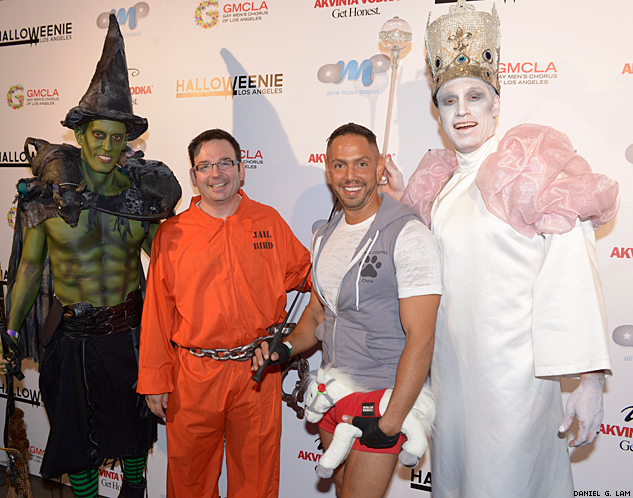 "Are you a good witch or a bad witch?" Glinda asks.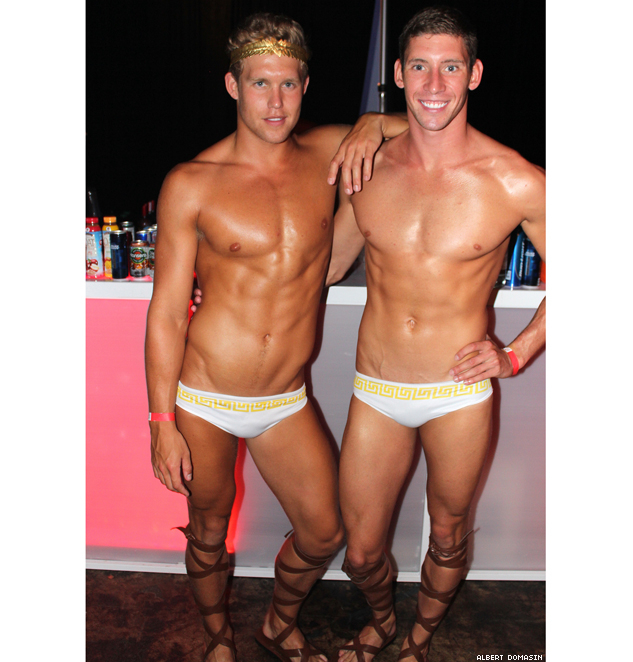 Some of Halloweenie's best costumes did not require much fabric.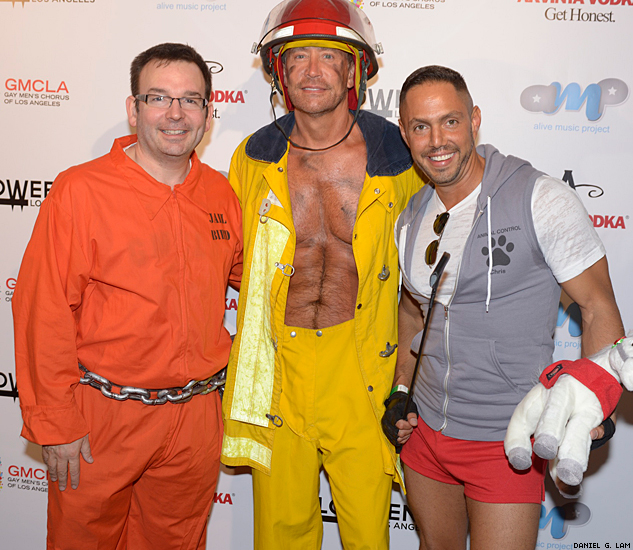 The black carpet heated up when Happily Divorced actor Peter Marc Jacobson arrived as a fireman. Jacobson says A Nightmare on Elm Street, the 1984 classic about dream invader and slasher Freddy Krueger, is his favorite scary movie. "It just scared the shit out of me," he says. "When I was a kid, they gave me the poster of it to bring home, and I was so excited. And every night I'd wake up and I was so scared that I had to throw it away."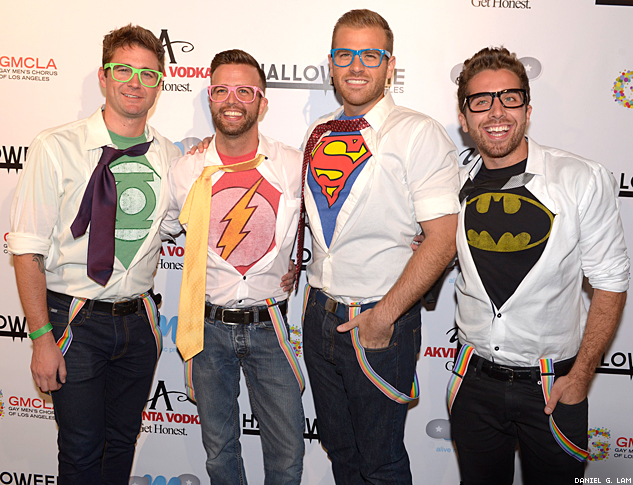 Looks like Chris Evans (Captain America) isn't the only superhero in the family. His brother Scott Evans (One Life to Live, White Collar) stepped out as Superman, along with his super friends.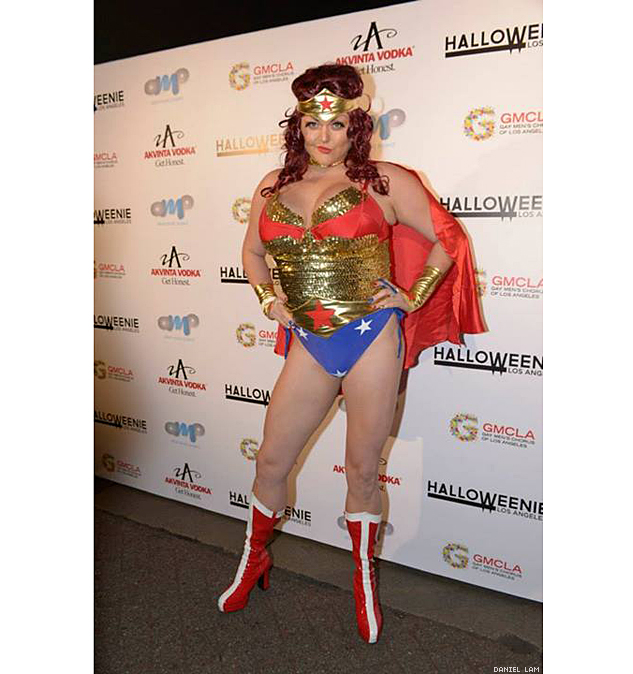 "My boyfriend wanted to be hipster Batman, so I thought, I'll be hipster Wonder Woman!" says Lindsay Hayward, who is a wrestler, a 6 foot 9 model, and an actress in the upcoming film The Internship Games. Hayward cites Halloween as the "classic, gut-wrenching tale. And Scream."
Many costumes were literally painted on.
True to her name, singer Guinevere went medieval on the Halloweenie black carpet. "Since I can't bring my own knights of the round table, I thought I'd be my own," she says. Guinevere chose another Stephen King-based classic, It (1990), starring Tim Curry as every child's worst nightmare, as her favorite horror film.
---
Links:
[1] http://www.advocate.com/
[2] http://gmcla.org/outreach/amp/
[3] http://m.siriusxm.com/servlet/Satellite?childpagename=SXM%2FUtility%2FMOB_GetShowsInfo&packedargs=pgId%3D1305&pagename=SXM%2FWrapper
[4] http://www.advocate.com/arts-entertainment/people