---
PHOTOS: The Two Worlds of Leon Eldridge
By Advocate Contributors
Originally published on Advocate.com September 19 2013 4:00 AM ET
Leon Eldridge is a bisexual 26-year-old man living in Lubbock, Texas. He graduated from Southern Methodist University in Dallas with a degree in operatic performance and classical music, and he sings at the Metropolitan Community Church in Lubbock. He said he has been involved with music ministry since he was 16, and it has been a big part of his adult life.

But he also has another identity — one he fictionalized from his drive to be creative.

Bohemia Rothschild is a drag queen born out of Eldridge's mind. She performs at Heaven Night Club, a gay venue in Lubbock, on weekends, but she is also known to visit another gay club, Club Luxor, when Heaven Night Club is not open.

However; Eldridge's life as a bisexual man living in Lubbock has not been without adversity. Lubbock is the second most conservative city in the United States, according to a study done by the Bay Area Center for Voting Research.

This becomes apparent when Eldridge discusses an instance in which he was beaten by a group of men outside a bar for inadvertently disclosing his sexuality.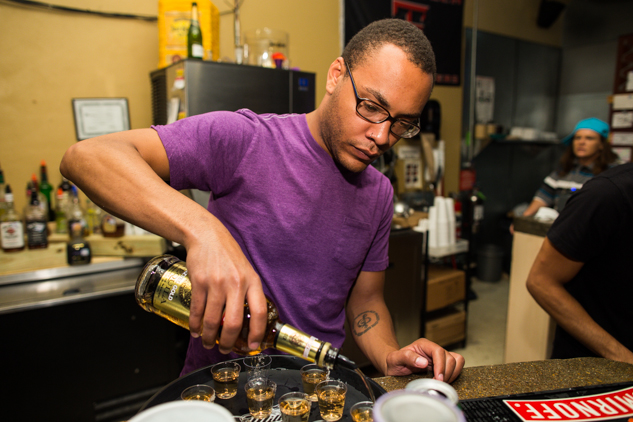 Leon Eldridge pours shots for a group of customers July 19, 2013, at Belly's Cafe in Lubbock, Texas.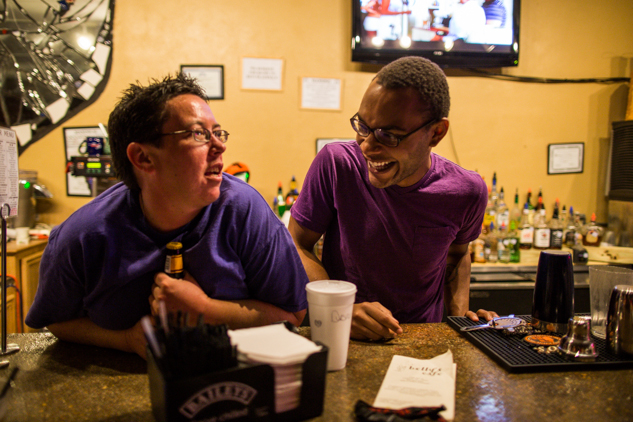 Leon Eldridge talks with Stephanie Boyd, the owner of Belly's Cafe.

Eldridge says he has known Stephanie Boyd, the owner of Belly's Cafe, where he works in Lubbock, since he was 16 when he was sneaking into bars and causing other mischief.

"She was always kind of a mother figure or an aunt figure," Eldridge says. "She always kind of made sure I wasn't going insane and took care of me and kept an eye out for me when I was young and naive."
Eldridge says she is also the person who introduced him to the Metropolitan Community Church and asked him to sing there.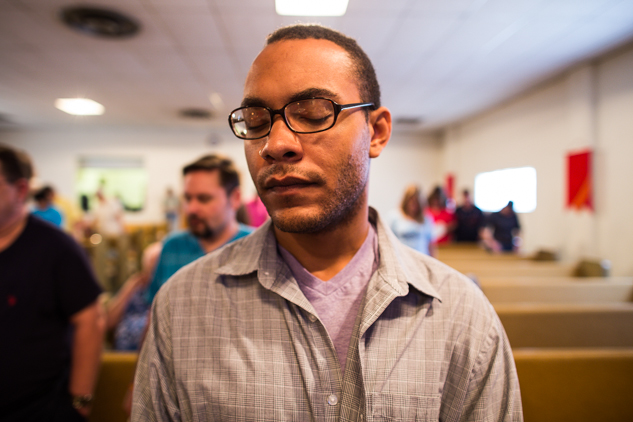 Leon Eldridge closes his eyes in prayer during a Sunday service at the Metropolitan Community Church.

Eldridge says his parents are both very spiritual and religious. His father was a preacher, although not officially ordained by a church, while his mother studied theology.

"The God perception has always been really important in my family," Eldridge says, "and I've always been very lucky to find churches that I have felt extraordinarily nurtured by."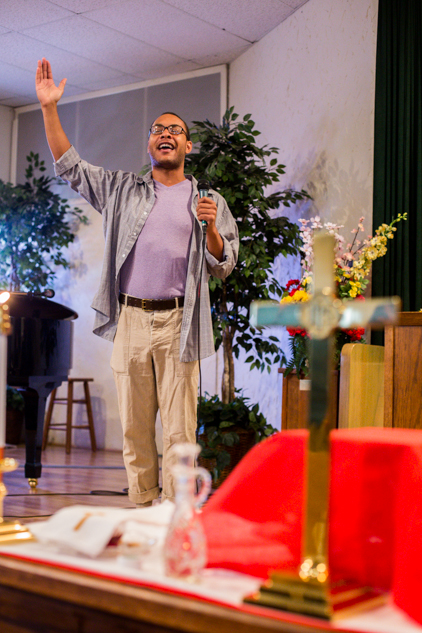 Eldridge leads the congregation in singing hymns during the "Singspiration" portion of the service at the Metropolitan Community Church.

Having been involved in music ministry since he was 16, Eldridge says it has been a big part of his life.

"While I was at SMU, and even while I was at [South Plains College], I worked in music ministry as a way to feed myself," Eldridge says, "and my love of the church has kind of grown."

He says he took the position at MCC because it was a good job in a church he felt comfortable attending.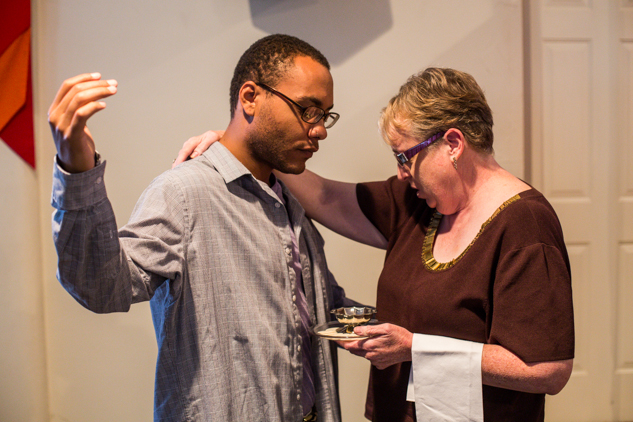 Eldridge participates in communion with Yvonne Barth, a theologian in the Metropolitan Community Church in Lubbock.

Concerning religion, specifically Christianity, Eldridge says he has many philosophical and theological ideas, but the core of his beliefs is that the Bible is outdated and should not be taken literally.

"If there is a God," Eldridge says, "and that God being an omnipresent, omnipotent God, created us and knew who we were before he even created our spirit, then he wouldn't have created a flaw if he's perfect."

He goes on to say that he thinks the human conception of Christianity is skewed, because the Bible was not written by a divine power, but rather by spiritual men who were supposedly divine vessels.

"I think of God as sexless," Eldridge says, "and I think he views our spirit as the same .... or she."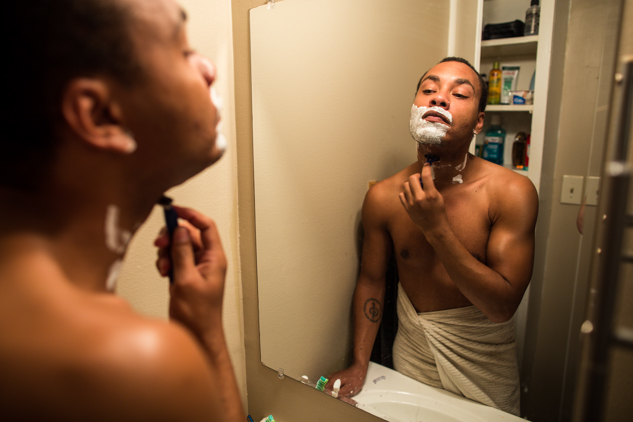 Eldridge has been doing drag for six years. It started when he would attend theme parties, and he says that because he wanted to be the most outrageous person there, he would dress as a woman.

When he first began dressing in drag he would dress in what he calls "gender-fuck" in which he would blur the line between masculinity and femininity.

"You might wear a tuxedo and six-inch heels and a face full of makeup," Eldridge says, "or you might wear a ball gown and makeup but no wig."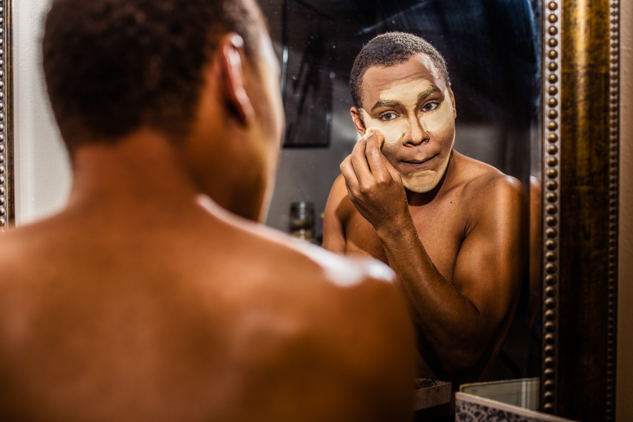 Depending on the look he's going for, Eldridge he applies several different layers of makeup.
He says he generally tries to keep his look natural, but some drag queens use makeup that is more dramatic and similar to makeup used in stage performances. This is because it draws focus to the eyes, which he says are typically the most ambiguous or feminine features of a man's face.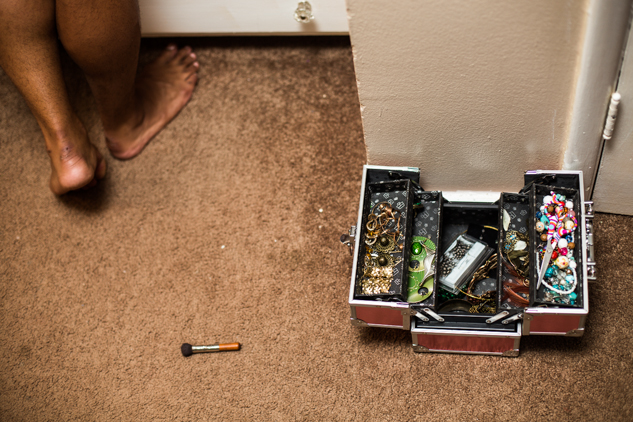 Eldridge continues his transformation into Bohemia Rothschild.

The whole process takes one to two hours, with jewelry being one of the last things that Eldridge will put on before leaving the house.

Eldridge secures his wig as he prepares to go to Club Luxor.

Eldridge, dressed as Bohemia Rothschild, poses for one final photo before leaving for Club Luxor.

"Drag is art," Eldridge says, "and it's this really heightened sense of what we view the feminine character to be."

He says dressing in drag is analogous to other art forms, such as painting.

"You don't talk about painting the bowl of fruit to look like fruit," he says. When you're an artist, he says, everything is exaggerated. Even minimalists, he says, exaggerate what isn't there.
Some people, however, are not as open-minded as he is. Eldridge says that one night when he had just moved back to Lubbock he was trying to get his boyfriend, who was at Klusoz Martini Lounge, to drive him home, and he was attacked by a group of men outside the lounge.

"They just beat the shit out of me because I said 'boyfriend,'" Eldridge says, shaking his head. "I shouldn't have said 'boyfriend.'"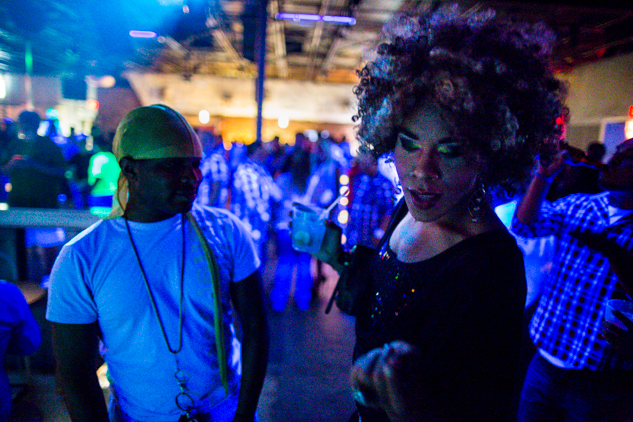 Bohemia Rothschild shows her moves on the dance floor at Club Luxor.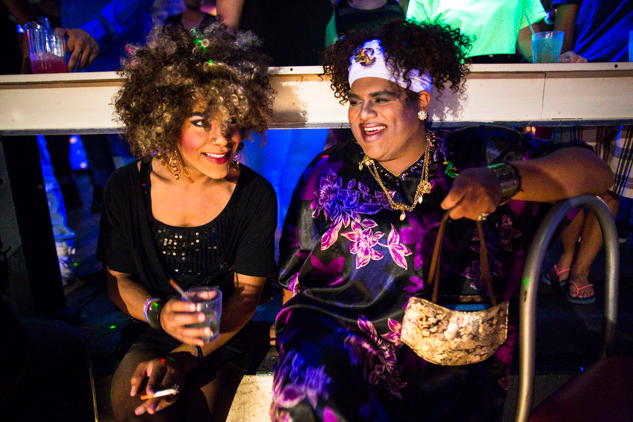 Eldridge shares a laugh with his friend Stuart Williams, pictured here as drag queen Acaicai Phillips, who is just starting to dress seriously in drag.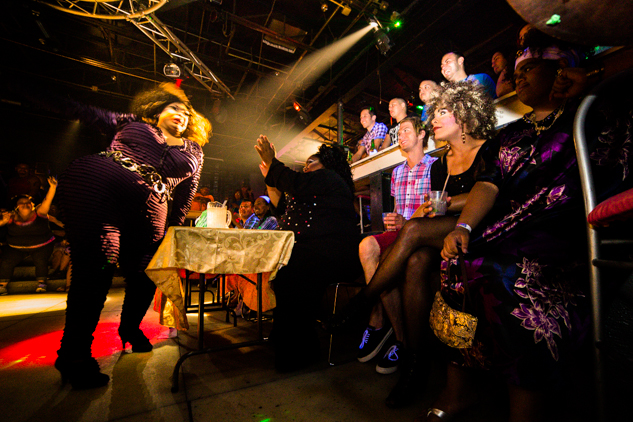 Bohemia Rothschild and Acaicai Phillips watch as local drag queen Odyssey Whitney performs in a drag pageant at Club Luxor. Both drag queens and kings performed for the judges.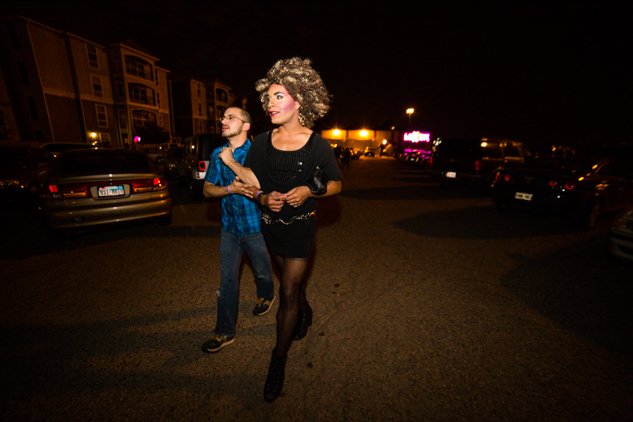 Bohemia Rothschild walks arm in arm with his friend Zachary Bradner after a night of drinking, dancing, and entertainment at Club Luxor.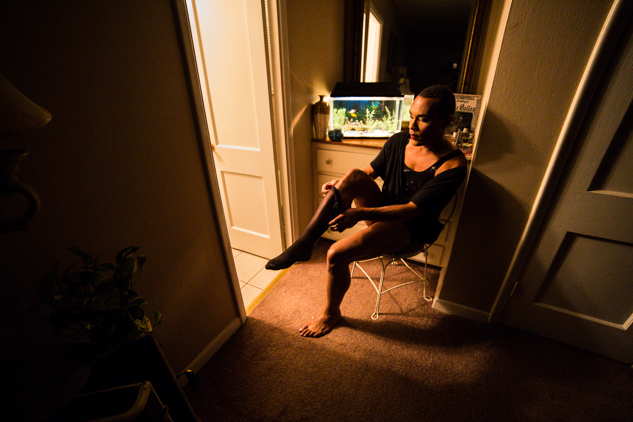 Eldridge slips off his pantyhose as he changes from being Bohemia Rothschild.

While being Bohemia is fun, it's also a lot of work, Eldridge says, so he's glad to become himself again afterward.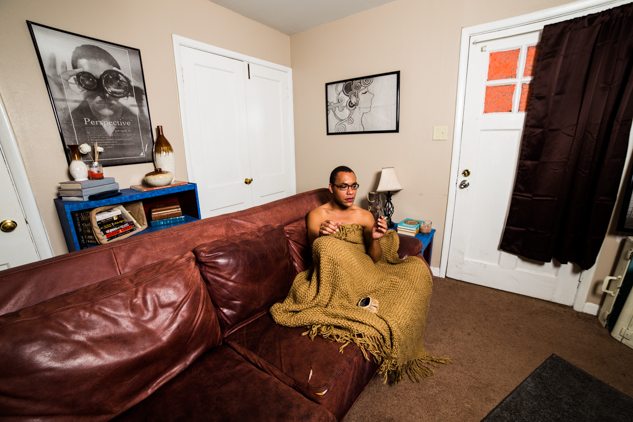 Eldridge smokes a cigarette and settles in for the night at his home.

Eldridge says drag has been an exciting adventure because he gets to experiment, not just with gender identity, but with his identity as a person. He finds it a very freeing experience.

"I think that there's a lot of pressure from society on what qualifies as masculine and feminine, or what makes you a man and what makes you a woman," Eldridge says, "and I think that everything is kind of on a spectrum."
Visit Dave Vaughn's site for more of his work.
---
Links:
[1] http://www.advocate.com/
[2] http://www.davevaughn.com
[3] http://www.advocate.com/arts-entertainment/photography