---
PHOTOS: San Francisco's Epic Pride
By Advocate.com Editors
Originally published on Advocate.com July 01 2013 12:33 PM ET
Thousands of LGBT people and their friends, family, and allies, gathered in San Francisco this weekend to celebrate Pride, along with two historic Supreme Court rulings that returned marriage equality to California and struck down a key section of the so-called Defense of Marriage Act that barred the federal government from recognizing legally married same-sex couples.
Media reports from the celebration described the crowd as "ecstatic,"and "colorful," calling the entire celebration "epic." In the wake of a surprise decision from the federal Ninth Circuit Court of Appeals reinstating marriage equality in California, the San Francisco clerk's office was staffed all weekend long by volunteers who issued almost 400 marriage licenses to same-sex couples, according to the Los Angeles Times.
Even Facebook CEO Mark Zuckerberg joined in the celebration, stepping out from Facebook's Silicon Valley headquarters to march alongside 700 Facebook employees in the founder's first Pride parade.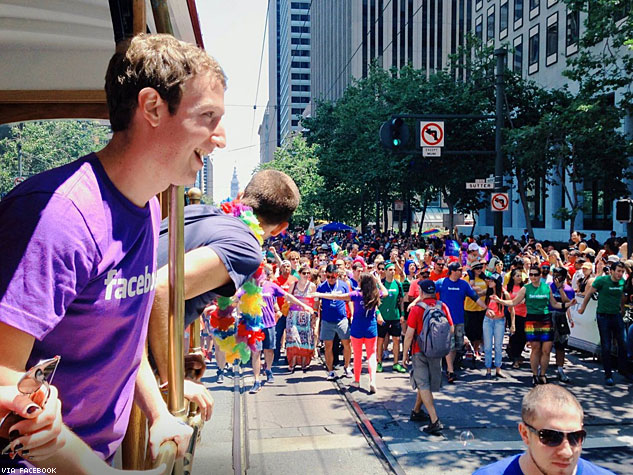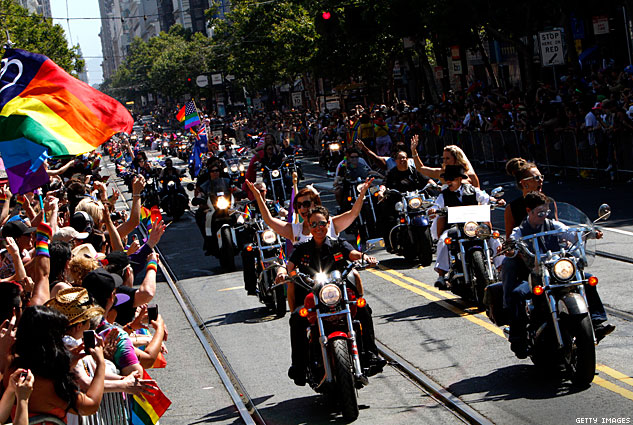 Members of Dykes on Bikes roll down Market Street to kick off the 43rd annual San Francisco LGBT Pride Celebration and Parade Sunday.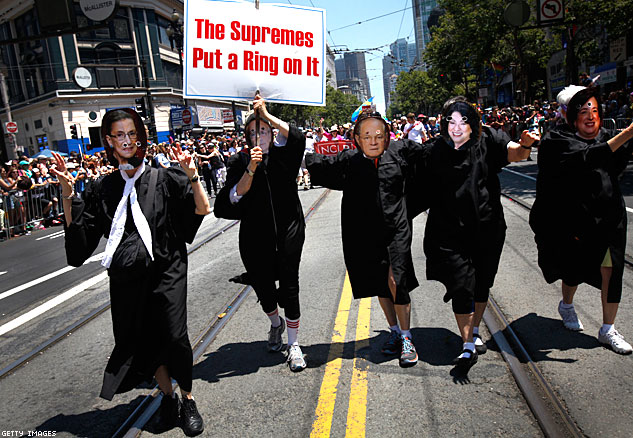 Dressed up as the Supreme Court justices who ruled in favor of equality, representatives of the National Center for Lesbian Rights walk in the 43rd annual San Francisco LGBT Pride Parade.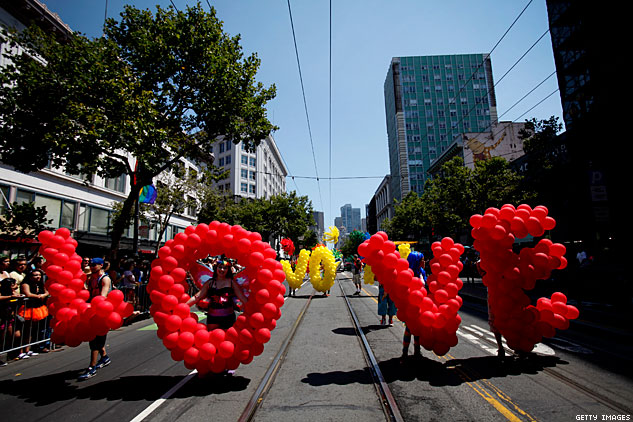 Participants carry balloons forming the message "Love Won" in the 43rd annual San Francisco LGBT Pride Celebration and Parade.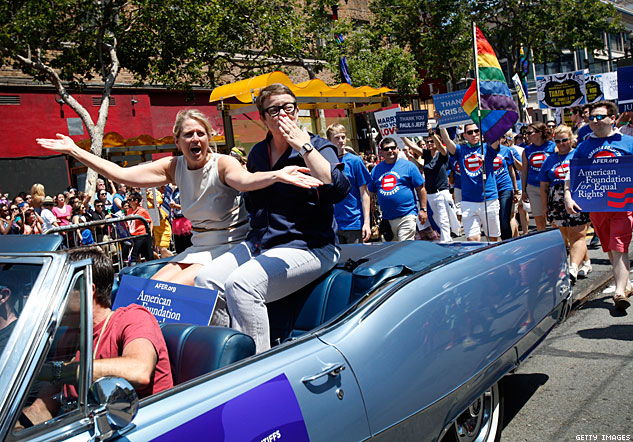 Proposition 8 lawsuit plaintiffs Kris Perry and Sandy Stier ride in a spot of honor.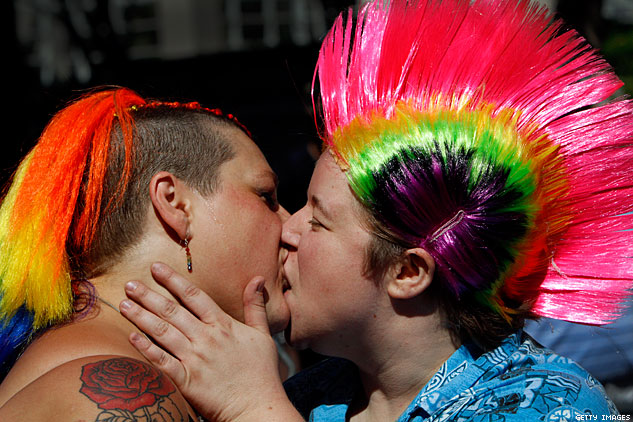 Janae Smith of Santa Clara (right) and Melaura Bunnell of Mountain Vie, kiss before hopping on their bike to ride with Dykes on Bikes.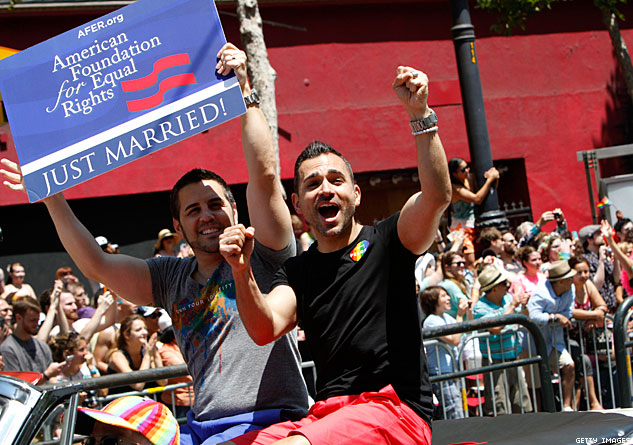 Jeff Zarrillo and Paul Katami, two of the four plaintiffs in the federal lawsuit that struck down California's Proposition 8, celebrate their newly minted marriage, officiated by outgoing Los Angeles mayor Antonio Villaraigosa Friday afternoon at L.A. City Hall. Katami confirmed to reporters in L.A. that the couple's first activity as spouses would be to fly to San Francisco to celebrate with fellow plaintiffs Perry and Stier.

Dancers on the Supervisor London Breed float make their way down Market Street.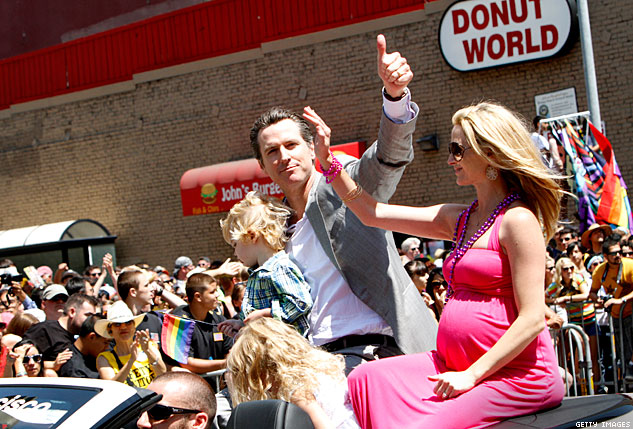 California lieutenant governor Gavin Newsom and wife Jennifer Siebel.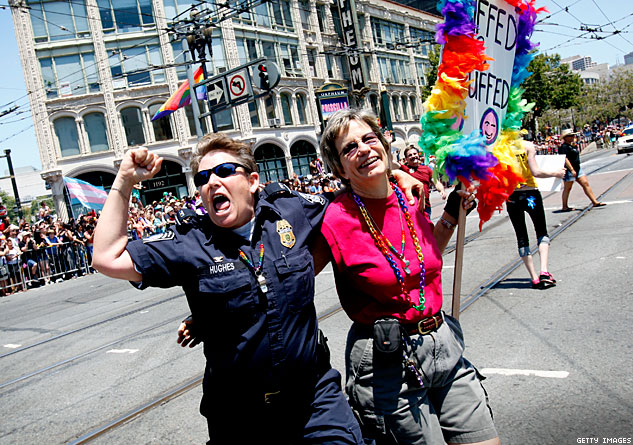 U.S. Customs officer Karen Hughes (left) yells out "Legal!" while walking the San Francisco parade route with partner Barbara Stone. They live in Alameda, Calif.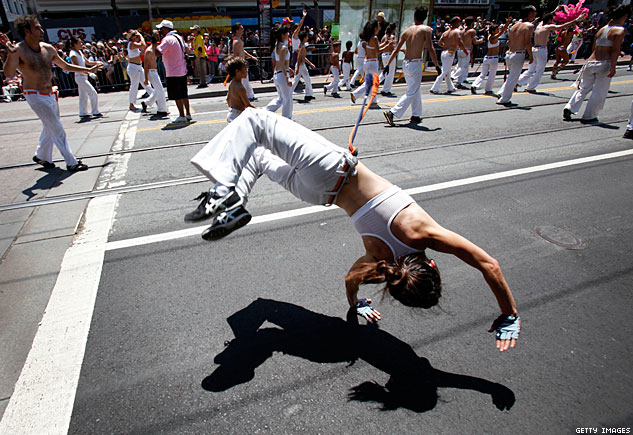 Members of A.B.A.D.A. Capoeira perform.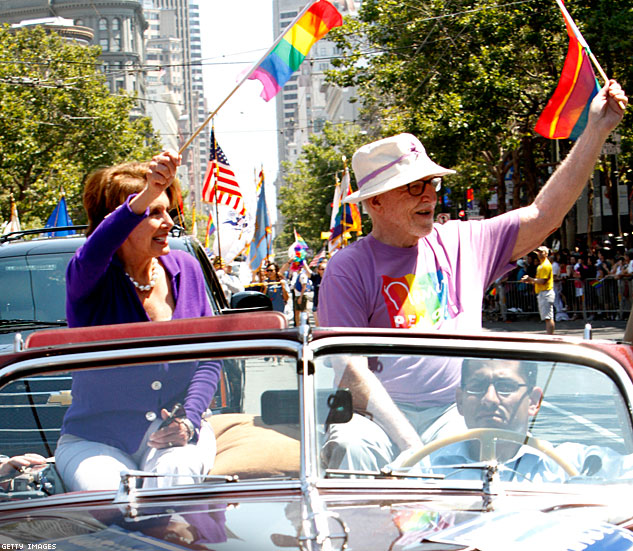 U.S. representative Nancy Pelosi waves to the crowd.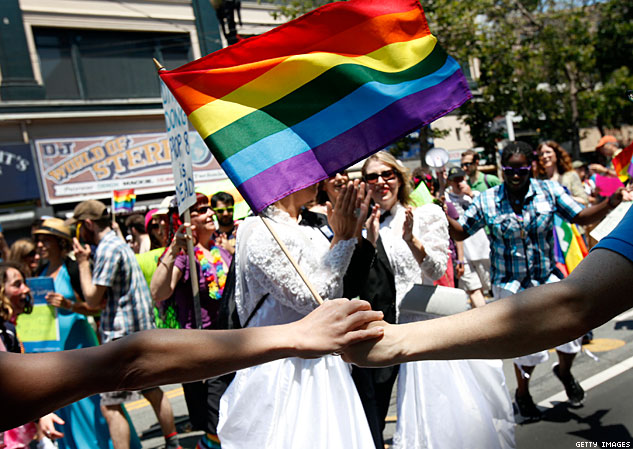 Bend the Arc, a Jewish social justice group, dances around two women dressed as brides.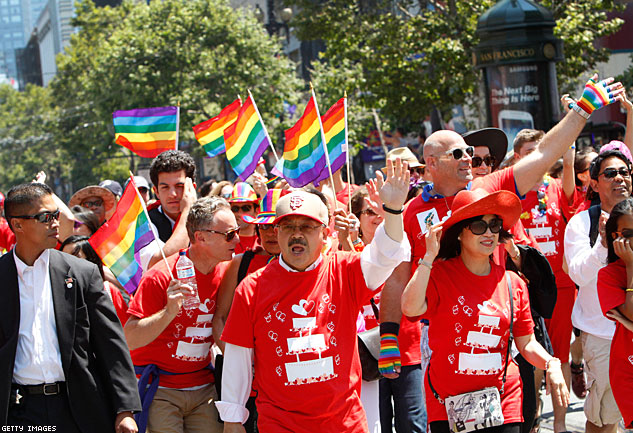 San Francisco mayor Ed Lee walks in the 43rd annual Pride parade.
---
Links:
[1] http://www.advocate.com/
[2] http://www.sfgate.com/lgbt/article/Huge-crowd-ecstatic-vibe-at-SF-Gay-Pride-Parade-4639361.php
[3] http://abclocal.go.com/kgo/story?section=news/local/san_francisco&id=9157211
[4] http://www.mercurynews.com/bay-area-news/ci_23573204/san-francisco-gay-pride-parade-turns-into-celebration
[5] http://www.latimes.com/local/lanow/la-me-ln-gay-marriage-sf-pride-parade-20130630,0,2799592.story
[6] http://www.advocate.com/pride