---
WATCH: This Week in LGBT TV
By Diane Anderson-Minshall
Originally published on Advocate.com January 13 2013 2:08 PM ET
Matt Bomer Took His Crack Abs to The New Normal
After showrunner Ryan Murphy (the gay guru behind Glee, American Horror Story, and The New Normal) tweeted that Matt Bomer's abs were like crack, millions tuned in to see for themselves on last week's episode of the daddy comedy, The New Normal. Bomer played the ex-boyfriend of Andrew Rannells' character, but the things come to a head during his and the guys decide to confront him. Here's the video clip, in case you missed it: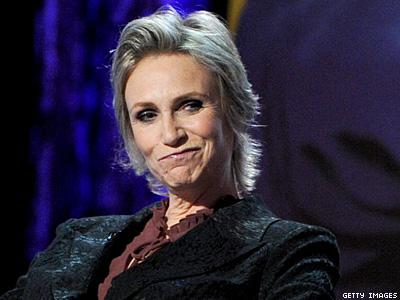 Jane Lynch to Get Anger Management
At last week's Television Critics Association's winter press tour, producers announced tha Glee star Jane Lynch (aka Sue Sylvester) will be reuniting with her former Two and a Half Men co-star Charlie Sheen. According to Digital Spy, she'll be showing up this year on the second season of his FX series, Anger Management, a comedy about a shrink, his patients, and the lovely Selma Blair. On Men, Lynch put Sheen's character through the hoops as his acerbic therapist Dr. Linda Freeman, a role that won her an Emmy Award for best guest actress.No word on whether she'll be playing a shrink on Anger Management but she joins some other popular guest stars this season including The Voice judge Cee Lo Green and My Name is Earl's Brett Butler. Anger Management returns on Jan. 17, and Glee returns Jan. 24.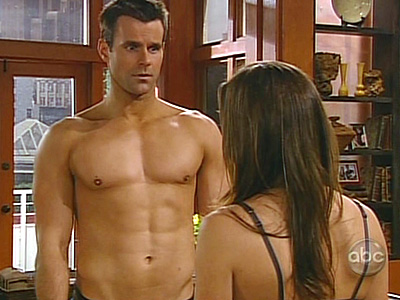 Soap Operas Are Coming Back
Big news for fans of All My Children and One Life To Live: the shows will be revived on the Internet after all, according to On the Red Carpet. Both series had four decade-long runs on ABC, and ended their broadcasts in late 2011 and Jan. 2012, respectively.
According to OTRC.com, Prospect Park announced that a licensing deal was reached with the network in July 2011, saying that the shows would continue to air original episodes online. But they never did, reportedly because talks between ABC and Prospect Park went south. All My Children had a lesbian character, Bianca, before most other soap operas even thought of gay storylines; One Life to Live had the first gay sex scene on daytime TV in 2009.
The series' will air on a new web TV network, as yet unlauched, called the Online Network (TOLN) website.According to OTRC, the statement from Prospect said that the production company had a "consulting agreement" with Agnes Nixon, the creator of both shows, which guarantees her "active involvement." Air dates have not been announced but Jennifer Pepperman (a former OLTL director) was named executive producer of that show and Ginger Smith, a producer All My Children, was named executive producer of that series.
Many actors, including hunky Cameron Mathison, are rumored to be returning, but no official announcements have been made.
"We... are thrilled to bring our beloved viewers new, ongoing stories from Llanview and Pine Valley," Nixon wrote on her website last week. "I'm overjoyed that so many actors you love have voiced their desire to bring their characters back to life.I'm especially grateful to Prospect Park for deploying the power of you, our fans, to enable this exciting transition to dramatic production for the Internet," she added. "It's a historic moment, comparable to how life was changed when television took over for radio. We hope this wonderful opportunity will be embraced by all as our creative teams gear up to bring our beloved serials back to our daily lives."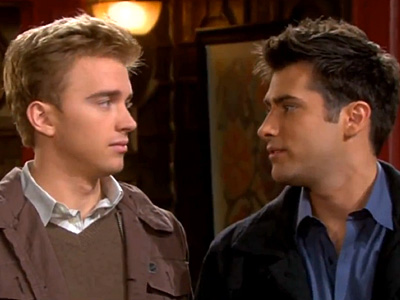 And More Gay Drama on Days of Our Lives
If you're watching the remaining broadcast soap operas, there was more gay drama on Days of Our Lives this week as well. Plus, its one of the few shows with a young gay couple on TV, daytime or otherwise. This week, there was a tux try-on (adorbs), a bachelor party, a wedding, and some baby secret stuff (don't ask). Here's a video in case you missed it. You may also want to check out Greg in Hollywood, which does lovely little daily video recaps of the show, especially the gay dudes.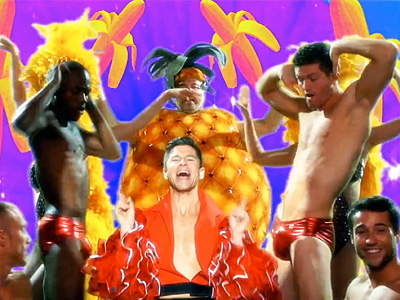 David Burtka, Joe Mangiello, and Willam Belli Show Up in Neil Patrick Harris's Dreams
OK, technically this is web TV, but still if you missed this week's episode of Neil's Puppet Dreams, in wich Neil and his crew crash the decidedly better dreams of David Burkta, it's time to take a gander. Burkta is hilarious and the ever hunky Mangiello shows up at the end (always a good sign).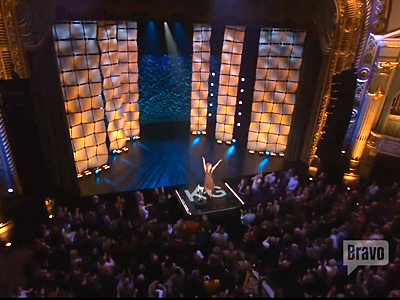 Kathy Griffin Has a New Show and a New Special
Her new show, Kathy, airs on Bravo weekly, but it was her special, Kathy Griffin's Kennedie Center On Hers, last week that was full of comic highlights and her usual queerishness. Here's the entire 40-minute special: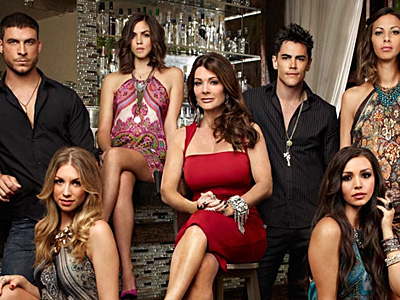 And in Our Final Queen Bee News
Lisa Vanderpump, the witty, brassy, and super gay-friendly Brit from The Real Housewives of Beverly Hills, has her own new series on Bravo called Vnaderpump Rules. Last week's debut, in which Vanderpump serves as a mentor and master of ceremonies to a motley crew of young hotties who staff her West Hollywood restauraunt, Sur, offered LGBT audiences some sexy 20-somethings and high drama as a reason to keep tuning in. In the next episode (taped last summer), Vanderpump herself heads to Christopher Street West, Los Angeles' LGBT Pride.
---
Links:
[1] http://www.advocate.com/
[2] http://www.digitalspy.com/tv/news/a449784/glees-jane-lynch-to-guest-star-in-charlie-sheens-anger-management.html
[3] http://www.ontheredcarpet.com/All-My-Children--One-Life-To-Live-to-be-revived-online-after-all/8945042
[4] http://greginhollywood.com/category/daytime-soap-cliphttp://greginhollywood.com/category/daytime-soap-clip
[5] http://www.advocate.com/arts-entertainment/television