---
The LGBT Parents of Prime Time
By Diane Anderson-Minshall
Originally published on Advocate.com January 14 2013 12:00 PM ET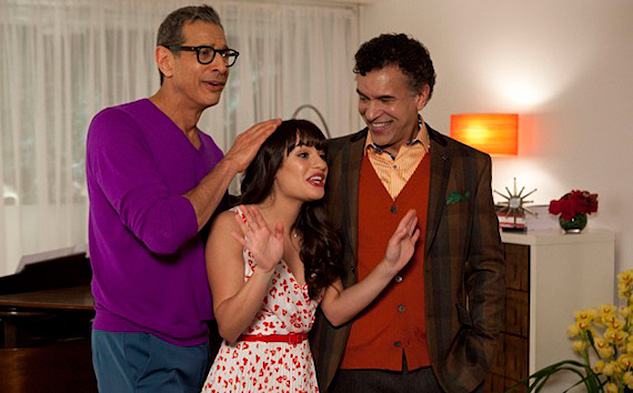 Rachel's dads on Glee
She's the centerpiece of Glee, the girl around whom the show — at least initially — seemed to revole. And the brash, bossy, and endearing wunderkind got that way thanks to her loving (and talented) gay dads, Hiram and Leroy Berry, played by Jeff Goldblum and Brian Stokes Mitchell with the kind of pizzazz you'd expect from bright, creative Jewish New Yorkers.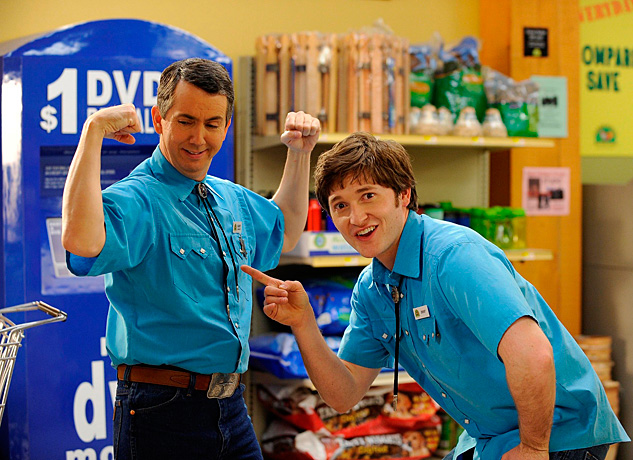 Barney's moms on Raising Hope
One of TV's funniest sitcoms, about the working-poor and lovably progressive Chance family, featured one of the year's gayest episodes (where Mom, Dad, and Jimmy all end up at a gay bar). But it's Jimmy's boss, grocery store owner Barney, who has the clearest lesbo-adjacency. Barney, played by actor Gregg Binkley, has two mommies — as viewers learned during one concerned birthday phone call he places to them. Here's hoping next season we see who they are.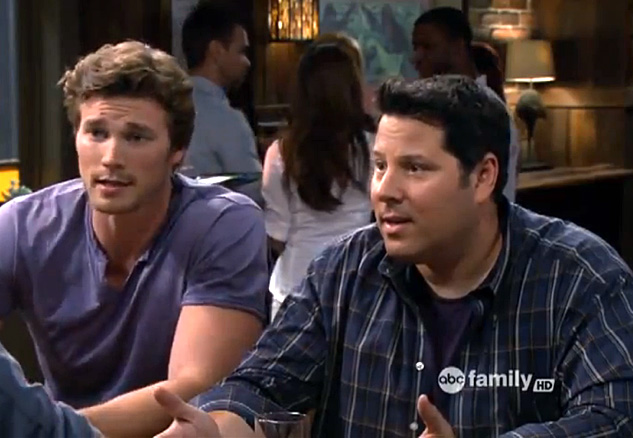 Ben's dad on Baby Daddy
The cast is a motley gang including young single dad Ben, whom the show revolves around, his brother Danny, his "bromancer" Tucker, and his longtime friend (a girl who's secretly in love with him) Riley. Best of all there's Ben and Danny's mom, played by Reba's comedy genius Melissa Peterman, and her granddaughter Emma — who they all care for. Dad had been out of the picture until the holiday episode, "A Wheeler Family Christmas Outing." Get it? Outing?
Then we meet Ben and Danny's father, and grandma's ex-hubby, Ray, played by former Heroes star Greg Grunberg, a sort of cute (clean-shaven) bear of a man. As he comes out to his kids and ex-wife, it's a series of misdirections as nobody realizes exactly who has come out until the end of the episode. But it's clear, as always, being gay has made Ray a better man.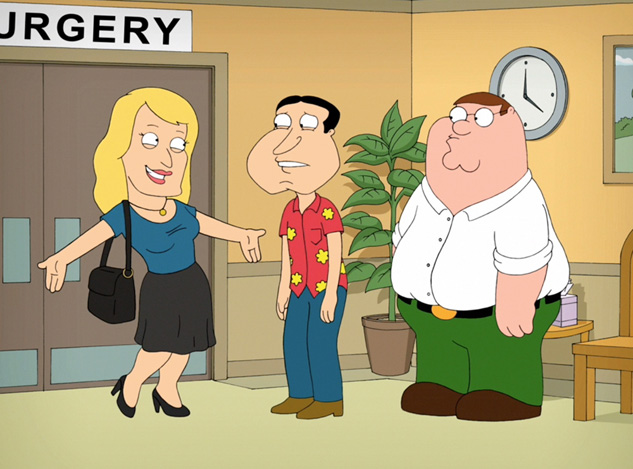 Quagmire's dad on Family Guy
Family Guy is a show with a lot of Seth MacFarlane's signature wit and potty-centric sophomoric humor, so its handling of a transgender character coming out could have been a lot smoother. Quagmire, the lecherous best friend of the titular Family Guy (a.k.a. Peter) learns his father is going through gender reassignment after the guys convince him that his dad is gay (based on some formulaic sterotypes like drinking fruity cocktails and liking show tunes). But then Ida, the trans woman who Quag's dad really is, undergoes transition and must struggle to fit in with Quagmire and his transphobic peers. And Ida gets her groove back with Brian, who later does a Crying Game-style vomit jag upon learning Ida was once in a male body. Some LGBT folks loved the episode; many did not. But perhaps trans author Matt Kailey summed up why Ida herself is a great addition to TV: "She's a sympathetic character. Her initial portrayal as a rather swishy sailor prior to her transition doesn't reflect the reality of most trans women I know (but they obviously needed to stick in some gay jokes somewhere, so as to be equal-opportunity offenders), but while all the loony characters around her are losing it, she holds it together very nicely. Ida is the only one who doesn't come across as clumsy and clueless. The only mistake she makes is waiting too long to come out to her son, but she admits that at the end, and she can be forgiven — after all, she has to come out, start hormones, have surgery, and go clothes shopping, all in about 22 minutes."
Subsequent episodes dealt with Quagmire's discomfort and later acceptance of his parent's transition, and now she's just a recurring character as "normal" as anyone else on the show.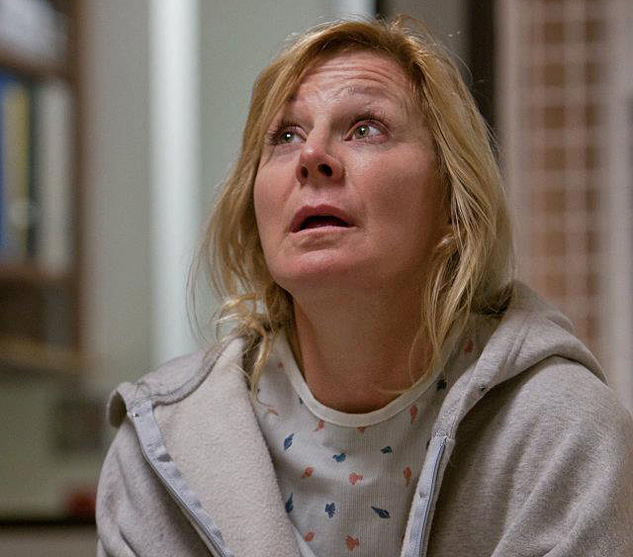 Liam's mom on Shameless
It would take a whole article to explain Monica Gallagher, the mercurial and rather inept mom who comes and goes on Shameless. Last year she was in a same-sex relationship with a butchy lesbian gal named Bob, and prior to that she was with Frank, the father of her children. Then she broke up with Bob, slit her wrists, got confined to an institution, had sex with Jenna Elfman, escaped with help from Frank, then hit the road again. She may not be the most politically forward representation of bisexuality on TV, but at least she keeps viewers on their toes.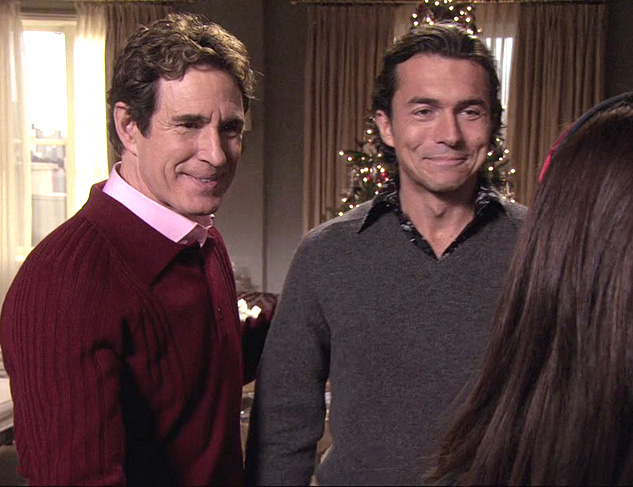 Blair's dad on Gossip Girl
Overachieving fashionista Blair is the main character on Gossip Girl. Her parents. Harold and Eleanor Waldorf, divorced years ago when Dad ran off with one of Eleanor's male models named Roman. Now Harold (played by character actor John Shea) and Roman (played by the very hunky William Abadie) are married themselves, and though they still aren't in Blair's life full-time, they do pop in now and again to help her out and show us that Blair has two daddies, or at least one gay dad and one hunky life partner.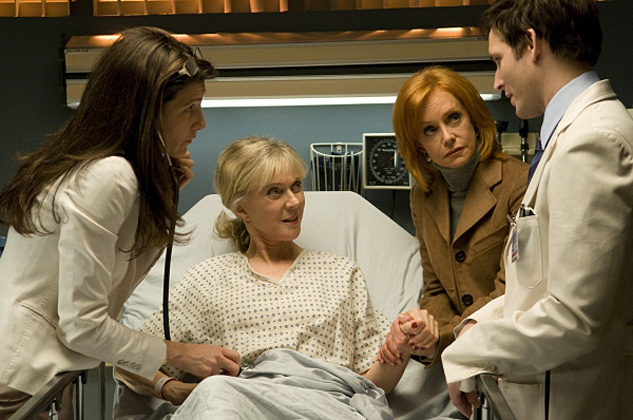 Dr. Cooper's moms on Nurse Jackie
In TV casting wet dreams, Nurse Jackie's Dr. Fitch "Coop" Cooper, a smarmy Ivy League–educated physician played by the ever irresistible Peter Facinelli, has two moms — who've been portrayed by three awesome actresses. In season 1, Blythe Danner and Swoosie Kurtz were his lesbian moms; in season 3, longtime LGBT activist Judith Light took Danner's role. So, yeah, Coop has three hot middle-aged moms.
Charlie and Alan's mom on Two and a Half Men
On a show that was centered (until last year) around a horndog of a manchild (embodied by actor Charlie Sheen), it was actually his mother, Evelyn, who exuded the most unbridled sexuality. She's had multiple marriages, affairs, and orgies, and in the first several seasons her bisexuality was alluded to. But in Sheen's last year on the show, Evelyn Harper (played pitch-perfectly by Holland Taylor) fell in love with and moved in with another woman — played by the legendary Georgia Engel (who came to fame on The Mary Tyler Moore Show). Engel played Jean, the mother of Evelyn's son's daughter (phew!), a perfectly peachy middle-American type of gal who goes gay (or bi) for Evelyn. This year, Jean seems to be gone, but no worries, Engel is now on Hot in Cleveland learning how to date from Betty White, which is kind of queer too.
---
Links:
[1] http://www.advocate.com/
[2] http://www.advocate.com/arts-entertainment/television