---
Clea DuVall on Lizzie Borden: 'That Era's O.J.'
By Daniel Reynolds
Originally published on Advocate.com January 24 2014 7:00 AM ET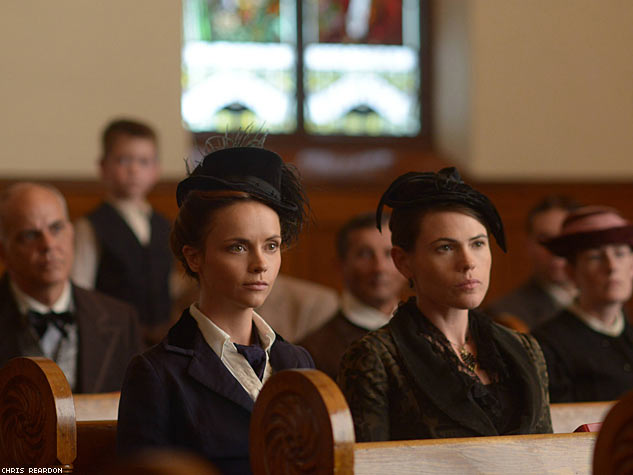 Above: Christina Ricci and Clea DuVall
On August 4, 1892, Andrew and Abby Borden were butchered to death with an ax in their home in Fall River, Mass. Their daughter Lizzie Borden was accused of the murders, and the subsequent trial gave her a notoriety that has endured for over a century. Although Borden was acquitted of the crime, the question of "What if?" continues to intrigue the American public, leading to various pop-culture treatments of the story, with the latest being Lizzie Borden Took an Ax, a Lifetime film starring Christina Ricci as Lizzie and Clea DuVall as her older sister, Emma.
"She's such an interesting person in history," DuVall tells The Advocate, speaking about Borden via phone while en route to the set of an indie project. "Did she do it? Did she not do it? It's that era's version of O.J. [Simpson.] It's the same kind of fascination with people getting away with murder."
As an actress, the Argo star is no stranger to the world of crime and intrigue, particularly in her portrayals of women as both perpetrator and victim. Her breakout role in Little Witches centered on girls caught up in occultism and human sacrifice. More recently, she played the lesbian lover of Sarah Paulson's character in American Horror Story: Asylum and fell victim to the serial killer Bloody Face.
For DuVall, the enduring allure of characters like Lizzie Borden, who was accused of not just killing but brutally hacking her father 11 times and her stepmother at least 18 times with a sharp instrument, is linked directly to the public's expectations of gender.
"People have this idea [of] all the gender roles that everyone is supposed to play: The men are the aggressors and the women are the gentle homemakers," DuVall says. "And the idea that a woman could be capable of that kind of brutality" still continues to shock and amaze.
Much of the Lifetime film deals not with the event of the murders of Abby and Andrew Borden, which is seen through sporadic flashbacks that may or may not be real, but rather the trial of Lizzie, where these stereotypes of female behavior are confronted head on.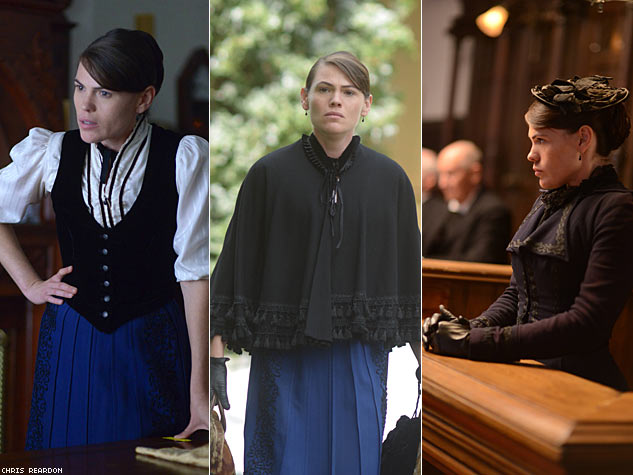 "She's pretty. She couldn't have killed anybody," the crowd murmurs as Lizzie, portrayed by the wide-eyed Christina Ricci, first enters the courtroom. The prosecutor is tasked with breaking down these preconceptions for the jury and, in turn, the viewer, arguing in his closing remarks for "the cold, merciless fact that confronts us": that anyone may be capable of violence.
And while some crimes are unforgivable, there may be many LGBT people who identify with Lifetime's portrayal of Lizzie Borden in the first minutes of the film: a person constrained by the expectations of her gender who rebels in any small way she can, from shoplifting to sneaking out of the house to socialize at parties. "Aren't you a Sunday school teacher?" one party guest asks Borden, who, martini glass in hand, replies, "Only on Sundays." Other lines reveal her unhappy state with more candor. "I just wish I had the freedom to live the life I've always imagined," Borden remarks sadly in the opening chapters.
This is the second film to feature the talents of both Ricci and DuVall. "I love working with her," DuVall remarks. "We've known each other for a long time, and we come from similar places." The first, HBO's The Laramie Project, also centered on a grisly murder that continues to reverberate in the public consciousness — that of gay man Matthew Shepard. DuVall, who portrayed writer Amanda Gronich in the film more than a decade ago, is still surprised by the political advances that the LGBT Americans have achieved since them, including the passage of the Matthew Shepard and James Byrd, Jr. Hate Crimes Prevention Act, and the rising tide of marriage equality across the United States.
"It was a completely different world before," DuVall says, reflecting on a recent conversation with a 20-something that revealed the disparity in LGBT perceptions between generations. "Things have started to change for the generation of young people now, and so the world they live in now is completely different than the world we live in. ... It's really exciting and amazing."
DuVall, who was a lead in the LGBT film But I'm a Cheerleader, and counts Orange Is the New Black star Natasha Lyonne, her costar from Cheerleader, as one of her best friends, wholeheartedly believes in the power of movies like The Laramie Project to educate the public on the struggles of minorities and thus sway hearts and minds.
"It was such a clear-cut hate crime, and I think that it's important for people to see, to know that happened," the actress says. "Film is such a great medium to show people what the reality is. [For example,] no matter how much we know about slavery, when 12 Years a Slave came out, we were all so impacted, because it was a reminder of how horrific things were and how vigilant we have to be to not allow anything like that to happen again."
Be it a witch, a lesbian lover of a cheerleader, or the sister of Lizzie Borden, DuVall's past roles reveal the struggle that comes with being an outcast — a pain that she says is more universal than one might think.
"I think the thing to remember is that everyone feels like an outsider," she says. "I think that's what most people's struggle come from, most people's pain comes from feeling … alone and feeling isolated."
"Being brave enough to be who you are is the only way that you're going to have a happy life," she concludes. "It's so worth it."
Lizzie Borden Took an Ax will broadcast Saturday at 8 p.m. on Lifetime. Watch the trailer below.
---
Links:
[1] http://www.advocate.com/
[2] http://www.advocate.com/arts-entertainment/television