---
Seat Filler: Best NYC Theater of 2010
By Brandon Voss
Originally published on Advocate.com December 20 2010 11:00 AM ET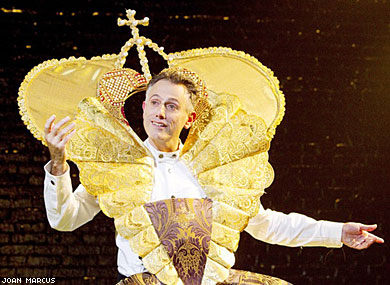 10. Orlando
In the Next Room's Sarah Ruhl further explored sexuality at Classic Stage Company in her bewitching adaptation of Virginia Woolf's 1928 novel, a fantastical meditation on the fluidity of gender identity, in which a young English nobleman inexplicably wakes up as a woman. Taking a cue from the 1993 film starring Tilda Swinton and Quentin Crisp, director Rebecca Taichman cast fine androgyne Francesca Faridany as Orlando and quirky out actor David Greenspan — one of three men in a gender-bending Greek chorus — as Queen Elizabeth. Ruhl wisely let Woolf do the talking, opting for a descriptive third-person narrative in lieu of new dialogue — a children's-story-theater style befitting a tale full of wit and wonder.
9. La Cage aux Folles
The show belongs to flawless Tony-winner Douglas Hodge as the aging diva Zaza, but it's easier than I imagined to forget Kelsey Grammer's Republican leanings and enjoy his pleasingly sung performance as Georges, a St. Tropez drag club owner, in this vibrant new Broadway revival of Jerry Herman and Harvey Fierstein's somewhat creaky classic. Aiming for rough-edged realism over flash, this smartly streamlined production, which transferred to the Longacre Theatre from London's Menier Chocolate Factory, only allows for six Cagelles — plus out Camp star Robin de Jesús as the maid — and considering how things drag when the action flies the coop, it's clear that these ripped dancers rule the roost.
8. Dusk Rings a Bell
Stephen Belber, who cocreated The Laramie Project, revisited gay hate crime in Atlantic Theater Company's Dusk Rings a Bell. Private Practice's Kate Walsh starred as Molly, a verbose CNN exec returning to her old family summer home on the Delaware shore. There she reconnects with Ray, a townie with whom she shared her first kiss, and learns, to her horror, that he spent 10 years in prison for his part in the murder of a gay vacationer. One of his pals threw the punches and hurled the gay insults, but Ray "didn't do enough to stop it." Paul Sparks was quietly heartbreaking as Ray, a simple, soft-spoken man riddled with guilt and haunted by a premonition of his own death at the hands of a group of kids calling him "faggot."
7. The Divine Sister
Legendary drag auteur Charles Busch is back to his old habits at the SoHo Playhouse in this glorious spoof of wimple flicks like The Singing Nun, The Sound of Music, and even Doubt. Directed by out collaborator Carl Andress, Busch channels Rosalind Russell in The Trouble With Angels and His Girl Friday to play a former crime reporter turned Mother Superior of a struggling Pittsburgh convent. "My dear, we are living in a time of great social change," she says after a sunny guitar strum. "We must do everything in our power to stop it." Sex and the City's Julie Halston and Falsettos' Alison Fraser steal scenes as nuns with a brief but bawdy lesbian flirtation, and Jennifer Van Dyck dons boy drag as a nerdy gay student.
6. The Glass Menagerie
I thought I knew Tennessee Williams's 1944 memory play, but director Gordon Edelstein pulled out tricks in his pocket for Roundabout's bold new staging at the Laura Pels Theatre. Our narrator Tom conjured the St. Louis tenement of his youth from a New Orleans hotel room, a concept established by Tom's typing, reading, and mouthing other characters' lines. As his smothering mother Amanda, Designing Women's Judith Ivey cashed in on the role's comedy without cheapening it, but the real revelation here was Patch Darragh's unabashedly gay take on Tom. No question that this tipsy swish was out hitting gay bars instead of movies. And when his sister's gentleman caller arrived, Tom seemed even more smitten than she did.
5. Secrets of the Trade
Known for queer seriocomedies Twilight of the Golds and The Last Sunday in June, out playwright Jonathan Tolins presented a poignant backstage peek at a decade-long correspondence between a precocious theater queen, played by Brighton Beach Memoirs star Noah Robbins, and an irascible gay Broadway director played by incomparable out actor John Glover. Briskly staged at 59E59 Theaters by Matt Shakman, this compelling coming-of-age tale flirted with a sexual affair — a creepy back massage thankfully led nowhere — but focused instead on the complexities of mentorship while avoiding All About Eve cliché. Out NYPD Blue actor Bill Brochtrup costarred as the director's droll, catty assistant.
4. The Boys in the Band
Transport Group's startling production of Mart Crowley's groundbreaking 1968 drama about a boozy birthday shindig gone sour — the play's first New York revival since 1996 — was the must-attend soiree of the year. Director Jack Cummings III celebrated the humanity of every nelly, self-flagellating gay stereotype in this "site-specific environmental production," which basically means that a random penthouse space on 26th Street with an awesome view of the Empire State Building was transformed into a 99-seat theater and decorated to look like the host's funky apartment. Thanks to visceral performances, homey lamp lighting, and the play's real-time progression, I truly felt like a guest at the party.
3. Angels in America
The 2003 HBO miniseries may pack more emotional punch, but that's the worst thing I can say about this first New York revival of Tony Kushner's Pulitzer Prize–winning AIDS-era epic at Signature Theatre Company's Peter Norton Space, where both parts, Millennium Approaches and Perestroika, run in repertory with the immeasurable talents of Zachary Quinto, Christian Borle, Frank Wood, Bill Heck, Zoe Kazan, Robin Bartlett, Robin Weigert, and out scene-stealer Billy Porter. Impressive fantasy sequences, effective scenic projections, and a visibly busy backstage crew betray great sweat and skill at work here, but there's a divine simplicity to Michael Greif's staging that allows the glorious text and cast to shimmer.
2. The Revival
Directed by Michole Biancosino, this staggering drama by Samuel Brett Williams crackled with cinematic tension at the Lion Theatre. Trent Dawson of As the World Turns starred as Eli, the son of a Southern Baptist preacher who must try to rebuild his late father's congregation in Arkansas. Pressured to compete with nearby megachurches, the married pastor became an evangelical superstar when he publicly "cleansed" a troubled young drifter named Daniel — an outstanding David Darrow — of his homosexuality, but Eli and the rough-trade hothead were actually having sex on the sly. "It's hot and cold, but good — hard to explain," said Daniel, describing the look Eli gave him at a church potluck. "Kinda like makin' meth."
1. Yank!
Directed by Igor Goldin and penned by gay brothers David and Joe Zellnik, York Theater Company's moving World War II musical had tap dances, torch songs, a drag number, a dream ballet, and shirtless soldiers. What more could you want from an old-timey tuner? In this sentimental salute to barracks bottom-bunkers before "don't ask, don't tell," Ragtime's Bobby Steggert was adorably affecting as a shy draftee who falls for a conflicted fellow private played by Ivan Hernandez. Nancy Anderson played a lesbian servicewoman, and choreographer Jeffry Denham provided sassy comic relief as a gay journalist at Yank, a real-life WWII 'zine.
---
Links:
[1] http://www.advocate.com/
[2] http://www.advocate.com/billy-porter
[3] http://www.advocate.com/broadway
[4] http://www.advocate.com/arts-entertainment/theater