---
Seat Filler: The Advocate's Guide to the 2011-12 Broadway Season
By Brandon Voss
Originally published on Advocate.com May 09 2012 9:37 AM ET
The Best Man
In Michael Wilson's brisk, pertinent revival of gay elder statesman Gore Vidal's 1960 play, Will & Grace's Eric McCormack and Night Court's John Larroquette lead a star-studded cast as mud-slinging presidential candidates fighting for their party's nomination. The skeleton in McCormack's character's closet is that he may have a homosexual past, as verified by a jumpy Jefferson Mays (I Am My Own Wife) as an old Army subordinate.
Gerald Schoenfeld Theatre, through September 9.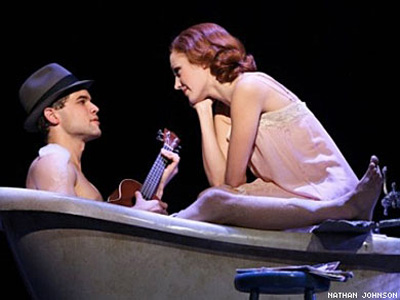 Bonnie & Clyde
Laura Osnes and Jeremy Jordan sparkle and smolder as Depression-era outlaws Bonnie Parker and Clyde Barrow in a paint-by-numbers musical that also stars hunky out actor Claybourne Elder as Clyde's brother. The show ultimately whimpers despite lots of fake-bloody bangs — Clyde bludgeons a fellow prisoner who made him his bitch — and a rockabilly- and blues-influenced score that's Frank Wildhorn's best since Jekyll & Hyde.
Gerald Schoenfeld Theatre, closed December 30.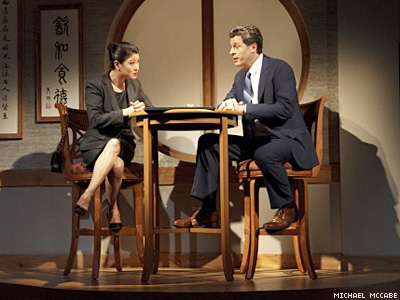 Chinglish
In this intelligent, crowd-pleasing comedy by M. Butterfly's David Henry Hwang — deftly helmed by out director Leigh Silverman — an American businessman who makes English-language signage encounters both culture shock and unexpected romance in China. Much of the play's dialogue is in Mandarin, but the use of well-timed supertitles sparks much laughter at the expense of awkward mistranslations by clueless interpreters.
Longacre Theatre, closed January 29.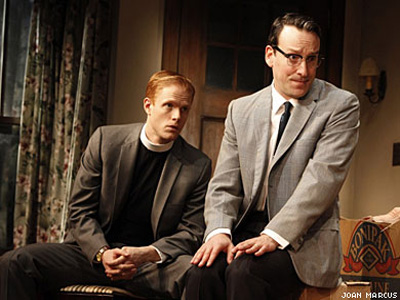 Clybourne Park
Inspired by Lorraine Hansberry's A Raisin in the Sun, Bruce Norris's accessibly insightful, surprisingly funny Pulitzer Prize-winning play about gentrification imagines the flawed white families who may have preceded and followed the Youngers of the 1959 masterpiece. A minor character played by ginger Brendan Griffin is revealed to be gay in the second act, but mainly for the sake of his showing offense to a joke about prison rape.
Walter Kerr Theatre, through August 12.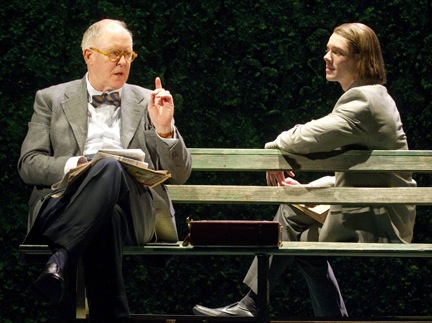 The Columnist
Set in the '50s and '60s, David Auburn's staid but informative docudrama stars a reliably sharp and snooty John Lithgow as Joseph Alsop, the influential Washington newspaper columnist who kept the Kennedys close and his homosexuality a secret. The play's opening scene finds a vulnerable Alsop post-coital in a Moscow hotel with Brian J. Smith as a Russian hunk — a KGB blackmail scheme that hangs over the rest of Alsop's career.
Samuel J. Friedman Theatre, through July 8.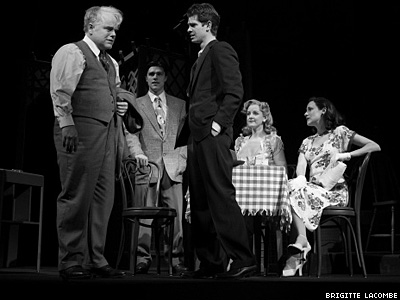 Death of a Salesman
Resurrecting the aural and scenic design of the original 1949 production for his powerful no-frills revival of Arthur Miller's definitive domestic tragedy, Mike Nichols shepherds the heartbreaking Philip Seymour Hoffman and a subtle Linda Emond as self-destructing Willy Loman and his suffering wife. In an ace Broadway debut, Andrew Garfield brings Social Network smarts and Spider-Man brawn to Biff, the family's tarnished golden boy.
Ethel Barrymore Theatre, closed June 2.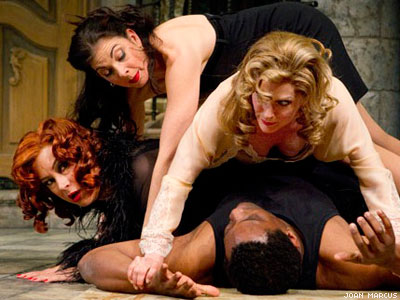 Don't Dress for Dinner
When it really gets cooking, Roundabout Theater Company's beige, lackluster revival of Marc Camoletti's creaky sex farce about horny philanderers can serve up some delicious entertainment. Unfortunately, a vibrant 2008 revival of Camoletti's Boeing-Boeing stole Dinner's thunder, but Urinetown's Spencer Kayden and Bound's Jennifer Tilly are ladling out big laughs as a plain chef and a glamorous model forced to switch identities.
American Airlines Theatre, through June 17.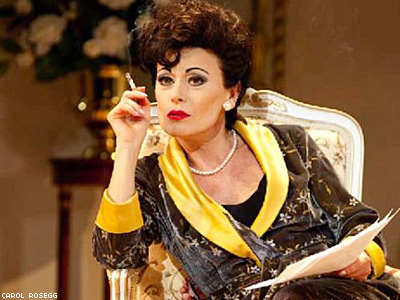 End of the Rainbow
Tracie Bennett is an unbridled force, a tornado of tragedy, as she eerily, exhilaratingly inhabits Judy Garland in Peter Quilter's lean but urgent bio-drama about the performer's drug-addled decline during her 1968 London comeback concerts. Accompanied by her enabling young fiancé, Garland is bolstered by a sobering Michael Cumpsty as her pianist and confidant, a gentle Scot who symbolizes all gay men who loved their Judy tortured.
Belasco Theatre, open-ended.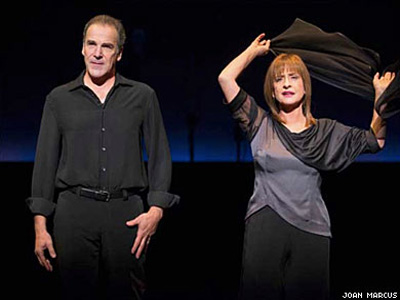 An Evening With Patti LuPone and Mandy Patinkin
Between a dour "Another Hundred People" opening and a dreary Carousel medley finale, LuPone and Patinkin have a little fun with a romantic song selection heavy on Sondheim, Kander and Ebb — two 70, Girls, 70 numbers! — and Rodgers and Hammerstein. It's a surreal treat to see LuPone roll around on an office chair, but only die-hard fans need attend; one hoping for greatest hits may be disappointed with all but a brief Evita reunion.
Ethel Barrymore Theatre, closed January 13.
Evita
Andrew Lloyd Webber and Tim Rice's lush score aside, the cast album for Michael Grandage's visually stunning revival won't likely replace your Patti LuPone or Madonna recordings. But even if star Elena Roger's high notes screech as Argentinean first lady Eva Perón, she richly conveys Eva's slutty ambition and fragile health. Still, Ricky Martin's charisma and chops make him the clear attraction as Che, an everyman narrator.
Marquis Theatre, open-ended.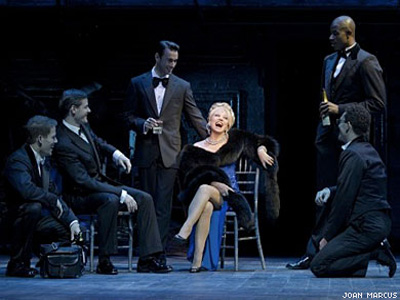 Follies
After a hit run at the Kennedy Center, a near-flawless revival of Stephen Sondheim and James Goldman's 1971 masterpiece sparkles on Broadway like fine champagne. As old frenemies stuck in a soapy love quadrangle, peerless divas Bernadette Peters and Jan Maxwell headline this reunion for aging chorines, but the show's secret weapon is Elaine Paige, who entertains maybe-gay cater waiters with her impassioned "I'm Still Here."
Marquis Theatre, closed January 22.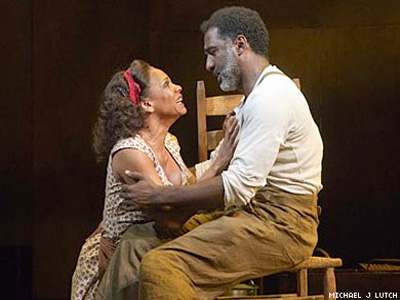 The Gershwins' Porgy and Bess
Forget all the hoopla surrounding director Diane Paulus's ballsy reworking of George and Ira Gershwin's groundbreaking folk opera about the love affair between cripple Porgy and jezebel Bess in 1930s Charleston. Powerfully and accessibly reimagined for a musical theater audience, it's a thing of beauty, proving that quality always outweighs controversy — especially when Audra McDonald and Norm Lewis sing their hearts out.
Richard Rodgers Theatre, through September 30.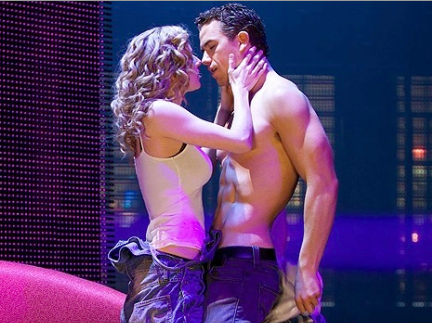 Ghost the Musical
Breathtaking visual effects outshine the pleasant score in this London import, which is based on the 1990 film about love after death, but its beating heart is the easy chemistry between stars Caissie Levy and hunky Richard Fleeshman. No small feat, Da'Vine Joy Randolph also succeeds at breathing sassy new life into psychic Oda Mae Brown, the part that won Whoopi an Oscar, although her solo is one of the show's many garish missteps.
Lunt-Fontanne Theatre, open-ended.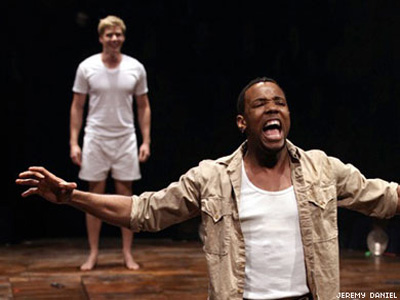 Godspell
Following in Hunter Parrish's footsteps, Corbin Bleu is a radiant and inviting Jesus in this revival of Stephen Schwartz and John-Michael Tebelak's 1971 rock musical based on parables from the Gospel of Matthew. Director Daniel Goldstein's intimate interpretation can be as cloying as children's theater, but the game cast and irresistible score ultimately leave the crowd spellbound — despite an unholy arsenal of corny pop culture references.
Circle in the Square Theatre, open-ended.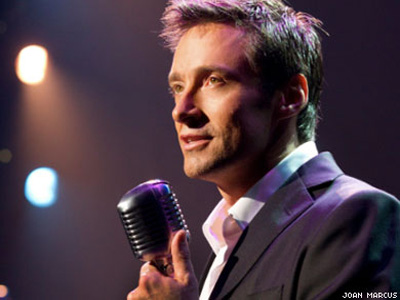 Hugh Jackman, Back on Broadway
Accompanied by an 18-piece orchestra and backup dancers he calls his Dreamgirls, the triple threat's interactive solo show reflects on his charmed life and career as he shares his favorite songs, including "One Night Only," "Over the Rainbow," and "Fever." Radiating sex and confidence, he also gleefully revisits Peter Allen — the gay role that earned him a 2004 Tony for The Boy From Oz — in one of many glorious medleys.
Broadhurst Theatre, closed January 1.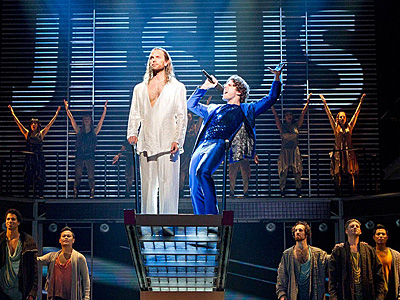 Jesus Christ Superstar
What's the buzz? Arena-rocked by a Broadway orchestra, Andrew Lloyd Webber and Tim Rice's biblical score still gives the goosies, but I don't know how to love Des McAnuff's semimodernized, schizophrenically costumed revival. The appealing Paul Nolan and Josh Young are unevenly electric as Jesus and Judas, but Bruce Dow's showstopping King Herod is as gay as the harnessed, codpiece-clad temple go-go dancers.
Neil Simon Theatre, open-ended.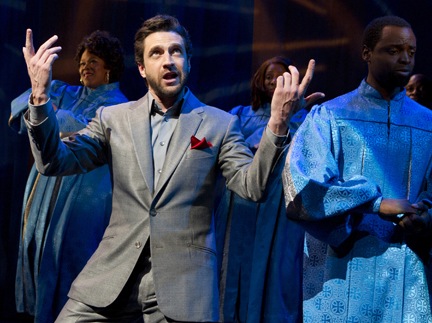 Leap of Faith
Though he fails to truly catch the holy spirit like Steve Martin in the 1992 film version, Taboo's Raúl Esparza gives a cool, confident performance as comely evangelist con man Jonas Nightingale, who learns lessons in life and love when his traveling ministry is stranded in small-town Kansas. Audience interaction and modern technological updates feel forced and desperate, but Alan Menken's rousing revival numbers leap off the stage.
St. James Theatre, closed May 13.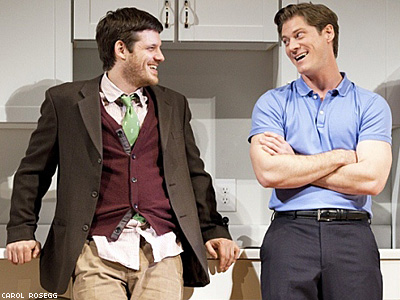 The Lyons

A patriarch's death propels this swift, satisfying dysfunctional family comedy about human disconnection by gay playwright Nicky Silver. With priceless reactions and line readings, Linda Lavin milks every possible laugh from Rita, the unappreciated mother of two emotionally damaged grown children. Michael Esper, who recently played a gay escort in iHo, is a standout as Rita's gay son, a loner obsessed with his hunky neighbor.
Cort Theatre, open-ended.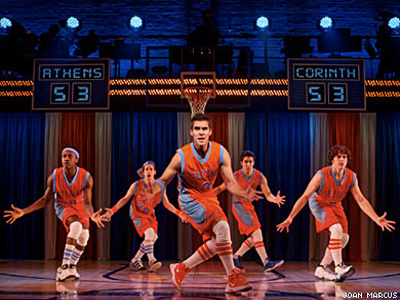 Lysistrata Jones
With High School Musical and Xanadu as muses, Transport Group scores big with a bouncy hip-pop confection by life partners Douglas Carter Beane and Lewis Flinn that slam-dunks an update of a 411 B.C. Aristophanes comedy onto a college basketball court. Patti Murin channels Elle Woods as Lyssie, who dares her gal pals to withhold sex until their lazy boyfriends win, but two hot teammates would rather play ball with each other.
Walter Kerr Theatre, closed May 12.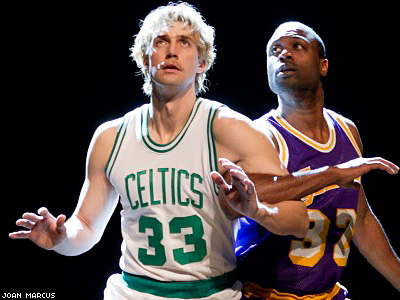 Magic/Bird
Following the success of his superior sports bio-play Lombardi, Eric Simonson admirably explores the fierce rivalry and eventual bromance between two living basketball legends, gregarious Earvin "Magic" Johnson (Kevin Daniels) and laconic Larry Bird (Tug Coker). The action is bookended by the revelation that Magic has contracted HIV, but there's not enough drama, conflict, nor excitement to match the real game clips projected onstage.
Longacre Theatre, through May 12.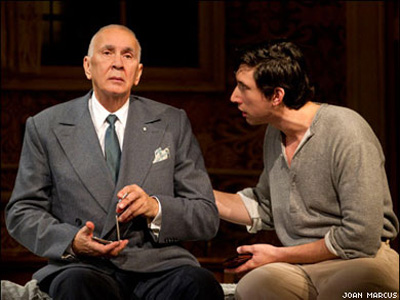 Man and Boy
Roundabout Theatre Company's stately revival of closeted playwright Terence Rattigan's 1963 daddy drama stars a mesmerizing Frank Langella as a Madoffian businessman on the edge of financial ruin in 1934. Seeking refuge in the Greenwich Village apartment of his estranged son Basil (Angels in America's hunky Adam Driver) to close a deal, he slyly pimps Basil out in order to coerce and dupe a secretly gay tycoon (Zach Grenier).
American Airlines Theatre, closed November 27.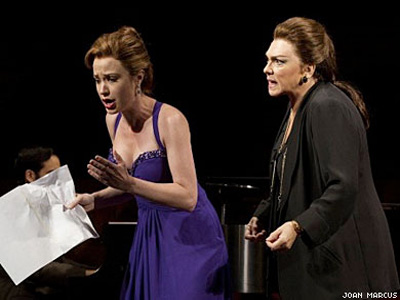 Master Class

In Manhattan Theatre Club's clean, engrossing revival of Terrence McNally's 1995 play, the chameleonic Tyne Daly of Cagney & Lacey fame seems to have been possessed by the bitchy, witty, and self-absorbed soul of legendary opera diva Maria Callas, seen here reflecting on her life and art while teaching a master class in the '70s. As an unexpected treat, the selections sung by her students are powerful enough to raise goose bumps.
Samuel J. Friedman Theatre, closed September 4.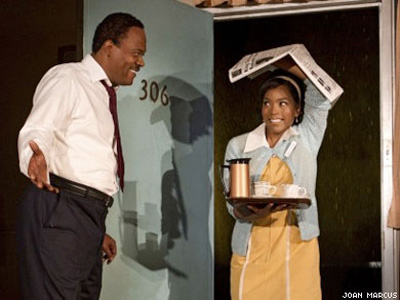 The Mountaintop
Katori Hall's powerful Olivier-winning drama stars a transformative Samuel L. Jackson as Dr. Martin Luther King Jr. on the night before his 1968 assassination in Memphis, and Angela Bassett is a sassy hoot as an enigmatic maid at the Lorraine Motel, where the civil rights leader rests after a legendary speech. This Dr. King supports "fruits" as "God's children," and — spoiler alert! — Stonewall even gets a shout-out in the magical climax.
Bernard B. Jacobs Theatre, closed January 22.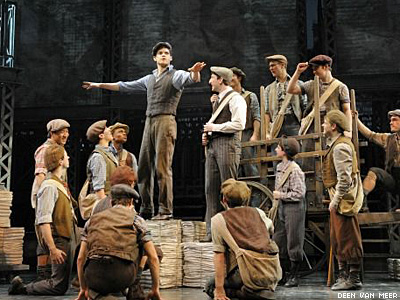 Newsies
The actual teens of the 1899 New York City newsboy strike probably weren't such toned hoofers — spot the So You Think You Can Dance alums! — but it's one more reason to adore this high-energy Disney musical based on the 1992 flop about paper-pushers taking on publishing bigwigs. Alan Menken's tunes and Harvey Fierstein's book are tops, but the real headline-maker here is Bonnie & Clyde's Jeremy Jordan as dreamer Jack Kelly.
Nederlander Theatre, open ended.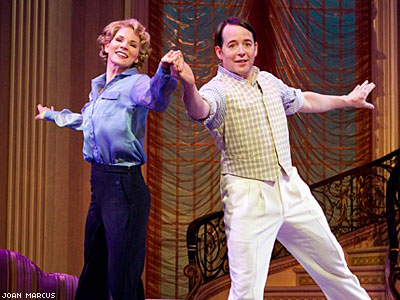 Nice Work If You Can Get It
Matthew Broderick jazzes up his milquetoasty Producers shtick with some hard-earned effervescence as a wealthy bon vivant who falls for Kelli O'Hara's butch bootlegger in this 1920s-set screwball romantic comedy. Kathleen Marshall's splashy choreography complements a sparkling score culled from the Gershwin canon, but it's the surprisingly fresh, waggish book by out Memphis librettist Joe DiPietro that really works like a charm.
Imperial Theatre, open-ended.
On a Clear Day You Can See Forever
With a new libretto by out playwright Peter Parnell, gay director Michael Mayer neatly reincarnates Lerner and Lane's 1965 musical with an updated love triangle in psychedelic 1974: Dr. Bruckner (Harry Connick Jr.) hypnotizes a gay florist (David Turner) and falls for his female past life (Jessie Mueller), a '40s jazz singer. The enticing gay twist — Connick ostensibly kisses Turner — and stirring vocals make up for the sluggish scenes.
St. James Theatre, closed January 29.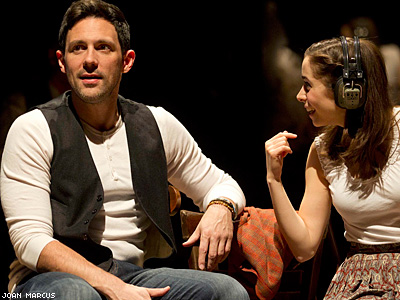 Once

Glen Hansard and Markéta Irglová's soulful soundtrack shines anew in this intimate and inspiring musical based on the 2007 indie film. Steve Kazee and Christin Milioti are sublimely heartbreaking as a Dublin busker and a Czech immigrant who bond chastely while recording a demo with a motley crew that includes Andy Taylor as a folksy gay loan officer. Rest assured you'll hear Oscar-winning ballad "Falling Slowly" — twice.
Bernard B. Jacobs Theatre, open-ended.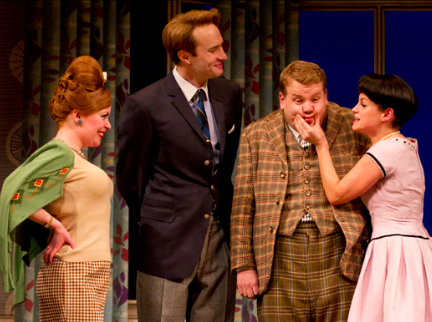 One Man, Two Guvnors
In the National Theatre of Great Britain's uproarious farce, which is based on Goldoni's 1746 commedia dell'arte Servant of Two Masters, a convoluted plot — a young woman disguises herself as her dead twin brother, for starters — provides a good excuse for History Boys alum James Corden, the love child of Jack Black and Ricky Gervais, to mug and improvise brilliantly as a hungry dolt juggling the demands of two criminal bosses.
Music Box Theatre, open-ended.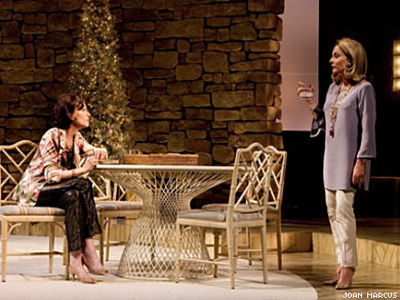 Other Desert Cities

Lincoln Center Theater's slick, sophisticated dramedy by gay Brothers & Sisters creator Jon Robin Baitz stars Rachel Griffiths as a novelist whose new memoir details a dark family secret. Out über-director Joe Mantello overcomes familial tropes like political dissonance with a peerless ensemble led by Stockard Channing as the chilly matriarch and AIDS activist Judith Light as her quick-witted alcoholic sister with a lesbian past.
Booth Theatre, through June 17.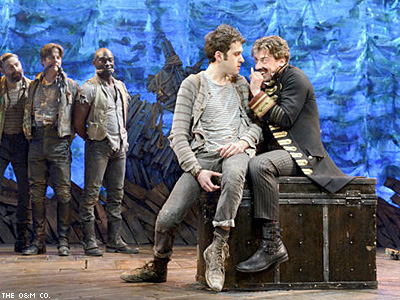 Peter and the Starcatcher
Based on a 2004 novel and starring out charmer Adam Chanler-Berat, this anachronistic Peter Pan origin story is magically imaginative — think Wicked meets Bloody Bloody Andrew Jackson on a boat — but it's also exhaustingly frantic, twee, and full of groaners. Temperamentals star Arnie Burton dons drag as governess to Wendy's mom, but Smash's uproariously fey Christian Borle steals the show as a pirate who becomes Captain Hook.
Brooks Atkinson Theatre, open-ended.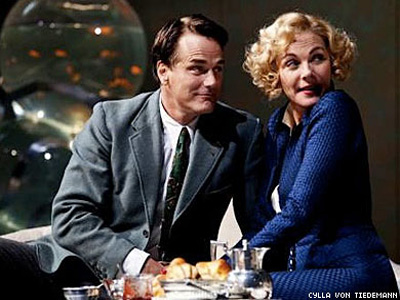 Private Lives
Sex and the City's luminous Kim Cattrall and handsome Canadian actor Paul Gross spar as tempestuous divorcées Amanda and Elyot in Richard Eyre's elegantly slapsticky, emotionally shallow, and surprisingly sleepy revival of Noël Coward's 1930 comedy about the destructive nature of passion. The strained farce isn't helped by the missed opportunity of a dismal art deco scenic design — save for a cool three-tiered aquarium.
Music Box Theatre, closed December 31.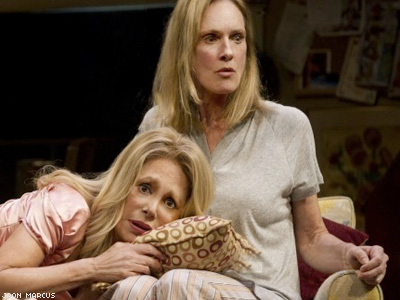 Relatively Speaking
Directed by John Turturro with a knack for nailing borscht-belt humor, three old-school, family-themed short plays include Ethan Coen's weak opener and a shticky marital farce by Woody Allen, but the jewel of the trio is Elaine May's "George Is Dead," in which a startlingly hilarious Marlo Thomas plays a wealthy, narcissistic woman-child who, after her husband's death, selfishly seeks solace at the home of her former nanny's daughter.
Brooks Atkinson Theatre, closed January 29.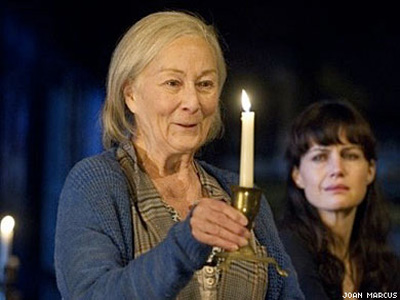 The Road to Mecca
Although Athol Fugard's 1987 drama can be exhaustingly slow and talky, LGBT audiences will relate to the incomparable Rosemary Harris as Miss Helen, an elderly South African artist whose neighbors are threatened by her eccentric outsider spirit and controversial sculpture garden. Carla Gugino and Jim Dale provide essential sparks as Helen's confidant and the conservative priest trying to move her into an old-age home.
American Airlines Theatre, closed March 4.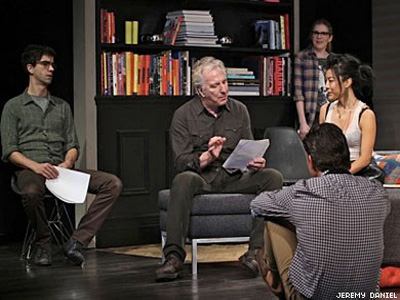 Seminar

Theresa Rebeck's smart and satisfying comedy stars the effortlessly commanding Alan Rickman — best known as Snape in the Harry Potter films — as a slimy author teaching a private seminar for young writers. Jerry O'Connell makes a solid Broadway debut as a pretentious prep, and American Horror Story's Lily Rabe steals scenes as a rich girl taken seriously only when she pretends her work's by "a cross-dressing Cubano gang member."
John Golden Theatre, closed May 6.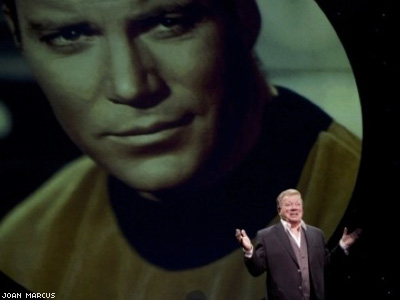 Shatner's World: We Just Live in It
One of those fleeting, harmless curiosities that lands on Broadway every few seasons, William Shatner's casual one-man show is a hammy yet personal monologue that often borders on self-parody. He talks career highlights like Boston Legal, Suzie Wong, and Star Trek — including his feud with George Takei — but a more somber recurring theme is his approaching death, which the octogenarian refers to as the real "final frontier."
Music Box Theatre, closed March 4.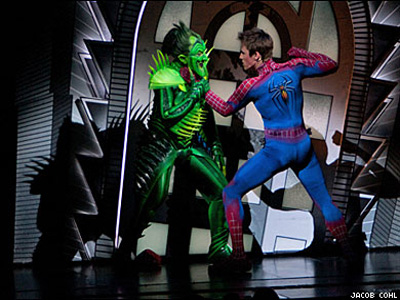 Spider-Man: Turn Off the Dark
How did Broadway's most troubled musical become coherent? What gave its villains, led by Patrick Page's evil-queeny Green Goblin, a purpose? After bad press and highly publicized injuries, the webbed wonder welcomed three heroic gay additions to the creative team as Julie Taymor left the production: Playwright Roberto Aguirre-Sacasa, director Philip William McKinley, and choreographer Chase Brock came to save the day!
Foxwoods Theatre, open-ended.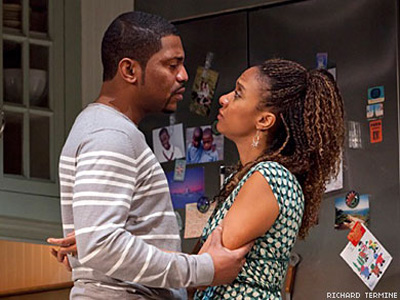 Stick Fly
Torchwood's Mekhi Phifer and Rent's Tracie Thoms are among the bright stars of Lydia R. Diamond's African-American family dramedy about two brothers who invite their girlfriends — one black, one white — to their Martha's Vineyard summer home. Kenny Leon directs this juicy tale of race, class, and sibling rivalry like a very special episode of The Cosby Show, and producer Alicia Keys fills the gaps with sparkling incidental music.
Cort Theatre, closed February 26.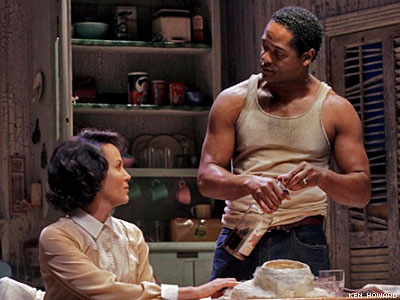 A Streetcar Named Desire
With only minor script adjustments, Emily Mann's marvelous multiracial revival turns up the sexual heat and shakes loose long-dormant humor in the Tennessee Williams classic, which stars a magnetic Blair Underwood as brutish Stanley. As his visiting sister-in-law Blanche DuBois, whose marriage to a homosexual ended in his suicide, Soul Food stunner Nicole Ari Parker is a steel magnolia, making her psychosis particularly potent.
Broadhurst Theatre, through August 19.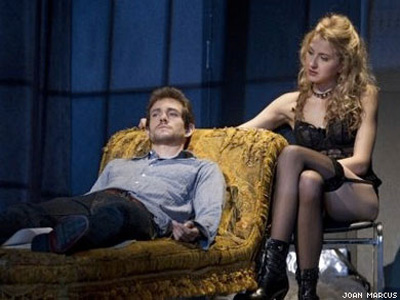 Venus in Fur
Out director Walter Bobbie helms David Ives's exhilarating two-hander, which stars Hugh Dancy as Thomas, a playwright auditioning actresses for his adaptation of Sacher-Masoch's 1870 erotic novel. Born Yesterday's vivacious Nina Arianda wows as Vanda, a mysterious spitfire who thrillingly takes charge as the dominatrix, but Thomas also ends up playing the female part as sexual tension rises and scripted fantasy blurs with reality.
Lyceum Theatre, through June 17.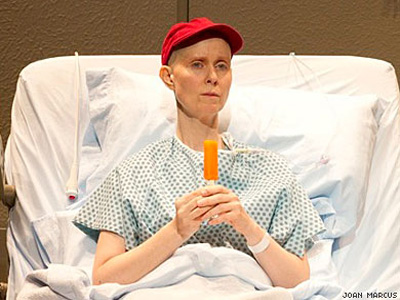 Wit
Sex and the City's Cynthia Nixon bravely commands the stage as a demanding poetry professor — conveniently well-versed in the mortality themes of John Donne's Holy Sonnets — diagnosed with late-stage ovarian cancer in Manhattan Theatre Club's surprisingly funny, tastefully heart-tugging revival of out playwright Margaret Edson's Pulitzer Prize–winning 1995 masterpiece, which is as brief and precious as life itself.
Samuel J. Friedman Theatre, closed March 17.
Visit TonyAwards.com for a complete list of this year's Tony nominations.
---
Links:
[1] http://www.advocate.com/
[2] http://www.tonyawards.com/en_US/nominees/index.html
[3] http://www.advocate.com/arts-entertainment/theater/seat-filler