---
Seat Filler: NYC Theater Guide for May 2012
By Brandon Voss
Originally published on Advocate.com May 22 2012 3:01 PM ET
Cock
Cory Michael Smith's spineless John is torn between two competitive lovers, Jason Butler Harner and Amanda Quaid as M and F, in Mike Bartlett's Olivier Award-winning comedy, which raises but appropriately fails to answer questions about bisexuality: Isn't who more important than what? James Macdonald urgently stages the verbal combat in the round, which invests the rapt audience like an exhilaratingly tense sporting event.
The Duke, through October 7.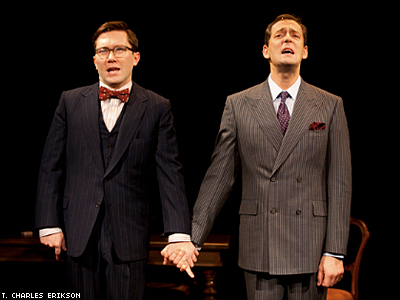 February House
Gabriel Kahane and Seth Bockley's hauntingly sublime chamber musical stars out singer-songwriter Julian Fleisher as flamboyant editor George Davis, who created a bohemian Brooklyn commune in 1940 for colorful luminaries such as W.H. Auden, Benjamin Britten, Chester Kallman, Carson McCullers, Erika Mann, Peter Pears, and Gypsy Rose Lee — most gay or bisexual behind doors, all seeking inspiration at the dawn of war.
Public Theater, through June 10.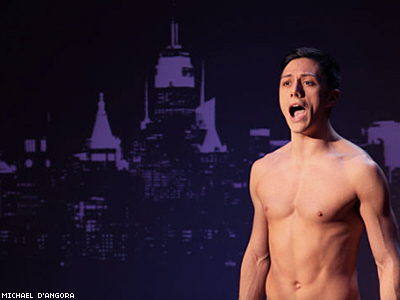 Naked Boys Singing!
The infamous all-male musical revue closed in January after more than 12 years, but it's been successfully re-erected by married director-producers Tom and Michael D'Angora, who've made the show tighter and sprightlier with a sexy new crop of young trou-droppers. The novelty and shock value have waned since its inception, but the trifle still provides a comfortable soft spot for bachelorette parties and curious gay tourists alike.
Kirk Theatre, open-ended.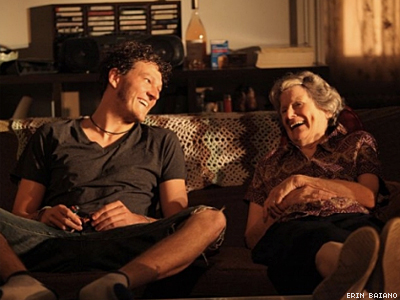 4000 Miles
In Amy Herzog's quietly moving drama about loss, a familial Harold and Maudefor the modern age, a 21-year-old hippie seeks comfort at his 91-year-old grandmother's Manhattan apartment after his best friend's tragic death on their cross-country bike trip. As the feisty yet fading widow with a Communist past, the great Mary Louise Wilson of Grey Gardens fame gives an indelibly detailed performance worth any long journey.
Mitzi E. Newhouse Theater, through July 1.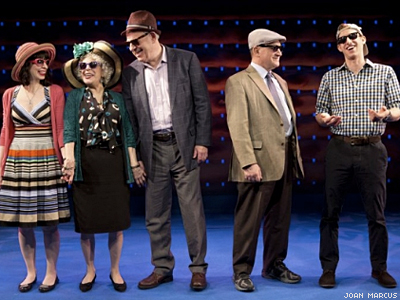 Old Jews Telling Jokes
Inspired by the website of the same name, this hilarious comedy revue enlists five actors — including two youngsters and the marvelous Marilyn Sokol — to honor and reinvent classic borscht belt gags about birth, death, and everything in between, particularly sex or the lack thereof. Light songs and heartfelt monologues are peppered throughout, but it's all about the jokes, folks, delivered here with the sharpness and precision of a deli slicer.
Westside Theatre, open-ended.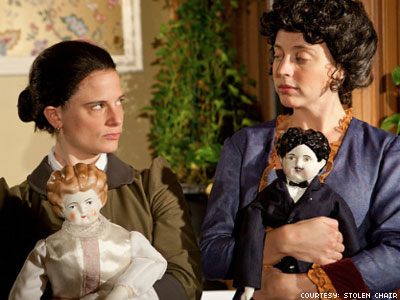 The Bachelors' Tea Party
Jody Flader and Liz Eckert impress as interior decorator Elsie de Wolfe and theatrical agent Bessie Marbury, feminist pioneers and self-described New York "bachelors" who lived together during the early 20th century, in Kiran Rikhye's absurd light comedy. Cleverly staged like a child's tea party with porcelain dolls sitting in for the couple's social circle, the dainty show is made more satisfying by a tasty five-course tea service.
Lady Mendl's Tea Salon, through July 15.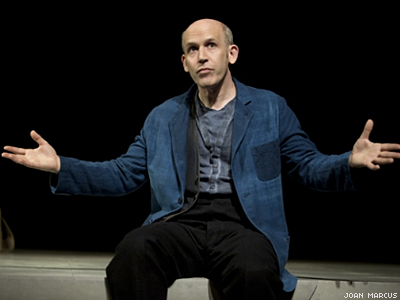 Title and Deed
Will Eno of Thom Pain (based on nothing) notoriety continues his cerebral yet lyrical exploration of life's mysteries with this Beckettian solo piece about the ideas of home, place, and tradition. Irish actor Conor Lovett is compelling as a nameless melancholy traveler seeking connection in a strange land as he ruminates on loneliness and mortality with meticulously crafted ramblings that stick with you like sand between your toes.
The Pershing Square Signature Center, through June 17.
Lonely, I'm Not
Out director Trip Cullman helms Paul Weitz's slight but seductive cinematic rom-com, which stars That 70s Show's Topher Grace as Porter, a young Wall Street burnout trying to pull his life together with Heather, a blind businesswoman played by Juno's Olivia Thirlby. Competing with superfluous fussiness like LED signage, Maureen Sebastian is a scene-stealer in three roles, which include Heather's quirky and clingy lesbian roommate.
Second Stage Theatre, through June 3.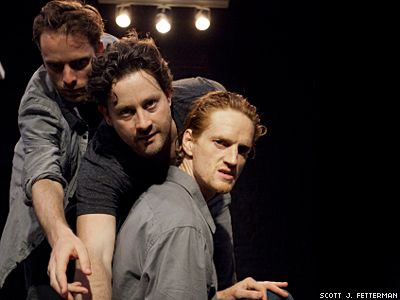 pool (no water)
With spartan staging and stylized movement, director Ianthe Demos and the One Year Lease Company tackle out British playwright Mark Ravenhill's darkly penetrating 2006 play about five miserable visual artists who resent a successful peer. After this wealthy woman falls into a coma, her frenemies exploit her suffering as a work of art, much as she found mainstream fame by putting an AIDS victim's blood and condoms on display.
9th Space, Through May 26.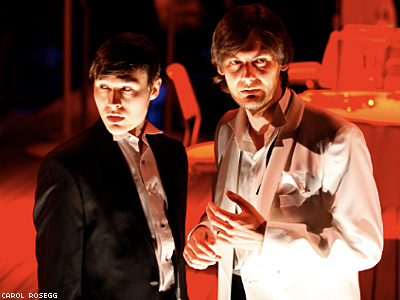 In Masks Outrageous and Austere
The provocative final full-length play by Tennessee Williams had its tech-heavy world premiere — originally scheduled to run through the end of the month — under David Schweizer's direction with Shirley Knight as Babe, a wealthy, boozy broad held captive along with her gay husband (Robert Beitzel) and his young lover (Sam Underwood) by a sinister corporation. Knight's shaky command of her lines didn't help this messy curiosity.
Culture Project, closed May 13.
See our reviews of the complete 2011-2012 Broadway season here.
---
Links:
[1] http://www.advocate.com/
[2] http://www.advocate.com/arts-entertainment/theater/2012/05/09/seat-filler-new-york-theater-guide-may-2012
[3] http://www.advocate.com/arts-entertainment/theater/seat-filler