---
Seat Filler: NYC Theater Guide for June 2012
By Brandon Voss
Originally published on Advocate.com June 22 2012 6:00 AM ET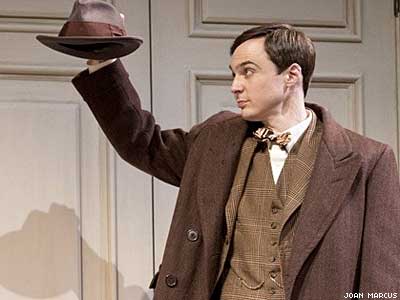 Harvey
The Big Bang Theory's Jim Parsons is an infectious delight as Elwood P. Dowd, a genial barfly with an invisible bunny buddy, in out director Scott Ellis's comely revival of Mary Chase's 1944 comedy. Parsons is a pro, more at ease than he was in The Normal Heart, but Jessica Hecht — lesbian Susan on Friends! — really knocks the dust off this chestnut as Elwood's unraveling sister, who hopes that an asylum can make her brother "normal."
Studio 54, through August 5.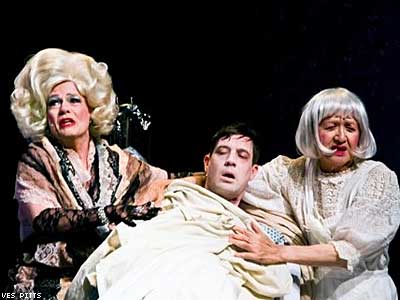 The Etiquette of Death
Conceived by Chris Tanner and codirected by Everett Quinton and Julie Atlas Muz, this endearing but overly ambitious world premiere explores the inevitable end through an absurd mishmash of songs and sketches by New York's most notable downtown artistes. In the glittery shadow of the AIDS epidemic, Quinton and Tanner lead the jazz-funereal proceedings in campy drag as Madame Death and cancer-stricken mother to a dying son.
La MaMa's Ellen Stewart Theatre, through July 1.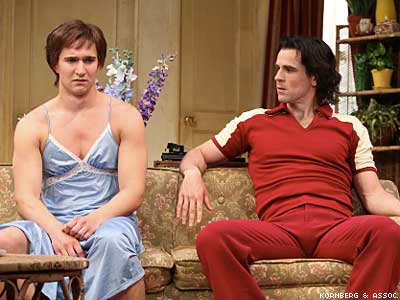 3C
The characters sure look like the Three's Company gang in out playwright David Adjmi's terrifically twisted premiere, but it cleverly plays like a Chekhovian drama about post-Vietnam anxiety with existential echoes of Sartre. Making a memorable nude entrance, As the World Turns alum Jake Silbermann stars as new roomie Brad, who copes with a grotesquely homophobic landlord while crushing on his sleazy neighbor (Eddie Cahill).
Rattlestick Theater, through July 14.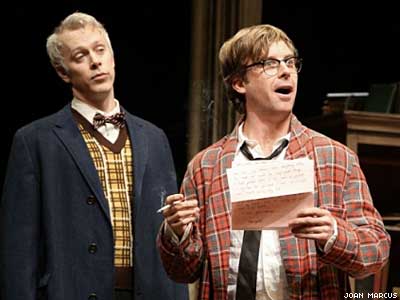 The Common Pursuit
Even when cerebral chatter gives way to soapy drama, out director Moisés Kaufman can't sharpen Roundabout's dull revival of Simon Gray's predictable 1984 play about two decades of lost potential. Among the Cambridge undergrads who become frenemies while launching an elitist literary zine, Tim McGeever is a standout as the droll and erudite Humphry, a self-destructive gay man who frequents dangerous cruising spots.
Laura Pels Theatre, through July 29.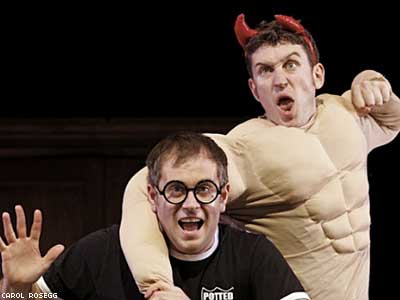 Potted Potter
Bewitching writer-performers Daniel Clarkson and Jefferson Turner lovingly poke fun at Pottermania as they set out to recap all seven books in the Harry Potter series in 70 minutes. The spry Brits cast a charming spell with their slapdash whirlwind of silly costumes, laughably cheap props, hilarious improv, and audience participation, but this glorified children's show would be more magical at Universal's Harry Potter theme park.
Little Shubert Theatre, open-ended.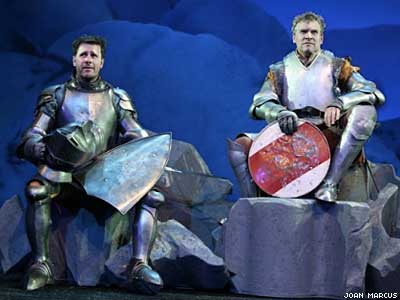 Medieval Play
Josh Hamilton and Tate Donovan star in Kenneth Lonergan's sprawling, sporadically hilarious comedy about 14th-century French mercenary knights on a quest for moral redemption. Papal schism, chivalry, Catherine of Siena, and even bad medieval table manners are targets for coolly anachronistic jousting in this Spamalot-like satire; unfortunately, Lonergan forcibly stretches a very smart SNL sketch into an epic affair.
The Pershing Square Signature Center, through June 24.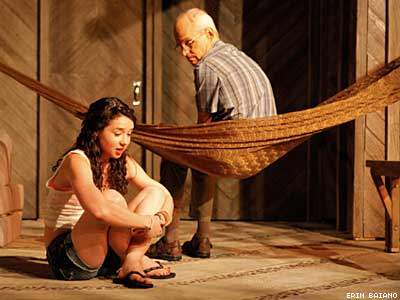 Slowgirl
Lincoln Center Theater's newest space opens with the beautiful world premiere of Greg Pierce's touching two-hander about a verbose teen (Sarah Steele) who, haunted by an accident involving a learning-disabled classmate, seeks refuge with her reclusive uncle (Zeljko Ivanek) at his Costa Rican jungle retreat. You know they'll help each other confront their demons, but that journey's as sweet and spiky as their fresh rum smoothies.
Claire Tow Theater, through July 15.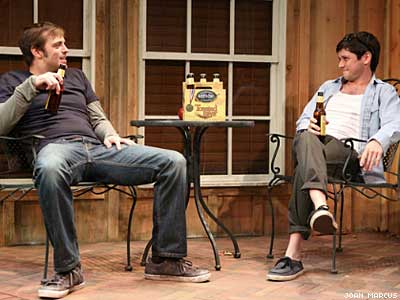 Bad Guys
An indie filmmaker threatens to expose the truth about an old friend's involvement in a mysterious murder in Alena Smith's packed but pointless drama about loyalty and machismo. Among the fine performances wasted on largely unlikable childhood buddies reunited for barbecue, beer, and barbs, Disney Channel alum Raviv Ullmann channels YouTube comedian Cole Escola as the film's gay star and brief victim of homophobia.
Second Stage Uptown, closed June 17.
Chimichangas and Zoloft
In Fernanda Coppel's snappy but uneven comedy, two best girlfriends struggle with their sexual awakening — one has just been abandoned by her mother after coming out as a lesbian — while their handsome fathers, played by Teddy Cañez and Alfredo Narciso, have a secret affair. Spicy, slangy scenes between Carmen Zilles and Xochitl Romero as the girls feel authentic and fresh, but the rest of the play is overstuffed and overcooked.
Atlantic Theater Company/Stage 2, through June 24.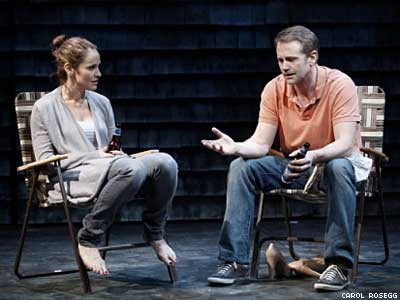 Rapture, Blister, Burn
Feminism and gender politics get a vigorous martini-shakedown in Gina Gionfriddo's incisive comedy about academic Catherine (Private Practice's Amy Brenneman) and suburban mom Gwen, unfulfilled women who took opposite paths after grad school and now covet each other's life. As Gwen moves her maybe-gay son to Manhattan, Catherine reconnects with Gwen's husband, a pothead porn-addict played by Oz's Lee Tergesen.
Playwrights Horizons, through July 1.
See last month's New York theater review column here.
---
Links:
[1] http://www.advocate.com/
[2] http://www.advocate.com/arts-entertainment/theater/2012/05/22/seat-filler-broadway-theater-guide-may-2012
[3] http://www.advocate.com/arts-entertainment/theater/seat-filler