---
Seat Filler: NYC Theater Guide for July 2012
By Brandon Voss
Originally published on Advocate.com July 26 2012 6:00 AM ET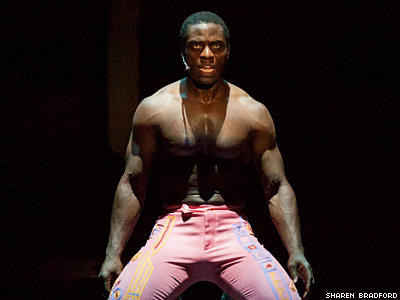 Fela!
Celebrating the life of Nigerian revolutionary Fela Kuti — alternately inhabited by Sahr Ngaujah and Adesola Osakalumi— the 2009 musical is back on Broadway, transforming the Hirschfeld into Kuti's infamous Lagos nightclub, the Shrine. There's a scary, somber edge to the political strife, but it's mostly a colorfully rump-shaking, hip-thrusting tribute to the Afrobeat legend with Tony-winning choreography by out director Bill T. Jones.
Al Hirschfeld Theatre, through August 4.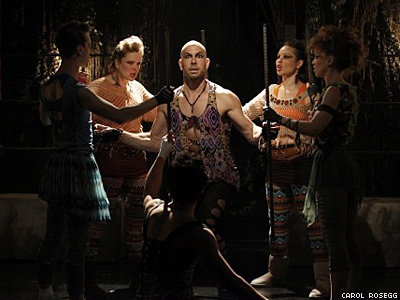 Triassic Parq
Jurassic Park gets a silly yet surprisingly respectful transgender twist in this massively entertaining rock musical spoof, which was a 2010 FringeNYC favorite. Narrated by a white actor playing Morgan Freeman, a pack of naïve female dinosaurs — Lysistrata Jones alums Alex Wyse and Lindsay Nicole Chambers are comic standouts — go into a tailspin when a DNA mutation makes a T. rex (Claire Neumann) sprout male genitalia.
SoHo Playhouse, through August 5.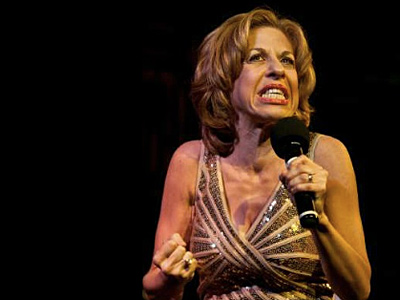 Jackie Hoffman at 54 Below
"Gays love the bottom, and that's where I am," sings kvetching comedienne Jackie Hoffman of her residency in the swanky new cabaret space under Studio 54. Playing off young gay accompanist Will Van Dyke, Hoffman is also at the top of her self-deprecating game with bitingly hilarious jabs at Wicked and Patti Lupone, plus a winning medley of her minimal vocal contributions to Hairspray, Xanadu, and The Addams Family.
54 Below, through July 29.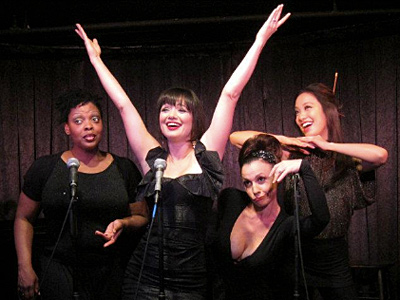 Bitches of the Kingdom!
Based on his musical Disenchanted, which is slated for a 2013 run off-Broadway, Dennis Giacino's cabaret evening explores the injustice and exploitation suffered by storybook princesses and other fairy tale females. A quartet of brassy belters gives fine voice to bitter, hungry heroines like Cinderella, Snow White, and even Mulan, who laments that she must be a lesbian because she's the only Disney princess with no male love interest.
Don't Tell Mama, through July 26.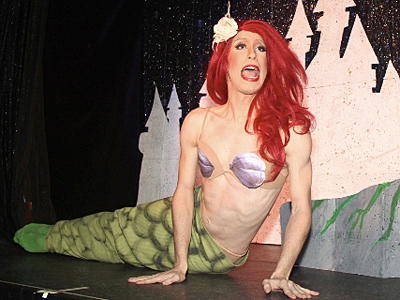 Distorted Diznee
Speaking of royal bitches, the fiercely fractured fairy tale continues with this dazzling drag revue. Popular hostess-performer Dallas DuBois leads drag darlings Holly Dae, Bootsie LeFaris, Pixie Aventura, and Shenea DeDranke as they rip on everyone's favorite animated classics, skewering sweet princesses and wicked witches alike while lip-syncing other queens like Cher, Idina Menzel, Christina Aguilera, and Patti LuPone.
Laurie Beechman Theatre, through August 10.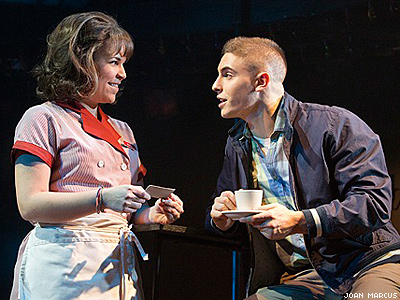 Dogfight
Out director Joe Mantello yanks the leash of this very promising world premiere musical based on a 1991 indie about a homely waitress (Lindsay Mendez) who bonds with a handsome Vietnam-bound Marine (Derek Klena) after a party in which the jarheads compete to invite the ugliest date — cue crossdressing sight gag! Benj Pasek and Justin Paul's score is memorably rousing, but Peter Duchan's book has more bark than bite.
Second Stage Theatre, through August 12.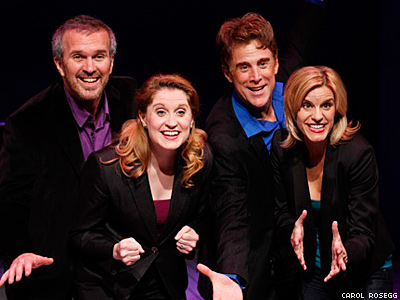 Closer Than Ever
Decidedly grownup issues like parenthood, second marriages, and mortality get earnestly euphonious attention in this essential revival of the intimate 1989 musical revue by David Shire and director Richard Maltby Jr., underappreciated authors of Baby, Big, and Starting Here, Starting Now. By the show's finale, the four appealing performers — Jenn Colella, George Dvorsky, Christiane Noll, and Sal Viviano — feel like good old friends.
York Theatre at Saint Peter's, through August 25.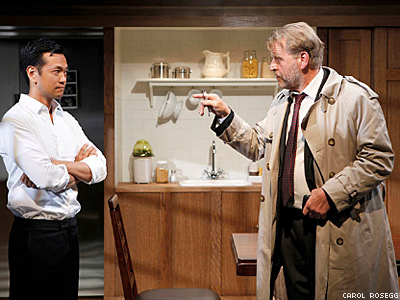 Warrior Class
Kenneth Lin's sharp and tense three-character drama rattles closeted skeletons and airs out dirty backroom dealings when a Chinese-American assemblyman, a religious ex-Marine dubbed "the Republican Obama" by Sean Hannity, makes a bid for Congress. Ugly Betty's David Rasche is terrific as a shady, flustered campaign strategist trying to hush the politician's college ex, a housewife who recalls him as a suicidal stalker.
Second Stage Uptown, through August 11.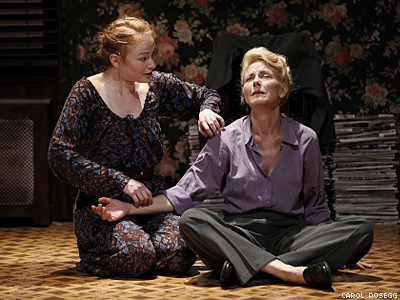 7th Monarch
Law & Order vet Raina Briar delivers a strong, confident performance as a troubled criminal investigator struggling to crack a mystery involving a socially inept, space helmet-wearing math whiz (Gretchen Hall) accused of murdering her missing folks in Indiana. Jim Henry's thriller is as intriguing and unpredictable as it is overwrought and implausible, but at best it feels like, well, a very special episode of Law & Order.
Acorn Theatre, through September 9.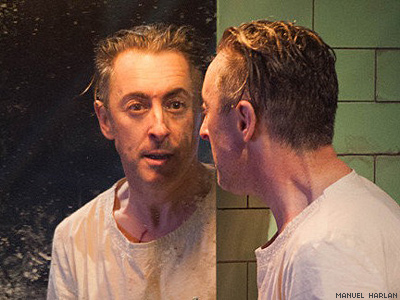 MacBeth
The Good Wife's Alan Cumming wowed with a giddily disorienting solo reimagining of Shakespeare's murderous tragedy — stripped to its unsettling core with chilling moments of macabre stagecraft — that cast him as a frenzied patient in a creepy psych ward. If you missed Lincoln Center Festival's brief engagement, don't strut and fret; Simon & Schuster has released an audio recording of the National Theatre of Scotland production.
Rose Theater, closed July 14.
See last month's New York theater review column here.
---
Links:
[1] http://www.advocate.com/
[2] http://www.advocate.com/arts-entertainment/theater/2012/06/22/seat-filler-new-york-theater-guide-june-2012
[3] http://www.advocate.com/arts-entertainment/theater/seat-filler