---
Seat Filler: NYC Theater Guide for August 2012
By Brandon Voss
Originally published on Advocate.com August 29 2012 6:00 AM ET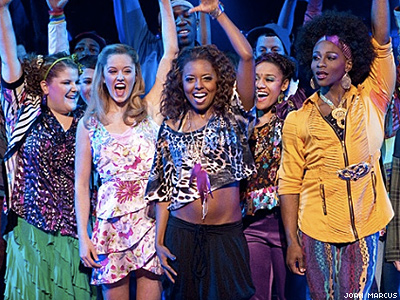 Bring It On: The Musical
Boosted by Andy Blankenbuehler's breathtaking choreography, this gleefully insipid musical — inspired by the 2000 flick about rival cheer squads — boasts a zingy original libretto by out Avenue Q book writer Jeff Whitty. The creative team also includes Next to Normal and In the Heights composers, but thank Whitty for La Cienega, the urban school's matter-of-factly transgender hip-hop crew member played by out actor Gregory Haney.
St. James Theatre, through January 20.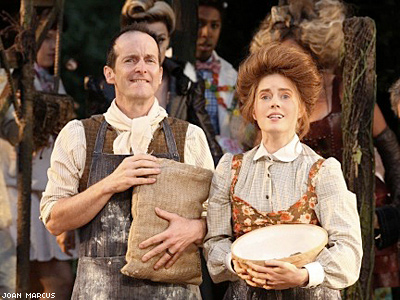 Into the Woods
Stephen Sondheim and James Lapine's Tony-winning musical about fractured fairy tales gets an unfocused but ultimately affecting revival against the magical backdrop of Central Park. Donna Murphy and Amy Adams add star power as the Witch and Baker's Wife, but True Blood's Denis O'Hare is the show's soul, doubling in this bold new vision as the childless Baker and the father of a runaway boy who acts as the story's imaginative Narrator.
Delacorte Theater, through September 1.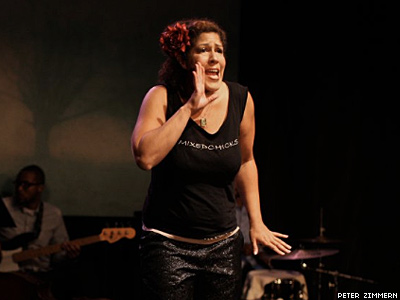 Fried Chicken and Latkes
Rain Pryor, who played a lesbian drug addict on Showtime's Rude Awakening, grew up black and Jewish in Beverly Hills, the root of an outsider mentality made infinitely more interesting by the fact that her father was legendary actor-comedian Richard Pryor. In her resonant solo show, the profane Pryor also sings the blues with a jazz trio and nails colorful characters — including a childhood bully — that recall Whoopi Goldberg in her prime.
Actors Temple Theatre, open-ended.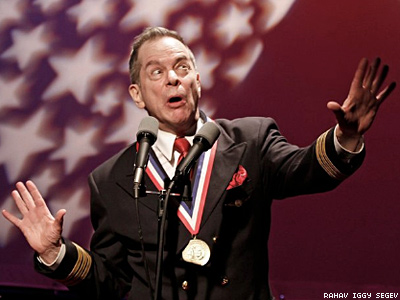 Summer Shorts 2012
In its sixth year, this indispensable festival of new American one-acts includes Neil LaBute's The Furies, in which a newly out middle-aged man (Victor Slezak) may be feigning illness to escape his young lover (J.J. Kandel), and Paul Rudnick's hilarious monologue Cabin Pressure, which stars Peter Bartlett (Mr. Charles, Currently of Palm Beach) as a flighty gay flight attendant being honored for saving a celeb-filled plane from a terrorist.
59E59 Theaters, through September 1.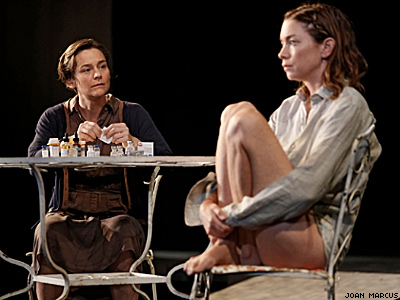 Heartless
Sam Shepard's strange dysfunctional family allegory, which plays like late Tennessee Williams, is populated by lost Los Angeles souls like a 65-year-old Shepard stand-in who laments his New York "junkie days" of "transvestite fistfights, hookers, and faggots" and Julianne Nicholson (Puccini for Beginners) as a young woman scarred physically and emotionally by a heart transplant — the heart of the pretentious drama's heavy-handed symbolism.
The Pershing Square Signature Center, through September 30.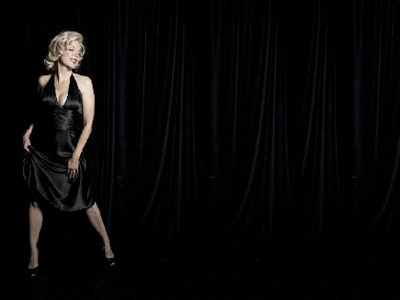 Siren's Heart: Norma Jean & Marilyn in Purgatory
Following two off-off-Broadway runs last year, Walt Stepp's brief, conversational one-woman play returns with the excellent Louisa Bradshaw as Marilyn Monroe in present-day purgatory. Dishing on her celebrity contemporaries and pleasantly crooning original tunes — a few based on William Butler Yeats poems — this otherworldly Marilyn is portrayed less as a tragic victim of fame and more as the happy Norma Jean she longed to be.
Actors Temple Theatre, through September 30.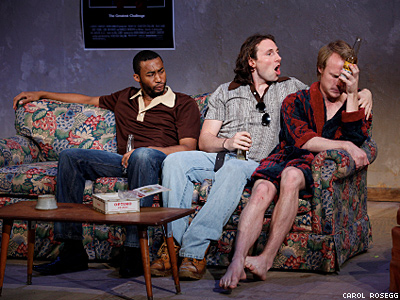 Bullet for Adolf
Woody Harrelson and a guy named Frankie Hyman wrote a play based on the 1983 summer they spent doing construction in Houston — how bad could it be? Without the benefit of the weed onstage, it's pretty painful. The theft of a World War II gun propels the abrasive, scattered comedy, which includes an Italian-Czech coworker who talks like rapper Cazwell and a deeply closeted roomie who loves Judy Garland and flounces around in his undies.
New World Stages, through October 21.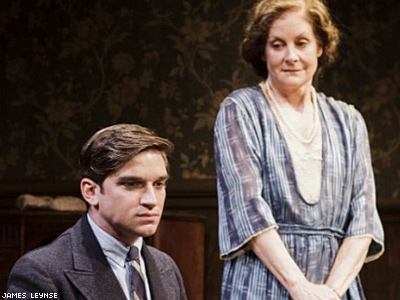 Harrison, TX
Clybourne Park's Pam MacKinnon gracefully directs the late Horton Foote's charmingly quaint trio of one-acts, all set in the same titular town, for Primary Stages. In the 1920s-set Blind Date, an awkward tomboy must entertain a nerdy wooer played by Evan Jonigkeit, last seen as a gay druggie in High. In The Midnight Caller, unmarried ladies in a '50s boarding house thrive on the drama when new male and female residents find romance.
59E59 Theaters, through September 15.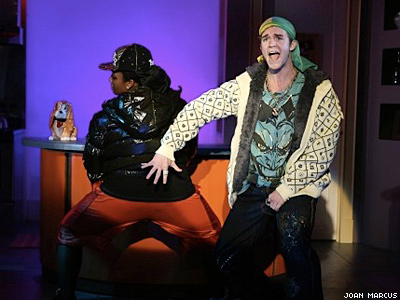 The Last Smoker in America
Peter Melnick and Bill Russell lend some decent songs to this garishly surreal musical comedy about a couple trying to kick the habit in a world where smoking has been outlawed, but the corny book reeks of a hack job. If you're not offended by the dad dissing privileged "disabled Asian lesbians" in the hair-metal anthem "Straight White Man," just watch the teen son act "ghetto" and then wear his mom's heels to cope with her absence.
Westside Theatre, through September 1.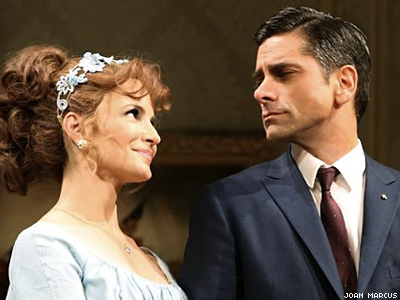 The Best Man
New cast members Cybill Shepherd, Kristin Davis, and Elizabeth Ashley brighten up Michael Wilson's brisk, pertinent revival of late elder statesman Gore Vidal's 1960 play about mud-slinging presidential candidates fighting for their party's nomination. A vibrant John Stamos replaces Eric McCormack as a slightly more likable Sen. Joseph Cantwell, whose closeted skeleton is that he may have had a homosexual past in the Army.
Gerald Schoenfeld Theatre, through September 9.
See last month's New York theater review column here.
---
Links:
[1] http://www.advocate.com/
[2] http://www.advocate.com/Arts_and_Entertainment/Theater/Tales_Spinning/
[3] http://www.advocate.com/arts-entertainment/theater/2012/07/26/seat-filler-new-york-theater-guide-july-2012
[4] http://www.advocate.com/arts-entertainment/theater/seat-filler