---
Seat Filler: NYC Theater Guide for September 2012
By Brandon Voss
Originally published on Advocate.com September 26 2012 9:54 AM ET
If There Is I Haven't Found It Yet
In Nick Payne's soggy drama about one family's failure to communicate in the shadow of imminent global disaster, Jake Gyllenhaal makes a fine American stage debut with a spot-on Cockney accent as scruffy pot-smoking uncle to an overweight, severely bullied, and suicidal 15-year-old girl played by heartbreaking Hairspray alum Annie Funke. Too bad the play gets bogged down in a flood of showy theatrics that hinge on watery metaphors.
Laura Pels Theatre, through November 25.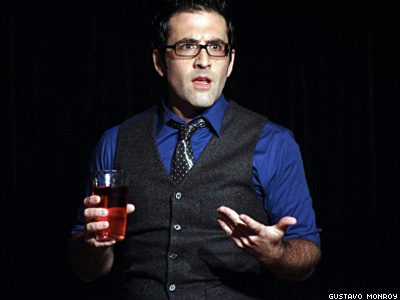 Patti Issues
Ben Rimalower is turning lemons and spilt T into a delicious Arnold Palmer with his insidery tribute to idol and colleague Patti LuPone. Marking the out NYC director's debut as playwright and performer, the captivating solo piece draws parallels between his connection to the diva and his strained relationship with his dad, who came out as gay when he was a child. It's not exactly I Am My Own Wife, but it's smart, poignant, and dishy as hell.
The Duplex, through November 1.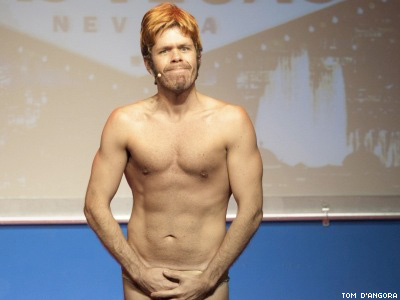 NEWSical, the Musical
"If Rosie O'Donnell can be on Broadway, then fuck it, so can I," sings Perez Hilton, who seems right at home starring in Off-Broadway's ever-morphing headline-ripping revue through October 7. Thanks to out composer-lyricist Rick Crom's quick wit, the "John Stamos-esque" Hilton serves the show quite well, whether he's addressing gay marriage as Andy Cohen, skewering Chick-fil-A as a redneck, or showing off his new abs as Prince Harry.
Kirk Theatre, open-ended.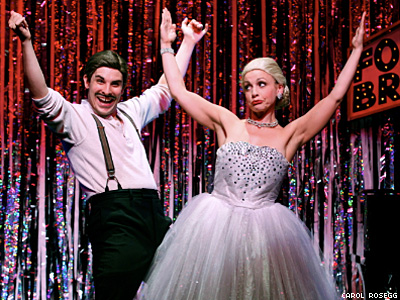 Forbidden Broadway: Alive and Kicking
Gerard Alessandrini's excellent 21st edition of Forbidden Broadway marks the theater institution's 30th anniversary, and the girl sure has gotten bitchy in her old age. Of course, it's all in good fun as an outstanding cast of four skewers Broadway newsmakers like Spider-Man and Book of Mormon, but you might wince — and scan the audience, just in case — when it targets Smash, Sondheim, and Ricky Martin, "the world's cheeriest Che Guevara."
47th Street Theatre, through January 6.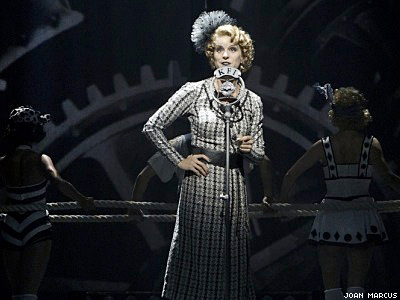 Chaplin
One can overlook the literal and figurative lack of color in this passable bio-musical due to the transformative star-making turn by an adorable Rob McClure as Charlie Chaplin, revolutionary filmmaker, controversial cinematic icon, and womanizing Communist sympathizer. Besides Chaplin's destructive ego, the show's villain is bitter gossip columnist Hedda Hopper, played with vocal power and scene-stealing zest by out actress Jenn Colella.
Ethel Barrymore Theatre, open-ended.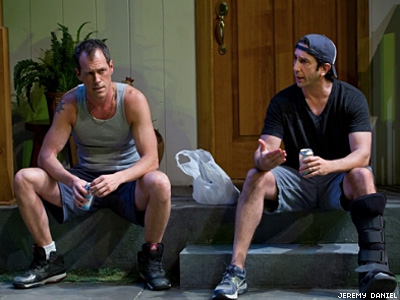 Detroit
A Pulitzer Prize finalist, Lisa D'Amour's unsettling dramedy pries wider the cracks of the American Dream as discontented suburbanites (David Schwimmer and Amy Ryan) warm up to their new neighbors (Darren Pettie and Sarah Sokolovic), a shady couple fresh out of rehab. During a series of backyard barbecues, strange sexual tension — the women share a brief drunken kiss — and erratic booze-fueled behavior burn like a fuse toward an explosive climax.
Playwrights Horizons, through October 28.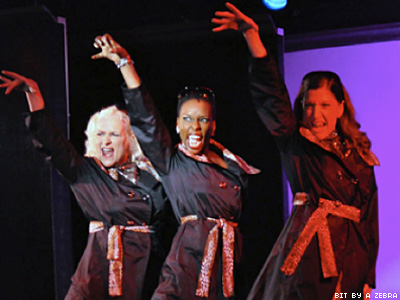 Cougar the Musical
Donna Moore's new musical is as cliché as its title and subject might suggest, but its cheesy charms provide tasty bait for theatergoing prey craving guilty pleasure. Singing a ballad to her vibrator, Brenda Braxton is a standout as one of three gals who find solace and strength by dating younger men. A veteran of gay short films, hunky Danny Bernardy plays all the dudes as hilarious stereotypes, but he's at his best in drag as an Asian manicurist.
St. Luke's Theatre, open-ended.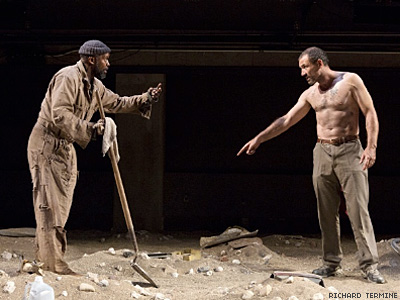 The Train Driver
Signature Theatre's Athol Fugard residency ends with the strikingly stark New York premiere of Fugard's Beckettian 2010 drama, expertly directed here by the 80-year-old South African playwright himself. Leon Addison Brown and Ritchie Coster are gravely affecting as suffering strangers, a black cemetery caretaker and a white train driver crippled by guilt as he searches for the bodies of the mother and child he unintentionally killed.
The Pershing Square Signature Center, closed September 23.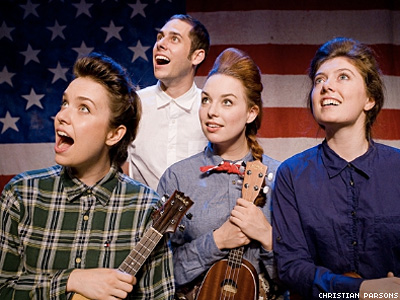 Missionary in Manhattan
Presented by the Ukulele Orchestra of Great Brooklyn as part of the Dream Up Festival, this brief and amusing world-premiere musical rips a page from Book of Mormon, Big Love, and even Nunsense as three kooky sister wives rechristen pop songs — Cee Lo Green's "Forget You" becomes "Bless You," for example — to raise funds to find their husband, "a homosexual with his butt" who has left his mission to run off with his male vocal coach.
Theater for the New City, closed September 9.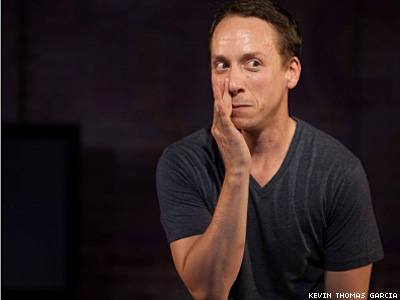 Methtacular!
Thankfully, writer-performer Steven Strafford lived to tell the grotesquely vaudevillian tale of his three years spent as a sex-crazed crystal meth addict in Chicago. Scraping the black humor from rock bottom with brutal honesty, Strafford elevates familiar druggy anecdotes with musical direction by The Rosie O'Donnell Show's John McDaniel, a love for '80s sitcoms, game show interludes, and sharp one-liners like "Tuesday plus meth equals Friday."
The Playroom Theater, closed September 23.
See last month's New York theater review column here.
---
Links:
[1] http://www.advocate.com/
[2] http://www.advocate.com/arts-entertainment/theater/2012/08/29/seat-filler-new-york-theater-guide-august-2012
[3] http://www.advocate.com/arts-entertainment/theater/seat-filler