---
Seat Filler: NYC Theater Guide for November 2012
By Brandon Voss
Originally published on Advocate.com October 30 2012 9:00 AM ET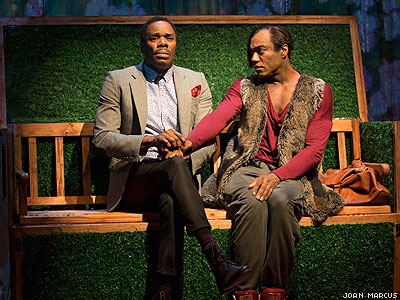 Wild With Happy
The Big Gay Sketch Show alum Colman Domingo shines as both playwright and star of this very funny and fanciful semi-autobiographical story of loss. Domingo's a hoot as prickly, guilt-ridden Gil, a struggling gay actor who, coping with the death of his mother, winds up on an ultimately sentimental road trip to Disney World with his flirty funeral director, his outrageously animated aunt Glo, and a scene-stealing Maurice McRae as his flamboyant best friend.
Public Theater, through November 11.


In the Summer Pavilion
In Paul David Young's ambitious and haunting drama, recent Princeton grads — one woman and two seemingly bisexual men — drop acid and hallucinate multiple futures for their sexually fluid trio, including every romantic pairing imaginable. With scruffy looks like an American Apparel underwear model, Ryan Barry is a standout as Ben, who seems happiest, albeit only briefly, in a gay relationship with Meena Dimian's closeted Middle Eastern heir.
59E59 Theaters, through November 3.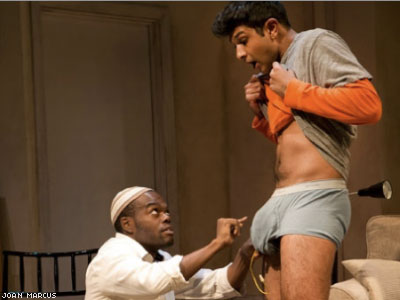 Modern Terrorism, or They Who Want to Kill Us and How We Learn to Love Them
John Kern's black comedy has balls — and not just the ones chafed by an underwear bomb in the opening scene. This provocative satire somehow makes the uneasy audience care about a bumbling trio of rogue terrorists. Pitch Perfect's Utkarsh Ambudkar anchors the production as Rahim, a sweet young Pakistani suicide bomber mixed up with a Somali who longs for an Islamic paradise where, among other hopes, his half-brother isn't gay.
Second Stage Theatre, through November 4.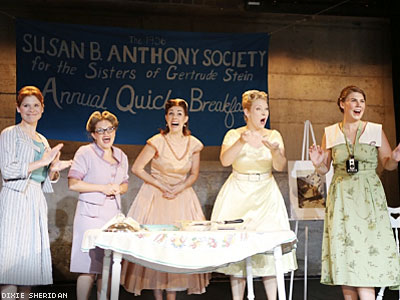 5 Lesbians Eating a Quiche
The ladies of the Susan B. Anthony Society for the Sisters of Gertrude Stein — that includes you, dear audience participants — won't tolerate meat in their quiche. If you can stomach double-entendres like that, you'll eat up Andrew Hobgood and Evan Linder's light and fluffy 1956-set feminist satire starring Caitlin Chuckta, Rachel Farmer, Megan Johns, Thea Lux, and Maari Suorsa as widows embracing their sexuality after a nuclear attack.
SoHo Playhouse, through November 20.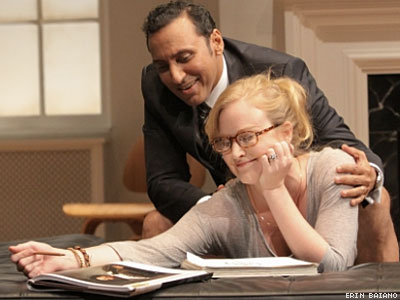 Disgraced
At the racially and religiously diverse Manhattan dinner party thrown in Ayad Akhtar's smart, snappy drama, the claws come out before the fennel salad is finished. Leading this exceptionally strong cast with a powerful performance that will startle and impress fans who know him only from The Daily Show With Jon Stewart, Aasif Mandvi plays an ambitious Pakistani-American lawyer unhealthily distancing himself from his cultural roots with disastrous results.
Claire Tow Theater, through December 2.


Grace
Faith and reason clash in this tense, taut little thriller by Dirty Sexy Money creator Craig Wright. Starting with the literal bang of a murder-suicide, this beautifully acted black comedy eerily backtracks to reveal how a likable evangelical Christian like Steve (Paul Rudd) could become so dangerously unhinged while his wife comforts a disfigured neighbor (Michael Shannon). Ed Asner is also a treat as an exterminator and Holocaust survivor.
Cort Theatre, through January 6.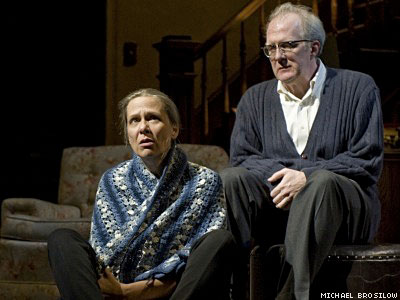 Who's Afraid of Virginia Woolf?
In this 50th anniversary revival, Edward Albee's masterpiece is in masterful hands with Steppenwolf's Tracy Letts and Amy Morton — August: Osage County's playwright and star — as combative boozers George and Martha, one of the most dysfunctional couples in history. Helmed by Clybourne Park's Pam MacKinnon, this superlative staging shoots for exhilarating truth and realism in sobering contrast to the campier 2005 revival with Kathleen Turner.
Booth Theatre, through February 24.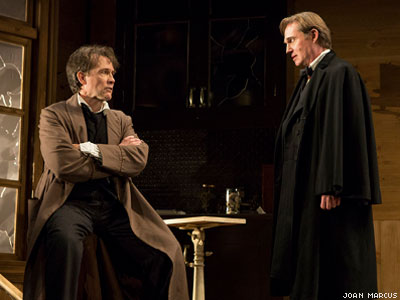 An Enemy of the People
Manhattan Theatre Club and director Doug Hughes must be commended for making Ibsen's musty 1882 morality play feel so vibrant, relevant, and accessible. Dependable stage veterans Boyd Gaines and Richard Thomas chew the scenery just enough as influential brothers feuding when one finds toxic water pollution at the local baths — a discovery that would make him a hero if the baths weren't the small Norwegian community's main revenue source.
Samuel J. Friedman Theatre, through November 18.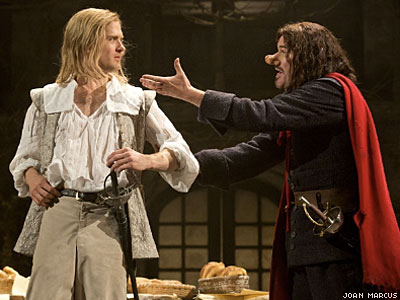 Cyrano de Bergerac
Douglas Hodge, who won a Tony as Albin in the 2010 revival of La Cage aux Folles, is nothing to sneeze at as the titular wit and swordsman in Roundabout's attractive revival of Edmond Rostand's classic 1897 rom-com about big noses and identity theft. Hodge is a magnetic whirlwind of energy without being hammy, but the safe, perfectly competent production feels a touch pointless so soon after the delightful 2007 revival starring Kevin Kline.
American Airlines Theatre, through November 25.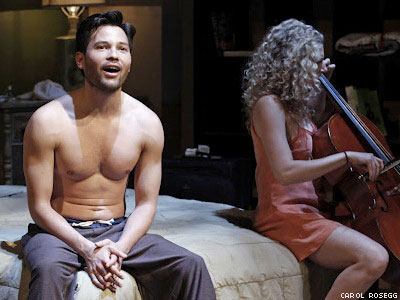 Marry Me a Little
Conceived in 1981 by gay duo Craig Lucas and Norman René, this dialogue-free revue was built around songs cut from Sondheim shows like Company and Follies. Jason Tam and Lauren Molina charm as lonely Brooklyn singles in this delightfully intimate revival — ushering in an exciting new era for Keen Company under new artistic director Jonathan Silverstein — which includes new gems like "Rainbows" from the unproduced Into the Woods film.
Clurman Theatre, closed October 27.


See last month's New York theater review column here.
---
Links:
[1] http://www.advocate.com/
[2] http://www.advocate.com/arts-entertainment/theater/2012/09/26/seat-filler-new-york-theater-guide-september-2012
[3] http://www.advocate.com/arts-entertainment/theater/seat-filler