---
Seat Filler: Holidays 2012 NYC Theater Guide
By Brandon Voss
Originally published on Advocate.com December 06 2012 10:46 AM ET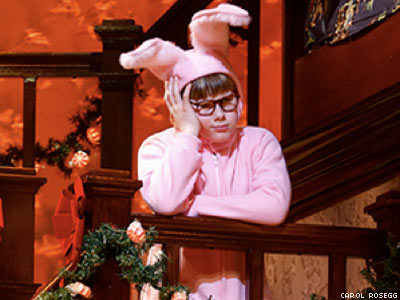 A Christmas Story, The Musical
The 1983 holiday classic is now a crowd-pleasing musical that focuses on the '40s-set film's most memorable moments — the bullies, the freezing flagpole, the department store Santa, etc. — and then amps them up with flashy production numbers. Sure, a chorus line of leg lamps is hokey and pandering, but I triple-dog-dare you not to be made merry by the adorable Johnny Rabe as Ralphie and a very cute score by young songwriters Benj Pasek and Justin Paul.
Lunt-Fontanne Theatre, through December 30.
Elf
Regifted on Broadway after a 2010 engagement, this fitfully catchy musical is full of silly gags that only a child could appreciate — Wayne Knight's Santa just loves his new iPad! — but it could be worse. Based on the 2003 Will Ferrell flick about an overgrown North Pole elf looking for his dad in New York, the story has a positive message for kids who may feel different, and out director-choreographer Casey Nicholaw keeps it bright and sparkly. Blink and you might miss a gay cameo.
Al Hirschfeld Theatre, through January 6.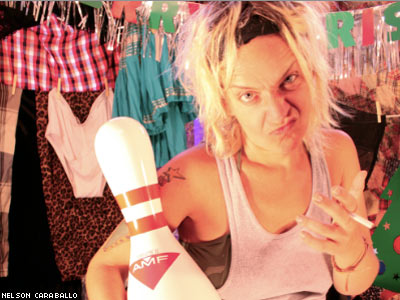 Chris March's Butt-Cracker Suite!
Project Runway's Chris March shows off his cheeky costuming skills in this enjoyable dance-musical that reimagines The Nutcracker in a trashy trailer park. Channeling Honey Boo Boo as Clara, our plus-sized heroine, March also wrote and directed the largely dialogue-free fantasy, in which eight appealing dancers — embodying beer cans, pink flamingoes, and more — interpret everything from Tchaikovsky to Bow Wow Wow. And yes, there's butt-crack.
HERE, through December 29.
Moisty the Snowman Saves Christmas
Step aside, Frosty, because a new holiday icon has come to life in Bradford Scobie's comedy. There must've been some magic in that old traffic cone, because when two hipsters ironically placed it on their dirty snowman's head, Moisty began to mince around with wickedly clever malaprops — "Phylicia Rashad" in lieu of "Feliz Navidad" — and a major Joe Jonas crush. The goofy plot also involves a trans Santa and Jaggedy Ann, a toxic lesbian doll from the Island of Recalled Toys.
Abrons Arts Center, through December 15.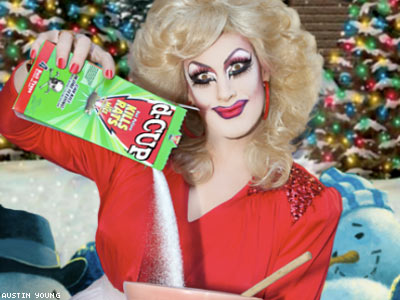 Jackie Beat: Come, They Told Me
Scandalizing good Christians since her first holiday tribute in 1998, L.A.-based drag grinch Jackie Beat returns to NYC with her 15th annual Christmas show. Yes, Virginia, it's that time of year again when Beat can use her special gift for crafting cleverly irreverent pop song parodies to roast sacred seasonal chestnuts over an open fire. Expect titles like "It's Beginning to Look a Lot Like Syphilis" and go elsewhere for cheap sentiment and warm holiday nostalgia.
Laurie Beechman Theatre, December 12-16.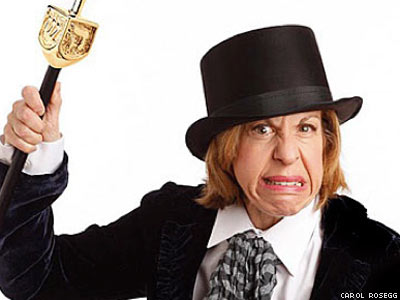 Jackie Hoffman's A Chanukah Charol

Hoffman, a scene-stealer from The Addams Family, Xanadu, and Hairspray, liberates her inner Scrooge in this swift, sweet, and side-splitting semiautobiographical solo show — directed and cowritten by Michael Schiralli — inspired by Patrick Stewart's version of A Christmas Carol. The kvetching comedian examines her life when visited by Yiddish icon Molly Picon and three "ghosts" that include a gay childhood pal in the chorus of Spider-Man.
New World Stages, through December 29.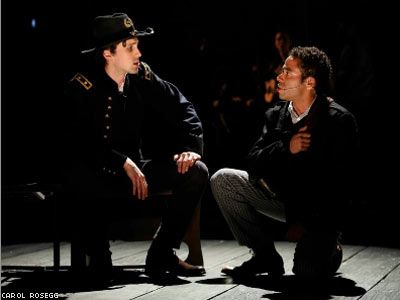 A Civil War Christmas
Lesbian playwright Paula Vogel provides a more somber but no less spectacular holiday offering with a tuneful pageant that begins Christmas Eve 1864 but has clear parallels to contemporary divisiveness. Staged with crafty story-theater spunk by out director Tina Landau, heartrending tales of soldiers and slaves share a bare stage with the Lincolns — the reliable Bob Stillman and Alice Ripley — who make the most of what will be their last Christmas together.
New York Theatre Workshop, through December 30.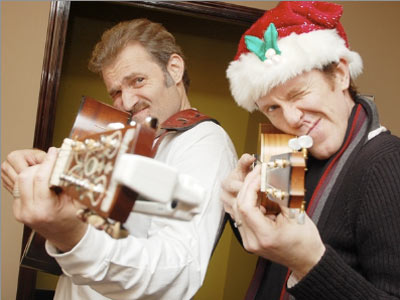 The Holiday Guys in Happy Merry Hanu-Mas
Broadway regulars Jeffry Denman and Marc Kudisch team up for the infectiously joyous Off-Broadway premiere of their intimate holiday variety show, which celebrates the traditions of their Christian and Jewish upbringings, respectively. Armed with a guitar, a ukulele, and an irreverent sense of humor, the duo puts a folksy, jazzy, and refreshingly unexpected spin on holiday classics like "Do You Hear What I Hear" and South Park's "Lonely Jew on Christmas."
The York Theatre at Saint Peter's, December 18-31.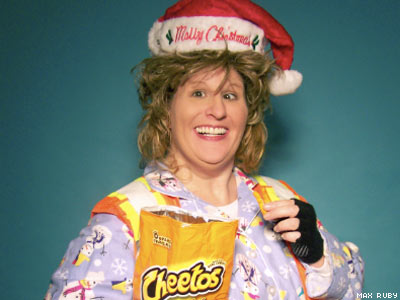 Happy Mollydays
Still looking for the girl of her dreams in her second annual holiday special, Molly "Equality" Dykeman — comic Andrea Alton's super-butch alter ego — is NYC's favorite Percocet-popping poet and school security guard. Accompanied by her lovely backup dancers, the Mollettes, Molly will debut new poems like "My Little Christmas Bitch" and dole out gift bags courtesy of Jack's 99-cent Store. Special guests include Michael Musto, Adam Sank, and Dallas DuBois.
Laurie Beechman Theatre, December 8-21.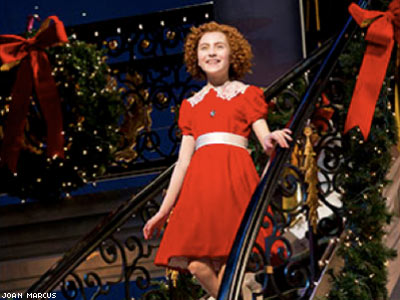 Annie
Even at the expense of some energy and pizzazz, director James Lapine wisely aims for gritty realism over cartoonish charm in his strong revival of the 1977 rags-to-riches musical. Grating Noo Yawk accent aside, Lilla Crawford is a pint-size powerhouse as optimistic orphan Annie, who kicks the Great Depression by moving into Daddy Warbucks' sweet digs during the holidays. And with Katie Finneran nailing it as boozy floozy Miss Hannigan, there's no better place to make a "New Deal for Christmas."
Palace Theatre, open-ended.
---
Links:
[1] http://www.advocate.com/
[2] http://www.advocate.com/arts-entertainment/theater/seat-filler