---
Seat Filler: Best NYC Theater of 2012
By Brandon Voss
Originally published on Advocate.com December 19 2012 4:14 PM ET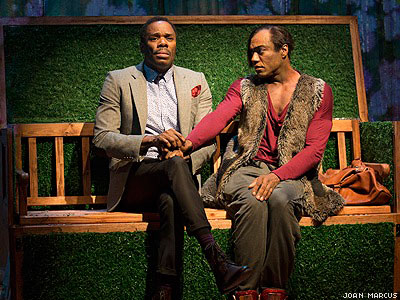 10. Wild With Happy

Big Gay Sketch Show alum Colman Domingo shone as both playwright and star of this very funny and fanciful semiautobiographical story of loss. Domingo was a hoot as prickly, guilt-ridden Gil, a struggling gay actor who, while coping with the death of his mother, winds up on an ultimately sentimental road trip to Disney World with his flirty funeral director, his outrageously animated aunt Glo, and a scene-stealing Maurice McRae as his flamboyant best friend.

Public Theater, closed.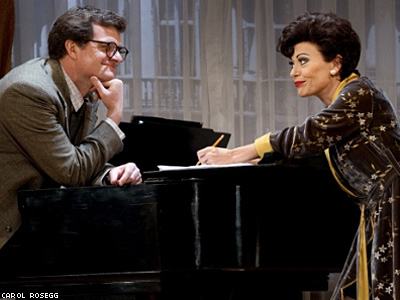 9. End of the Rainbow
Tracie Bennett was an unbridled force, a tornado of tragedy, as she eerily, exhilaratingly inhabited Judy Garland in Peter Quilter's lean but powerful bio-drama about the performer's drug-addled decline during her 1968 London comeback concerts. Accompanied by her enabling young fiancé, Garland was also bolstered by a sobering Michael Cumpsty as her pianist and confidant, a gentle Scot symbolizing all gay men who love their Judy tortured.
Belasco Theatre, closed.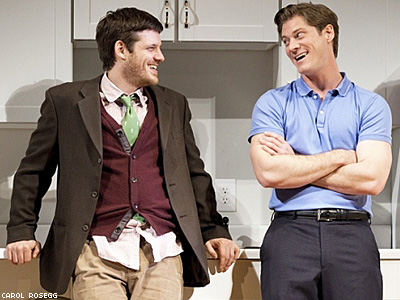 8. The Lyons
A patriarch's death propelled this swift, satisfying dysfunctional family comedy about human disconnection by gay playwright Nicky Silver. With priceless reactions and line readings, Linda Lavin milked every possible laugh from Rita, the unappreciated mother of two emotionally damaged grown children. Michael Esper, who memorably played a gay escort in iHo, was a standout as Rita's awkward gay son, a bitter loner obsessed with his hunky gay neighbor (Gregory Wooddell).
Cort Theatre, closed.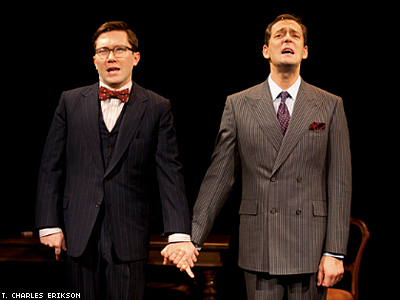 7. February House
Gabriel Kahane and Seth Bockley's hauntingly sublime chamber musical starred out singer-songwriter Julian Fleisher as flamboyant editor George Davis, who created a bohemian Brooklyn commune in 1940 for colorful luminaries such as W.H. Auden, Benjamin Britten, Chester Kallman, Carson McCullers, Erika Mann, Peter Pears, and Gypsy Rose Lee — most gay or bisexual behind closed doors, all seeking inspiration at the dawn of war.
Public Theater, closed.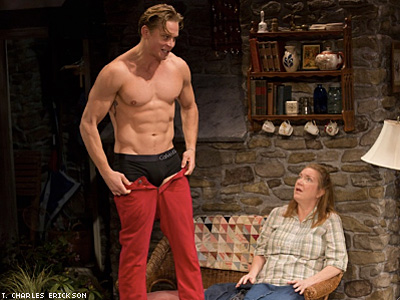 6. Vanya and Sonia and Masha and Spike
Out playwright Christopher Durang relocates Chekhovian themes of discontent and longing to Pennsylvania in his winsomely quirky comedy starring David Hyde Pierce, Sigourney Weaver, and Kristine Nielsen as squabbling siblings. Gifted with a show-stopping monologue about his nostalgic resistance to change, Pierce's Vanya, a gay aspiring playwright, is especially entranced by Billy Magnussen as his sister's exhibitionist boy toy.
Lincoln Center's Mitzi E. Newhouse Theater, through January 13.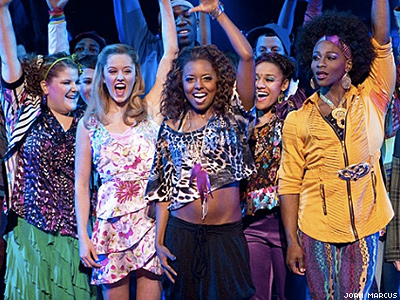 5. Bring It On: The Musical

Boosted by Andy Blankenbuehler's breathtaking choreography, this gleefully insipid musical — inspired by the 2000 flick about rival cheer squads — boasts a zingy original libretto by out Avenue Q book writer Jeff Whitty. The creative team also includes Next to Normal and In the Heights composers, but thank Whitty for La Cienega, the urban school's matter-of-factly transgender hip-hop crew member played by out actor Gregory Haney.

St. James Theatre, through December 30.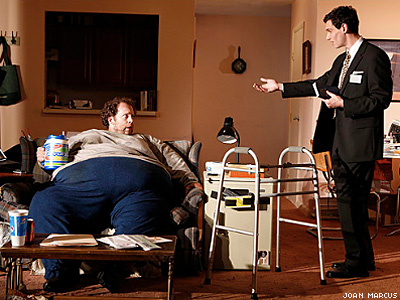 4. The Whale
Young Frankenstein's Shuler Hensley gave the most transformative, indelible performance of the year as a 600-pound gay man in out playwright Samuel D. Hunter's immensely moving drama, which couldn't be sunk by heavy-handed allusions to Moby-Dick and the biblical Jonah. Watching him struggle to tie up loose ends in his last days, we learn that Charlie's obesity stems from the loss of a conflicted Mormon boyfriend who starved himself to death.
Playwrights Horizons, closed.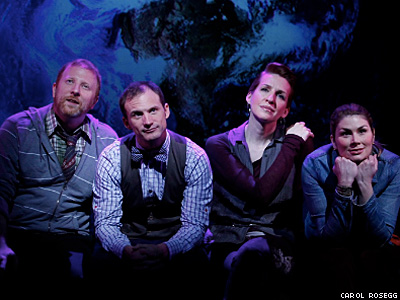 3. Now. Here. This.
The whole [title of show] gang — including gay director-choreographer Michael Beresse and gay cowriter-stars Hunter Bell and Jeff Bowen — reunited for this endearingly goofy and soul-baring musical. With the clever framing device of a visit to the Museum of Natural History, the witty quartet tackled the Mysteries of the Universe while sharing very personal anecdotes about everything from dazzle-camouflaging high school gayness to discovering Tootsie. Navel-gazing was never so delightful.
Vineyard Theatre, closed.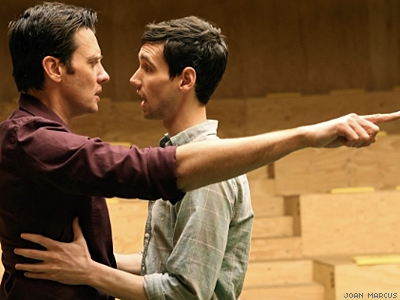 2. Cock
Cory Michael Smith's irresistably spineless John was torn between two competitive lovers, Jason Butler Harner and Amanda Quaid as M and F, in Mike Bartlett's Olivier Award-winning comedy, which raised but appropriately failed to answer questions about bisexuality: Isn't who more important than what? James Macdonald urgently staged the verbal combat in the round, which invested the rapt audience like an exhilaratingly tense sporting event.

The Duke, closed.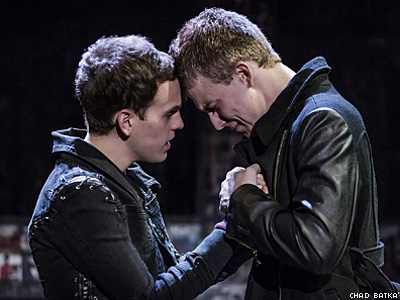 1. Bare
Set in a co-ed Catholic boarding school, Jon Hartmere and Damon Intrabartolo's 2000 coming-of-age pop-rock musical has been blessedly retooled for the "It Gets Better" era with the phenomenal Jason Hite and Taylor Trensch as star-crossed secret lovers. It's tempting to dismiss as dated and cliché, but Stafford Arima's earnest revival is also as electric and endearing as first love itself — thanks in part to scene-stealer Missi Pyle as a spirited nun and emo-choreography by SYTYCD fave Travis Wall.
New World Stages, open-ended.
HONORABLE MENTION: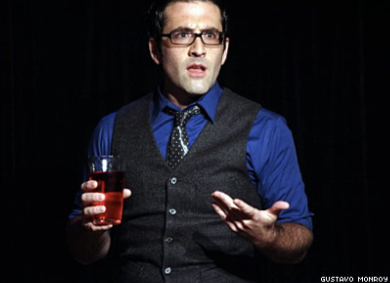 Patti Issues

Ben Rimalower is turning lemons and spilt T into a delicious Arnold Palmer with his insidery tribute to idol and colleague Patti LuPone. Marking the out NYC director's debut as playwright and performer, the captivating solo piece draws parallels between his connection to the diva and his strained relationship with his dad, who came out as gay when he was a child. It's not exactly I Am My Own Wife, but it's smart, poignant, and dishy as hell.
The Duplex, through February 28.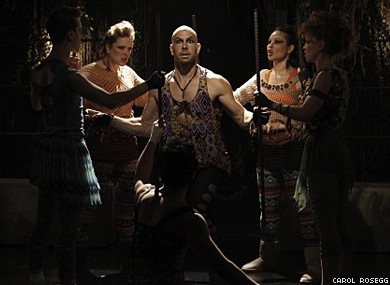 Triassic Parq

Jurassic Park got a silly yet surprisingly respectful transgender twist in this massively entertaining rock musical spoof, which was a 2010 FringeNYC favorite. Narrated by a white actor playing Morgan Freeman, a pack of naïve female dinosaurs — Lysistrata Jones alums Alex Wyse and Lindsay Nicole Chambers were comic standouts — went into a tailspin when a DNA mutation makes a T. rex (Claire Neumann) sprout male genitalia.
SoHo Playhouse, closed.
3C
The characters sure looked like the Three's Company gang in out playwright David Adjmi's terrifically twisted premiere, but it cleverly played like a Chekhovian drama about post-Vietnam anxiety with existential echoes of Sartre. Making a memorable nude entrance, As the World Turns alum Jake Silbermann starred as closeted new roomie Brad, who coped with a grotesquely homophobic landlord while crushing on his sleazy neighbor (Eddie Cahill).
Rattlestick Theater, closed.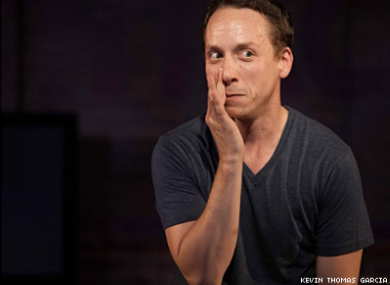 Methtacular!
Thankfully, writer-performer Steven Strafford lived to tell the grotesquely vaudevillian tale of his three years spent as a sex-crazed crystal meth addict in Chicago. Scraping the black humor from rock bottom with brutal honesty, Strafford elevated familiar druggie anecdotes with musical direction by The Rosie O'Donnell Show's John McDaniel, a love for '80s sitcoms, game show interludes, and sharp one-liners like "Tuesday plus meth equals Friday."

The Playroom Theater, closed.
The Fall to Earth
Helmed with a keen eye for familial detail by gay director Joe Brancato, out playwright Joel Drake Johnson's tense, heartrending drama starred Deborah Hedwall and Jolie Curtsinger as the mother and sister of a wayward gay man who has committed suicide after a series of bias crimes. "He would flirt with the wrong people," said the police officer in the small town where the estranged women have traveled to find some answers.
59E59 Theatres, closed.
Also see our top 10 LGBT-inclusive theater picks for 2009, 2010, and 2011.
---
Links:
[1] http://www.advocate.com/
[2] http://www.gay.net/celebrities/2012/10/23/qa-quickie-colman-domingo-actor-playwright-wild-happy
[3] http://www.playbill.com/news/article/167152-PLAYBILL-BRIEF-ENCOUNTER-Cory-Michael-Smith-Cocks-Lover-and-Fighter
[4] http://www.gay.net/theater/2012/12/10/qa-quickie-taylor-trensch-star-bare-broadways-hit-gay-musical
[5] http://www.gay.net/gay-away/2012/09/20/qa-quickie-showman-ben-rimalower-patti-lupones-biggest-fan
[6] http://www.advocate.com/arts-entertainment/theater/2009/12/30/seat-filler-best-queer-theater-2009
[7] http://www.advocate.com/arts-entertainment/theater/2010/12/20/seat-filler-best-theater-2010
[8] http://www.advocate.com/arts-entertainment/theater/2012/01/02/seat-filler-best-new-york-theater-2011
[9] http://www.advocate.com/broadway
[10] http://www.advocate.com/arts-entertainment/theater/seat-filler
[11] http://www.advocate.com/arts-entertainment/theater