---
Seat Filler: NYC Theater Guide for February 2013
By Brandon Voss
Originally published on Advocate.com February 05 2013 10:00 AM ET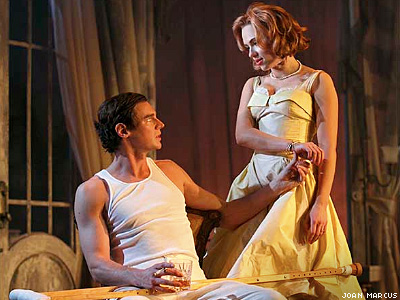 Cat on a Hot Tin Roof
In Rob Ashford's attractive revival of Tennessee Williams's classic family drama, Scarlett Johansson's magnetic Maggie is unlike anything you've seen her do — even if she sometimes comes off like a 40-year-old drag queen. You'll survive three acts and two intermissions for Bloody Bloody Andrew Jackson's Benjamin Walker as Maggie's maybe-gay husband Brick, a buff and bitter boozer haunted by the death of his, er, best buddy.
Richard Rodgers Theatre, through March 30.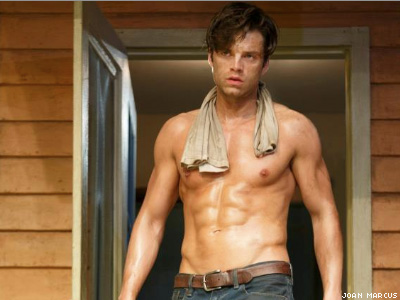 Picnic
Roundabout's remarkably enchanting revival of William Inge's sturdy 1953 drama stars Sebastian Stan — who memorably played gay in Political Animals and Kings — as a sexy young drifter who stirs up passion and longing in a small Midwestern town. Look beyond Stan's glistening torso and find a relevant exploration of physical beauty and a peerless ensemble that includes Ellen Burstyn, Mare Winningham, and Lost's luminous Maggie Grace.
American Airlines Theatre, through February 24.
Manilow on Broadway
Bouncing back from the flu, Barry Manilow returns to Broadway for the first time in more than two decades. Sure, the legendary singer-songwriter sometimes sounds like he's in a tin-lined public restroom, his banter's overly complacent — "I was the Justin Bieber of the '70s!" — and the projections are as cheesy as his velvet jacket is magenta, but he still effortlessly moistens his Fanilows with timeless hits that, to be fair, are worthy of self-congratulation.
St. James Theatre, through March 2.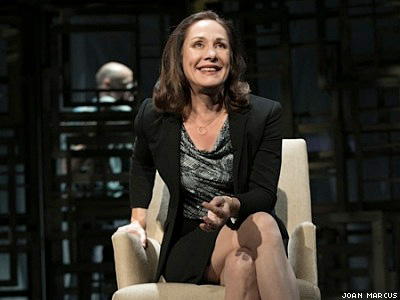 The Other Place

There are many plays in which a strong female deteriorates before our eyes, but that theme has rarely proven so affecting as in Sharr White's taut and terrifying new drama. Helmed by omnipresent out director Joe Mantello, MTC's flawless mounting is a must-see for the fierce, fearless performance by Roseanne's Laurie Metcalf as a guilt-ridden pharmaceutical rep who may be hallucinating her runaway daughter due to what she believes is brain cancer.
Samuel J. Friedman Theatre, through March 3.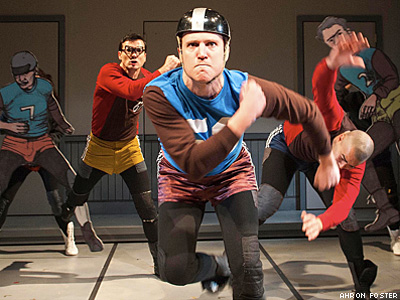 The Jammer
His priest thinks he's fallen in love with a guy down at the local rink, but Brooklynite Jack Lovington — played with gusto by Patch Darragh, the unquestionably gay narrator of Roundabout's The Glass Menagerie — is just head over wheels for roller derby in this broad and quirky 1950s-set fable by Rolin Jones. Though lousy with laughs, the script's as rough around the edges as the motley crew of skaters, which include butch lesbians, or "girls like us."
Atlantic Theater Company/Stage 2, through February 17.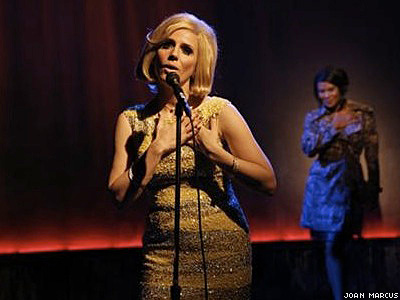 Forever Dusty
As a biography of Dusty Springfield's life, including the performer's battles with cancer and addiction, Kirsten Holly Smith and Jonathan Vankin's tribute is passable, but what do you expect at 90 minutes? As a revue of her musical legacy — including her 1987 collaboration with Pet Shop Boys — it's an absolute thrill. Smith beautifully, passionately channels the British soulster, and Christina Sajous is a sexy showstopper as a composite of Dusty's lesbian lovers.
New World Stages, open-ended.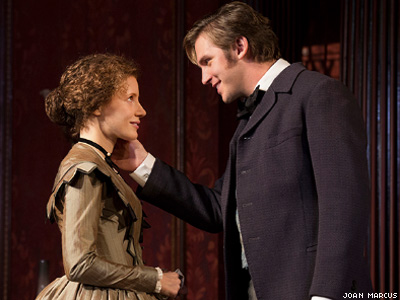 The Heiress
Out director Moisés Kaufman lends grace and class to this very satisfying revival of Ruth and Augustus Goetz's 1947 adaptation of Washington Square, an 1880 novel by Henry James. Jessica Chastain commands the stage as Catherine Sloper — comfortably filling big shoes after Cherry Jones won a Tony for the role in 1995 — a spinster torn between a disapproving dad and Downton Abbey's terrific Dan Stevens as a charming (American!) suitor with questionable motives.
Walter Kerr Theatre, through February 9.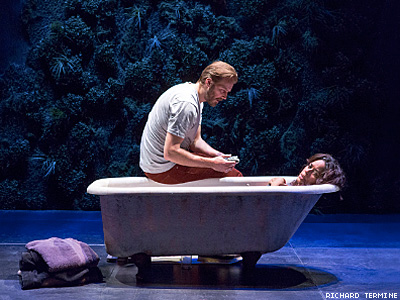 Water by the Spoonful
Winner of the 2012 Pulitzer Prize for Drama, this heavy yet hopeful play by In the Heights book writer Quiara Alegría Hudes lays bare the many scars of a grieving Puerto Rican family, a traumatized Marine home from Iraq, and the struggling souls in a tough-loving chat room — simply yet inventively staged with projections — for recovering crack addicts. In Hudes's hands, human connection has never seemed so imperative for our success and survival.
Second Stage Theatre, through February 10.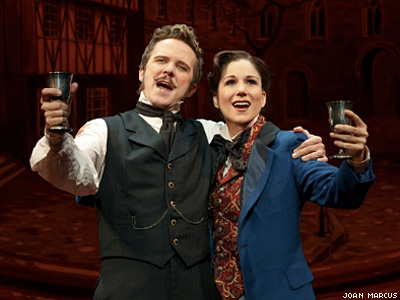 The Mystery of Edwin Drood
Roundabout's revival of Rupert Holmes's tuneful Tony-winning 1985 musical transports theatergoers to an 1895 London music hall as a raucous acting ensemble stages Charles Dickens's unfinished novel about the murder of Mr. Drood — played by Stephanie J. Block as a male impersonator — which means the audience must choose the killer. With infectious energy reined in by out director Scott Ellis, the show costars Chita Rivera, which is reason enough to go.
Studio 54, through March 10.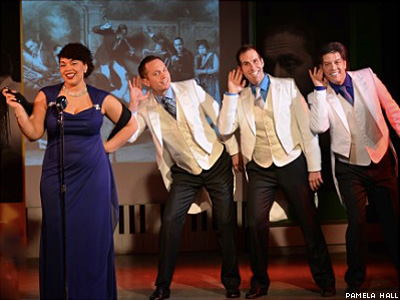 The Wonderful Wizard of Song
After a national tour and a stint in Las Vegas, this brisk and sunny Harold Arlen revue makes its New York debut. Skillfully sung by the soulful Antoinette Henry and a lively trio called the Three Crooners, Arlen's crowd-pleasing repertoire also chronicles the late composer's storied journey from Harlem's Cotton Club to writing classics like "Somewhere Over the Rainbow" for The Wizard of Oz. No wonder the show's offering onstage gay wedding packages.
St. Luke's Theatre, open-ended.
See our 2012 countdown of NYC's best LGBT-inclusive theater here.
---
Links:
[1] http://www.advocate.com/
[2] http://www.playbill.com/celebritybuzz/article/173439-THE-LEADING-MEN-Benjamin-Walker-Cat-on-a-Hot-Tin-Roofs-Heavy-Drinker-and-Thinker
[3] http://www.gay.net/theater/2013/01/02/how-gay-brick-broadways-new-cat-hot-tin-roof-revival
[4] http://www.playbill.com/news/article/174650-THE-LEADING-MEN-Sebastian-Stan-More-Than-Meets-the-Eye-in-Broadways-Picnic
[5] http://www.playbill.com/news/article/171623-Jessica-Chastain-The-Heiress-Apparent-Talks-About-Her-Broadway-Debut
[6] http://www.playbill.com/news/article/172104-STAGE-TO-SCREENS-Dan-Stevens-From-Downton-Abbey-Heir-to-Broadways-The-Heiress
[7] http://www.gay.net/theater/2013/01/15/how-get-married-somewhere-over-rainbow
[8] http://www.advocate.com/year-review/2012-review/2012/12/19/seat-filler-best-new-york-theater-2012
[9] http://www.advocate.com/arts-entertainment/theater/seat-filler