---
A Guide to Terror: Be Your Least Favorite Homophobe for Halloween
By Advocate.com Editors
Originally published on Advocate.com October 30 2013 6:00 AM ET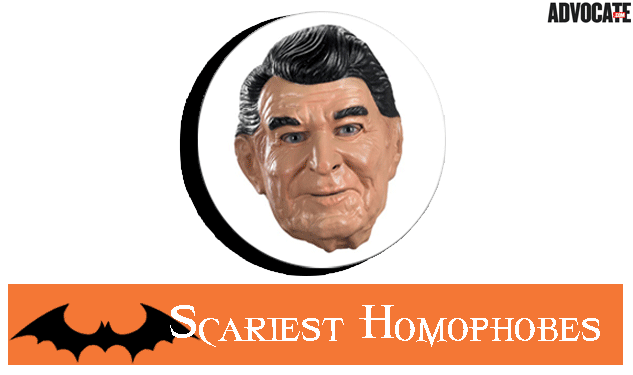 Ronald Reagan
We begin with an easy costume: a suit and one of the most findable masks out there next to ol' Richard "I Am Not a Crook" Nixon. Whether you go with regular or zombie Ronald Reagan, you'll be sure to spook those who can remember the '80s: a presidential love for Jelly Belly candy, his mum's-the-word policy on AIDS, and Members Only jackets. Sounds like "We Didn't Start The Fire" — oh, the horror!
You'll need: a Normal Reagan Mask or the Zombie Reagan Mask. Or both.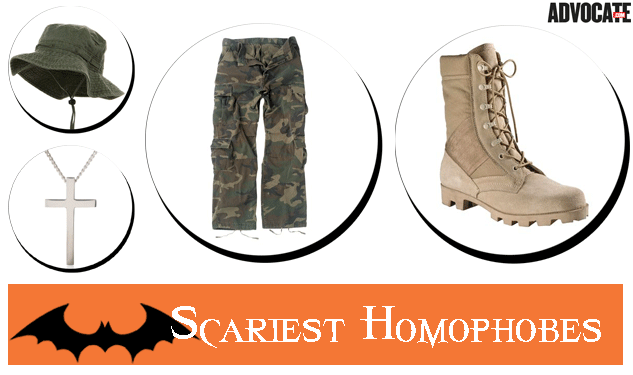 Vladimir Putin
Sure, you could wear a suit and wear a bald cap, but if you really want to nail Vlad, you've got to go shirtless and walk around with a gigantic (read: compensating) weapon. Anything you have lying around the house, whether it's a machete or machine gun, will do. Make sure to show off those "pecs," since they're guaranteed to scare anyone, age 8 to 88. Bonus points if you wrestle a bear or ride a unicorn while dressed as President Putin.
You'll need: This cross pendant, these boots, camo pants, and this handy hat.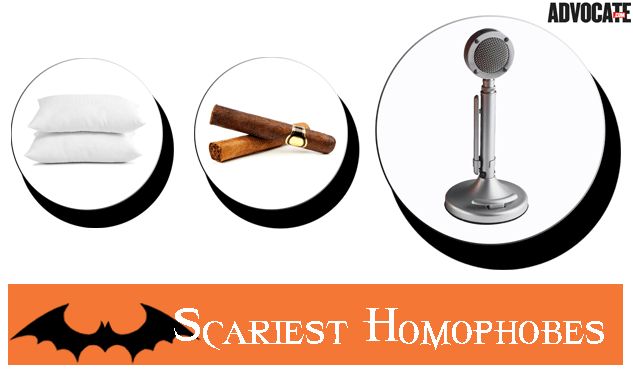 Rush Limbaugh
You could go as Batman's nemesis, the Penguin, or you could just step out on the town as conservative talk show host, Rush Limbaugh. They're basically the same person. While chomping on your cigar, make sure to slut-shame all of the women you see out there on Halloween night dressed as a Sexy Sandra Fluke.
You'll need: cigars, a microphone, and a pillow or two (optional).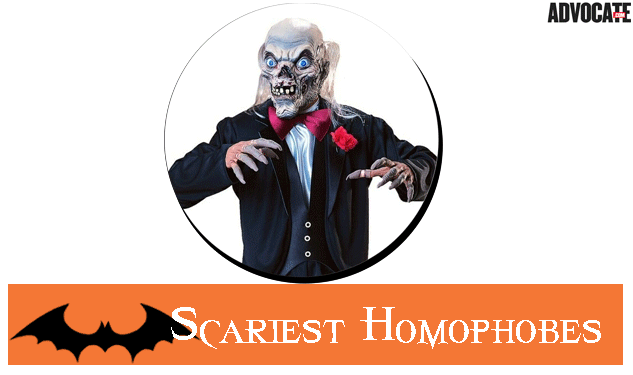 Pat Robertson
The host of The 700 Club has a lot in common with the figures in the Bible he often cites. With the way he talks, we can only chalk up his biblical knowledge to the assumption that he was there to witness the New Testament in real time. This Crypt Keeper mask and tux combo will fit just right for this undead TV host.
You'll need: this really creepy costume.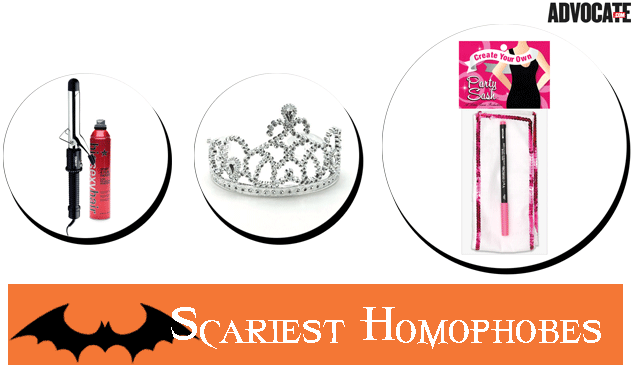 Carrie Prejean
Elbow, elbow, wrist, wrist, give your hair a little mist — of HELL FIRE! If you've already got eyes that will pierce another person's brain and eat their soul, just add a fantastically bouncy blond wig (What? She's got great hair!), a sparkly tiara, and a Create-Your-Own sash to be the Miss California ... of your nightmares.
You'll also need: the right hairspray and curling iron.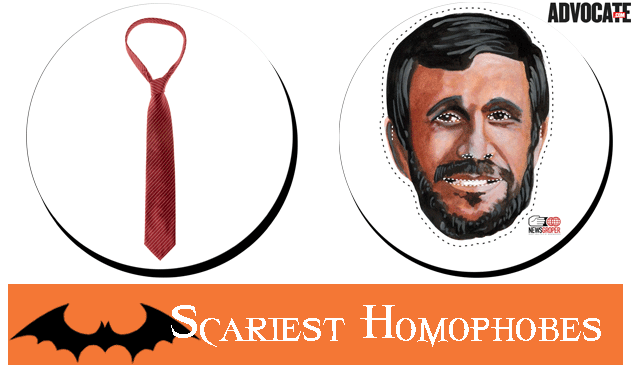 Mahmoud Ahmadinejad
You can deny the existence of LGBT people in Iran or that the Holocaust happened, but you can't deny how easy it would be to dress up like the former president of Iran! You don't even need a tie, just a gray suit and a little beard action. If you're not lucky enough to look like the leader of the Alliance of Builders of Islamic Iran, check out this mask. If you want to stay authentic to Ahmadinejad's ghoulish ignorance, make sure not to cut the holes in the eyes or ears.
Frigide Barjot
The scary thing about Frigide Barjot isn't her mangy pink coat or scraggily hair. It's the fact that this born-again Catholic can rally 200,000 antigay French countrymen after posing as a sassy gay ally and humorist for so long. Wait a minute … mangy coat? Scraggly hair? Shape-shifting?! She's a werewolf!
You'll need: this wig, this pink shirt, and a little lip gloss.

Justice Antonin Scalia
You've been issued a subpoena — to the underworld! Everyone's favorite Supreme Court justice is easy to parody with a gavel, the right pair of glasses, the perfect robe, and a smug defense for being perceived as antigay even though he could actually be pro-gay deep down inside. OK, maybe he turns antigay if you feed him after midnight.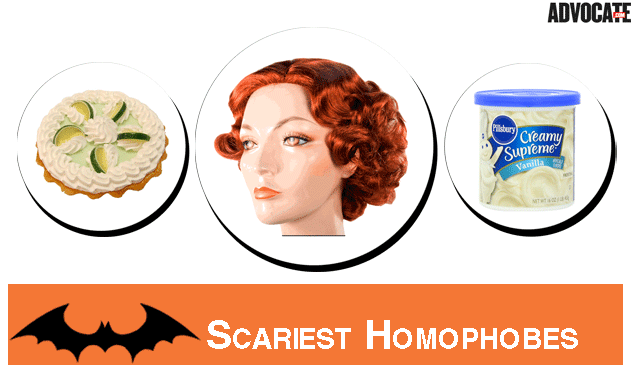 Anita Bryant
She didn't come from below — she came from the South! One of the scariest homophobes of the last centuries hailed from Oklahoma, then migrated to Florida, where she hawked orange juice with a Miss America runner-up smile on her face, of course. That was in between coming up with ways to talk about how evil gay people were. There are a couple of options if you want to go full-Bryant: either as Miss Oklahoma or pied-in-the-face-by-a-gay-activist. The latter might be a great buddy costume if you're going to that kind of party.
You'll need: a key lime pie, this wig, frosting or whipped cream (optional).
—Michelle Garcia and Tiara Chiaramonte
---
Links:
[1] http://www.advocate.com/
[2] http://www.amazon.com/Halloween-FX-Ronald-Reagan-Mask/dp/B00BMEG034
[3] http://www.halloweencostumes.com/reagan-zombie-mask.html?PCID=21&utm_source=googleps&utm_medium=PPC&utm_campaign=PLA-All&gclid=COSQoILcrboCFRFxQgodj3kAbg
[4] http://www.amazon.com/Siemon-Sterling-Silver-Pendant-Necklace/dp/B004BA5RVW/ref=sr_1_5?ie=UTF8&qid=1382572327&sr=8-5&keywords=silver+cross+necklace+men
[5] http://www.amazon.com/Mens-Boots-Jungle-Desert-Regular/dp/B000H8PT4C/ref=sr_1_9?s=shoes&ie=UTF8&qid=1382572386&sr=1-9&keywords=tan+boots
[6] http://www.amazon.com/Woodland-Camouflage-Vintage-Paratrooper-Fatigues/dp/B000EBM36O/ref=sr_1_2?ie=UTF8&qid=1382572065&sr=8-2&keywords=camflouge+pants
[7] http://www.amazon.com/Fishing-Hiking-Outdoor--Olive-W10S30F/dp/B0007OF2XO/ref=sr_1_cc_1?s=aps&ie=UTF8&qid=1382572409&sr=1-1-catcorr&keywords=green+hiking+hat
[8] http://www.buycostumes.com/p/21022/crypt-keeper-tuxedo-adult-costume?REF=KNC-BC-PlusBox&gclid=CPzn_ZPQsLoCFWuCQgodDGEArw&kwid=productads-plaid%5E53789655022-sku%5E138792@ADL4BUYCOSTUMES-adType%5EPLA-device%5Ec-adid%5E25271114655
[9] http://www.amazon.com/Silver-Princess-Tiara-Party-Supplies/dp/B001TD7RMG/ref=sr_1_4?ie=UTF8&qid=1382574255&sr=8-4&keywords=tiara
[10] http://thewildestbachelorettepartystore.com/Create-Your-Own-Sash?amp%3BcPath=89&amp%3Bm1track=googlebase&amp%3Butm_source=googlebase&amp%3Butm_medium=cost-per-click&amp%3Butm_campaign=export_feed&amp%3Bgclid=CMK5jeSZrroCFbFxQgodnQ0Avg#googlebase
[11] https://www.google.com/shopping/product/10358881983721161965?q=volume+hair+spray&client=firefox-a&hs=qep&rls=org.mozilla:en-US:official&bav=on.2,or.r_cp.r_qf.&bvm=bv.55123115,d.cGE,pv.xjs.s.en_US.Ag3CcnQBszM.O&biw=1920&bih=952&tch=1&ech=1&psi=I2loUuPBEovSiAK_jYHwCA.1382574228361.7&sa=X&ei=NmloUqzOGsL0iQLH_4DoBw&ved=0CLMBEPMCMAM
[12] https://www.google.com/shopping/product/15828071724509790040?sugexp=cshsj,j%3Dtop,jnum%3D2,jlen%3D3,jprob%3D.14&gs_rn=25&gs_ri=psy-ab-shj&tok=s0dbi4EETnjhv4SLtM79rw&ds=sh&pq=hot+rollers&cp=9&gs_id=22p&xhr=t&q=curling+iron&pf=p&client=firefox-a&hs=GL&rls=org.mozilla:en-US:official&sclient=psy-ab&oq=curling+i&pbx=1&bav=on.2,or.r_cp.r_qf.&bvm=bv.55123115,d.cGE&biw=1920&bih=952&tch=1&ech=12&psi=I2loUuPBEovSiAK_jYHwCA.1382574228361.9&sa=X&ei=cWloUvemG6jEigKN44GYCw&sqi=2&ved=0COYBEPMCMAg
[13] http://creepyla.com/wp-content/uploads/2007/10/picture-40.png
[14] http://www.maxwigs.com/hungry-pageboy-blonde-shoulder-length-by-lacey-costume-costume-wigs-p7554.html?gclid=CI-zz93zrboCFW1yQgodUkcAkg
[15] http://www.amazon.com/Bella-Ladies-Combed-Ringspun-Cotton/dp/B003QOO7OM/ref=sr_1_17?ie=UTF8&qid=1382563649&sr=8-17&keywords=pink+tank+top
[16] http://www.amazon.com/Maybelline-Colorsensational-Gloss-Perfection-035/dp/B002MJOXTQ/ref=sr_1_2?ie=UTF8&qid=1382563965&sr=8-2&keywords=pink+lipgloss
[17] http://www.amazon.com/10-Long-Costume-Judge-Gavel/dp/B000H8FLPE/ref=sr_1_3?ie=UTF8&qid=1382658751&sr=8-3&keywords=gavel
[18] http://www.amazon.com/Visualites-Reading-Glasses-Crystal-Strength/dp/B002OOURPI/ref=sr_1_3?ie=UTF8&qid=1382658693&sr=8-3&keywords=rimless+glasses
[19] http://www.graduateaffairs.com/index.php?main_page=index&cPath=2
[20] http://www.decorcentral.com/key-lime-pie-cream-artificial-pie-fragrance-fake-pie-usa.html
[21] http://www.mycostumewigs.com/50swig.html?utm_source=50swig&utm_medium=shopping%2Bengine&utm_campaign=googleproducts&gclid=CMGupL_ouboCFQE6QgodQn0A5w