---
Op-ed: Our Families Are More Than Capable of Making the Grade
By Sharon Czerwinski
Originally published on Advocate.com July 03 2013 4:15 AM ET
A recent study was released that shows the kids of LGBT families are doing well in their lives. It's the largest study of its kind, and apparently it generated a lot of attention in the news and in places where most people get their news these days — on Facebook and Twitter.
If you're a parent like me, chances are you probably didn't even hear about it. Picking up a newspaper takes a backseat to soccer practices, ballet recitals, and proms this time of year.
As for Facebook? Forget it — I only use it to occasionally "stalk" my girls and see who they're talking to.
So imagine my surprise when our family became "news" around the same time as this study.
Our twin girls, Elizabeth and Erin, created a stir when it was announced that daughters of lesbian moms would be valedictorian and salutatorian of Key West High School.
My partner of 25 years, Caroline, and I certainly didn't expect any special attention. We were just proud moms. We been busy getting ready for graduation ceremonies and celebrations, and preparing to send the girls off to school.
We're like many LGBT parents around the country — according to studies — there are 3 million of us, living in every county throughout the country. Our lives are filled with homework and hugs, book clubs, bedtimes, curfews, and carpools. Still, we understand that just by carrying on our lives, we are living proof that our families have the same shared values as our neighbors. We also have the same hopes and dreams for our children.
Increasingly, the stories of our families are helping to change hearts, minds, and laws across the country. Unlike our neighbors, we are not treated the same as other families. Even with the dismantling of part of the Defense of Marriage Act last week by the Supreme Court, our relationships are not recognized by many state governments, and our states fail to protect us in the workplace. Those are just a few of the obstacles we face in trying to raise healthy, happy, and successful families.
Being the poster child of LGBT families is not something I ever intended when I set out to become a mom.
From my earliest memory, I have always wanted to be a mom. During my teenage years, I realized that my life was taking an unexpected turn, as I became aware that I was a lesbian. I did not have LGBT family members to turn to as role models or for support. My journey to become who I was meant to be was not necessarily an easy one. But I always held fast to my dream of one day becoming a mom.
Caroline and I encountered our first obstacle on our path to parenthood as we asked my then ob-gyn about our plans to become pregnant through artificial insemination. We were informed that the doctor would not assist us. Happily, we were able to find an infertility specialist who welcomed us and our soon-to-be family.
As the girls were about to enter kindergarten, we made the decision to move to Key West, Fla. We had lived in an area of the Northeast that was not as evolved with regard to human rights as Key West. Prior to our move, we were able to surround ourselves with loving and supportive friends and family who shared our values. Our greatest fear was that as the girls entered the public school system, they would be vulnerable to discrimination and prejudice. Our move to Key West has always felt like the right choice. The community immediately became our home. Our family was able to be just another family, raising their kids in the southernmost city.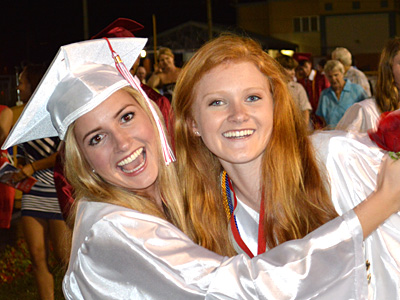 Left: Liz and Erin
Liz and Erin will be leaving Key West as they enter college and begin the next chapters of their lives. They have made subtle comments wondering if their new hometowns will be as embracing of others as the one they are leaving. The world currently seems to have great momentum toward love and compassion. Our hope is that every positive interaction and experience will continue to propel kindness and humanity to new heights.
Make no mistake, the lives of my family and other LGBT families have improved greatly over the past 17 years.
The Supreme Court struck down part of DOMA and California's Proposition 8. Changes in federal laws and policies ensure that same-sex couples and their families have hospital visitation rights. Many communities have passed laws protecting us against discrimination in housing or public accommodations. A few states have updated laws and policies allowing us to create families through joint adoption. Marriage equality is now the law in 13 states and the District of Columbia.
In many of these cases, the stories of our families and the voices of our children have helped change the hearts and minds of lawmakers and policy makers.
They have grown to understand that we are part of the diverse fabric of American families and that our children deserve the same legal and economic protections as their peers.
For opponents who have questioned the value of our families, there is now valid research, national advocacy groups like Family Equality Council, and yes, examples of families like mine who all are sharing the same evidence: that our kids are growing up with positive outcomes.
Now, as we send our twins off to school, I am proud, not only of their accomplishments but of the world I am sending them off into. It's a world where they will grow up and be distinguished not for who their parents are but for what they can contribute to the world.

SHARON CZERWINSKI lives with her partner, Caroline Bauer, and their daughters, Erin and Elizabeth, in Key West, Fla.
---
Links:
[1] http://www.advocate.com/
[2] http://www.advocate.com/commentary