---
LGBT Heroes to Remember
By Neal Broverman
Originally published on Advocate.com August 05 2011 6:00 AM ET
Oliver Sipple
On September 22, 1975, a 33-year-old former Vietnam veteran named Oliver Sipple saw Sara Jane Moore pointing a gun at President Gerald Ford outside a San Francisco hotel. Sipple lunged at Moore and the bullet missed its target, instead hitting and slightly injuring a taxi driver. For saving the leader of the free world, Sipple was branded a hero, but the story got complicated when the media discovered he was gay. The press picked up the angle and the news caused major friction between Sipple and his family — he would later unsuccessfully sue several newspapers for invasion of privacy.

In a 2001 interview, Ford denied giving a fig about Sipple's sexual orientation, but after the assassination attempt the president simply sent a thank-you letter to Sipple — no ceremony, no award, no phone call.
Mark Bingham
It's been said that 9/11 hijackers picked the wrong flight with United 93. In addition to a judo instructor, a weightlifter, a one-time paratrooper, and a former college quarterback, 6-foot-4 gay rugby player Mark Bingham was on board. The 31-year-old San Francisco public relations entrepreneur was one of the those who stormed the cabin, preventing the al-Qaeda terrorists from slamming United 93 into either the U.S. Capitol or the White House. Bingham and the other brave rebels on that flight saved hundreds, if not thousands, of lives that terrible day.

Bingham's heroics were commemorated by Senators John McCain and Barbara Boxer at a ceremony on September 17, 2001; Bingham's partner, Paul Holm, was presented with a folded American flag. Further cementing his legacy was the 2006 film United 93, which starred gay actor Cheyenne Jackson as Bingham. In 2002, Jon Barrett, The Advocate's senior news editor — and later, the magazine's editor in chief — authored the book Hero of Flight 93: Mark Bingham.
Teresa Butz
Teresa Butz made the ultimate sacrifice for her partner during a nightmare come true. In 2009, Butz and her partner were awakened in the middle of the night to see a naked man standing at the foot of their bed holding a butcher knife. For 90 minutes the women were raped and stabbed. When Butz saw that her partner was losing massive amounts of blood and growing weak, Butz tackled the maniac, allowing her partner to run from the room. Butz then hurled a nightstand through a window and dove out of it. She bled to death on the street, while her killer ran from their Seattle home. Butz's partner survived — last month she was there when Butz's mentally disturbed killer, Isaiah Kalebu, was convicted of aggravated murder, attempted murder, rape, and burglary.
Daniel Hernandez Jr.
As an intern with Congresswoman Gabrielle Giffords, 20-year-old Daniel Hernandez Jr. was only five days on the job when tragedy struck. On January 8, Gifford and her team set up a booth in front of an Arizona supermarket to talk to her constituents — Jared Lee Loughner walked up to the booth, shot Giffords in the head, and then turned his gun on the crowd, ultimately killing five people. Hernandez, a certified nursing assistant, sprung to action: He wrapped Safeway aprons around Giffords's head and sat her upright so she didn't drown in her blood. Hernandez held Giffords's hand as she was wheeled on a gurney toward an ambulance — he told her not to worry, he would contact her husband and parents. Hernandez's quick actions helped save the congresswoman's life. Unlike Sipple, Hernandez was embraced as a gay hero — and even threw out the opening pitch at the Major League Baseball All-Star Game in Phoenix.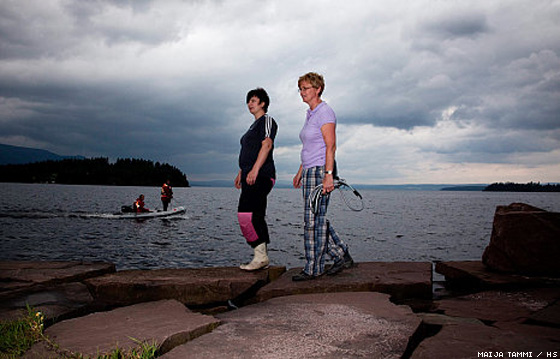 Torill Hansen and Hege Dalen
The tragedy in Norway in July 2011 was horrific, but it would have been much worse if not for the actions of Torill Hansen and Hege Dalen, a couple vacationing at a campsite across from Utöyan Island. The women heard gunshots coming from the island, where Anders Behring Breivik was busy viciously murdering 69 people. They jumped in a boat and, making four trips, ferried 40 teenagers to safety as bullets hit the side of their craft.
Allan Fonseca
It was just another day in December 2012 for Allan Fonseca working at a Lancome makeup counter in a Macy's store when a gunman opened fire, killing two people before turning the gun on himself. Fonseca was lauded as a hero afterward for helping customers safely escape the Oregon mall, the Clackamas Town Center. He first guided customer Jocelyn Lay out of the building during the shooting. Once Lay was safe, Fonesca went back inside the mall twice to help other shoppers escape.
---
Links:
[1] mailto:[email protected]
[2] http://www.advocate.com/
[3] http://www.amazon.com/Hero-Flight-93-Bingham-Advocate/dp/1555837808/ref=sr_1_1?s=books&ie=UTF8&qid=1312498701&sr=1-1
[4] http://www.advocate.com/News/Daily_News/2011/07/06/Guilty_Verdict_in_Seattle_Rape_Murder_Case/
[5] http://www.advocate.com/News/Daily_News/2011/07/13/Daniel_Hernandez_Throws_First_Pitch_for_All_Star_Game/
[6] http://www.advocate.com/News/Daily_News/2011/07/26/Lesbian_Couple_Saves_40_from_Norwegian_Shooter/
[7] http://www.advocate.com/crime/2012/12/13/watch-gay-employee-led-customers-safety-oregon-shooting
[8] http://www.advocate.com/crime