---
Another Day at the Office for Gay America
By Advocate.com Editors
Originally published on Advocate.com December 10 2012 7:00 AM ET
November 9 was a Friday and most of us had to be at work, so it's not surprising that this category boasts the most entries in The Advocate's annual A Day in Gay America project. The variety of photos sent in by readers from a day in your careers and included here is inspiring. On the following pages, be sure to keep an eye out for some Advocate and Here Media employees hard at work. And check back all this week for more from A Day in Gay America.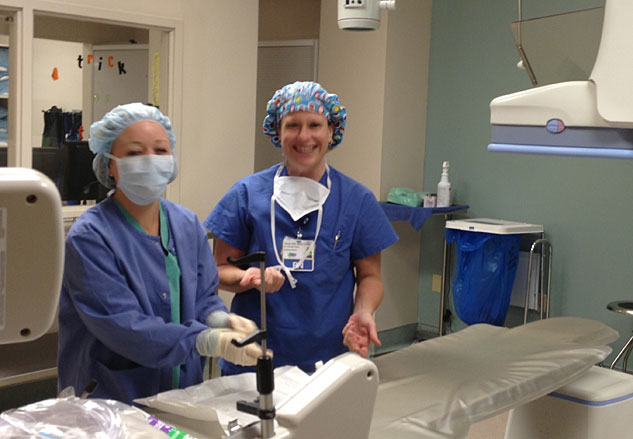 7:45 a.m., Elko, Nev.: Tanya Hall and her partner get ready for their cardiac cath procedure for the day.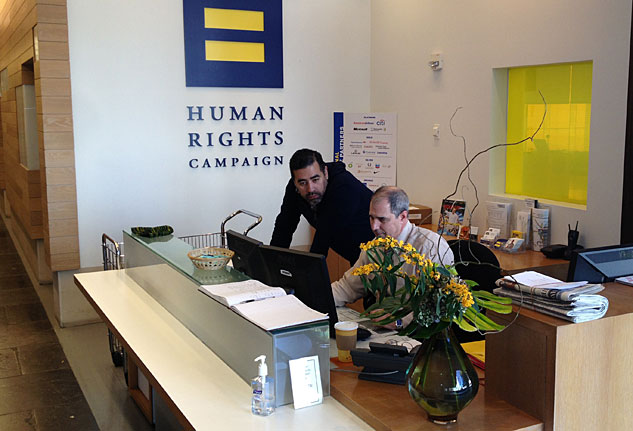 8:51 a.m., Washington, D.C.: Daniel Baczkowski and Jeoff Lara discuss the needs of the building for the rest of the day at the Human Rights Campaign headquarters.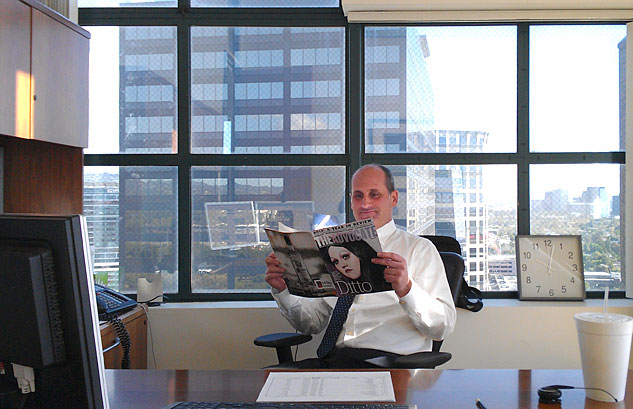 9:45 a.m., Los Angeles: Bernard Rook, EVP and GM of Here Media (parent company of The Advocate) takes a quick break to read the Beth Ditto cover story in the latest issue of The Advocate.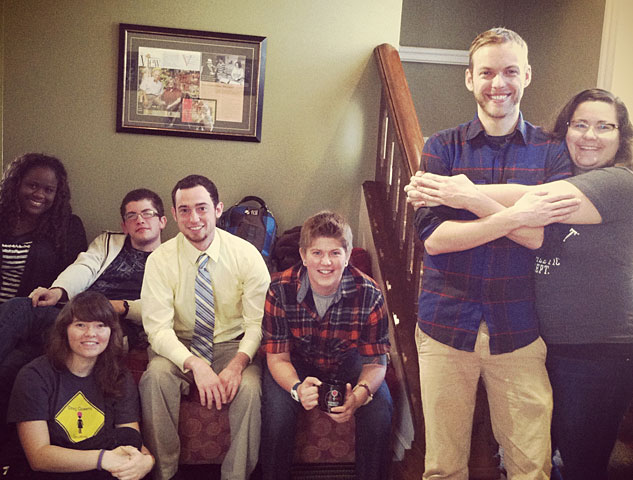 9:58 a.m., Nashville: Stephen Loveless sent this image of a typical LGBTQI Life morning with staff and students enjoying coffee and chatting at the K.C. Potter Center at Vanderbilt University.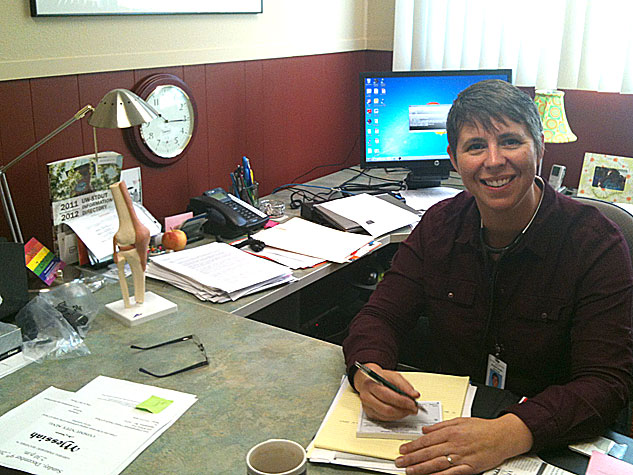 10:17 a.m., Menomonie, Wis.: Dr. Erin Hall-Rhoades, family physician and medical director of Student Health Services, writes a prescription for a student at the University of Wisconsin-Stout. Photo taken by her wife, Dr. Alexandra Hall, who also works at the clinic. Together they have worked a combined 12 years in the field of college health.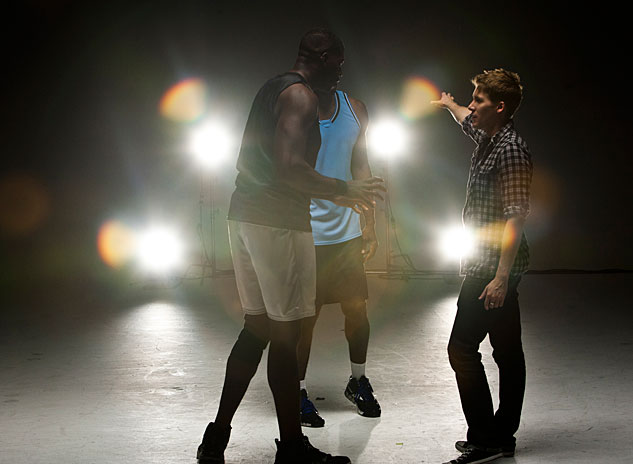 10:40 a.m., Los Angeles: Dustin Lance Black directs a commercial for Wells Fargo.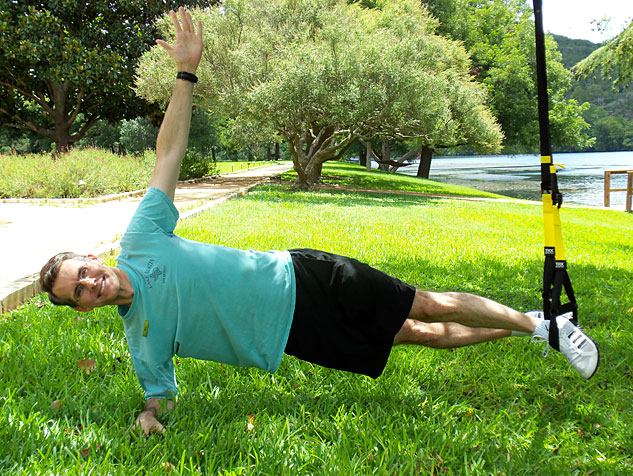 11 a.m., Austin: Paul Smith, fitness director at the Lake Austin Spa Resort, starts the morning swinging.
11:15 a.m., Los Angeles: GLAAD president Herndon Graddick and actor and new staffer Wilson Cruz monitor the media, apparently on Herndon's iPhone.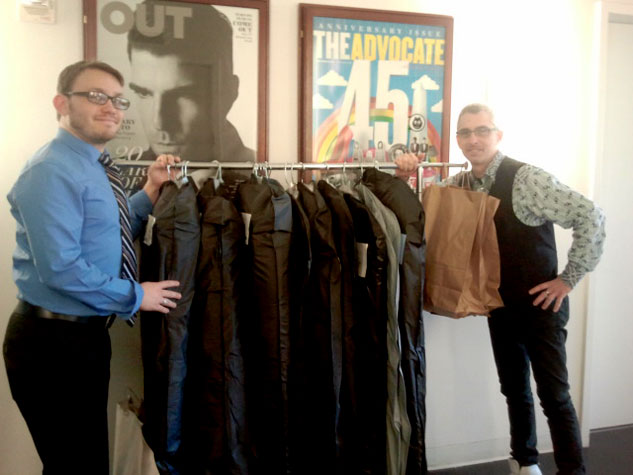 11:34 a.m., New York City: Our very own New York facilities team. Receptionist/office coordinator Kevin Gavit (left) and HR manager Kirk Pacheco making the magazine magic happen.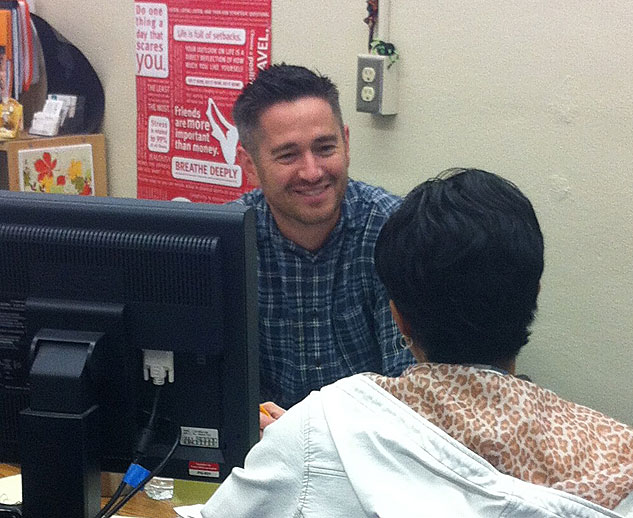 11:48 a.m., Pacoima, Calif.: School counselor Osvelio Lastre meets with one of his eighth-grade students to discuss upcoming grades and goals for the last five weeks of the fall semester.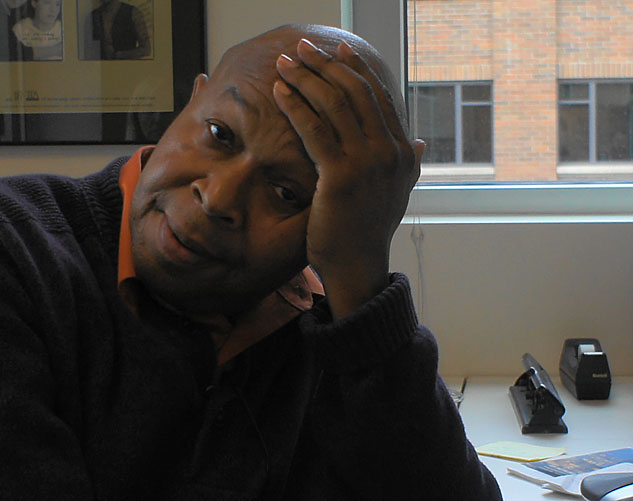 12 noon, Seattle: Perhaps overwhelmed by the details being discussed in this late morning meeting regarding his being an emcee for the World AIDS Day breakfast fund-raiser (or possibly it was just hunger), Steve Wakefield is seen in his office listening to the development director of Rosehedge/Multifaith Works talk about the registration process. Photo by C.J. Lebert.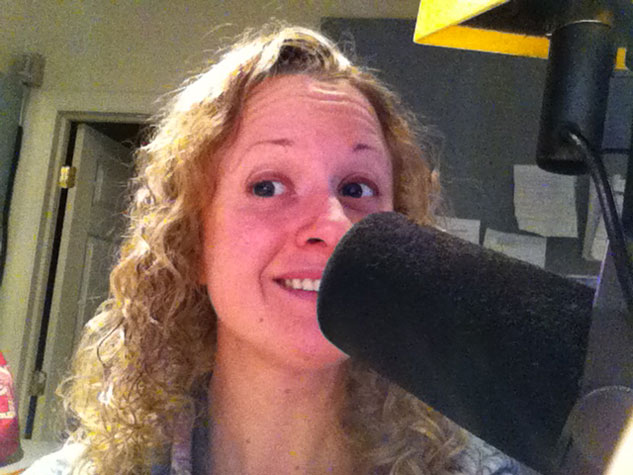 12:10 p.m., Pittsburgh: Heather Storm works the mike.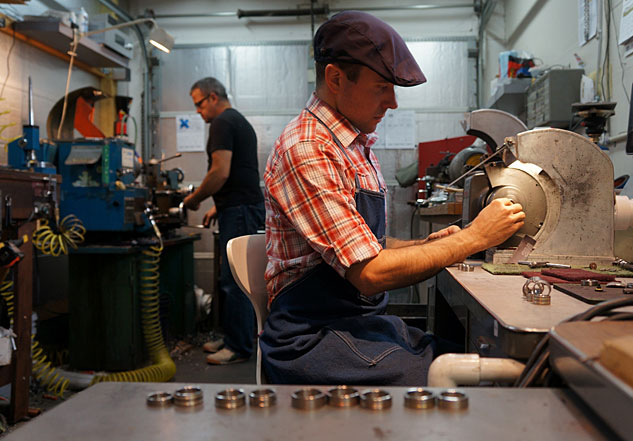 12:32 p.m., Tulsa, Okla.: Partners and founders of Spexton Jewelry, Nathan McPherson and Greg Shelton, spend the afternoon handcrafting designer wedding bands — with hopes that marriage equality will one day make it to their state.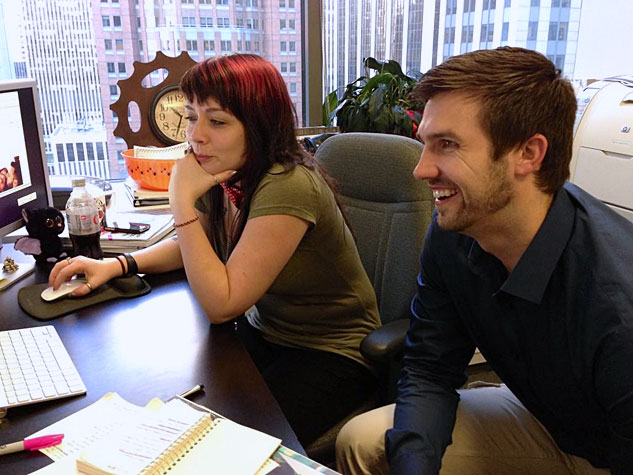 12:58 p.m., San Francisco: Kristi Wisner and Brett Edward Stout are hard at work reinventing Gay.com, our sister site.
1:11 p.m., San Francisco: The Olivia Travel team hanging out at their map. Photo via Tisha Floratos.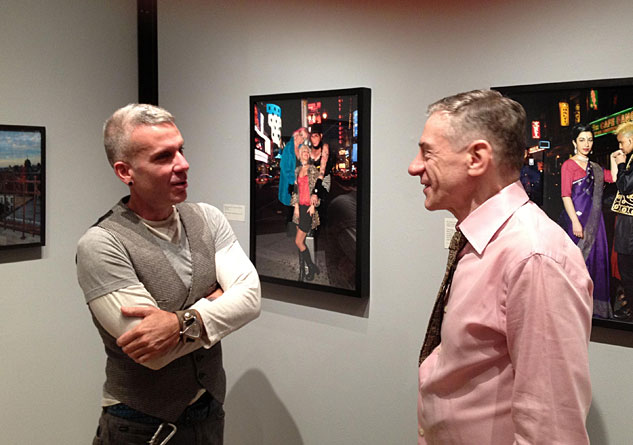 1:47 p.m., New York City: At the Leslie/Lohman Museum of Gay and Lesbian Art, Hunter O'Hanian, museum director, and Rob Hugh Rosen, director of operations, discuss the current Del LaGrace Volcano exhibition. Photo via Steve Deitsch.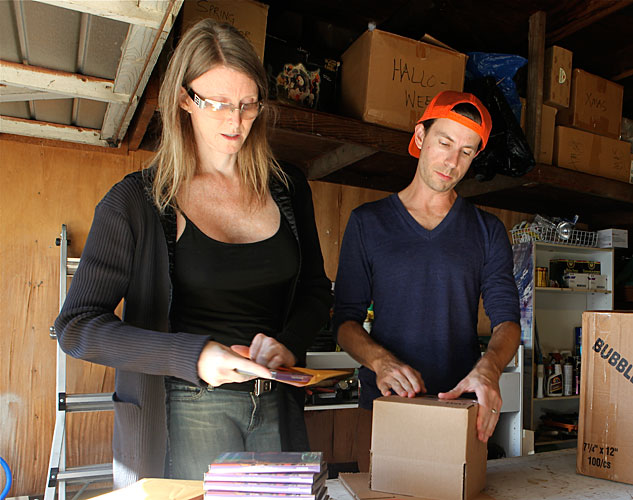 2:49 p.m.: Los Angeles: Producing partners Jamison Hebert and Andrea James in the Eagle Rock neighborhood mailing out DVDs of their children's film, Family Restaurant. "We made the film because there are very few shows out there specifically for kids of people in our community," says James. "I wrote the film after Jamie and his husband, Alec Mapa, adopted their son Zion, and their family stars in it as the heroes who save the day."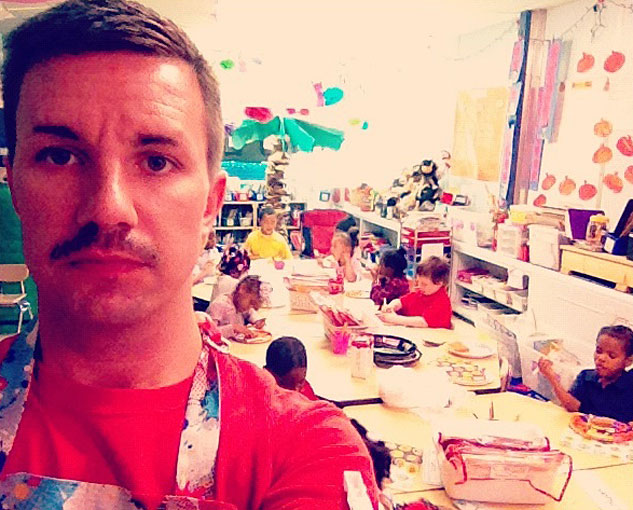 2:30 p.m., Nashville: Kindergarten teacher Greg Warren intructs kids on the importance of Veterans Day.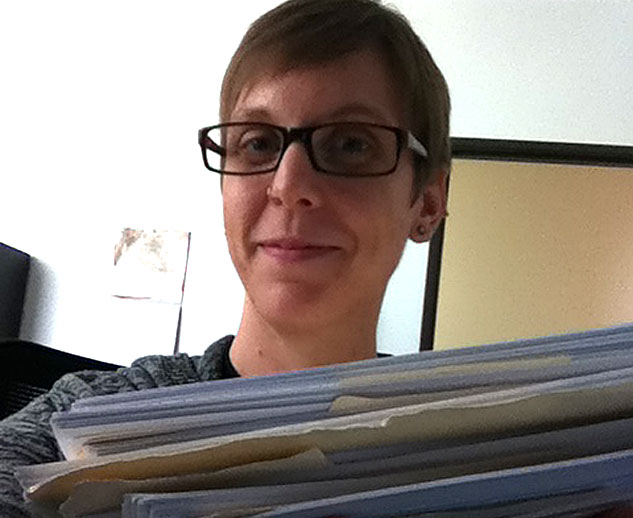 2:40 p.m., Lafayette, Colo.: Sarah Fry says it's just another day in the office, filled with paperwork and copious amounts of coffee.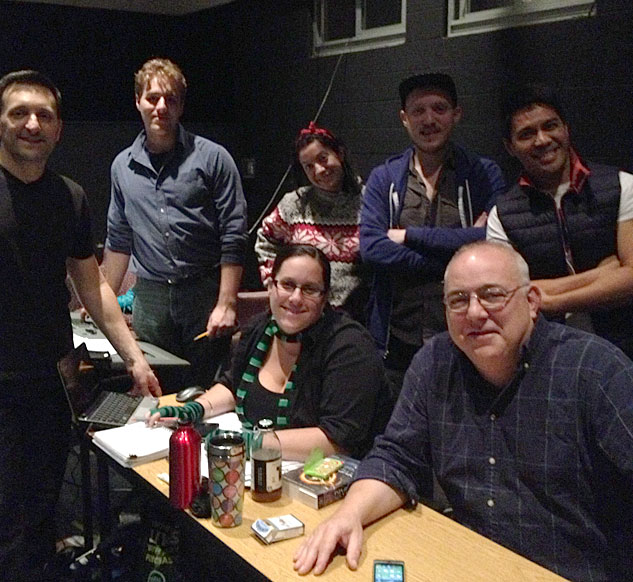 3 p.m., Chicago: At the Hoover-Leppen Theater, the cast and crew are at final dress rehearsal of At the Flash, a new play by Sean Chandler and David Leeper.
3:28 p.m., Boston: Jennifer Lawrence is a licensed social worker at a hospital in Boston. "I work with kids and adults impacted by community violence," she says. "This picture is taken with some of the games and toys I use to engage the kids in helping them identify and express their emotions. I work to create a safe and fun space for them to work through their trauma and process their feelings. The work these families do here is going to change the world and bring an end to community violence."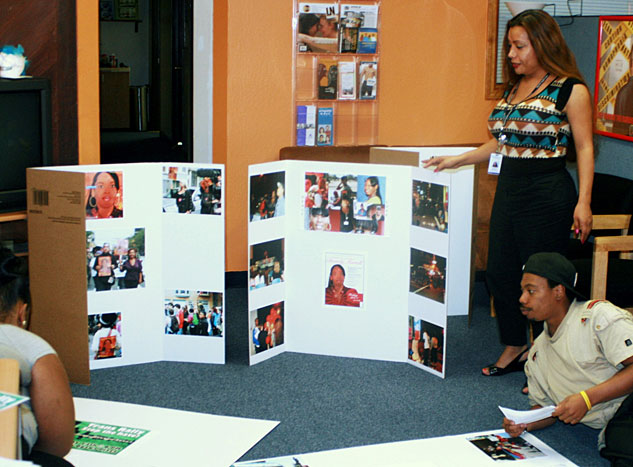 3:30 p.m., Fremont, Calif.: Members of Tri-City Health Center's transgender program, TransVision, and transgender advisory board prepare memorial boards devoted to their friend Brandy Martell, for Oakland's annual Transgender Day for Remembrance event November 16. Martell worked for TransVision for four years. She was shot and killed in Oakland April 29. Her murder is still unsolved. Her name was read during this year's Transgender Day for Remembrance event. Via transgender programs manager Tiffany Woods.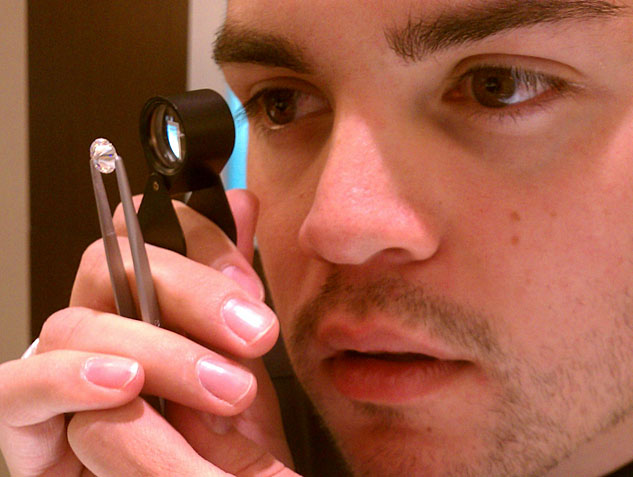 3:40 p.m., San Jose, Calif.: Fabian Jimenez is at work inspecting the clarity of a diamond to showcase to customers.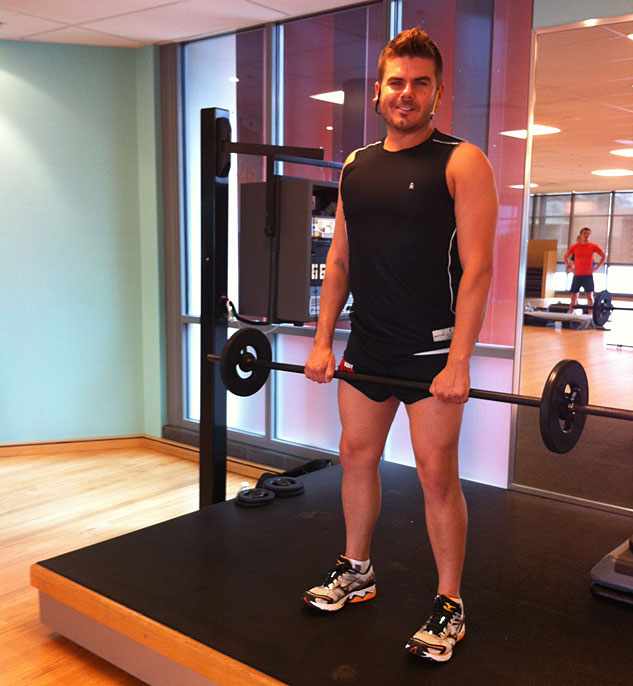 4:30 p.m., Sydney, Australia: Cameron Gray wishes he were back in Los Angeles, which was his home since 2003. "Being part of a binational LGBT couple, I am forced to be separated from my American partner, and since October 2012, I am now living back in Sydney, Australia," he says. "Whilst I am working on getting back to America to be with my boyfriend, part of my daily routine is instructing group fitness classes, which is a passion of mine. In this picture I am on the podium instructing a Les Mill BodyPump class with over 25 participants."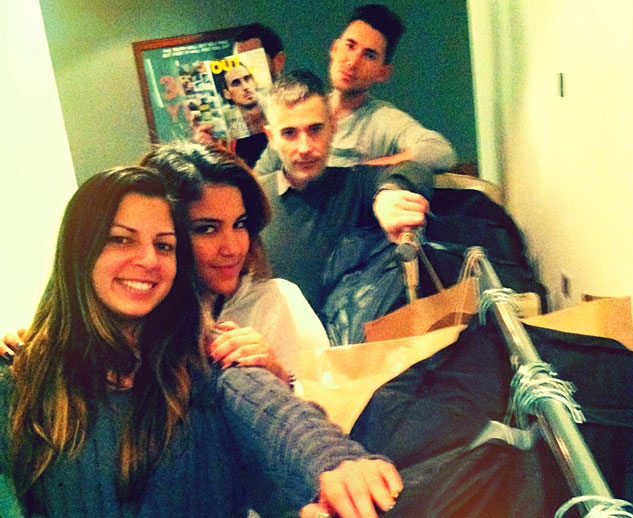 5:22 p.m., New York City: Sasha Rodriguez and the sales and marketing team at Out and The Advocate rummage through the fashion closet.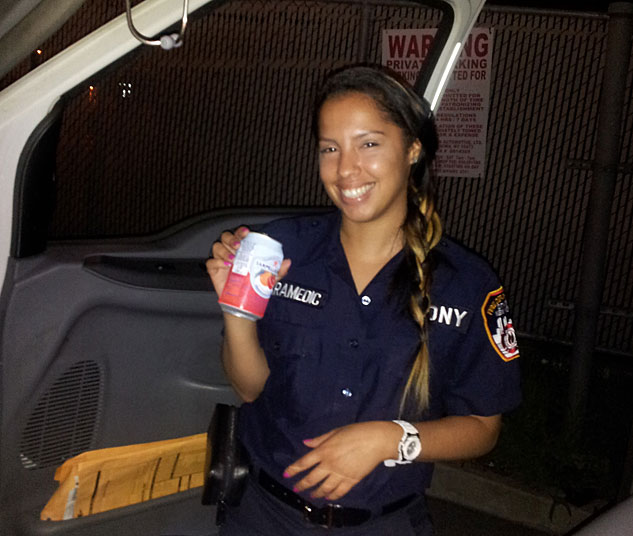 5:50 p.m., Bronx, N.Y.: Daril Jimenez is a paramedic for the Fire Department of New York and says she loves saving lives and making a difference. Here she enjoys 50-degree weather with no jacket.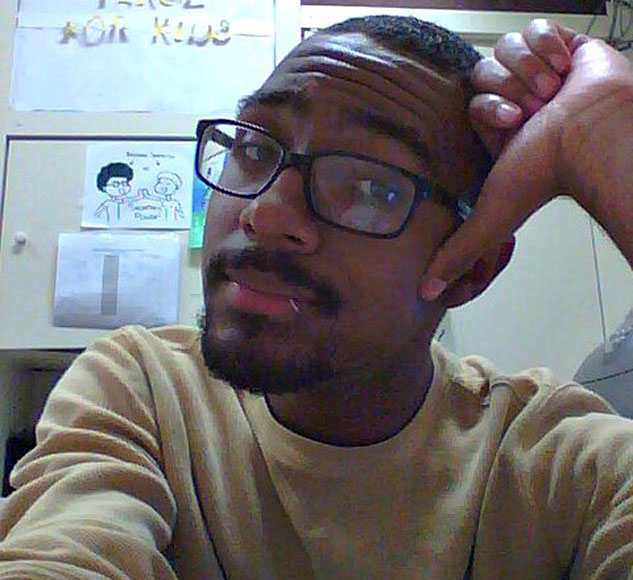 6:29 p.m., Oakland, Mich.: Brandon Harrison tells us, "I'm a normal guy with a normal job. I work at the Boys & Girls Club. I love working with kids. I do more than just secretarial work; I help where I am needed. I contribute to tomorrow's adults. I have a helping hand in making sure that when those kids walk into the 'real' world that they are great adults, better than the ones of today. I make a difference in the world for the better, contrary to popular belief. Whoever said a gay man can't do that, especially with children, was obviously mistaken."
6:30 p.m., Houston: Kevin Ramirez checks the purity of his crystals before he tries to purify them again at the University of Houston chemistry research labs.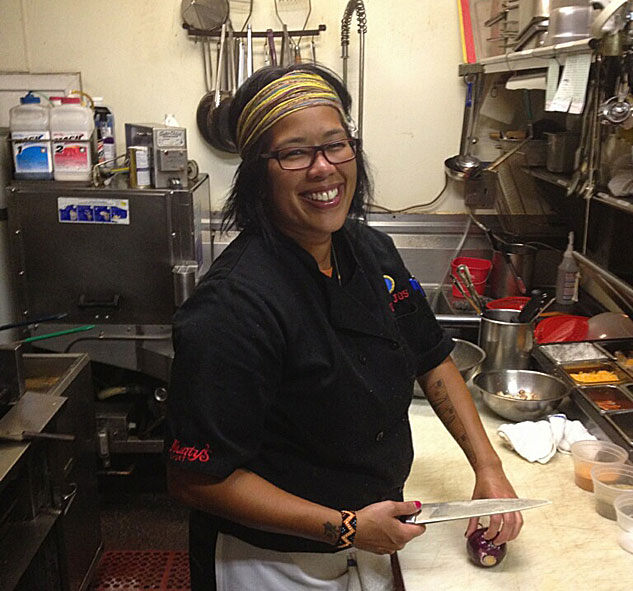 7:50 p.m., San Francisco: Chef Josie Malave in the kitchen at the Parkside.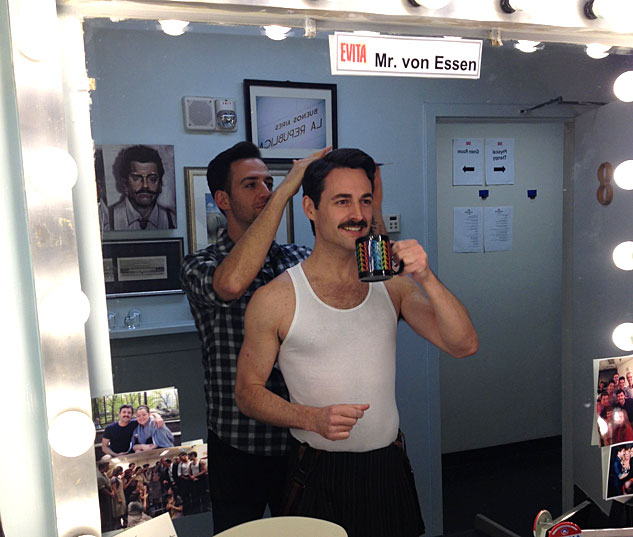 7:55 p.m., New York City: Max Von Essen tells us, "Every night, five minutes before the show starts, Rick comes into my dressing room to check on my microphone and make sure my hair looks OK. Then I head to the stage to play Agustin Magaldi in Evita."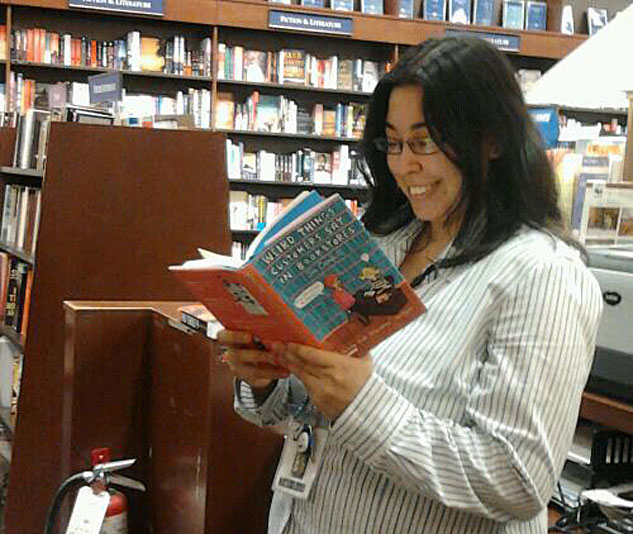 8:23 p.m., New Haven, Conn.: Janelle Alvarez reads a quick passage from the book Weird Things Customers Say in Bookstores to entertain herself during a slow night of work at the Yale Bookstore.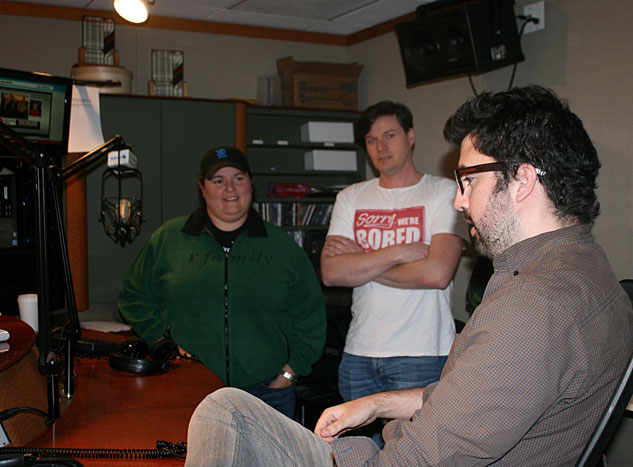 9:40 p.m., New York City: It's Friday night in the OutQ studio at SiriusXM Radio in Rockefeller Center. Derek and Romaine Show hosts Romaine Patterson and Derek Hartley take a break from the show to chat with one of the evening's guests: Richard Lawson from The Atlantic Wire.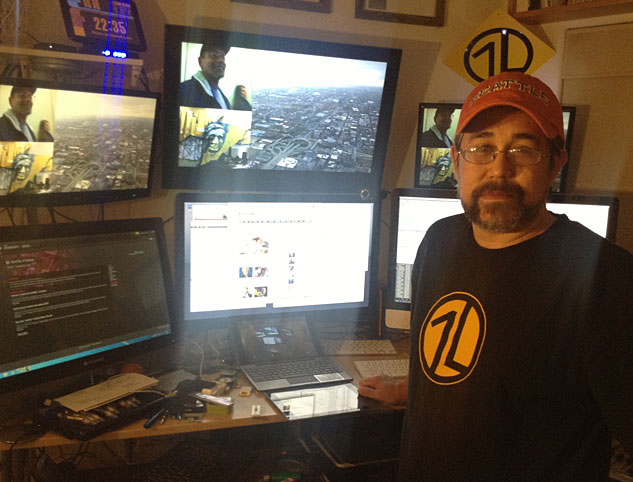 10:37 p.m., Phoenix: Web designer Bily Foster tells us, "Here is where I spend my day, working to make the Web pretty! From here I work with people from around the world helping them with websites, tech problems just about anything that comes up. I also do a little podcast called 'That iPad Guy' where I talk about tech. On the screen you'll see pictures of my new hubby. We just came back from getting married in New York. And yes, it is Bily with one L because growing up I got the L beat outta me."
---
Links:
[1] http://www.advocate.com/
[2] http://www.advocate.com/day-gay-america