---
The Many Faces of LGBT Family
By Advocate.com Editors
Originally published on Advocate.com December 11 2013 7:00 AM ET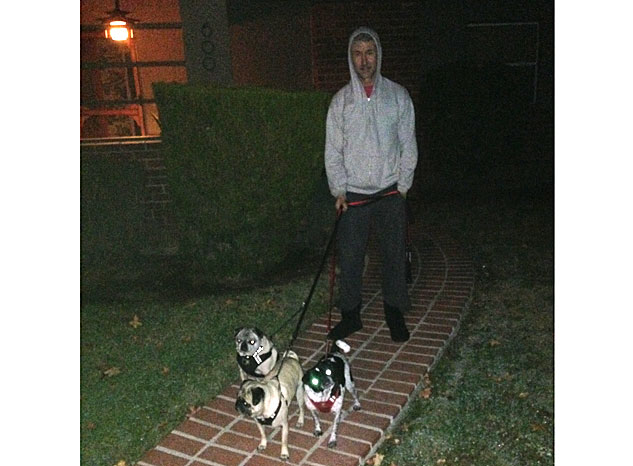 4:15 a.m. Advocate Web producer Christopher Harrity walks his demon pugs in Burbank, Calif., before the gym and then off to the office in Westwood.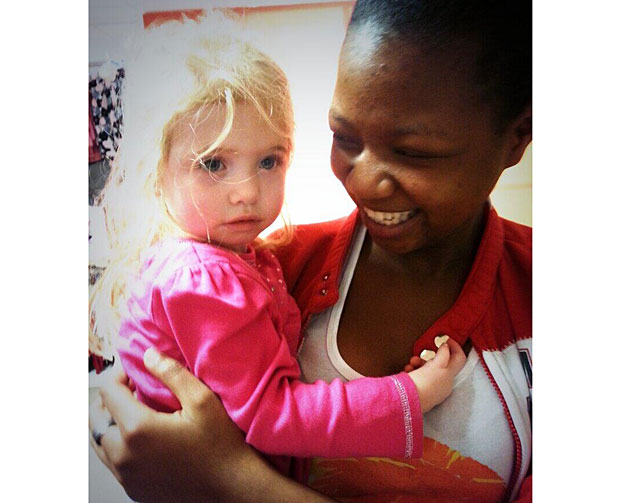 5:57 a.m. Harris Raisa sends us a photo of early morning charm.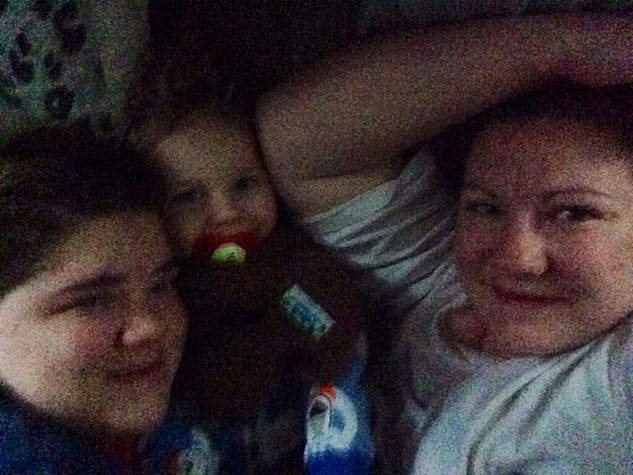 7:41 a.m. Katy Blankenhorn said these visitors came in first thing in the morning before leaving for work. "It's hard heading out when these two are still in bed."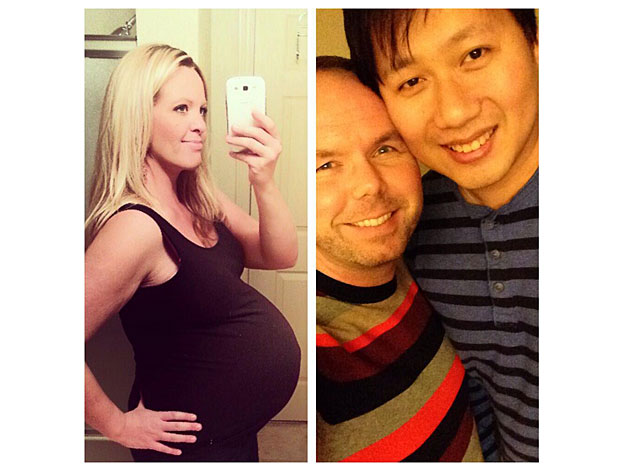 7:47 a.m. "Awaiting the birth of our #twins Friday, if not sooner." — Travis Mayfield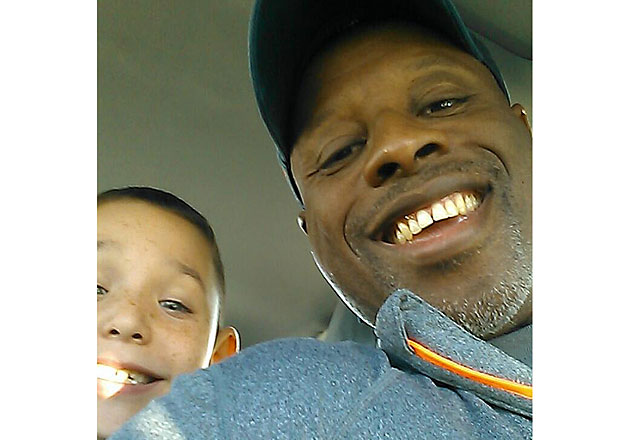 8:37 a.m. Bruce Carter is heading to @24hourfitness with his youngest on the Veterans' Day school holiday.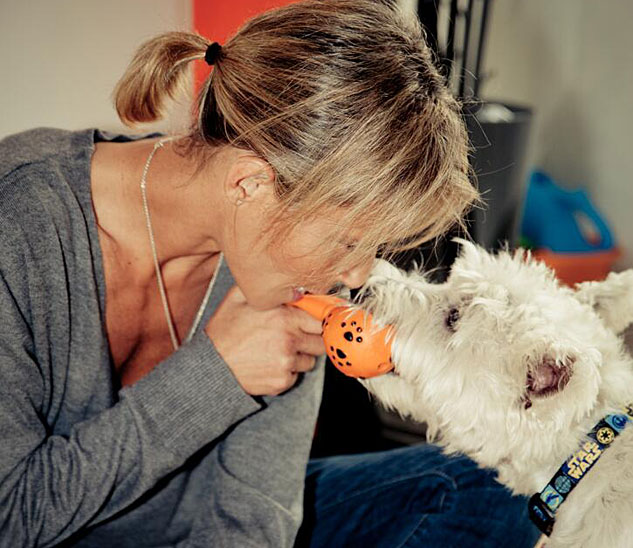 8:44 a.m. "Playful morning with my George Michael, a.k.a. "Georgie," in Hollywood," sent from ILDK Media.

9 a.m. Filmmaker G.B. Hajim in Papaikou, Hawaii, writes, "My son Luka and our cat Calvin cuddle."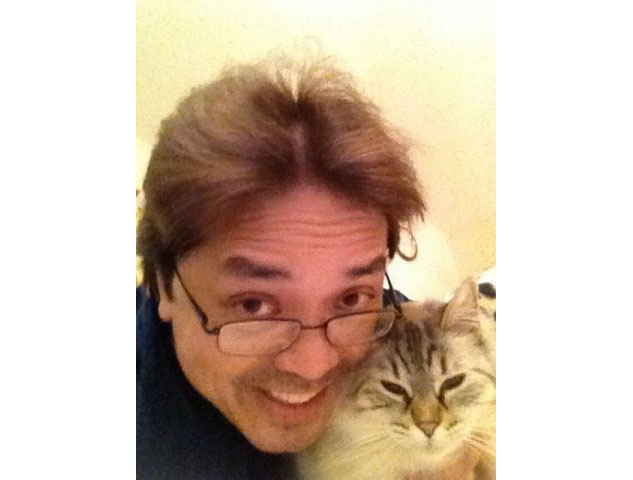 9:15 a.m. Dean Basilio at home cuddling with Scruffy.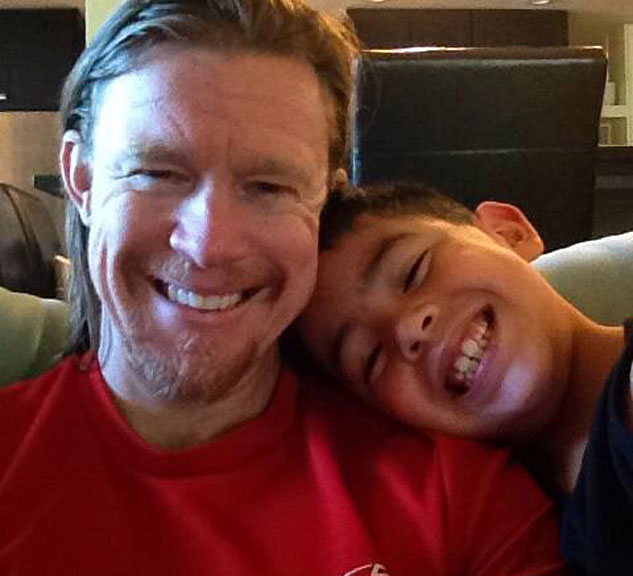 9:17 a.m. Andy Miller of The Handsome Father (with his son) writes, "Hanging out on the sofa watching PBS Kids all morning. Must. Get. Out. Of. Pajamas!"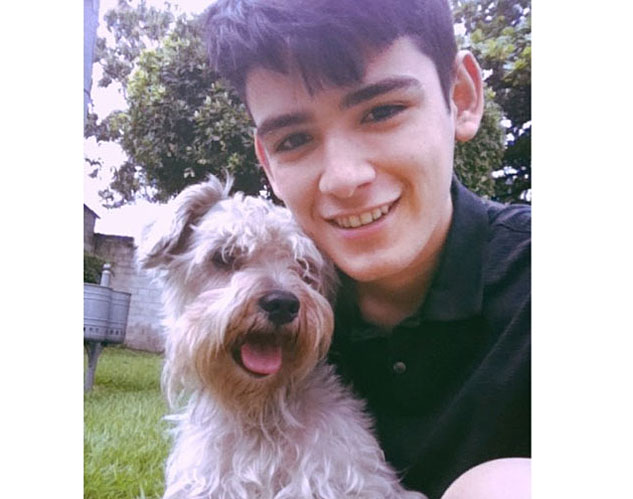 10:11 a.m. Javier Guevara is walking Jr. Estuardo in the park.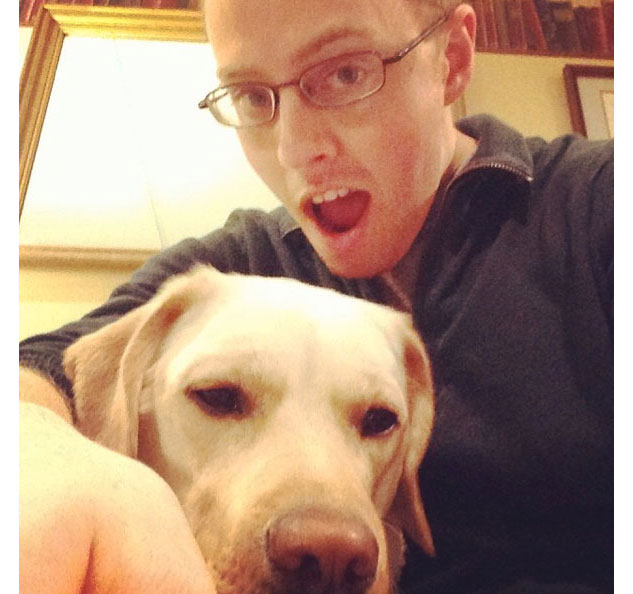 12:18 p.m. John Scholl is having lunch and hanging with his puppy.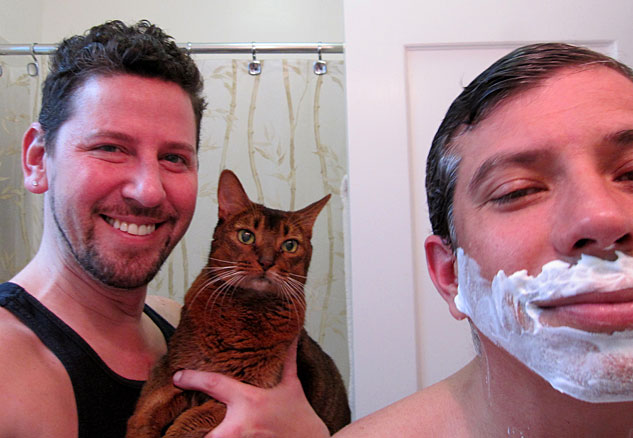 12:30 p.m. Ren Sanz and furry companion help his husband get ready for work in San Francisco.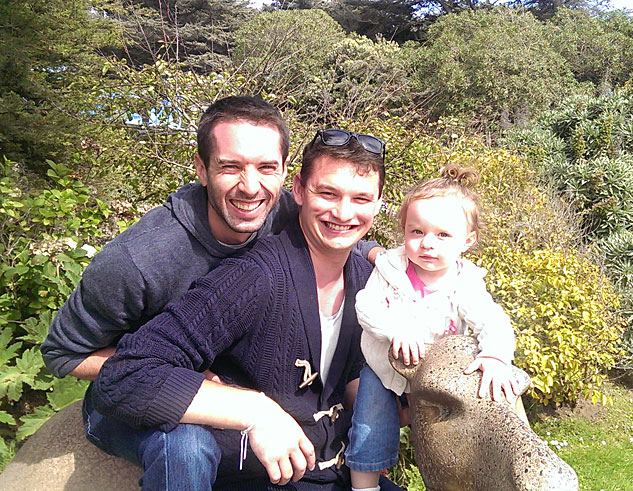 1:15 p.m. " After a great day wandering around the San Francisco Zoo, Jared, Cara, and I took a moment near the entrance to take a great family photo." — Jonathan O'Dell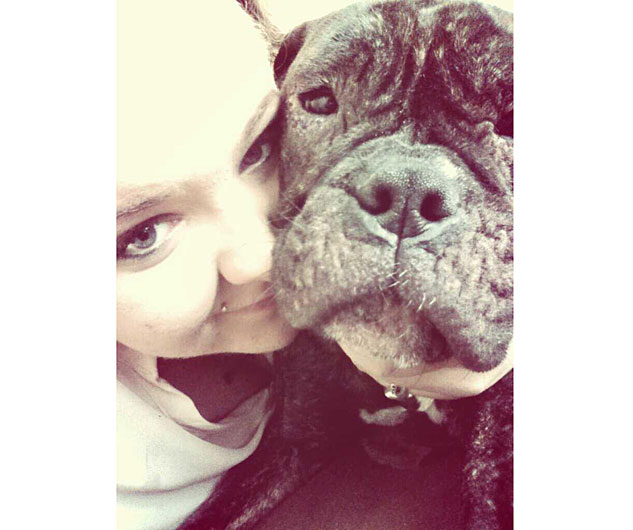 1:24 p.m. Samantha Davis is just taking selfies with her puppy instead of doing her homework.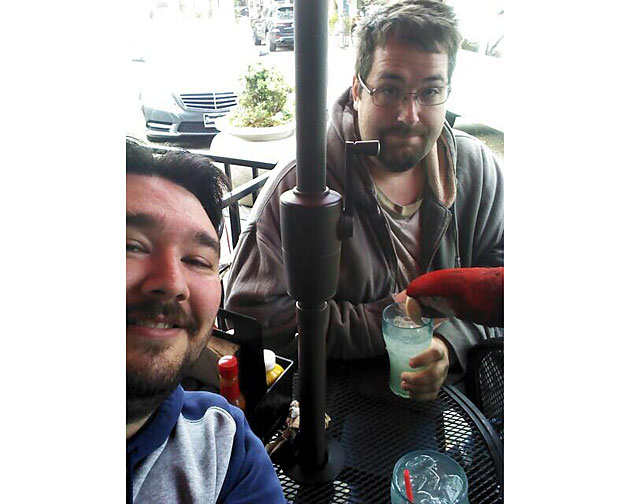 1:52 p.m. Eric S. Carpenter, @supercinoman, and their baby macaw Sisko having a nice lunch.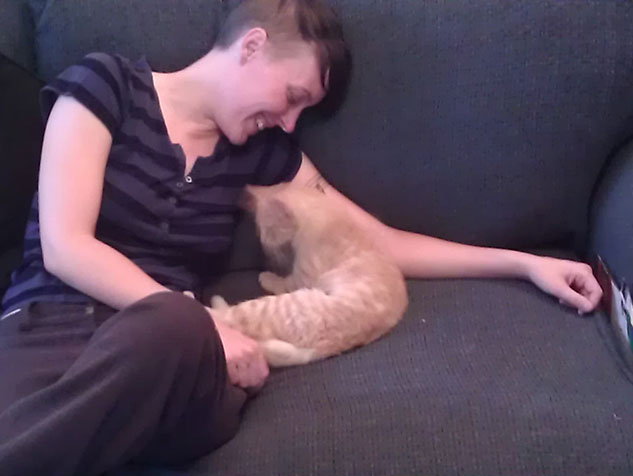 3:25 p.m. Omy Keyes's girlfriend, Brady, plays with new kitten Panini on the couch at home in Tempe, Ariz.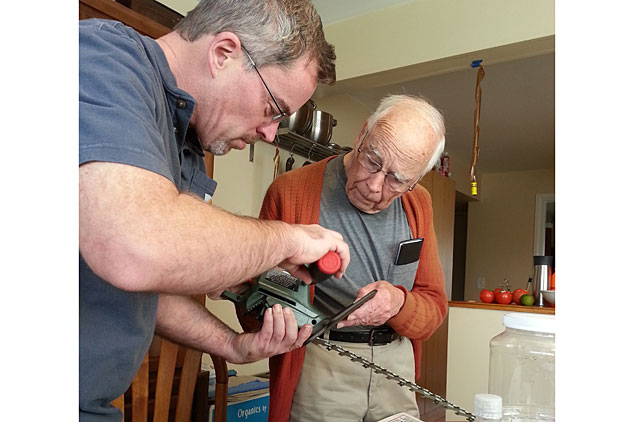 3:55 p.m. In Seattle's Beacon Hill neighborhood, Chris Cochran (left) and his 83-year-old father, Don, repair a bush hedger. Photos sent in by Gary Higashi.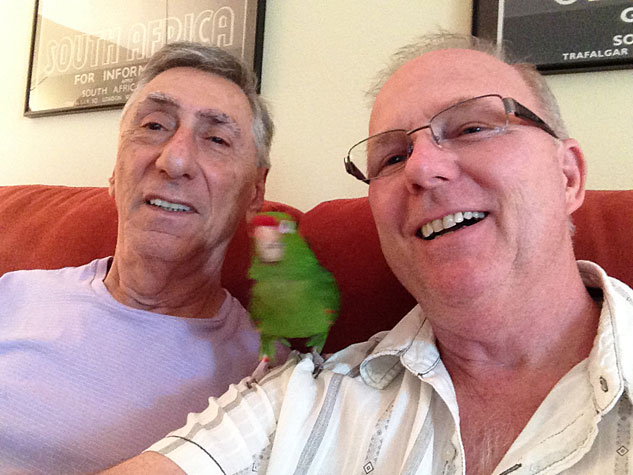 4:10 p.m. J. Leo Sadukas writes from Clearwater, Fla., "My husband, Mel Orange, and me with our conure parrot, Bingo. We were married in NYC this past July after 35 years together."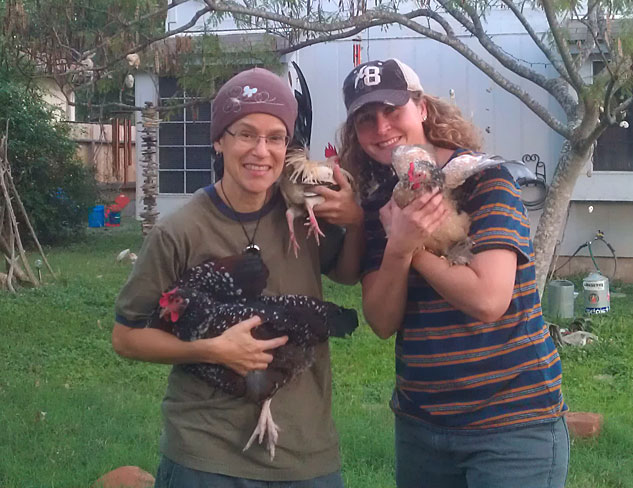 4:15 p.m. Scientist Rae Stegall and partner in Austin relax after work with their pet chickens.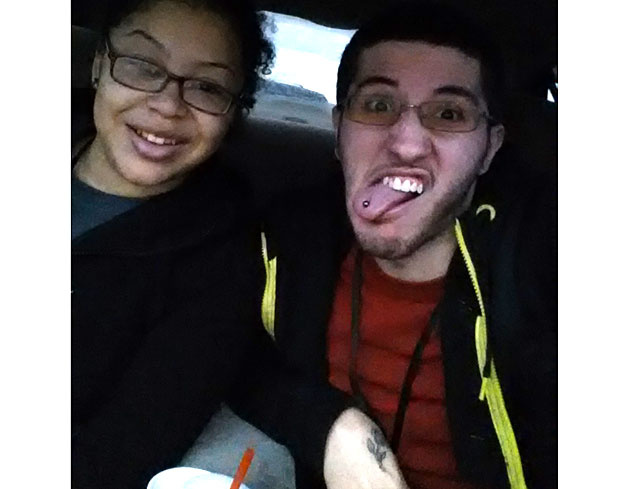 4:40 p.m. Joshua Casul got to work 15 minutes early with his cousin, so they took pictures before starting the work day.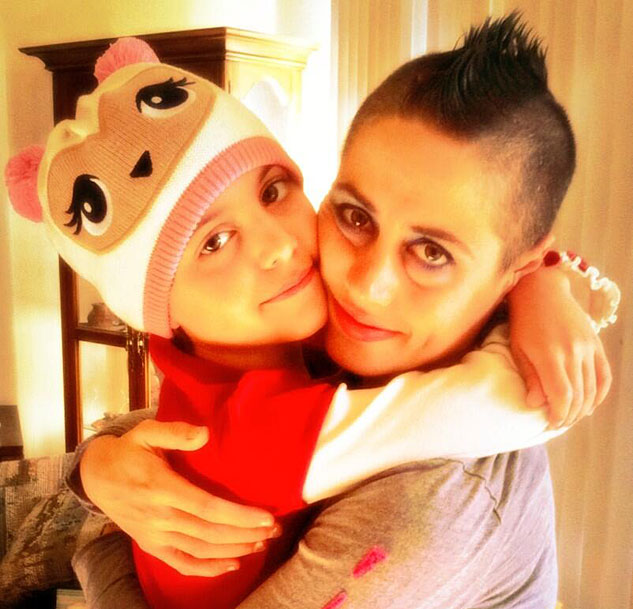 4:42 p.m. Heidi Welchel holds on to her baby while she's still a baby.

6:13 p.m. Kenny Wong writes, "I sit down to read my book and this is what she does. ... Hah! Never a moment alone with her around but still I love her."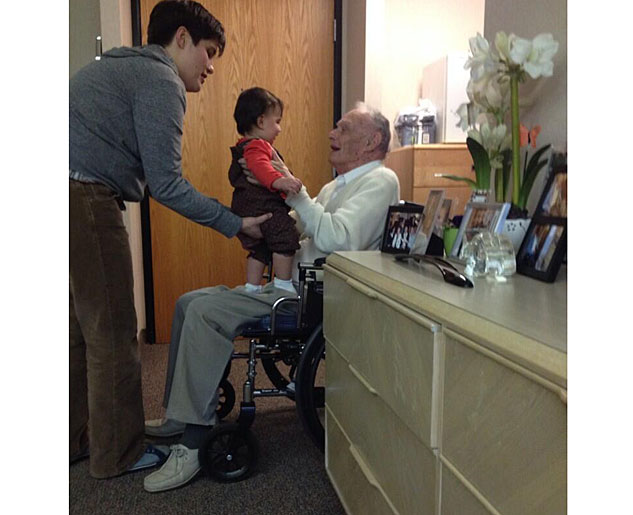 6:14 p.m. Jessica's wife holds their daughter up to meet her great-grandfather — Jessica's grandfather —for the first time.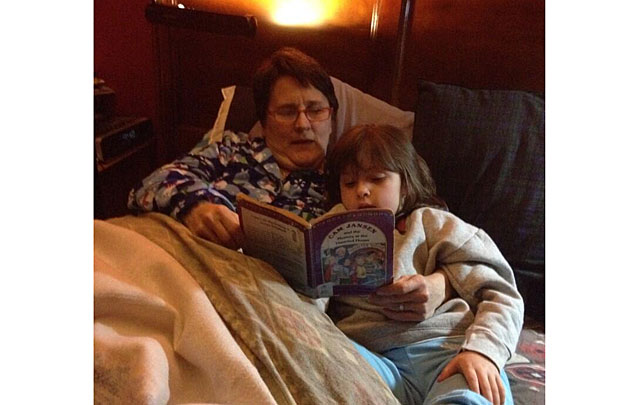 6:45 p.m. Jeannie DiClementi reads a bedtime story.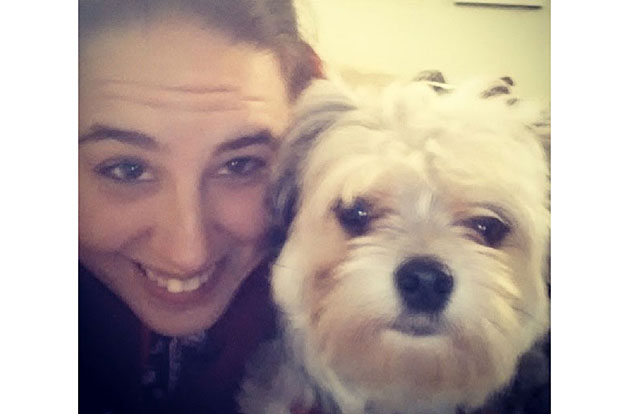 7:21 p.m. Alina Langolf + Pet = Selfpettie

8:10 p.m. Teri Kwant Talley sends us this from the KittyCam.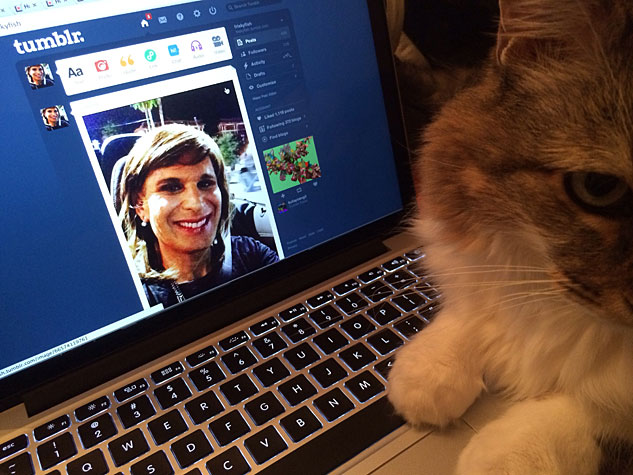 9:10 p.m. Creative director Rachel Rosenthal in Tampa, Fla., writes, "Like most evenings, I am checking my Tumblr blog. Tonight I'm reading comments about a selfie I just posted in a convertible with the top down. This photo is me in the pic submitted here. While it seems like a mundane photo, it's very significant to me. It's been one year since I came out to my family, friends, and coworkers as transgender. Missing an active, visible trans* community during this sometimes lonely and painful year, I found support and inspiration with online communities. I found happy, confident young trans folk who inspired me. I am eternally grateful for this; one year later, I am more confident and comfortable living my truth. In the photo seen here in my Tumblr page I had just left friends and was taking the long way home to savor the moment out and open in the beautiful Tampa night."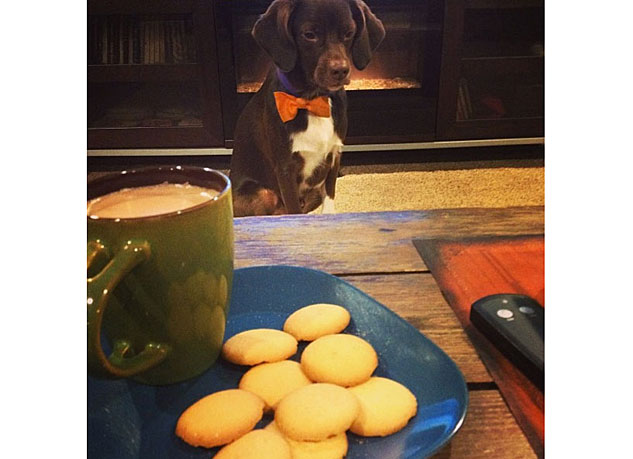 9:15 p.m. Cocoa with brandy, cookies, fireplace, and the doggie (who looks very focused on those cookies). Perfect #dayinlgbt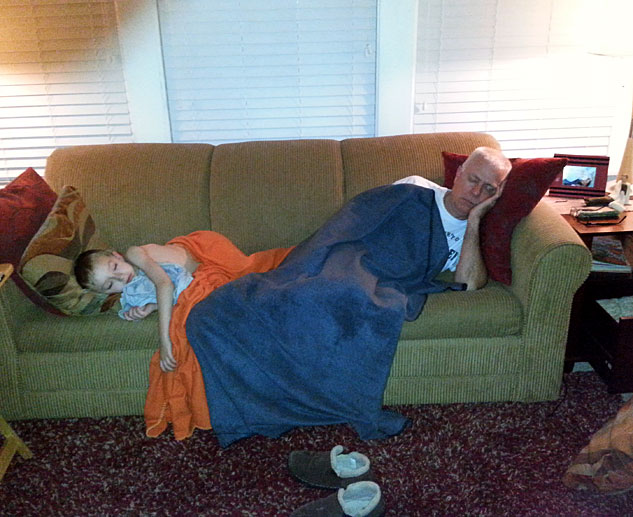 9:35 p.m. "In our home, Rockford Ill., my partner, Gary, and our grandson Kaiden at the end of the day. Kaiden lives with us and his mother. The three of us are raising him. He calls us both his Pop Pops. He does not know that we are a gay couple. We are just his Pop Pops." — Matthew Fields

9:45 p.m. Pam Sunderbuck's wife rescues "yet another lost doggie."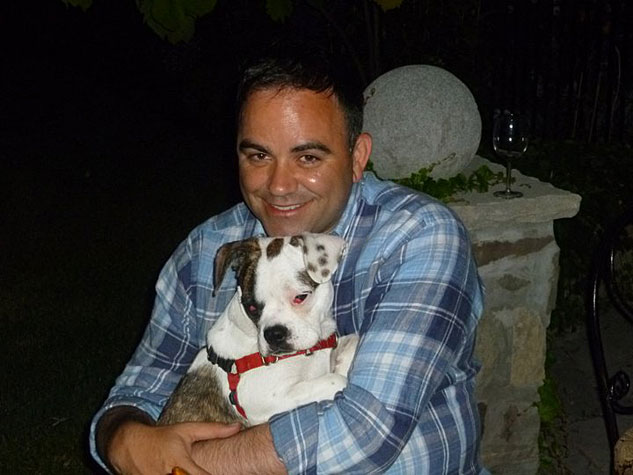 10:10 p.m. Robert Porco cuddles with his most loyal companion, Rosie Lola, in High Park, Toronto.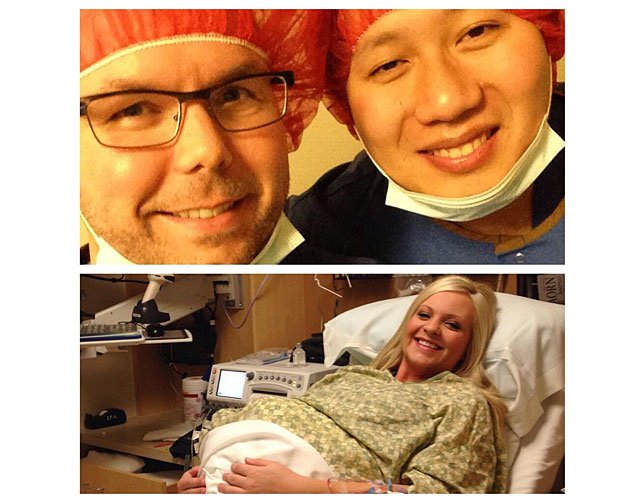 11:40 p.m. Travis Mayfield and company await the arrival of their twins.
---
Links:
[1] http://www.advocate.com/
[2] http://www.advocate.com/day-lgbt-america