---
WATCH: Key Players in Wash. Marriage Equality Victory Raise Equality Flag on Space Needle
By Sunnivie Brydum
Originally published on Advocate.com July 01 2013 3:23 PM ET
As Washington residents celebrated Pride on Sunday, Seattle's Space Needle went red for marriage equality — one of just a handful of times the city's iconic landmark has raised an LGBT-related flag. After Space Needle officials refused to fly a rainbow flag last year, they apparently reached a compromise this year, after Washington voters approved marriage equality legislation enacted by the Governor in last November's election.
This year, a group of individuals instrumental in bringing the freedom to marry to Washington State raised a giant flag with a red Human Rights Campaign logo emblazoned across an outline of Washington State. Pride grand marshals Jane Abbot Lighty and her wife, Pete-e Petersen, were the first same-sex couple to legally marry in Washington last year, so it seemed fitting that the octogenarian couple, who've been together for more than 30 years, hoisted the flag to queer the state's most recognizable landmark.
Watch a video of the momentous event below, then click through to see the stunning photograhs from photographer Nate Gowdy and the Seattle Gay News.
Find more photos on the following pages: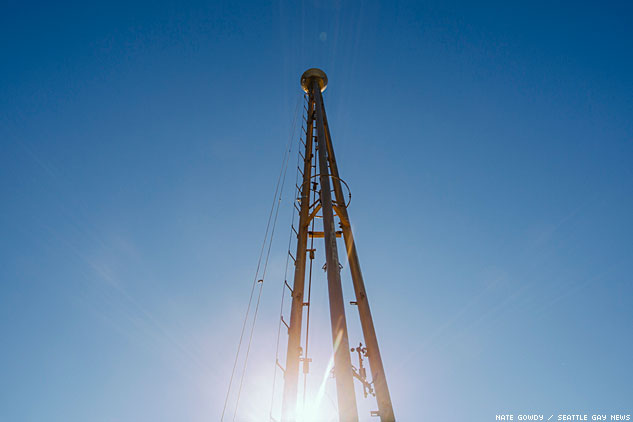 A flagless Needle.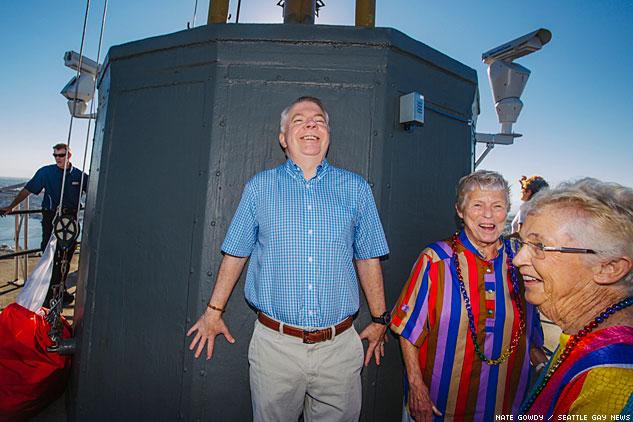 Ed Murray, an out state senator and current candidate for Seattle mayor, was a little nervous atop the Space Needle. Luckily, Jane Abbot Lighty (center) and Pete-e Peterson were standing by to help him calm his nerves.

Everyone who helped make the moment possible signed the flag.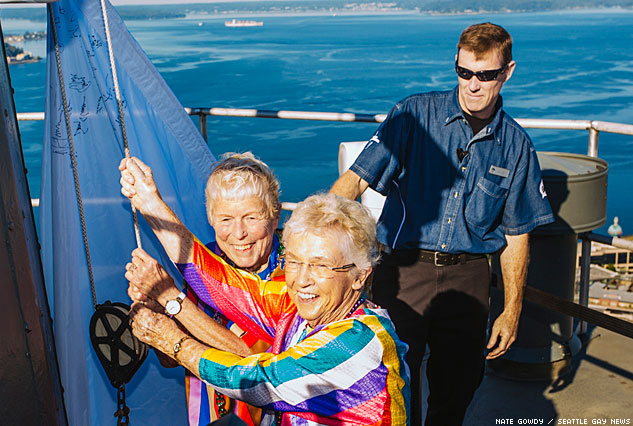 Jane Abbot Lighty, 77, left, and Pete-e Peterson, 85, who were the first same-sex couple in King County to recieve a marriage license, helped hoist the flag.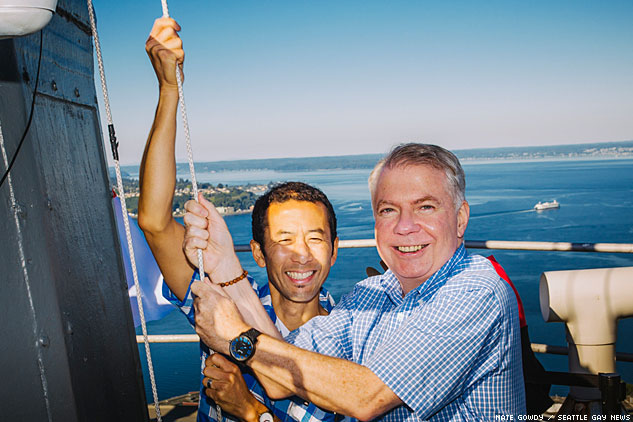 Sen. Ed Murray (right), who cosponsored Washington's marriage equality bill, and is currently running for mayor of Seattle, with his fiancé, Michael Shiosaki.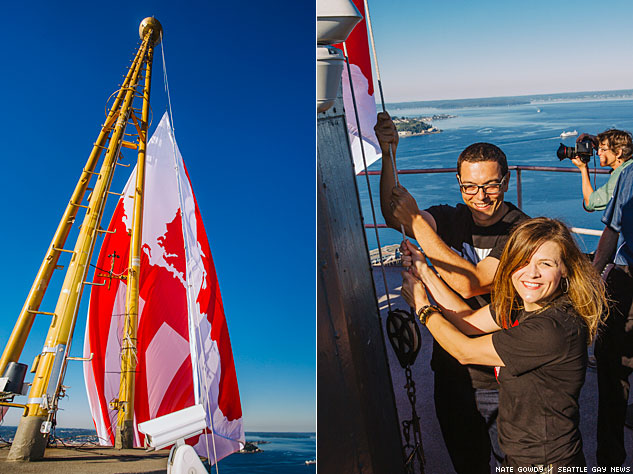 Zach Silk, who served as the campaign manager for Washington United for Marriage, and Lacey All, the former campaign chair for the group and current Human Rights Campaign board member, take a turn at raising the flag.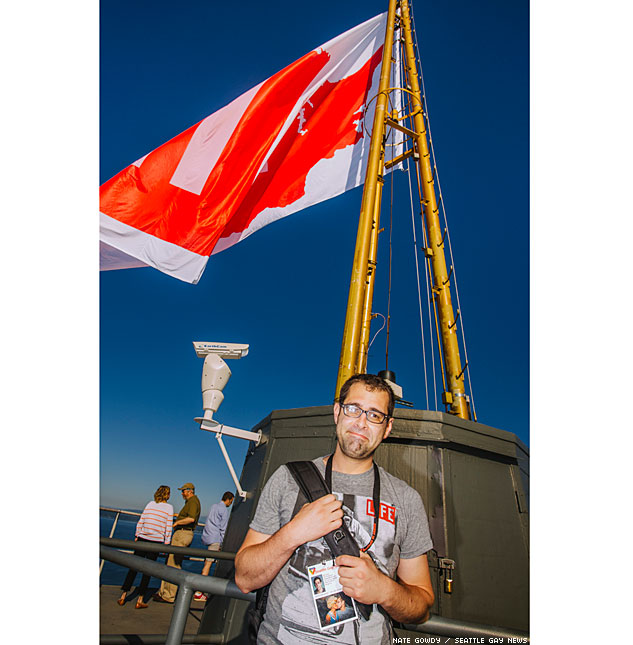 Photographer Nate Gowdy understands the gravity of the occasion.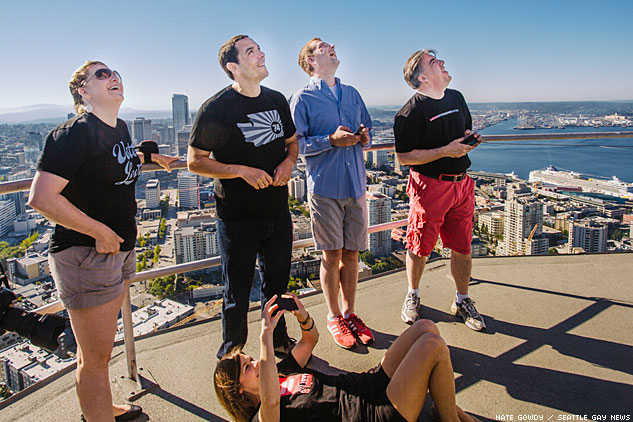 From left: Edie Gillis; her husband, Zach Silk, former campaign manager for Washington United for Marriage; King County Council member Joe McDermott; and Dean Keppler, a member of the Human Rights Campaign's board of governors.
Lacey All, former Washington United for Marriage campaign chair and current HRC's board member, lies on the ground to get the proper perspective.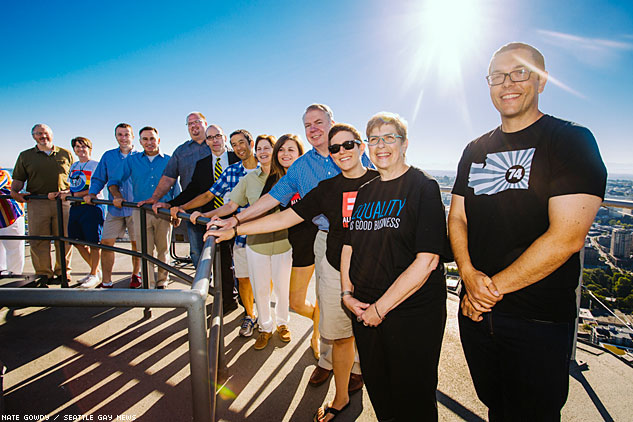 From front: Zach Silk; Louise Chernin, president and CEO of Greater Seattle Business Association; Amy White, director of regional operations and leadership for the Pride Foundation; Sen. Ed Murray; Lacey All; Seattle city advisor Anne Levinson; Murray's fiancé, Michael Shiosaki, two Space Needle employees, King County executive Dow Constantine; King County Council member Joe McDermott; Seattle City Council member Sally Clark; Seattle mayor Mike McGinn.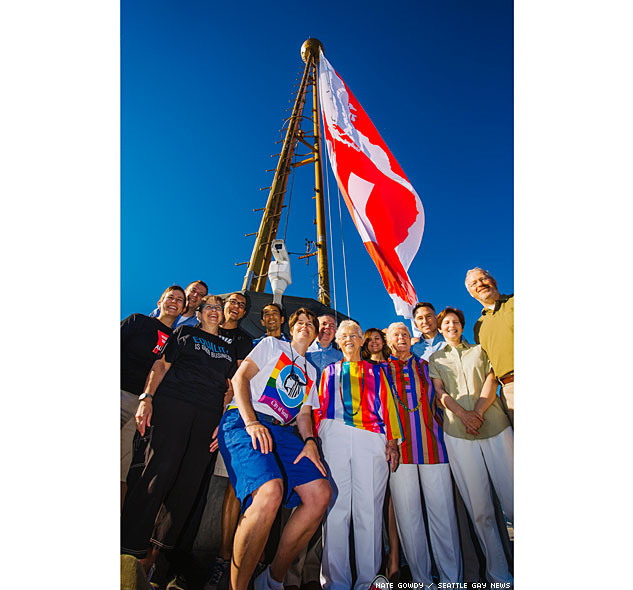 The resplendent flag, flying high above Seattle.
---
Links:
[1] http://www.advocate.com/
[2] http://www.advocate.com/news/daily-news/2010/06/26/seattle-space-needle-flies-pride-flag
[3] http://www.advocate.com/news/daily-news/2011/06/03/seattle-lgbts-hoist-flag
[4] http://www.advocate.com/politics/marriage-equality/2012/06/21/space-needle-refuses-fly-its-gay-flag
[5] http://www.youtube.com/watch?v=YlI8pM3egAY
[6] http://www.facebook.com/NateGowdyPhoto
[7] http://www.facebook.com/seattlegaynews
[8] http://www.advocate.com/marriage-equality