---
IN OBAMA WE TRUST
By Matthew Breen
Originally published on Advocate.com July 13 2012 11:40 AM ET
Never has the substantial progress in equal rights and treatment of LGBT people been more at risk than in this presidential contest. This election presents a choice between starkly opposing futures.

Barack Obama is a leader of undeniable accomplishment, vision, and integrity on LGBT rights. His opponent Mitt Romney betrays equality on numerous issues and aligns himself with a faction of the Republican Party that does not include equality among its declared ideals.

The Advocate's last endorsement was decades ago, but the president's statement of May 9, unequivocally in favor of marriage equality, along with his record on LGBT rights, has distinguished him for the ages and has made it clear that he is a transformational leader and our best choice for president.

By saying aloud, "I think same-sex couples should be able to get married," in a televised interview on ABC, he has sparked conversation domestically and internationally. While he is our president at home, globally he's an icon, a symbol of the promise of America, of the promise of equality. Obama may be the most prominent man on the planet ever, given the pervasiveness of modern media and his anomalous and historic nature as the first black American president; he is surely the single most recognizable head of state on the globe. By virtue of his unique position, his endorsement of marriage equality is not merely rhetoric. His words constitute action. On the very face of it, his statement is enormous, and has the power to move millions in a way that a statement from no other person could have.

Despite an abundance of hysterical whining to the contrary, Obama is not a far-left leader. His policies are moderate and only appear particularly progressive in contrast with the policies of his predecessor, policies that pandered to the worst instincts of the ultraconservative wing of the GOP. (Those instincts were evidenced by 13 state constitutional amendment banning marriage equality in 2004.) Obama's newly declared position on marriage equality is not an extreme view, and it is consistent with the view of the majority of Americans, who believe that same-sex couples should have the right to marry.

The watershed moment has prompted a number of Democratic leaders, including Senate majority leader Harry Reid, House Democratic whip Steny Hoyer, and House assistant Democratic leader Jim Clyburn, to declare solidarity on a position that would have been untenable just a few short years ago. His support is having the effect of cementing that position in the mainstream of American politics. Obama's statement has also given rise to echoes from pop-culture figures (Jay-Z, Will Smith) and religious leaders (including Otis Moss III, the pastor of Obama's former Chicago church), all of whom have the power to shape attitudes in distinct and overlapping spheres of influence. His statements have also been part of the reinvigorated discussions surrounding marriage equality in the United Kingdom and Australia.

As a result of Obama's declaration, which has followed similar declarations by Vice President Joe Biden, House minority leader Nancy Pelosi, and a number of sitting governors, senators, and representatives, we will never again see a Democratic presidential nominee emerge from the primary system with an anti-equality stance. That position would appear too backward to have legitimacy in the 21st century. Any candidate of either party who rejects the full equality of LGBTs will be asked to account for his or her view that we are damaged or inferior, and to explain why rights should be afforded to some but not all American citizens.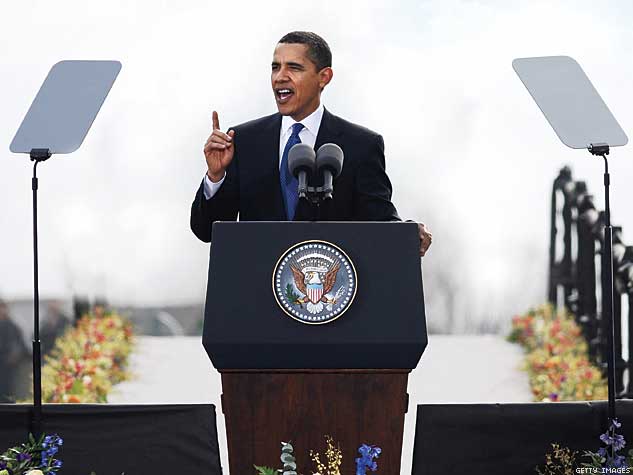 At press time, the inclusion of marriage equality on the platform at the Democratic National Convention in Charlotte, N.C., in September seems inevitable, and that will be an additional step toward enshrining LGBT equality as a core Democratic principle. Any Democratic candidate or elected official who opposes marriage equality will henceforth be in direct opposition with the view of the leader of the free world on a civil rights issue, making stumping for inequality an increasingly uncomfortable task. And no longer will fringe bigots, in elected office or on conservative talk radio or television, be able to cite the president's former stance opposing marriage equality as a tool to suppress or to harm LGBTs. The "even the president doesn't support your equality" line, often repeated by Gov. Chris Christie, who vetoed marriage equality in New Jersey, is now utterly defunct.

Also significant are the Obama administration's actions in support of LGBT equality. In 2009, Obama signed the Ryan White HIV/AIDS Treatment Extension Act, and announced the lifting of the ban on HIV-positive green card applicants and visitors to the U.S. He signed the Matthew Shepard and James Byrd, Jr. Hate Crimes Prevention Act, the first pro-LGBT federal law in U.S. history. After just two years into office, he had appointed more LGBTs to head commissions and agencies, to ambassadorships, and to senior staff positions than any president, surpassing the entire two-term record of Bill Clinton. He has quadrupled the number of openly gay judges on the federal bench.

Secretary of State Hillary Clinton's moving and historic speech to an international audience of the U.N.'s human rights group in Geneva last December, observing the anniversary of the passage of the Universal Declaration of Human Rights, made the Obama administration's perspective very clear, that LGBT rights are human rights. Whereas the George W. Bush administration made its anti-equality position clear to the world by rejecting the United Nations Declaration on Sexual Orientation and Gender Identity, under the Obama administration the U.S. signed the declaration. Obama's State Department has issued diplomatic passports and provided other benefits to the same-sex partners of foreign service employees.

The Obama administration launched a national resource center for LGBT elders, ensured that insurance exchanges cannot deny coverage to someone LGBT under the Affordable Care Act, eliminated discriminatory Census Bureau policies so our relationships are counted, directed hospitals receiving federal funds (nearly all hospitals) to allow partner visitation rights, and convened a first-ever summit aimed at combating bullying in schools.

He has approached many of our challenges with intellect and foresight, though the long game was not often apparent to many, including this publication when we argued for a quicker pace for change. Obama deftly ended the military's 17-year-long "don't ask, don't tell" policy, allowing enough military leaders to reject the policy before pushing for repeal so that there was little room for Republican opposition. He has directed the Justice Department to not defend aspects of the extraordinarily discriminatory Defense of Marriage Act, calling it unconstitutional and urging its repeal. Now five federal judges have declared parts of DOMA unconstitutional.

And in every speech, at every opportunity, Obama describes LGBTs as his brothers and sisters, full members of our society. In college commencement addresses, in his address to the NAACP, in an "It Gets Better" video message to teenagers, at the National Prayer Breakfast, he has called for respect, dignity, and equality for LGBT people. At an address to the General Assembly of the United Nations in 2011 the president said, "No country should deny people their rights because of who they love, which is why we must stand up for the rights of gays and lesbians everywhere."

If we assume that words mean nothing, then we've forgotten the lesson of the damage done by a president who largely refused to utter the term AIDS during his administration, and how desperately we ached for him to acknowledge the humanity of those dying of the disease. We'd similarly do well not to forget the damage done by another president, who called for a federal constitutional amendment to discriminate against LGBT Americans, and the hateful bandwagon that noisily followed in its wake.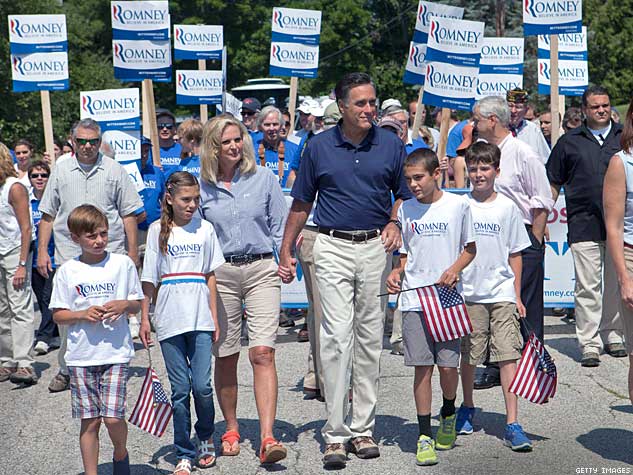 Republican presidential candidate, former Massachusetts Gov. Mitt Romney with his wife Ann Romney and his family.
Obama can easily be contrasted with his opponent, former Massachusetts governor Mitt Romney, who as a businessman candidate for U.S. Senate in 1994 declared that he'd be "better than Ted Kennedy" on gay rights. He made similar statements in his 2002 gubernatorial run. Yet in 2005, at a Republican rally in South Carolina, journalist Chris Matthews asked, "Do you think there's any difference, really, between a gay marriage and something called a civil union?" Romney replied, "Well, I would rather have neither, to tell you the truth." In 2004 he decried LGBTs "actually having children." His distaste for LGBTs was palpable.

In 1994, Romney supported the Employment Non-Discrimination Act, and he declared in a letter to the Log Cabin Republicans, seeking their endorsement, that DADT was, confoundingly, "the first of a number of steps that will ultimately lead to gays and lesbians being able to serve openly and honestly in our nation's military." By 2006 he had reversed his ENDA position because it would "unfairly penalize employers at the hands of activist judges," and by 2007 he said he would not repeal DADT, despite the clear evidence that gays and lesbians could not serve openly due to the policy.

Whether his shifting positions are the result of fear of blowback from an increasingly conservative GOP or just a personal devolution, one can safely assume that a Romney administration would be unlikely to appoint a U.N. ambassador or secretary of State who would promote LGBT rights internationally. We would not see immigration reforms that value the marriages of American citizens to their foreign-national same-sex spouses. Romney would doubtlessly resume Justice Department defense of DOMA, which he supports as it stands. The right-wing ideologies of his potential Supreme Court nominees require little in the way of imaginative extrapolation.

The GOP abandoned core values of limited government and federalism in exchange for demonizing rhetoric and repressive legislation over who can marry, what kind of sex to have, and whether women are equal to men. No candidate beholden to this party can be an LGBT champion. While there are Republicans demonstrating independence, and who defy the GOP's positions on these issues in pursuit of a greater good, Romney is not among them.

We acknowledge that gays, lesbians, bisexuals, and transgender people do not yet live in an equitable society. Same-sex marriage is forbidden in the vast majority of states, and in many, LGBTs lack protections against job and housing discrimination. We still face disproportionate difficulties regarding education, poverty, and health care, and we face discrimination from religions and underrepresentation in politics, sports, media, and other arenas.

We cannot expect any president to be the balm for all our ills, but Obama has demonstrated through word and deed that he is capable of understanding and tackling the issues, with foresight and intellect, that affect a minority population, particularly the last group of people it's still legally permissible to deny rights to in the United States.
---
Links:
[1] http://www.advocate.com/
[2] http://www.advocate.com/print-issue/cover-stories