---
The Truth About Pink
By Diane Anderson-Minshall
Originally published on Advocate.com October 16 2012 5:10 AM ET
Pink, whom Forbes magazine called the 27th most powerful celebrity in the world, has just finished dinner in the Malibu, Calif., home she shares with husband Carey Hart, an entrepreneur and motocross racer. Her daughter, Willow, who turned 15 months old on this day, is finally asleep upstairs, and the sweatpants-clad "So What" singer has settled into the sofa with her daily glass of wine. This, she says, is who she is: a smart woman who loves her family, is a great cook, and considers herself a decent human being. But one of the most powerful celebrities?

"I still look at that shit and think it's hilarious," she says. "I feel my power as a female and as a human being. I definitely do not feel my power as whatever Forbes was talking about."

But Forbes was right. Since Pink (née Alecia Moore) released her 2000 debut album, Can't Take Me Home, she's become a musical force to be reckoned with. Within the next two years she won her first Grammy (along with Lil' Kim, Christina Aguilera, and Mýa, for their "Lady Marmalade" collaboration) and took the reins of her career (by teaming up with lesbian producer Linda Perry) and produced one of the most popular pop albums of the decade, M!ssundaztood.

"M!ssundaztood was the point in my life where I decided it was my life," she recalls. "I was going to go balls to the wall, and I think honestly…music has to do with timing. I think M!ssundaztood, for a lot of us, [came out at] a time in our life when we were just really getting to know ourselves."

The singer has changed the sound of modern pop music irrevocably. Music critic Ann Powers credits Pink's eclectic mix of rebellion, raw emotions, infectious beats, and humor with paving the path for many of today's most popular modern female artists, including Lady Gaga, Katy Perry, and Rihanna. She's even been credited as inspiring a British multi-Grammy winner to become a performer, after a then-teenage Adele caught Pink in concert at London's famed Brixton Academy.

"That's so huge for me," she says of Adele. "I'm a fellow outcast, and for somebody to say that they were at my party once is like, Really? That's so cool, they were there. Fuck, she was 13 — how old does that make me? If I had to influence anybody, I'm so grateful it's her."

To date, Pink has had a dozen Top 10 hits in the U.S., and only Rihanna and Beyoncé have had more since 2000. In 2009, Billboard crowned Pink the top pop artist of the millennium's first decade, and after selling 40 million albums and 70 million singles globally she is indisputably one of the best-selling musical artists of all time.

So whether she's comfortable acknowledging it or not, Pink has some extraordinary music industry muscle, though when she's skipping through the Malibu Farmers Market without shoes (as she did while pregnant) or riding bikes with Hart on Venice Beach (as she often does on weekends), she seems like a modern American everywoman — minus those shoes.

On this night she's just an ordinary working mom taking a brief respite from her intense every-two-hours breast-feeding schedule (albeit in her $11.8 million home in Malibu, where her neighbor is Matthew McConaughey). The next day she'll take a helicopter to MTV's Video Music Awards in Los Angeles, where she'll twirl above the crowd in her signature Cirque du Soleil–style acrobatics while performing "Blow Me (One Last Kiss)," a grrrl power song off The Truth About Love. The following morning the entire family flies to Europe as she starts her new world tour, and the following Saturday she'll celebrate turning 33 in Paris, where she plans to visit the Eiffel Tower and other sites. Then she's on to London, Germany, and Australia, and the three will be home for Thanksgiving weekend.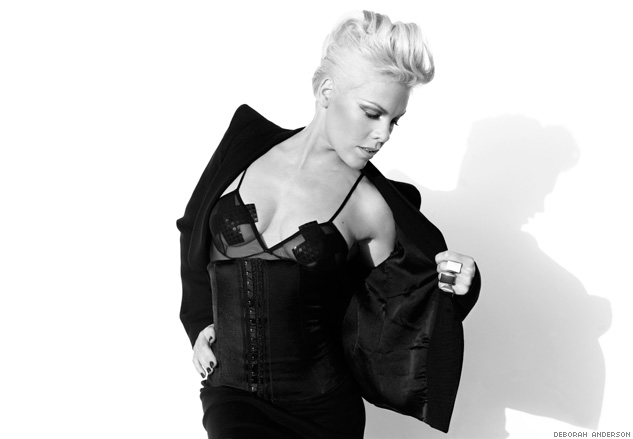 "We're just going to be a gypsy family traveling the road," she says. "The best thing is that all my band and most of my dancers and everybody, we've all been together for so long that I look at them now as my future babysitters." Pink says that tour time is like group therapy. "That's why I do it, because I know it's more important than what I'm wearing, it's more about what we're doing or what we're saying together, me and this audience."

Being a good public citizen is part of Pink's modus operandi, and it's reflected in her rousing new anthem, "Are We All We Are," written with her longtime collaborator Butch Walker. It's a rebel yell inspired by the Occupy Wall Street movement, with its "We are the 99%" sentiment echoed in the song's lyric "We are the people that you'll never get the best of."

Though she's a wealthy woman now, Pink, who grew up in Doylestown, Pa., says she understands the anger of working people in a shaky economy. "I just know that half of my family is pissed off, and we're all working-class people. My mom is a nurse, and my dad was an insurance salesman, and my brother works for pennies for the military, and some of my family is unemployed," she says. "My friend got laid off from her insurance company that she worked at for 15 years and she's a single mom with two kids. So yeah, I hear about it loud and clear."

That punk rock, outsider, anti-authoritarian attitude continues to serve Pink well, and she says she still identifies with people who struggle, including the poor, disenfranchised, and queer.

"People are like, 'You live in a fucking bubble, you live in Hollywood.' And I'm like, 'Yeah, I've got money now,' " she says, pausing for a throaty chuckle. But Pink says she feels at heart like a working-class kid, still tapped into what's going on outside the privileged life she calls "boob and baby." Pink says she's been surrounded by social justice causes her whole life — and she started her activism early, marching on Washington with her Vietnam veteran father when she was just was 3 years old. Apart from some years being self-absorbed ("I was being a fucking teenager, and I was living my life and trying to be a rock star and get my own shit together, and I kind of lost track of everything"), she's says she's been hungry for knowledge, connection, transparency, and justice.

"And it's always been sort of my game to see how far I can take [an issue] but also to make sure that what I'm saying is (a) totally honest to what I believe, and (b) worth putting out into the world."

On the ska-pop track "True Love" on the new album, the lyrics written by Lily Rose Cooper (formerly Lily Allen) and Greg Kurstin and sung by the two women create the perfectly knowing lesbian love ditty: "I really hate you so much / I think it must be true love." The lyrical attraction-repulsion sounds very confessional, the words of a woman who went through a highly publicized separation from Hart in 2008. They reconciled in 2009 and had their daughter last year.

Therapy, communication, and getting to the real issue behind their fights has been a key to their now-healthy marriage. "It's usually that you feel vulnerable, that you feel powerless, that you feel out of control, that you feel scared," Pink says of her fights with Hart. "I'm a pit bull, but I'm a toothless pit bull. I will totally attack, but I just really wanted you to rub my tummy. Why when I bite you do you not understand that I just want you to rub my tummy?" Of the worst fight she and Hart ever had, a six-hour-long, screaming pièce de résistance, Pink says she was "lawyering the shit out of the situation" until she halted abruptly. "I was like, 'You know what, will you just come here and fuck me?' " she laughs even now. "And he was like, 'Wha-wha-what?' I was like, 'Yeah! I'm done fighting, just come here and fuck me—that's all this is about.' He was like, 'OK!' "



The separation was chronicled, to comic effect, by her 2008 song "So What" (and the video in which Hart gamely starred). It became her best-selling single in the U.S.

"I've definitely gotten used to being uncomfortable," she says. "It's kind of my thing. I get a little embarrassed sometimes, but it goes away quickly because I get a kick out of sharing it. I know that I'm an oversharer and I always tell too much and I always take it that one step too far, but that's how I really am. I can't believe that people are still shockable."

She says that nothing really shocks her now ("I guess I have a lot of vulgar friends or something"), but a few years ago when News of the World published a fabricated story about her coming out as bisexual, she was indeed flummoxed. It wasn't that she was hiding her past relationships with women but that the she's so forthcoming it seemed unnecessary for News of the World to fake an interview with her for sensationalism.

"Honestly, I've never defined myself," Pink says. "I've never felt the need to. I still don't. It's just like how everyone's like, 'Well, what kind of music do you do?' And I'm like, 'I don't. I just do it.' And fuck it, if you can't understand it, I'm a mystery bag."

"The kind of world I live in and lived in," she says of days gone by, "was this sort of very open one. I was like a club kid. I was a little candy raver, and I am the kind of person that sucks the marrow out of the bones of life. Those days were really crazy and lots of all-nighters. And with a bunch of other kids that were trying to find themselves and have a good time doing it and get out from under their parents — and there was a lot of ecstasy. And as far as I'm concerned, when you're on ecstasy there's no such thing as definable sexuality. There is just love."

Pink laughs at the memories: "There's only love. That's all there is, and then, if you like it enough, you're like, God, they should give this out at the lunch line in school because then I'd really like my teachers and the whole world would make sense. And you know, then you get sober and you're like, Wow, I wore that? I dressed up as a bumblebee?"

The singer, whose swingy surf music–influenced mod rock title track "The Truth About Love" may be the first love song to mention the "smelling of armpits," says she still remembers all her girlfriends from her 20s.

"I loved my little girlfriends and we kissed and we had a great time and we held hands," she says. "When I first moved to Los Angeles, I was an honorary lesbian of Los Angeles. I wasn't gay, but all my girlfriends were. So no, it wasn't a big deal for me, but when [a tabloid] comes out and says, I just said I was bisexual, it's like what? That wasn't my truth, and I like truth. I like absolute truth."

The artist admits it's still easiest for her to be among a diverse circle of friends with all "kinds of different thought processes and sexualities…as long as everybody in the group is open-minded and doesn't judge anybody else, it's a lovely place to be—it's how the whole world should be."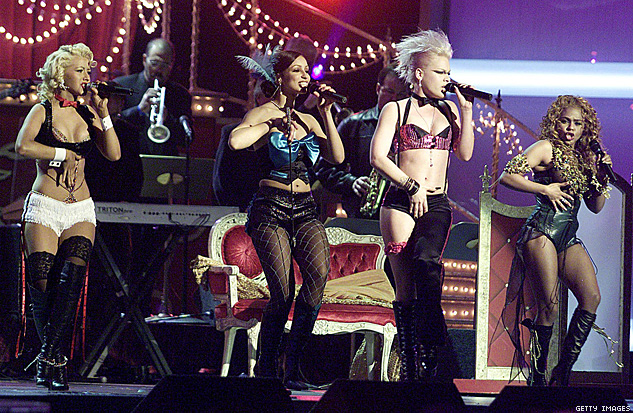 Christina Aguilera, Mýa, Pink, and Lil' Kim at the 44th Annual Grammy Awards in 2002
Pink still hopes for a time when sexual orientation is irrelevant to the media, when people stop caring whether a woman is bisexual and start talking about whether a woman's a CEO. But she admits that visibility, especially for LGBT youth, is critical. "I think it's totally important. I don't think every celebrity needs to have [a cause], I just think it's great when they do." Pink has supported the Human Rights Campaign, GLAAD, and YouthAIDS, among many other LGBT and non-LGBT charitable organizations.

She says she's gotten as much from her fans as she's given. When fans tell her they've experienced the same feelings she did, she's often stunned. "I'm like, Really? You went through the exact same thing I went through? I've become less lonely, and through it, they've become less lonely, and I think it's absolutely important that we're all sharing our experiences, because in [many places] it's hard to be gay. In a lot of places it's hard to be black, and in a lot of places it's hard to be female. I'm in California now, it's hard to be Mexican."

But living her life as a success story is vital to Pink: "It's important for people to be visible, living their life and living it well so that kids can say, 'I can do that. I look like that, I feel like that. I want to do that.' "

The rebel says she especially loves when someone broaches "an even more taboo subject" like depression. "Do I love it when someone's depressed? No. But I love when they talk about it."

The singer's new album certainly does talk about it. "Try," an '80s-influenced soft rock number, is self-help in harmony, a depression primer where Pink urges listeners to get out of bed, to keep going, to "get up and try." Her most hauntingly beautiful song, "The Great Escape" (written with Dan Wilson), could be a national hymn to a culture in which youth suicide and bullying are epidemic. In it she sings,

"I can understand how when the edges are rough / And they cut you like tiny slivers of glass / And you feel too much and you don't know how long you're gonna last / Everyone you know is trying to smooth it over / Find a way to make the hurt go away… / But I won't let you make the great escape / I'm never gonna watch you checking out of this place / I'm not gonna lose you because the passion and the pain are gonna keep you alive some day."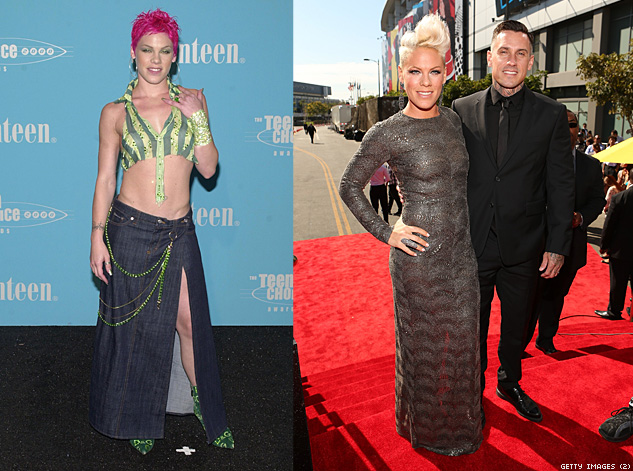 (From left) Pink in her 20s; Pink and Hart at the 2012 MTV Video Music Awards

Not everything on the new album is so heavy. On the album's wittiest song, the edgy "How Come You're Not Here," Pink channels Joan Jett, Janis Joplin, and Melissa Etheridge on speed. Her straightforward manner, expressive voice, and uncanny drollness have kept her relevant after 15 years on the scene, but her voice has never sounded better than on this song. "First of all, the reason my voice sounds so cool in that song is absolutely 150% the distortion," she interjects, laughing. "We were just inspired to go rock-and-roll. Great rock-and-roll songs are either revolutionary or political or about total heartbreak or just shit-talking. So…I talked shit for four minutes."

In "Just Give Me a Reason," she duets with Nate Ruess from Fun in a '70s-feeling ballad, and she collaborates with Eminem on "Here Comes the Weekend." But the most entertaining (and least radio-friendly) of her songs is the perfect pop–country-western hybrid "Slut Like You." In this song about female empowerment and owning one's own sexuality, Pink whoops, "You'll be my little friend / I got a little piece of you-hoo / And it's just like woo-hoo / Wham bam thank you ma'am / Woo-hoo, I'm a slut like you."

It's a song her LGBT fans are sure to get behind. Of course, she says lesbian and bisexual women in particular have always been there for her.

"They've been the most loyal part of what I do. They've been my most loyal friends, to be honest. I've had a lot of my gay boys around, but my gay girls are my rootstalk. They're my honesty in an ocean of bullshit. I should be gay by the way that I look and the way that I am. I just happen to not be. But it just makes perfect and complete sense."

Gay people constitute her core fan base, she says, appearing at every show. "But then over the years you kind of bring in [new] people that have never really embraced gay culture, and it's just this clusterfuck of people," she says. There are the "adorable little gay girl couples and gay boys, and then there's the older straight couple together" who enjoy the music and learn a bit of tolerance while they're at it. "I just feel like it's bringing people together and it's rad."

The "loyal love" she gets from lesbian fans is due in part to her iconography as well. Queer women identify with Pink, her strength, her persona, her mouthiness—and her dykey look. She's one of the few female performers even now to sport short hair, tattoos, and a butchy attitude.

"Fucking-A right!" Pink exclaims. "And we can be androgynous and be butch and be muscular and be one of the guys but also be feminine and beautiful and do all this crazy shit and talk shit. It's awesome."

CoverGirl appears to agree and has named her the newest face of the established beauty brand. The endorsement of the edgy and awesome says to Pink that she and all the honorary (and real) lesbians shouldn't change one bit. "It's like, 'Fuck you, world! We're awesome,' " she says, laughing. "I told you we'd get invited to the party one day!"
---
Links:
[1] http://www.advocate.com/
[2] http://www.advocate.com/print-issue/cover-stories