---
A Guide to What to Watch
By Sunnivie Brydum and Diane Anderson-Minshall
Originally published on Advocate.com January 18 2013 8:00 AM ET
In Movie Theaters Now: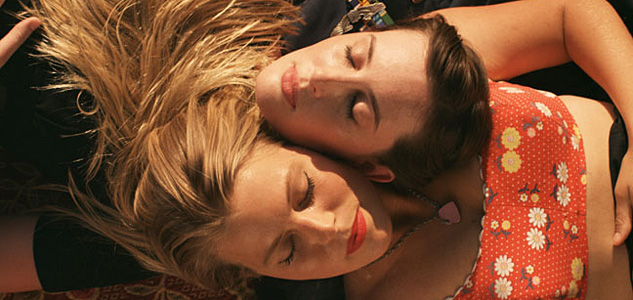 Fun, With or Without Pants
Queer filmmaker Drew Denny's debut feature, The Most Fun I've Ever Had With My Pants On, is a deeply personal, strikingly beautiful film. The film's main characters, best friends Andy and Liv, played by Denny and Sarah Hagan, travel the country to fulfill a father's dying wish. Denny wrote and directed the film after she cared for her own father as he succumbed to cancer. Pants On sets Denny squarely in our sights as an auteur to watch.



Love on The Battlefield
Yossi picks up where the heart-wrenching saga of director Eytan Fox's acclaimed 2002 drama Yossi and Jagger left off, exploring what comes next for the closeted gay Israeli Defense Forces soldier after the love of his life, Jagger, is killed in action. From Strand Releasing, the film opens January 25.
On DVD & Blu-ray:



The Perks of Writing a Screenplay
Acclaimed author turned screenwriter Stephen Chbosky's The Perks of Being A Wallflower stars Logan Lerman, Emma Watson, and out queer actor Ezra Miller, who garnered raves for his performance. Bonuses: Deleted scenes, commentary, and Best Summer Ever. Out February 12 from Lionsgate.



Coming Out Among Baptists
Director Stephen Cone's tender coming-of-age drama The Wise Kids stars Tyler Ross as out gay student Tim, who's trying to navigate growing up in a Southern Baptist community in Charleston, S.C., with his two best friends. Now available from Wolfe Video.



Life Is a Cabaret
To mark the 40th anniversary of Bob Fosse's Oscar-winning queer classic, Warner Home Video is releasing Cabaret for the first time on Blu-ray with a doc titled Cabaret: The Musical That Changed Musicals, and exclusive interviews with stars Minnelli, Michael York, and Joel Grey. Out February 5.



Lesbians and Elvis's Granddaughter
There's something so beguiling about Riley Keough, the daughter of Lisa Marie Presley and granddaughter of the King of Rock and Roll himself. In Jack & Diane, Keough (The Runaways) is one half of a teenage lesbian couple falling in love. Her girlfriend is played by indie darling Juno Temple, who since her 2000 debut has amassed 33 films, including seven slated to come out this year. The film portrays the intense passion between rambunctious soft butch Jack (Keough) and sweet-natured Diane (Temple) in a fast and furious summer fling during which Diane is besieged by changes to her body — a metaphor for the consumption of love — illustrated by body fluids, hair, blood, and in one dream sequence, a ravenous werewolf-like being. It's an apt metaphor for how young love swallows us up. Out now on Magnolia/Magnet.



Standing Up to the Bullies
Emmy Award–winning director Lee Hirsch's acclaimed documentary Bully capitalized on the national conversation about the harassment of kids perceived as "different." A massive social media campaign by teenager Katy Butler led the Motion Picture Association of America to reduce the film's rating from R to PG-13, so it was accessible to the audience it profiles.
Bully, which made the Oscar shortlist, shows why gay director Hirsch, a childhood victim of bullying, told The Advocate the problem should be addressed broadly: "You don't want a situation where you feel like you can only get support if you're gay." Out in February from Anchor Bay.


On Television Now:



Still So Unusual
She's been pop music royalty for three decades and an LGBT activist for almost as long, and now Cyndi Lauper is taking some chances by exposing her life on a new 12-part WE television series, Cyndi Lauper: Still So Unusual, which premiered in January. Don't expect Real Housewives, but there's chaos and drama nonetheless on Lauper's new series, which examines how she and her husband of 20 years, actor David Thornton (of The Notebook fame), and their teen son, Declyn, deal with juggling a rock star career and a healthy home life.



Lily Tomlin, Reba McEntire, and the Other Queer Eye Guy
Last fall ABC added two new out actors to its roster and seemingly a couple of openly queer characters to its lineup in one fell swoop. Malibu Country, a sitcom created by Dave Stewart (one half of the Eurythmics) stars country music legend Reba McEntire as a divorced country singer who moves her kids from Nashville to Malibu, Calif. Lily Tomlin, as her wisecracking, pot-smoking, sexually uninhibited mother, comes along.
McEntire and Tomlin together, says Stewart, are "fireworks." For the singer, working with Tomlin was "wonderful. She's just so much fun. She's down-to-earth. She's not a diva at all. She's not pretentious. She's always working on honing her craft and making sure that her character comes to life…I've learned so much from her."
Joining Tomlin is neighbor Sara Rue, who adds, at the least, some bi-curiosity (she tells McEntire's character about having slept with other women alongside her husband) and an on-screen stepson Sage, who is gay (or bi) as well.
For viewers, the best part is seeing Jai Rodriguez, of Queer Eye for the Straight Guy fame, as a recording industry assistant who becomes Reba's de facto career coach.
"He is an incredible actor," says McEntire. "Great in person to get to work with, and I smother him to pieces. He was doing Rent on Broadway when I was doing Annie Get Your Gun in 2001 on Broadway. It's really funny how our paths have run parallel for so long. I was auditioning the people for his role of the assistant of the record executive, and when he came in it was just clear he was the one for the part."



Gladiators Are Still Homoerotic
Spartacus, Starz's landmark series, is back with the conclusion of the saga, Spartacus: War of the Damned. The franchise has become the network's most successful and it now airs in 150 countries in more than 15 languages.
A few reasons: hot guys, Lucy Lawless as bi-sexy Lucretia, fierce battle action (with lightly-dressed fighters), and a fair amount of LGBT content. The gladiator-on-slave sex scenes between Agron (played by Dan Feuerriegel) and Nasir (Pana Hema Taylor) from last season are legendary; since Feuerriegel is confirmed to return, hopes are high for more ancient same-sex action.
Gay characters have been a staple of the sword-and-sandals saga since the show's earliest episodes, according to Gay.net's Jase Peeples, and their inclusion is a creative choice the series' creator and head writer, Steven S. DeKnight, fiercely defends. "One of the things to this day I'm still getting comments about is 'all the gay shit in my show' and people asking me to tone it down," says DeKnight. "I always say no. As far as I'm concerned, it's barely in there to start with, and it was part and parcel of that world and it's part and parcel of our world now, so I ignore that. If people want to stop watching the show because two guys kiss, well, I shrug my shoulders. That will always be in there."

Onstage Now:



The Bullying Conundrum
It's Gabe's senior year of college, and his future looks bright. But when a campus tragedy occurs, it ignites a firestorm and throws Gabe's world into disorder. That's the beginning of Teddy Ferrara, the newest play from Pulitzer Prize finalist Christopher Shinn (who The New York Times placed "among the most provocative and probing of American playwrights today"). Premiering in February at Chicago's Goodman Theatre, the play tackles antigay bullying in a complex and thought-provoking way. "There was lot on the news about bullying and suicide in the gay community with young people," says Shinn, "and I found myself thinking a lot about my own life, about my own experience, and took the opportunity to explore that part of me in a contemporary play about young people today."
---
Links:
[1] http://www.advocate.com/
[2] http://www.advocate.com/print-issue/current-issue