---
Destination: Berlin
By Matthew Breen
Originally published on Advocate.com November 01 2013 4:20 PM ET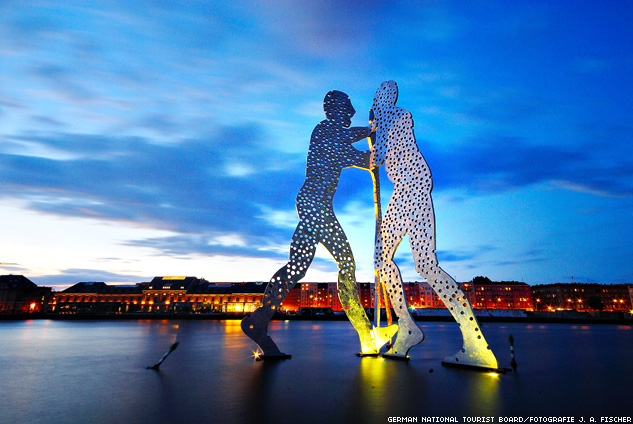 The 30 meter-high Molecule Men sculpture on the Spree River
My first trip to berlin was as a teenager. I was 14, spending a summer with family friends who lived in Munich—though then it was still West Germany. That car trip was in 1988, during the last gasp of the Soviet era, though no one knew that at the time. The driving route to West Berlin, an island in the sea of the communist German Democratic Republic, was along a highway lined with fences and patrolled by East German police and border patrols.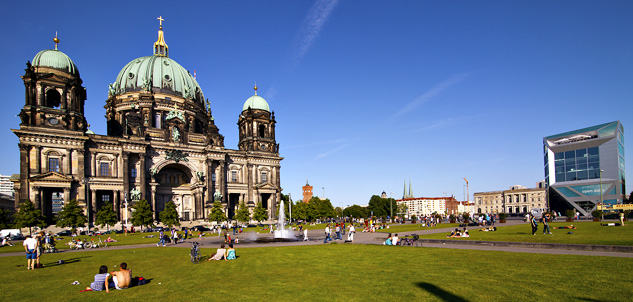 I remember the interminable wait at several border stops, the guard huts, the soldiers in their drab green uniforms carrying the kind of rifles I'd only seen in movies set in the 1960s. If intimidation was the goal, then mission accomplished. Once inside the western pocket of the city, the landscape was of a piece with the rest of West Germany, with busy cafés and restaurants, bustling street activity on the Kurfürstendamm shopping boulevard, people in museums and monuments, and construction cranes littering the skyline. The Berlin Wall, in spots where people could get close enough, was a riot of brilliant graffiti. On either side of it, a desolate, city-block-wide no-man's-land cut a long strip though the center of the city.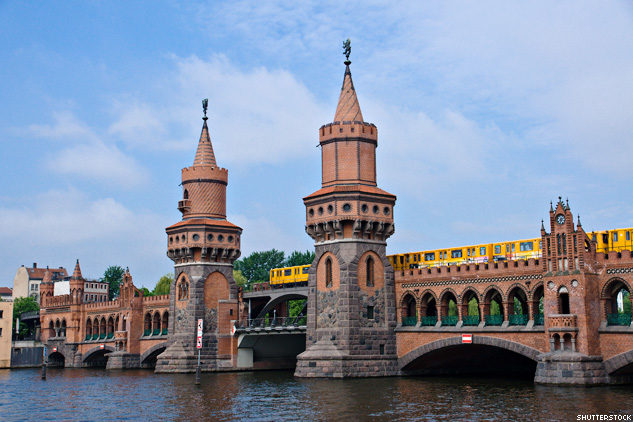 Oberbaum Bridge connecting the districts of Friedrichshain and Kreuzberg that were once separated by the Wall
About 12 years ago I visited again. My then-partner (now ex) and I were going to see his friend, who was starring in a fever dream of a musical: Falco Meets Amadeus, in which the ghost of Mozart haunts Austrian pop star Falco. We had just one day in the city. I barely had time to form an impression, though I noticed that even more construction cranes now crowded the skies. We left town at night, headed for Amsterdam, and got lost, driving in circles in our rented Citroën Picasso (a car that reminded me of a Star Trek: The Next Generation shuttle pod). The Wall was by now history, but the city was hardly reunified; stark differences between the former East and West were apparent. Even without referencing a map, when we spotted architecturally bereft cinder block buildings, I knew we'd ventured into the former East. The notable post-Reunification updates to the stern buildings were garish neon signs advertising kitchen appliances and Coca-Cola.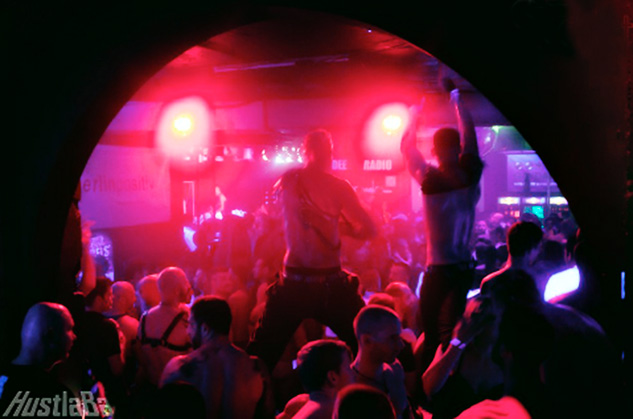 The HustlaBall Berlin at KitKatKlub
Berlin is a wholly different place than it was just a few short years ago, and the transformation of the city is fascinating. Each time I see the city it is through new eyes: first as a young teenager, then as an adult, and again twice in the past year—in winter and in summer, with more time on my hands to explore each of the city's textured districts.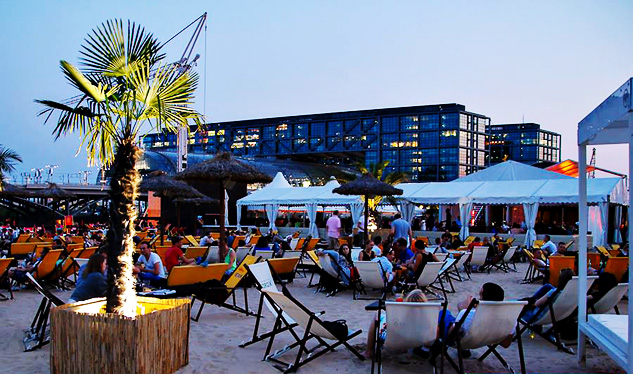 Gay Beach party near the Hauptbahnhof
Though none of the former East has persisted unchanged, elements of the neighborhoods as they once were inform the modern city. Even the light is different. Images from orbiting satellites show the city at night, brightly lit with vivid electric lights in the former West, while the East shows a softer yellow glow from gas lamps that have yet to be converted. The metro map shows the remnants of the Wall too. Though underground subway lines crisscross the West, the former East's transportation system never went below ground, and that side of the city is served by the small, quainter straßenbahn, or tram network.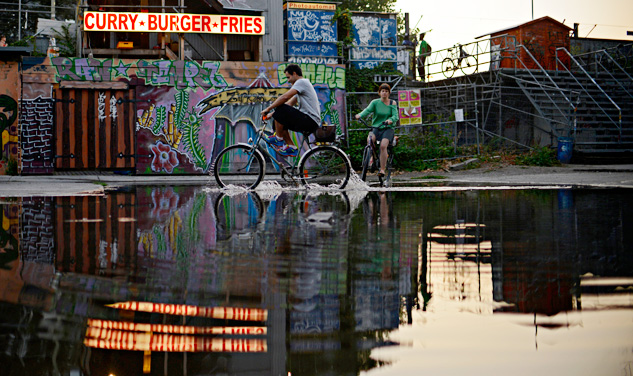 Möbel Olfe bar in Kreuzberg
Berlin's divisions inform its many modern dualities. The city is the center of government and mass culture, and the center of protest and counterculture. Though the infrastructure is in flux (the new Brandenburg airport has gone well past its expected completion date of 2010), it's still easy to get around, and a very visitor-friendly city. Unemployment is very high by national standards, yet the cultural offerings that have arisen from the craft of otherwise unemployed creative people—from all-hours clubs to impromptu art exhibits in warren-like alleyways and courtyards—have become a major draw for tourists, and economic engines in their own right. Buildings that had been abandoned for many years are now in quasi-sanctioned temporary use, so the party calendar and map shifts regularly, giving eternal novelty to many of Berlin's cultural offerings.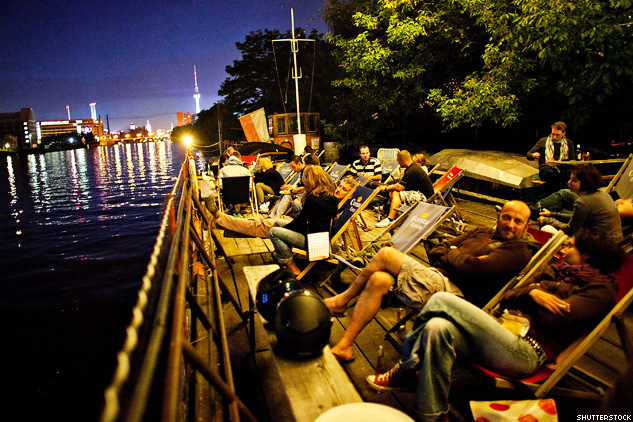 Taking any opportunity to enjoy warm weather, Germans gather at one of the outdoor bars facing the Spree River
Don't speak German? Don't worry. Long gone are the days when an American accent was remotely exotic. Americans have been living here in such great numbers for such a long time that we're a dime a dozen, and a recent influx of Brooklynites has caused some to christen the city "Berlyn."
Unter den Linder pedestrian mall in Mitte
MITTE
Each of Berlin's neighborhoods has a distinct personality and caters to a different crowd. Mitte is the center of the city and is composed of parts of the former East and West. That which wasn't destroyed in World War II abuts new high-rise buildings, including those that fill the former no-man's-land that surrounded the wall. Mitte is the site of the city's most familiar monuments: UNESCO Heritage site Museum Island, the Brandenburg Gate, and Alexanderplatz, where the Sputnik-inspired Fernsehturm ("TV tower") remains the symbol of the city and the tallest structure in Germany. The infamous KitKatClub (KitKatClub.org), location of the HustlaBall Berlin (HustlaBall.de), is in the Mitte district, and is a trance and techno dance club where anything goes and sexual activity (straight and gay, though it's more gay on the weekends) is encouraged. The only thing strict is the door mistress and her dress code—woe to you if you try to enter in jeans and a T-shirt. In the summer months, Gay Beach (GayBeachBerlin.com) is an outdoor nightclub and beach party right near the Hauptbahnhof (main train station), with sandy stretches, beach chairs, a dance floor, and cabana beds.
Nearby Tiergarten is the new site of the Schwules Museum (SchwulesMuseum.de), dedicated to Germany's gay art, prominent figures, and red letter dates. The museum has rotating exhibitions and archival holdings, and since its beginnings in 1985 has grown into one of the world's largest and most significant institutions for archiving, researching, and communicating queer history.

SCHÖNEBERG
Schöneberg has been the traditionally gay district since well before the reunification—and before the Wall. Motzstraße is the site of the city's Gay Pride celebrations, and was known as a gay-popular avenue as far back as century ago (Christopher Isherwood and David Bowie lived there). The street is now host to bars, cafés, sex clubs, leather couturiers, and purveyors of skimpy underwear, much of which caters to the more fetish-oriented crowd. Though younger gays tend to spend more time in the Kreuzberg district, many establishments here are veritable institutions: Bruno Gmünder, the publisher of erotica for men, has its flagship shop, Bruno's, (Brunos.de) there; Tom's Bar (TomsBar.de) is a classic cruising club with mazes; Butcherei Lindiger (Butcherei-Lindinger.de) makes kinky custom leather clothing; Heile Welt (Motzstraße 5) is a tightly packed but polite cocktail bar for meeting friends; Green Door's (GreenDoor.de) unimpressive exterior belies the craft cocktail bar's slyly quaint gingham interior; and Begine (Begine.de) is an arts and culture meeting point for queer women that hosts dance parties.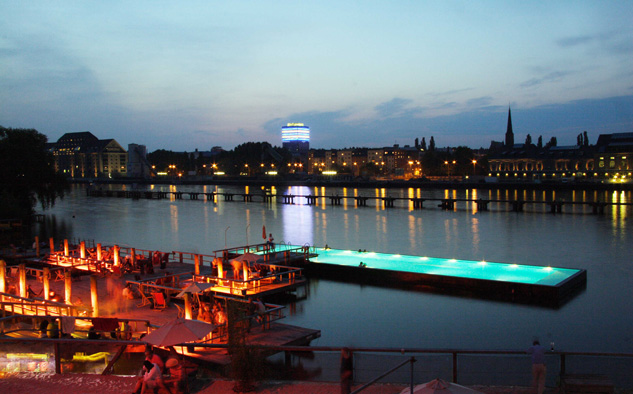 Germans gather at one of the outdoor bars facing the Spree River
KREUZBERG
Students, Turkish immigrants, and artists drive the gay scene in Kreuzberg. The district was a longtime hub for squatters and is marked by graffiti and street art—some of it gorgeous—and the notions of refinement and luxury are anathema to residents. The bars are often extremely packed and very casual, and stay open until the sun rises. Möbel Olfe (Moebel-Olfe.de) was once a furniture store, and on weekend nights is packed beard-to-beard with hirsute 20-somethings (don't go if some spilt beer will ruin your night or your outfit). The pink shag-carpeted kitsch jewel box of a bar Roses (Oranienstraße 187) is truly a must-see, and Schwuz (Schwuz.de) caters to under-21s with pop-themed nights. In summertime, Badeschiff (Arena-Berlin.de/Badeschiff) is a beach and pool that floats on the river Spree; it's men-only on Monday nights, and in winter it's covered and converted into a sauna.
Club Berghain (Berghain.de), located in a former 1950s power plant near the Ostbahnhof train station, is Europe's 800-pound gorilla of techno. Its name is a portmanteau of the names of the neighborhoods it straddles: Kreuzberg and Friedrichshain. The cavernous dance floor's ceiling is about 60 feet high, and the room has space for 1,500 guests of all stripes, but the provocative permanent exhibit of giant works by gay artist Wolfgang Tillmans and the labyrinthine space peppered with dark rooms make it clear that gays—and hedonism—rule this space. There's also Lab.Oratory (Lab-Oratory.de), a sex club in the basement.

PRENZLAUER BERG
This area has seen more changes than any district. A neighborhood populated by the working class and the very poor in the GDR days, Prenzlauer Berg became a site for illegal pop-up parties in abandoned or derelict buildings in the 1990s. Gentrification brought organic supermarkets, designer shops, galleries, families with children, and lots of money. But jabs at the modern moneyed in Prenzlauer Berg can be felt at flea markets, as well as at Pasternak (Restaurant-Pasternak.de), which offers delicious Russian dishes with menu names like "Proletariat" and "Peasantry" and features Soviet-style propaganda art on the walls. Kastanienallee is a see-and-be-seen avenue peopled with trendy shoppers, with plenty of sunny brunch spots in good weather. The beautiful Kollwitz Square is always busy, but especially so on Saturdays, when a large farmers' market takes over and organic butchers, fishmongers, and clothiers sell alongside vendors of flowers, fruit and vegetables, boutique chocolates, and folk art.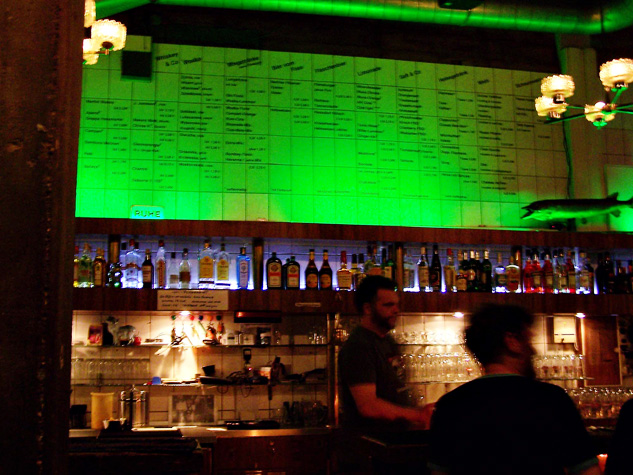 Möbel Olfe bar
FRIEDRICHSHAIN
It's Friedrichshain, in the former East, where I spent most of my last trip. The district oozes a counterculture sensibility and is only now becoming transformed by gentrification. The rough-around-the-edges vibe is a draw for students, artisans, and artists. The neighborhood is anchored by Boxhagener Square, and on sunny days the park is packed with tattooed 20- and 30-somethings lounging in the sun, drinking beers brought from home or nearby corner shops. Beer is a way of life in Germany, and consistent with Berlin's relaxed ethos, you can take your beer with you just about anywhere, including on the metro. Bohemian and alternative are terms that lose some specificity in our contemporary era that commodifies them, but they're virtually defined by the residents of Friedrichshain.
Bars, coffee shops, restaurants, and clubs lie in such concentration here that one barely needs a plan before heading out. Simon-Dach Straße, lined with colorful 19th-century buildings, is a prime spot for a happy hour, a genuine "bar mile." The 20 bars and cafés have room for 2,000 people to sit streetside for conversation and people-watching.
Food options are endless, including many Thai, Korean, and German restaurants. Datscha (Cafe-Datscha.de) serves incredibly lush borscht, and Mutzenbacher (Mutzenbacher-Berlin.de) melds Austrian-style cuisine with a hint of glammed-up Alpine décor. Himmelreich (Gay-Friedrichshain.de/Himmelreich) is a convivial queer locals' spot with lots of outdoor seating, cherubs dangling from the ceiling of the bar, and a ladies' night each Tuesday. Watch out for bicycles in this neighborhood; cyclists apparently don't much care for the idea that they should be kept to the streets. Pedestrians be warned.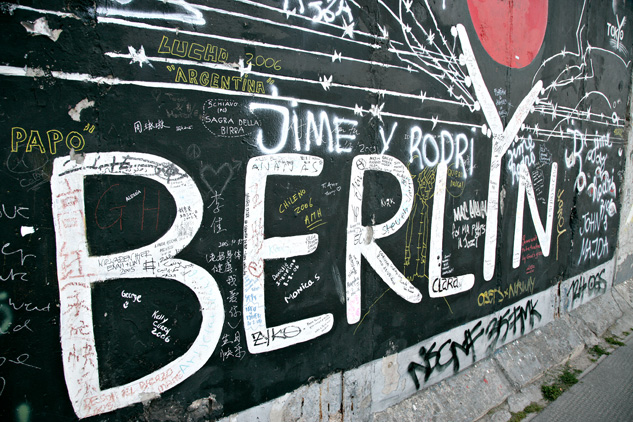 Berlin is approximately four times the size of Paris, just for the sake of scale, but it's easy to find a place to lay your head. Out in Berlin (Out-in-Berlin.com) lists LGBT-friendly accommodations, and Siegessäule (Siegessaeule.de) will help guide you to the best parties each evening.
The city is vast and diverse, and any trip will leave a pattern of impressions that make your Berlin distinct from anyone else's. The city has history, nightlife, dining, markets, parks, music (and tons of vinyl shopping), and imperial remnants (including in neighboring Potsdam), and I feel I've just scratched the surface. But this much is universal throughout the city: Germans love to gather in open places when the sun is shining, and the attitude is infectious and welcoming. Grab a currywurst and a beer, find a sunny spot, and let the day take you where it will.
Photos in article by Carsten Koall/Getty Images (beach bar); German National Tourist Board/Joachim Messerschmidt (cathedral); German National Tourist Board/Hans Peter Merten; Roman Holst (HustlaBar); Johannes Eisele/AFP/Getty Images
---
Links:
[1] http://www.advocate.com/
[2] http://KitKatClub.org
[3] http://GayBeachBerlin.com
[4] http://SchwulesMuseum.de
[5] http://Brunos.de
[6] http://TomsBar.de
[7] http://Butcherei-Lindinger.de
[8] http://GreenDoor.de
[9] http://Begine.de
[10] http://moebel-olfe.de/
[11] http://www.schwuz.de/
[12] http://www.arena-berlin.de/
[13] http://berghain.de/
[14] http://lab-oratory.de/
[15] http://restaurant-pasternak.de/
[16] http://cafe-datscha.de/
[17] http://Mutzenbacher-Berlin.de
[18] http://Gay-Friedrichshain.de
[19] http://Out-in-Berlin.com
[20] http://Siegessaeule.de
[21] http://www.advocate.com/print-issue/current-issue