---
Toronto
By Neal Broverman
Originally published on Advocate.com May 05 2013 4:29 PM ET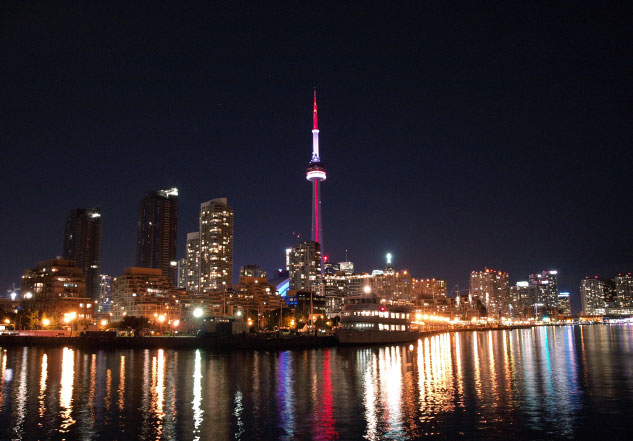 Photo: Courtesy Tourism Toronto
Museum hopping with long stops for wine and espresso, sharing a candlelit dinner 30 stories up, and stepping over cobblestones as streetcars clang by -- this could be a honeymoon in Paris. Or a romantic retreat in Toronto, a city of English speakers and marriage equality. With all the culture, walkability, and distinctiveness of neighborhoods found in London or Rome — albeit tidier and friendlier — Canada's largest city makes for an ideal urban honeymoon.
Most trips to Toronto begin at the Pearson International Airport, from which a cab ride takes you past the verdant Lake Ontario waterfront. The bucolic scene of joggers and cyclists soon transitions to a dense cityscape with buildings that gleam as if freshly scrubbed (regular rain helps). While many American cities are just beginning to see cranes return to their skylines, new towers are rising all over Toronto, lending a feeling of vibrancy and excitement.
Staying downtown puts you close to both the theater district (where The Book of Mormon is playing and an I Love Lucy musical arrives in the fall) and Toronto's Yonge-Dundas Square, which rivals Piccadilly Circus and Times Square for visual distractions. Many hotels in the city center (see sidebar) sit directly on top of the city's subway system and a vast underground mall.
While downtown is abuzz with construction and big business, Toronto's real personality shines in its more human-scale neighborhoods. The LGBT enclave, centered at Church and Wellesley streets, subbed for Pittsburgh's gay village in Showtime's Queer as Folk; Toronto''s rollicking Church Street makes for better television than the Steel City's Liberty Avenue. The six-block area will again get gussied up as Toronto prepares to host World Pride 2014 next summer.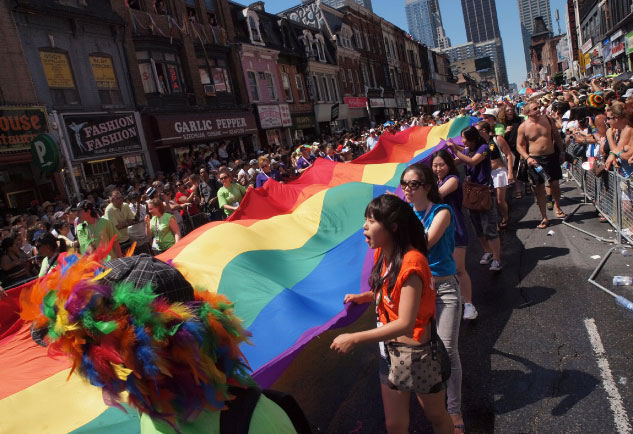 While Church and Wellesley is good for a drink and dance, the gorgeous West Queen West neighborhood, or "Queer West," is well suited for couples. The streets are lined with three- and four-level Victorian-style buildings that house art galleries, restaurants, and upscale coffee shops. The Drake Hotel is the welcoming center of the eclectic, artsy neighborhood, with musical performances in the basement. Nevertheless, the area's hipster vibe isn''t aggressive or off-putting.
While West Queen West got cool in the 1980s, the city's 13-acre Distillery District on the southeast side only came into its own in the past decade. Thanks to a massive redevelopment project, the once-industrial neighborhood is now stocked with locally owned boutiques, restaurants, and theater companies. The district's numerous pedestrian-only streets, with massive art sculptures, invite languid strolls.
From the Distillery District, King Street and its shiny red streetcars are only a few blocks north. Toronto's streetcar system is the largest in North America and makes for both practical and romantic transportation. You won't find a streetcar named Desire -- just bring that bit with you.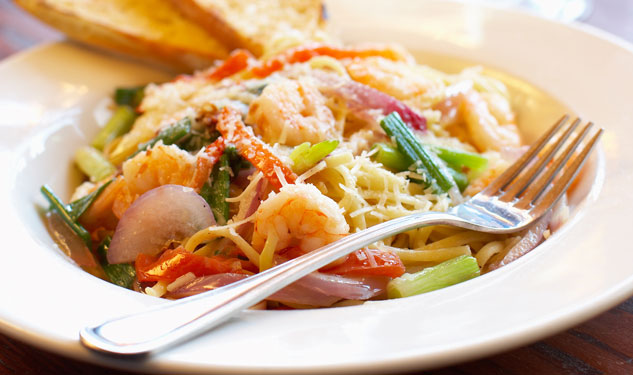 Eat
There is such a thing as Canadian cuisine, and it can be experienced at the award-winning Tundra restaurant (Tundra.Sites.Toronto.com). Try the branzini with a Tundra manhattan (bourbon, port, bitters, and maple syrup). Canadian influence is also found at Nota Bene (NotaBeneRestaurant.com), consistently ranked as one of Canada's finest restaurants. While Quebec is the best place to experience Gallic cuisine in Canada, one of the nation's top French restaurants is in Toronto: La Société (LaSociete.ca).
Stay
If you're looking for a place downtown, try the Hilton Toronto (Hilton.com/Toronto) and its 32nd-story lounge, or the Toronto Marriott Bloor Yorkville (Marriott.com), which occupies a prime spot on busy Bloor Street, on the route of the city's enormous Pride march. If you can't find a room at the Drake (TheDrakeHotel.ca) in West Queen West, try the nearby Gladstone Hotel (GladstoneHotel.com), with its 37 artist-designed rooms.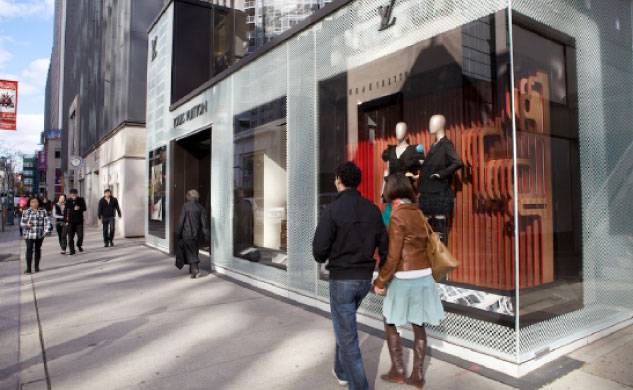 Play
There is every kind of bar, club, and museum in Toronto, but a singular experience can be found at the Bata Shoe Museum (BataShoeMuseum.ca), where you can see the history of sabatons -- armored footwear of the 15th century -- and stilettos.
Romance Factor
Who needs the Eiffel Tower when you can share a kiss at the top of the CN Tower (CNTower.ca), the tallest freestanding structure in the Western Hemisphere, or a meal at 360, the tower's restaurant in the sky?
---
Links:
[1] http://www.advocate.com/
[2] http://Tundra.Sites.Toronto.com
[3] http://NotaBeneRestaurant.com
[4] http://LaSociete.ca
[5] http://www.hilton.com/search/hi/ca/on/toronto?WT.srch=1
[6] http://Marriott.com
[7] http://TheDrakeHotel.ca
[8] http://GladstoneHotel.com
[9] http://BataShoeMuseum.ca
[10] http://CNTower.ca
[11] http://www.advocate.com/print-issue