---
PHOTOS: Students and Stars Shine at Point Foundation Benefit
By Daniel Reynolds
Originally published on Advocate.com September 11 2013 6:00 AM ET
Stars and students gathered at the Hyatt Regency Century Plaza in Los Angeles last weekend to celebrate Voices on Point, a musical fundraiser in support of the Point Foundation. The organization raised more than $400,000 during the evening, a record-breaking amount that will fund scholarships and help provide living expenses as well as internship and mentorship opportunities for LGBT students. Many Point Foundation scholars were in attendance at the event, sharing the stage and their stories, and illustrating the many obstacles they overcame due to the work of Point and its donors.
Richard Marx, Deniece Williams, Melissa Manchester, Alex Newell, and G.R.L were among the "on point" voices that rocked the evening, which honored songwriter and screenwriter Dean Pitchford (Footloose, Fame). The Advocate spoke with Pitchford, Newell, and many of the other luminaries in attendance, including Judith Light, Carmen Electra, Victoria Justice, Lindsay Arnold, Bai Ling, Wendie Malick, Greg Louganis, Taylor Bright, and Derek and Drew Riker, and asked them for their messages of encouragement for LGBT young people. In addition, the stars shared stories of the role models and mentors who helped guide them to success.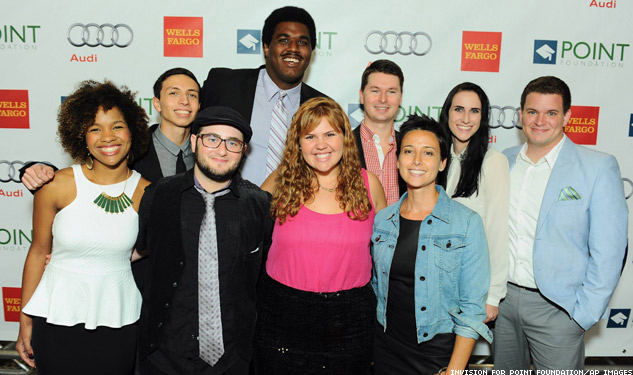 Point Foundation Scholars
Alex Newell – Glee, Geography Club
What brings you here tonight?
I'm singing and performing and letting my voice [be] heard! [sings]
What message would you like to send to LGBT young people?
It's what I always tell everyone — it's OK to be yourself. You don't have to try to be anyone else other than who you are.
Who is your role model?
My mom. And Beyoncé.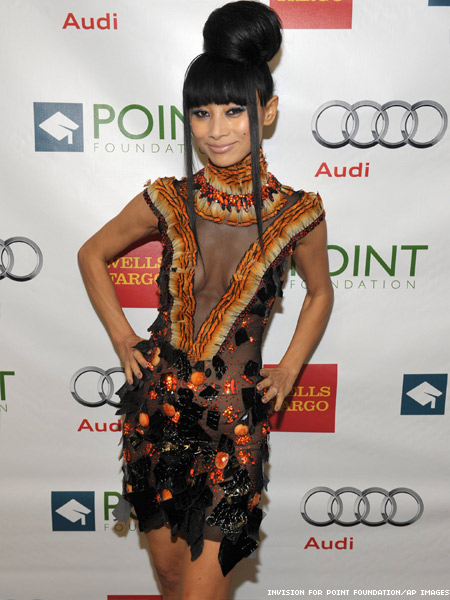 Bai Ling — Speed Dragon, The Crow
What brings you here tonight?
Education for kids, for students, for someone who has no ability or financial ability to move forward in their lives to the great stuff [so that they may] contribute to the world.
What message would you like to send to LGBT young people?
Be who you are. Keep moving forward no matter what kind of obstacles are in front of you, no matter what others tell you. Just follow your heart.
Who is your role model?
My grandmother. She loves me unconditionally, and that's something beautiful and nourishing. … A role model is someone you can totally trust. Someone who totally loves you.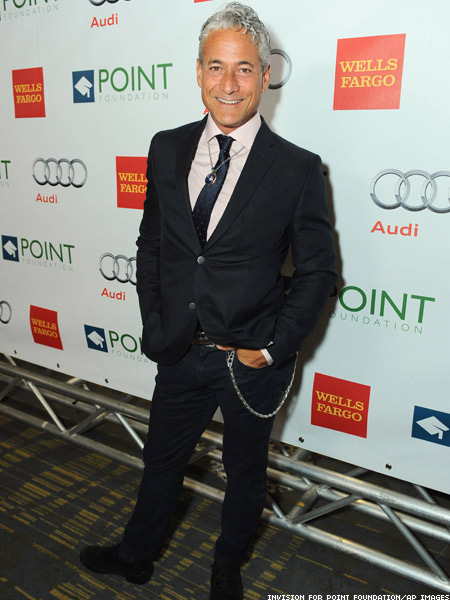 Greg Louganis

Who is your role model? What message would you like to send to LGBT youth?
Growing up, my mentor was my coach, Ron O'Brien, who happens to be straight. He accepted me as I am. Through all the trials and tribulations of difficulties growing up — being called "fag," "sissy boy," all that stuff — it really gave me strength. It showed me that I was a much stronger person than I ever dreamed that I could be. When you come from that upbringing and you have that type of empathy, it really is a tremendous strength and gift that these LGBT young people can have.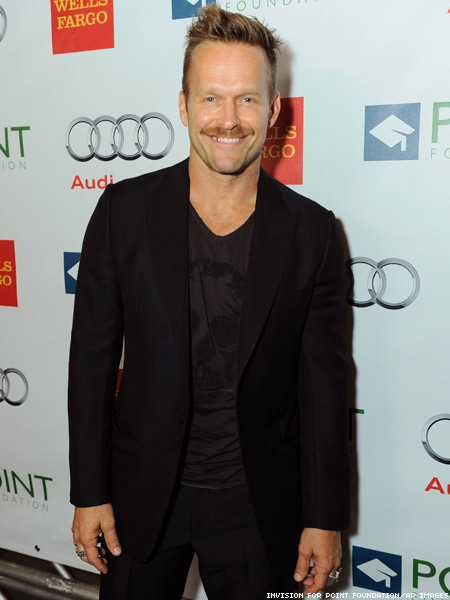 Ben Harper — personal trainer, The Biggest Loser

What brings you here tonight?
The Point Foundation. Being able to support kids, especially as they begin the next part of their life after high school. Giving them that kind of step in the right direction. I want to be here and be supportive of [that cause].
What message would you like to send to LGBT youth?
It gets better. You're able to get through this experience stronger and better, and I just want people to know that it's so much more of a positive experience the older that you get.
Who is your role model?
I love the fact that Oprah Winfrey is the first person that comes to mind. … She came from a place in her youth that was very dark, and she was able to flourish with her determination.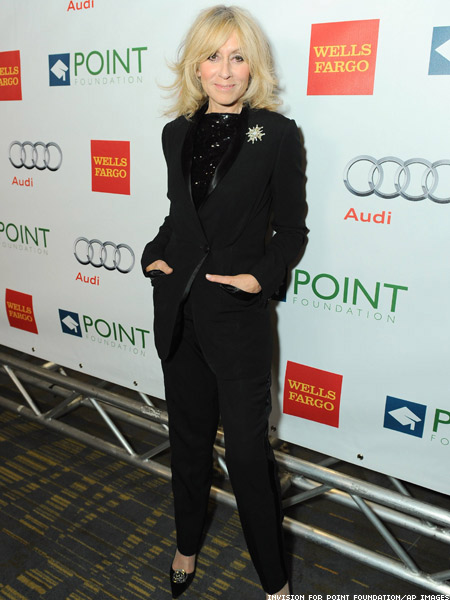 Judith Light — Dallas, Ugly Betty
What brings you here tonight?
I have a very strong belief in this organization. … What's been really important to me is that [LGBT youth] receives the kind of monetary support, emotional support, and mentoring that takes them up to the level where their potential is most flourishing. And without the support of the Point Foundation, many of our LGBT scholars can fall through the cracks. ... It's an essential organization.
What message would you like to send to LGBT youth?
Own yourselves. Know how magnificent you are. … Keep putting yourselves out there. Know that you're the leaders of now and tomorrow.
Who is your role model?
My manager, Herb Hamsher.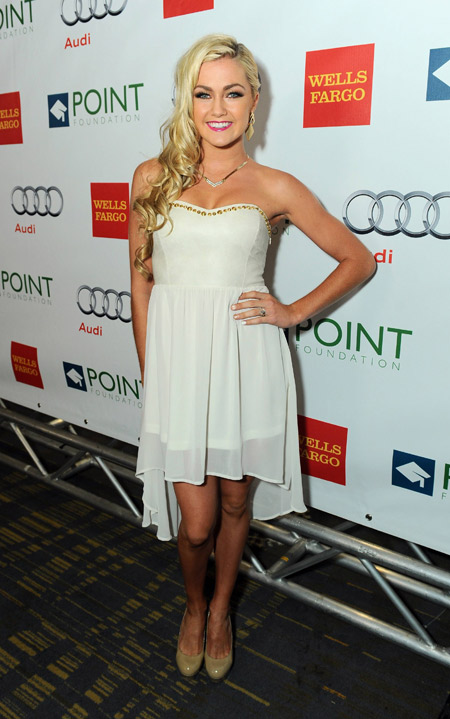 Lindsay Arnold, Dancing With the Stars
What brings you here tonight?
I'm actually going to be dancing with Alex Newell, so I'm really excited. He's going to be singing. I'm going to be dancing. And it's going to be really fun.
What message would you like to send to LGBT youth?
I'm just so happy that they have this foundation. It's such an amazing cause. ... Just being apart of everything that's going on tonight and everything they're supporting is so important to me. I'm so excited to be here tonight.
Who is your role model?
So many role models! I honestly couldn't even begin with one. A lot of my friends right now that I've made in L.A. are gay or lesbian. And it's been amazing to interact with them because they've come such a long way ... knowing they can be whatever they want to be, and be proud of it. So I look up to all of them a lot.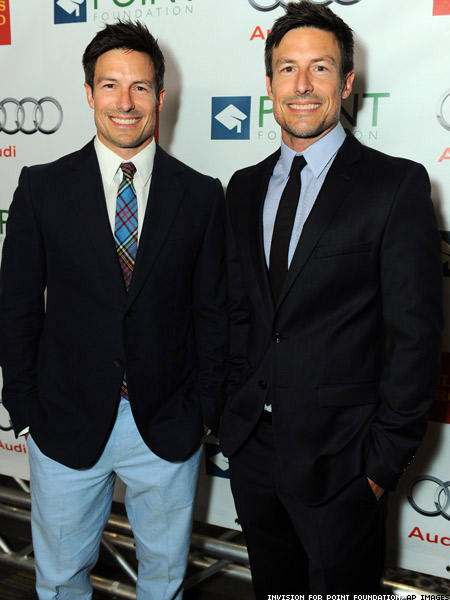 Derek and Drew Riker — fashion photographers, RikerBrothers.com

What brings you here tonight?
Derek: To shine a light on LGBT issues … especially with the Point Foundation and giving scholarships to LGBT students [and] mentoring these leaders so they can press on and keep the fight going.
Drew: It feels like the final frontier of civil rights right now. Things have been turning backwards in different parts of the world, and even in America we need to push really hard and get everyone behind it. It takes allies, not just gays and lesbians … you have to get everybody involved.
What message would you like to send to LGBT young people?
Drew: Be yourself and go after whatever it is you want. Don't let anything hold you back. There are people there to support you.
Derek: Don't be afraid to be yourself. Do what you want, and whatever your dreams are, you can do it.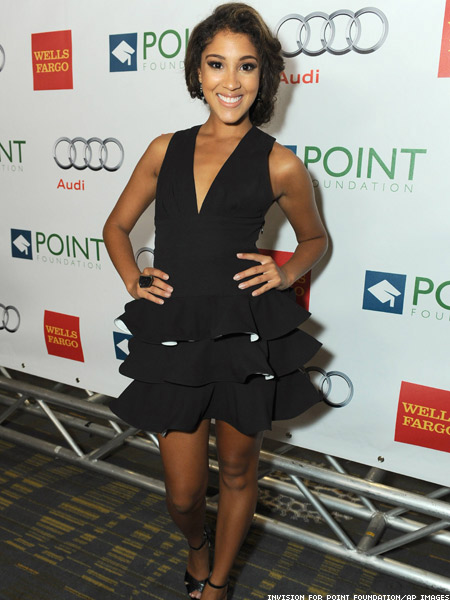 Taylor Bright — singer, TaylorBright.com

What brings you here tonight?
I am here in support of this cause. I'm a big supporter of the LGBT community. I believe in equality and supporting their academic futures. I think everybody here deserves the opportunities I have. I have a lot of friends that are part of this community, and I just want them to know that I support them and everything they do as well.
What message would you like to send to LGBT young people?
Believe in yourself, despite what people tell you. I think it's so important to have confidence in yourself. There are people here who really do believe in you. Work hard against everything that's pushing against you.
Who is your role model?
Dean Pitchford's here tonight, and that's pretty awesome, so I'm looking forward to seeing him. He's an amazing part of this community.
Victoria Justice — Zoey 101, Victorious
What brings you here tonight?
I am so excited to support this cause. I am a big supporter of the LGBTQ community, and I love the fact that they're encouraging education and giving away scholarships to gay youth. I think it's incredible, so I just wanted to lend my voice and show my support.
What message would you like to send to LGBT young people?
Stay true to yourself. Love who you are no matter what other people say. There's always going to be haters. But you're you, and you're beautiful, and that's who you're meant to be.
Who is your role model?
My mom! She is my hero, and I totally look up to her. She is such a strong, optimistic, smart woman, and I just love everything about her.
See a video of Justice saying "I love gay people" below.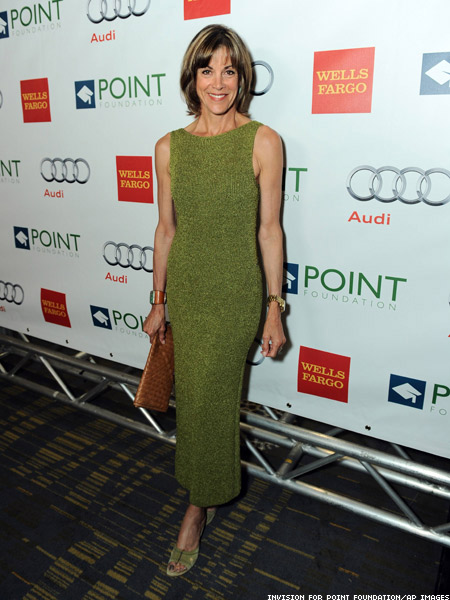 Wendie Malick — Just Shoot Me, Dream On
What brings you here tonight?
We just have to all get over ourselves and let everybody be who they need to… We have so many problems to solve, and we get bogged down in this minutiae that is just bullshit. I just am ready to get on with it.
What message do you have to LGBT youth today? Who is your role model?
Just hang in there, breathe deeply, and know that you are not alone. Gloria Steinem told me something very wonderful years ago — she's one of my heroines. We were at an event, and I said, when I grow up, I'd like to be like you. And she said, "Don't ever say that. There's room for all the voices at the table. You need to find your own authentic voice and that will be your strength."
I've held on to that ever since, and it's given me so much freedom to follow my own path and not try and emulate anybody else. So often, when we're younger, and even when we're older, we try and fit in to what's expected of us. Particularly, when you're a teenager and you're trying to find out, "What is my place in the world?" And when you get to the point when you realize, "I don't have to be like everybody else," that's the thing that will distinguish you. And that's the thing that will be your greatest, greatest gift and strength is just to spend some time quietly with yourself and ask, "What is it that I am destined to do?" Follow that, and fuck everybody else.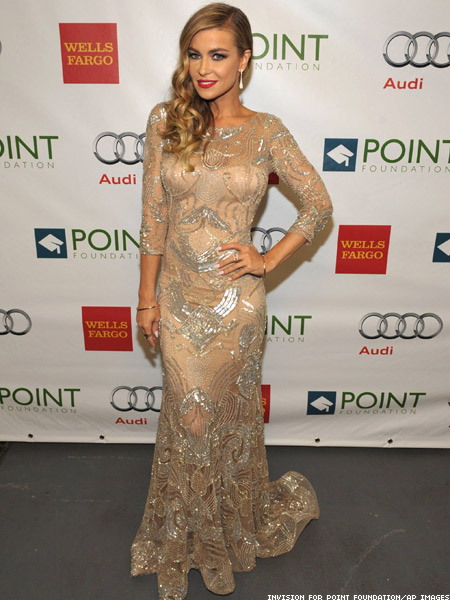 Carmen Electra — Scary Movie, Oy Vey! My Son Is Gay!
What brings you here tonight?
I've been a huge supporter of the LGBT community through close friends [and] through the way that I grew up. I went to performing arts school in Cincinnati, and it was very open. We were taught to express who we are and to be individuals. … Tonight, I'm very honored to be here to support the foundation and what they're doing to raise funds to support these kids who are being bullied and isolated and feel like giving up. [The Point Foundation] is giving them a chance to have mentors and get scholarships and get through college and have a support system. I'm here presenting, and I'm very happy to be apart of this.
What message would you like to send to LGBT young people?
There has to be haters. Everything has to have balance. There's love and there's hate. … Find the love, because you have a community of support. You do have that love. And as much as you can, ignore the hate. Believe in who you are, and find the group of people that love you. There's no need to waste your time around hate. I try to do that in my own life! I try and find the love.
Who is your role model?
Other than my mother … Martha Graham. She took classical ballet, classical dance, and brought emotion to the dance. She sickled her feet. She contracted. To me, she was the rebel of that era, as far as dance. I admire her for breaking the rules.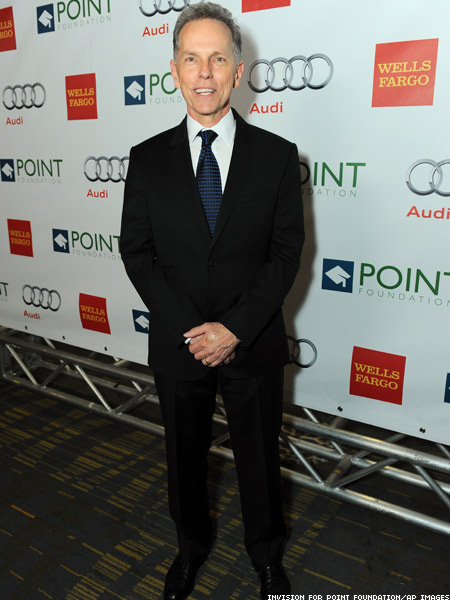 Dean Pitchford — songwriter and screenwriter, Footloose
What brings you here tonight?
"I have been asked to receive the Courage Award … my husband, Michael, and I have been supporting [Point Foundation] for a very long time. Michael was married before we got together and has two grown children. Together we have in-laws. We have grandchildren. We have lots of children in our lives. We've watched and seen a lot of them grow up. And I know — as a victim of bullying and the kind of upbringing you went through when you were gay in a small town in the '60s and '70s and '80 s — how much help is appreciated. We're just trying to do what we can."
What message would you like to send to LGBT youth?
I've always thought … that all it takes is two people to believe in you. Usually, one is in the family — your mother or an older brother or [another member] that believes in you. But then you need somebody outside the family, because usually young people think, What does she know? She's my mom. But if somebody else corroborates that opinion, then it's amazing. Just two opinions like that can turn a person's life in the right direction and send them off to incredible accomplishments.
Who is your role model?
My old friend Vito Russo. Vito Russo was a dear friend of mine. When I first got to New York, he became a mentor and was involved on marches, and he took me to ACT UP meetings, and I sat and listened to him scream at Larry Kramer and said, "I don't think I can take much more of this!" But those people who were doing this when there was no template for it. And Vito was one of those people.
---
Links:
[1] http://www.advocate.com/
[2] http://taylorbright.com
[3] http://www.advocate.com/point-foundation
[4] http://www.advocate.com/arts-entertainment