---
Jason Collins Comes Out, Twitter Reacts
By Sunnivie Brydum
Originally published on Advocate.com April 29 2013 3:53 PM ET
Since Sports Illustrated published its powerful op-ed this morning from NBA free agent Jason Collins proclaiming that the former Washington Wizards center is a proud gay man, Collins's name has been trending in Twitter's top five. The vast majority of the responses have been supportive, including those from a former president, the White House press secretary, filmmakers, and celebrities. But a few homophobes just couldn't let Collins come out without tossing in their own two cents in the form of 140 characters. Find a collection of some of the best reactions below, and click through to the next page to read what the haters have to say.
Speaking to the White House press corps, press secretary Jay Carney called Collins "courageous" and said the 34-year-old NBA veteran has the White House's support, according to the Associated Press. "We view that as another example of the progress that has been made and the evolution that has been taking place in this country," said Carney.
Fellow NBA star Kobe Bryant:
President Bill Clinton:
NBA commissioner David Stern posted a four-tweet statement supporting Collins:
The Washington Wizards, for whom Collins played center last season, also support their former teammate:
Chelsea Clinton, who first befriended Collins when they attended Stanford University together:
New York Knicks point guard Jason Kidd applauded his former teammate:
Kenneth Faried, who plays for the Denver Nuggets and recently announced he has two moms, also offered encouragement:
Out tennis star Marina Navratilova couldn't keep her excitement to a single tweet:
LGBT Ally and Minnesota Vikings punter Chris Kluwe:
Music and fashion mogul Russell Simmons:
LGBT ally Brendon Ayanbadejo, an NFL free agent who played for the World Champion Baltimore Ravens last season:
Out actor and father Neil Patrick Harris:
Bravo, @jasoncollins34! Thanks for stepping up. For standing tall. And at 7 feet, that's saying a lot.
But not everyone was celebrating Collins's announcement.
Deadspin captured this tweet from Miami Dolphins wide receiver Mike Wallace before the NFL player deleted the tweet below, and replaced it with an apology (following the screengrab below).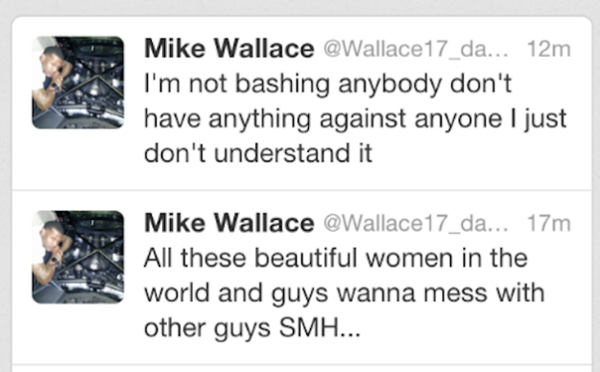 And infamous homophobe Peter LaBarbera, who serves as president of the antigay Americans for Truth About Homosexuality, of course sees Collins's statement as evidence of the irreparable moral decline of a nation of sinners:
Outside of Twitter, some antigay words came from sportscaster Chris Broussard on ESPN's Outside the Lines program today. "If you're openly living that type of lifestyle, then the Bible says you know them by their fruits," Broussard said. "It says that, you know, that's a sin. If you're openly living in unrepentant sin, whatever it may be, not just homosexuality … I believe that's walking in open rebellion to God and to Jesus Christ. So I would not characterize that person as a Christian." Broussard went so far as to make the statement in front of a gay colleague, commentator LZ Granderson. Watch video below, courtesy of ThinkProgress.
---
Links:
[1] http://www.advocate.com/
[2] http://sportsillustrated.cnn.com/magazine/news/20130429/jason-collins-gay-nba-player/#ixzz2RrzE6T12
[3] http://abcnews.go.com/Sports/wireStory/white-house-commends-jason-collins-coming-19066979#.UX7E-ysjrrQ
[4] https://twitter.com/jasoncollins34
[5] https://twitter.com/search/%23courage
[6] https://twitter.com/search/%23support
[7] https://twitter.com/search/%23mambaarmystandup
[8] https://twitter.com/search/%23BYOU
[9] https://twitter.com/kobebryant/status/328901917507989504
[10] http://t.co/4gbxjV1z7o
[11] https://twitter.com/billclinton/status/328903861307838464
[12] https://twitter.com/NBA/status/328902203379175425
[13] https://twitter.com/NBA/status/328902277303775233
[14] https://twitter.com/NBA/status/328902367657472000
[15] https://twitter.com/search/%23NBAFamily
[16] https://twitter.com/NBA/status/328902429078855682
[17] https://twitter.com/search/%23Wizards
[18] http://t.co/RJ46mXXGBo
[19] https://twitter.com/WashWizards/status/328906024528535552
[20] http://t.co/f1VQFSsSkJ
[21] https://twitter.com/ChelseaClinton/status/328887909522489344
[22] https://twitter.com/RealJasonKidd/status/328929863329259520
[23] https://twitter.com/search/%23ATHLETEALLY
[24] https://twitter.com/search/%23LGBT
[25] https://twitter.com/KennethFaried35/status/328912978055413761
[26] https://twitter.com/Martina/status/328907441746108416
[27] https://twitter.com/Martina/status/328907790569586688
[28] https://twitter.com/Martina/status/328914177588592641
[29] http://t.co/jvmVzBNJWW
[30] https://twitter.com/search/%23salute
[31] https://twitter.com/ChrisWarcraft/status/328903223161262083
[32] https://twitter.com/UncleRUSH/status/328892564084236288
[33] https://twitter.com/brendon310/status/328899763527364608
[34] https://twitter.com/ActuallyNPH/status/328926250641006593
[35] http://deadspin.com/mike-wallace-has-dumb-thoughts-about-gay-people-484560789?utm_campaign=socialflow_deadspin_twitter&utm_source=deadspin_twitter&utm_medium=socialflow
[36] https://twitter.com/Wallace17_daKid/status/328924437946712065
[37] https://twitter.com/search/%23tcot
[38] https://twitter.com/PeterLaBarbera/status/328931346498072576
[39] http://www.advocate.com/sports