---
WATCH: The Best From 6 Olympic Gay Divers
By Tiara Chiaramonte
Originally published on Advocate.com December 05 2013 8:04 AM ET
Five gay divers competed in the Olympics before Britain's Tom Daley. From gold medalists Greg Louganis of the United States to Matthew Mitcham of Australia, and more, here's a look at their best dives.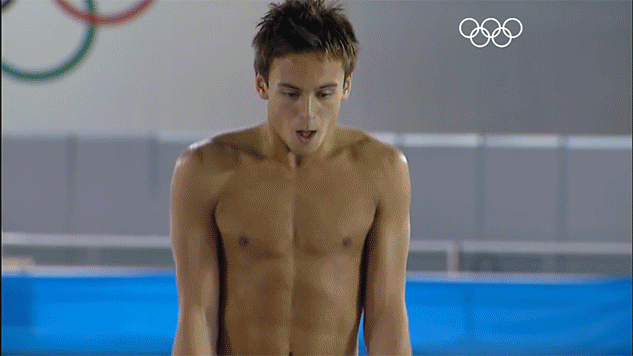 Britain's Tom Daley
The 10m dive that won bronze for Daley at the 2012 London Olympics has to be the most important of his career — so far. Now Daley is training for the 2016 Olympics in Rio. As he explained in his recent coming out video on YouTube, "I still want to win an Olympic gold medal in Rio 2016 for Great Britain. I am still as motivated as ever to do that, and it would be great to have you guys on that journey too."
American Greg Louganis
After winning two gold medals for the U.S. in the 1984 Olympics for the 3m Springboard and the 10m Platform, Greg Louganis returned for the 1988 Olympics in Seoul to win both again.

Venezuela's Jhonmar Castillo
Castillo competed in the 1988 Seoul Olympics for Venezuela and has won 14 international diving competitions. Here he's at the U.S. Nationals in Miami University diving the 1m springboard inward with a 1 1/2 pike position. While in Seoul, Castillo witnessed gay Olympic legend Greg Louganis hitting his head during a dive. "When Greg hit his head [on the diving board,] that was like God hitting his head," Castillo said. "When he hit his head, it impacted everyone else's dives because there was Greg, and then the rest of us."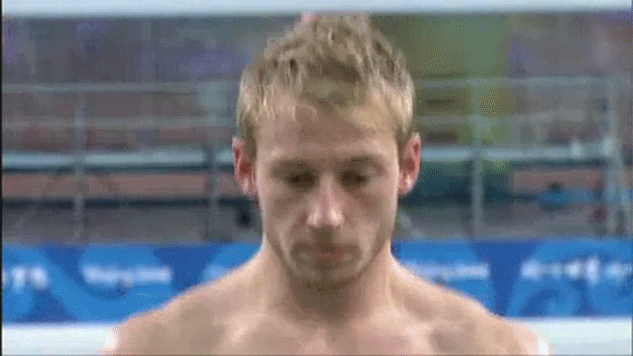 Australia's Matthew Mitcham
At the 2012 London Games, Australian Matthew Mitcham placed 13th in the semifinals and narrowly missed qualifying for the finals. But his 10m Platform dive from the 2008 Beijing Olympics won gold, and you can see why.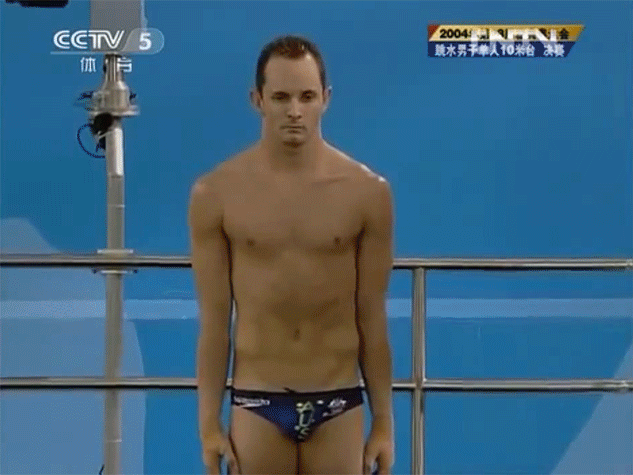 Australia's Matthew Helm
Mitcham isn't Australia's only out Olympic diver. Matthew Helm was actually the country's first diver to compete while openly gay, and he won the silver medal for this dive in 2004 for the 10m platform.
American Patrick Jeffrey
Patrick Jeffrey competed at the Summer Olympics in 1988, then he came out before returning for the 1996 Olympics. He coaches diving at Florida State University. Since he started in 1999, the diving team is by all accounts a dominating force in the Atlantic Coast Conference.
---
Links:
[1] http://www.advocate.com/
[2] http://www.advocate.com/sports/2013/12/02/transcript-and-video-olympic-diver-tom-daley-comes-out
[3] http://www.windycitymediagroup.com/lgbt/Former-diver-impacts-through-TV/43017.html
[4] http://www.advocate.com/greg-louganis
[5] http://www.advocate.com/matthew-mitcham
[6] http://www.advocate.com/tom-daley
[7] http://www.advocate.com/sports