---
An LGBT-Friendly Ice Kingdom
By Diane Anderson-Minshall
Originally published on Advocate.com December 21 2012 5:00 AM ET
After two decades in northern climes, it took moving to Southern California to get me on ice skates — and I can thank the Queen Mary, the ship that on her maiden voyage in May of 1936 was considered the grandest ocean liner ever built. The intrepid liner is now permanently docked at the Port of Long Beach, Calif., and for 51 magical days in winter it has brought an ice-and-snow extravangaza to the Los Angeles area.
Chill at Queen Mary offers a quaint and fun holiday day trip for LGBT families who want to go beyond Santa, elves, and carolers. The Ice Kingdom at Chill is a giant, living igloo turned ice sculpture gallery made from more than 2 million pounds of ice. As you enter, workers give you parkas to help you withstand the Kingdom's 9-degree temperatures. Inside you'll find a a spectacular gallery of giant ice carvings created by Chinese artisans — everything from pandas and Santa to the Christmas Nativity scene — all reminiscent of work from China's Harbin International Ice and Snow Sculpture Festival, a famed annual winter event that draws people from around the globe.
"The only thing this exhibit has in common with traditional ice carving is ice," said Steve Sheldon, director of entertainment events for the Queen Mary. The hardest part, says Sheldon, was keeping the 36 truckloads of ice under freezing condition so the artists, many of them veterans of the Harbin Festival, could spend three weeks building the kingdom. "Unlike our beautiful Long Beach climate, the Harbin Festival is held in an area where subfreezing temperatures are normal," he said. "Keeping our ice intact for sculpting and coloring is critical and requires constant monitoring and the installation of special equipment to ensure Arctic conditions at all times."
The hard work paid off, as each day hundreds of visitors — including more than a few same-sex couples with kids, if my visit was any indication — "awwed" their way through the entire holiday village, featuring not only the Ice Kingdom, which includes a slide around a replica of the Queen Mary's bridge and a walk-through Fairytale Castle, but also a 100-foot-long Ice Tube where everyone speeds down an ice hill at terrifyingly fun speeds that replicate sledding. Outside there's a 6,500-square-foot ice skating rink that's perfect for skaters of all ages, because they have small ice-friendly plastic seals that first-time skaters (or, ahem, middle-aged ones) can push around for balance. I probably saw more lesbian couples with kids on that ice than I did at Pride last year.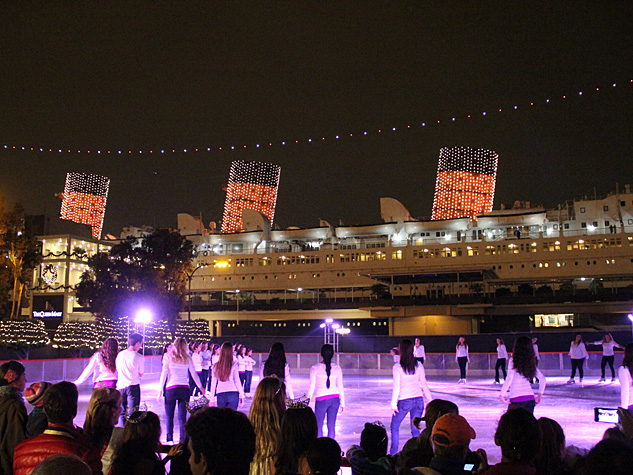 Woven around the entire event area is a holiday village where you can take photos with Santa, watch stilt walkers or other entertainers, decorate gingerbread houses, buy campy (and delicious) holiday fare, walk through tons of faux snowpeople, and send a letter to Santa via a North Pole mail drop (no word on what happens to attendees' letters after Christmas, but I'm sure the Queen Mary staff has a plan).
There are specials for military members and accomodations for school groups and disabled attendees, and if you buy tickets to any of Chill (ticket prices are separate for the Kingdom, sledding, and ice skating), you get a day pass to the Queen Mary, which has several exhibitions (recommended: the renowned Diana: Legacy of a Princess show), some award-winning eateries, a museum, 17 amazing art deco salons, and a tri-level, 45,000-square-foot exhibit hall. The boat, whom everyone refers to with female pronouns, is said to be haunted too, but you may have to stay overnight at the Queen Mary Hotel to find out.
Long Beach is an easy day trip from anywhere south of Santa Barbara and just an hour from Los Angeles, and the city has plenty of LGBT-friendly bars and restaurants as well if you want to make it an overnighter. For more info on local LGBT resources, check out The Center.
---
Links:
[1] http://www.advocate.com/
[2] http://www.queenmary.com/chill
[3] http://www.centerlb.org/
[4] http://www.advocate.com/travel