---
The Big Ideas of 2013
By Michelle Garcia
Originally published on Advocate.com December 18 2013 1:47 AM ET
This year was undoubtedly a banner year for LGBT people in the U.S., as the Supreme Court struck down part of the so-called Defense of Marriage Act, and people came out all over the Internet. But so many events that captured headlines and eyeballs had a larger context than bite-size chunks typically relegated to Year in Review types of news recaps. Here we look at the big ideas that captivated us in 2013 and how they will drive what happens next year.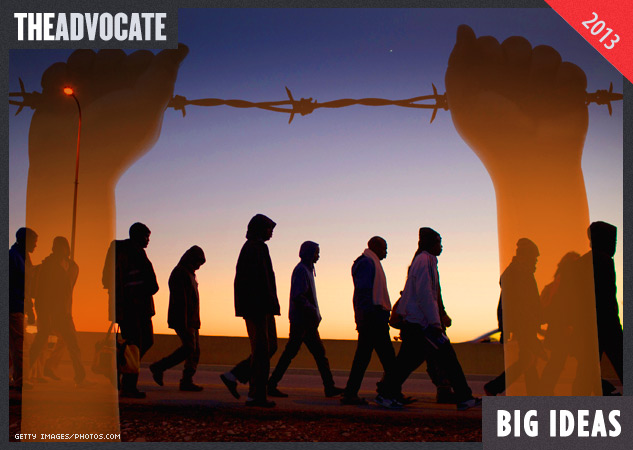 Immigration Is an LGBT Issue
For nearly five decades, anyone applying for a green card in the U.S., would be required to disclose whether they were a "sexual deviant." If the person's answer was "yes," the applicant would not be welcome in the States. While that question was dropped from the green card application, it wasn't until this year that the Supreme Court's decision striking down a section of the so-called Defense of Marriage Act made it possible for immigrants in same-sex couples and their families to enter the U.S. just like their straight counterparts.
Still, this doesn't mean that the work is done on immigration.
Rachel Tiven, executive director of Immigration Equality, says that while her organization receives many more happy phone calls than it did a year ago, requests for asylum are still increasing. In fact, since Russia instituted its notorious so-called gay propaganda law in the summer, the number of requests for asylum in the United States from Russia and former Soviet nations has increased by 366%.
"For so long, our number 1 country for asylum had been Jamaica, we have an enormous number of people from Jamaica who are fleeing terrible antigay persecution," Tiven says. "We knew that the situation was bad when Russia knocked Jamaica out of line in our monthly hotline intake statistics."
The problems for LGBT immigrants don't stop there. Tiven says that detentions and deportations have skyrocketed during the Obama administration, putting vulnerable populations at risk of violence, harassment, and extreme treatment.
"More people have been detained without a lawyer in the last few years, than in the last 100 years combined," she says. "We have an epidemic of detention and deportation. Applies to many many people, but the vulnerability of LGBTs particularly transgender immigrants in detention, is unfortunately unique and extreme."
National Center for Transgender Equality executive director Mara Keisling says that the attempts to improve detention conditions for transgender women and gay men, in particular, have been largely inadequate. After a meeting with a senior immigration detention official, Keisling says she was shocked to learn the conditions most transgender women and gay men were subjected to.
"One of the things that happens is that when a gay man or a transgender person goes to detention, they go to solitary confinement automatically, because of this misguided understanding that, 'Oh, we can't put them in with the general population,'" Keisling says. "And so we had this moment where this [detention official] says, 'Well, we've reduced the problem because we've gotten it down from more than 100 days to 28 days.' But even then, science — the psychological, and medical field — sees this as torture. And then his assistant says, 'Actually, that's true for everyone except gay men and trans women. For them it's nine and a half months.'"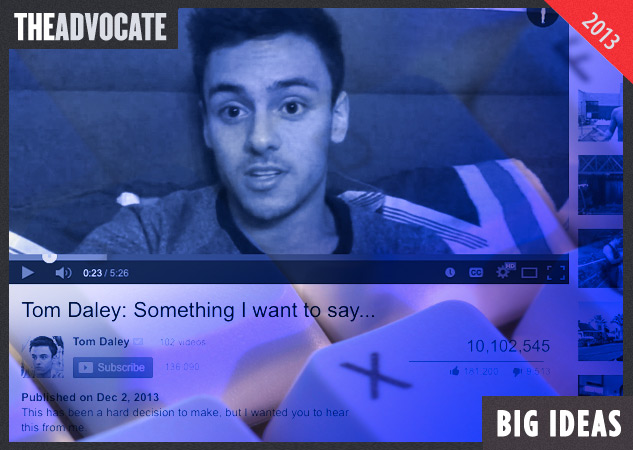 Coming Out Has Become a Social Experience
There were plenty of notable comings-out this year; most prominent was that of Jason Collins, the NBA player who came out on the cover of Sports Illustrated in a lengthy piece that he penned to share his journey. While every coming-out is an important and personal journey, not every one has the cachet or the desire for such an announcement. In some cases, celebrities, athletes, and regular Joes and Janes took to social media to announce to loved ones and the world to come out. About a month after the Supreme Court ruled on the Proposition 8 and DOMA cases, Raven-Symoné tweeted that she was proud of the government for allowing her to get married. And then, of course, Olympic diver Tom Daley hopped on YouTube to share that he was dating a man (who turns out to be Oscar-winning screenwriter Dustin Lance Black).
However, there was also Michael Drougas, who tweeted his coming out to tennis teammates and the rest of the world, as well as Michael Gorlick, who filmed a 45-minute documentary capturing every moment he told a friend or family member, for the first time, that he is gay. He is not the only one. In fact, as of Tuesday, there were 442,600 videos on YouTube that were labeled as "coming out" and either "lesbian," "gay," "bisexual," or "transgender."
Sure, one could make a cynical point about young people being raised on reality TV and Facebook. But there is another side; for instance, Gorlick says he felt motivated to document his coming out to create a resource for others who need encouragement to come out.
"I wanted to create something for those who are suffering in silence and feel like an anomaly," he wrote earlier this month. "There are people out there who feel depressed, and don't feel good about who they are. I know, because I was in that space for so long. I am so grateful that thousands of people cared to see my journey out of the fogginess of depression and into the light of self-acceptance. Change is never easy, but if I can be that friend who shows that you can get through it, I am happy to be him."
Transgender Children Introducing People to the Trans Rights Movement
There has not been a year when transgender minors have been more prevalent. As more parents have become better educated about what it means to be transgender, many of them have provided a comfortable atmosphere for their children to express themselves with the gender they feel is natural. As Mara Keisling, executive director of the National Center for Transgender Equality, points out, the first advocates for transgender children are often their parents, who are now more prone than ever to encourage them to live openly and comfortably.
So whether it's Jeydon Loredo, who successfully fought for his right to wear a tuxedo in his high school yearbook, or grade-schooler Coy Mathis, who had to fight just for the right to use the girls' bathroom (and won), these kids are all backed up by parents, siblings, and other family members who support them.
And as those children's stories make headlines in news outlets around the world, more people see how being transgender is innate. It's something that a child can see in themselves as young as 4 or 5, and maybe even younger. These children become living, breathing illustrations of the struggle to understand one's identity while also offering real examples of how transgender people are discriminated against for things as trivial as where they use the bathroom. This, of course, also puts transgender children and teenagers in a vulnerable position, like that of the unnamed 16-year old Jane Doe in Colorado, who is being attacked by adults and other students for using the girls' bathroom in her high school.
"I think our kids are being attacked more because our kids are stepping out more," Keisling says. "But I think that has caused non-youth to really realize that [anti-LGBT activists] are not above hurting children."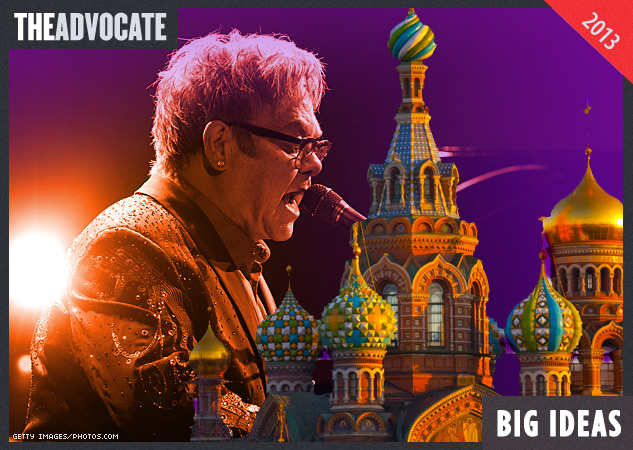 We Have to Keep Confronting Russia
Earlier this year, Russia's government enacted a law that criminalized any so-called propaganda that could be viewed as being supportive of LGBT rights.

At first, some organized a dump of all Russian vodkas and other products. Though some debated the effectiveness of such a boycott, the move was at least symbolic, and it got people around the world talking about human rights in Russia. Wentworth Miller declined an invitation to a Russian film festival because he is gay (a revelation in and of itself). Conversely, Thomas Roberts and Elton John both said they felt compelled to go to Russia this year in solidarity with the country's LGBT population.

"At my concert, I made a statement, directly to the audience, about how sad, shocking, and isolating this new law seemed to be," John wrote in The Guardian this month. "A young woman with a rainbow banner cheered. I realized then, with thousands of Russians cheering for a man they knew to be gay, that I had made the right decision. I believe the Russian people are decent and will be persuaded — but they need to hear us, and see we are human."

Roberts, who was invited to host Donald Trump's Miss Universe pageant in Moscow, told The Advocate he wanted to go to Russia because it was "such a large visible opportunity." He added, "I thought this was a fantastic opportunity for people to learn about me being openly gay and marriage and my husband being with me, and send a strong message."

Both Roberts and John said they met with LGBT Russians to understand more about their living situations and to learn more accurately about the conditions in Russia, and to understand how outsiders can help them.

However, last week, German president Joachim Gauck and European Union commissioner Viviane Reding said they would not head to the Winter Olympics in Sochi, Russia, specifically because of the antigay laws. And then Tuesday, the United States government announced its delegation to the Olympics. The delegation will not include the president, vice president, or first lady, all members of the delegation for the 2012 Olympic Games in London. Instead, lesbian tennis star Billie Jean King and Caitlin Cahow, an out Olympian hockey medalist, will represent the States in Sochi.

The reality is, each method — boycotting and confrontation — effectively condemns Russia for the law and subsequently violent acts against LGBT people. It just depends on who is doing what. When the president of the United States decides not to show up for an international event like the Olympics, that sends a significant message. Purposely sending prominent LGBT people to represent the United States to a country where being openly LGBT is seen as essentially illegal is also a significant message that shows we're not going to cower in fear.
"A number of celebrities have recently declined to go to Russia, some for fear that it is unsafe," John wrote. "But I say to my friends — we all owe our freedoms to people who took risks with their safety for us, and faced far greater dangers than those confronting a western artist in Russia. Freedom is worth taking a risk for."
The next people to take a risk are a group of athletes who are raising money to go to the Olympic Village, where they plan to stage a kiss-in during the Sochi games in February. They know they will be risking arrest. But for them, it's a risk worth taking.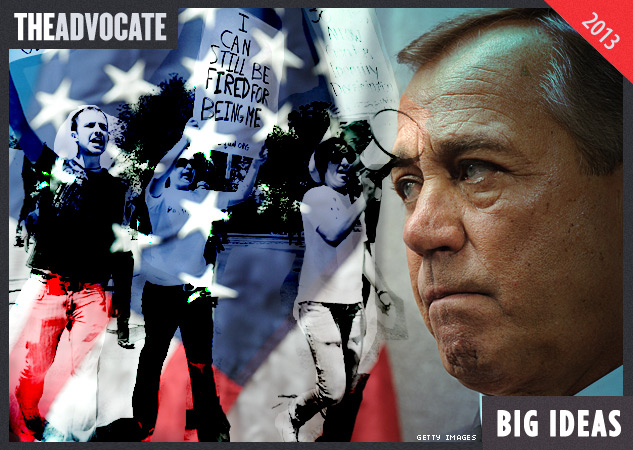 Republicans Are Integral to Passing ENDA
After decades of attempts to pass legislation to ensure that LGBT people cannot be fired for simply being themselves, the U.S. Senate approved such a bill with bipartisan support (and support from a majority of voters too). Ten Republican senators voted in favor of the Employment Non-Discrimination Act in November, making the GOP-majority House of Representatives the last hurdle in enacting this law, since President Obama has said that he would gladly sign the bill.
Aside from ENDA being policy that protects LGBT workers, it is not exactly the sort of legislation that Republicans would automatically rally around. ENDA would add regulations for employers, enable workers to sue on the basis of discrimination, and possibly tamp down on biased actions by religious organizations (typically framed as "religious exemptions").
But America's biggest businesses might be able to sway Republicans with the fact that many already volunteer to not only protect current and potential employees from discrimination but also extend same-sex-partner benefits to employees in states where they don't necessarily have to. According to the Human Rights Campaign, 91 percent of Fortune 500 companies protect employees against discrimination on the basis of sexual orientation, and 61 percent on the basis of gender identity.
Tico Almeida, the founder and president of Freedom to Work, says his organization has lobbied at least 20 House members since ENDA passed the Senate. Furthermore, his organization's legislative director, Christian Berle, is a Republican, who is planning a major lobbying push among the GOP for 2014.

"We believe in leaving no stone unturned and lobbying even the most conservative members of the Republican conference, because you never know which congressman just had a daughter come out as transgender or a son come out as gay," Alameida says. "If ENDA were allowed to come to a vote in the House, we think it would pass and with some surprising Republican 'yes' votes."
And what's preventing ENDA from a full vote in the House? Speaker John Boehner, who claims to be "opposed to discrimination of any kind, in the workplace and anyplace else." But he added, "People are already protected in the workplace. I'm opposed to continuing this. Listen, I understand people have differing opinions on this issue, and I respect those opinions. But as someone who's worked in this employment law area for all my years in the state House and all my years here, I see no basis or no need for this legislation."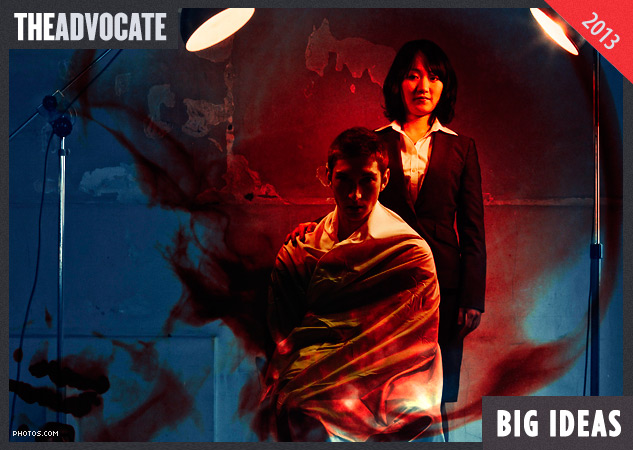 Reparative Therapy Should Be Illegal Everywhere
It has been decades since several mental health organizations in the United States, including the American Psychiatric Association, declared that sexual orientation cannot be prayed or therapized out of existence. Nonetheless, groups like Exodus International persisted to offer such a resource for families with gay children, and adults desperate to eschew their homosexuality.
Wayne Besen, an activist fighting this form of therapy with his organization Truth Wins Out, calls reparative therapy "child abuse."
"Reparative therapy is harmful because the practice is not really about helping the client, as ethical therapy is supposed to be," Besen says. "Instead, it is about bolstering the therapist's antigay belief system at the expense of the client. It is also a mean spirited marketing campaign with the singular purpose of portraying LGBT people as mentally ill."
So-called reparative therapy paints LGBT people as "mentally ill" while also propagating weak methods of therapy to encourage youths to deny their sexual feelings.
The National Association for Research and Therapy of Homosexuality, one of the most prominent proponents of "ex-gay" therapy, keeps a list of 236 activities that can be used to help people distract themselves from urges, according to Besen. The list includes bowling, crying, and playing Frisbee.
The somewhat underground industry began to change however, when California passed a law banning therapy that promised to convert LGBT minors into straight or cisgender people. Despite court challenges, the law remains on the books, and New Jersey soon followed suit with the signature of Republican governor Chris Christie.
In an even more significant move, "ex-gay" group Exodus International announced in June that it would shut down, a year after the organization's head, Alan Chambers, said it would no longer endorse reparative therapy.
This does not signify the end of ex-gay therapy, but the fact that one of the largest organizations providing the resource shut its doors this year represents a changing tide. As more people understand that homosexuality cannot be simply repressed, these so-called ex-gay therapists will lose clients, and money, and power. And as more lawmakers learn about the harms of this therapy, which sometimes go as far as electroshock therapy and exorcisms, more states may follow California and New Jersey in outlawing the practice.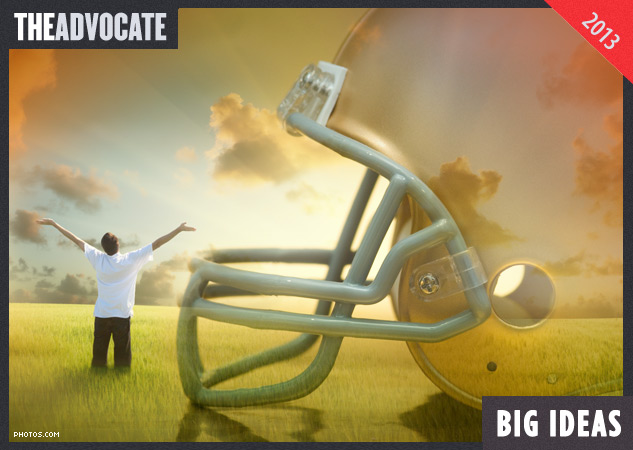 Professional Sports Leagues Can Learn From the Entertainment Industry
At first glance, some of the arguments to keep professional athletes closeted mirror arguments made to establish "don't ask, don't tell." Some worried that having gay players in locker rooms (or gay soldiers in barracks) would dampen team (or unit) morale. Others worried that having an openly gay member of the team or unit might distract from the mission at hand, whether it be winning the game or the war.

But the sports establishment is over it, and like the military, it is dropping its own version of "don't ask, don't tell." Every major league has joined an initiative like You Can Play or It Gets Better to show solidarity with players and fans who may be LGBT. Slinging antigay slurs on the field or court will get an athlete fined and typically shamed on social media and in the news.

This spring, the sentiment was that the wait for an openly gay male athlete was about to hit a tipping point, whether it was one of these rumored NFL players who was planning to come out, or a supposed "someone in the NBA." Jason Collins, whose coming-out thrust him onto the radar of more casual fans, undoubtedly shattered a barrier that held up for so long. Brian Kitts, the cofounder of You Can Play, says Collins should be the first in a wave of athletes that will eventually make being gay in a professional league a nonissue.
"I do think there are a number of players who will become more public with their orientation and, once the first handful of 'name' players comes out, I think sports will mirror the entertainment industry where there's now a collective shrug when someone identifies their orientation," Kitts says.
But before professional sports can mirror the entertainment industry, basketball courts and locker rooms have to be places where people feel comfortable being themselves.
"Athletes respect their teammates as competitors and friends," Kitts adds. "We've had several athletes tell us it's time to change the stereotype of the homophobic athlete. Most athletes aren't homophobic, but no one has ever asked them. You Can Play provides the mechanism for athletes at all levels to start the discussion — to let others know that they're respected and welcome as teammates based on skill, gay or straight. It's a message that's easy to understand at the high school level, and it's easy to talk about from the professional and league level."

Everyone Loved Orange Is the New Black
Who knew that a dramatic comedy set at a women's prison would be on the top of everyone's Netflix list? The same summer that masses of people hunkered down for 13 new episodes of Arrested Development, the unique Fox comedy that Netflix revived seven years after it was initially canceled, viewers also took a chance on a new original series about Piper Chapman, a bisexual fish out of water in a prison in upstate New York played by Taylor Schilling. In the first few moments of the pilot, there were lesbians having sex in the showers, and our protagonist was naked and crying.
And America was hooked.
Through word of mouth, the show became a viral hit chock with internet memes, and the show's actresses soon became beloved. People pined to see Piper and her ex-girlfriend Alex (Laura Prepon) reconcile their differences, and they rooted for Sophia, played by Laverne Cox, to find appropriate medication and heal the ruptures from her past.
Jenji Kohan's show, inspired by Piper Kerman's memoir, has not only helped increase LGBT visibility with complex and funny story lines, but it proves again that a show featuring queer stories can both be a critical darling and a hit for any network. Earlier this year, Netflix reported that the show was its most watched original so far, suggesting that the audience for the show is on par with successful network and cable shows.

While OITNB could be simply billed as a "lesbian show," it has become a fixture among the streaming TV set, as evidenced whether you were talking to a lesbian couple who planned to dress as Piper and Alex for Halloween or a straight guy who had never known a transgender woman in his life but felt immediate empathy for Sophia.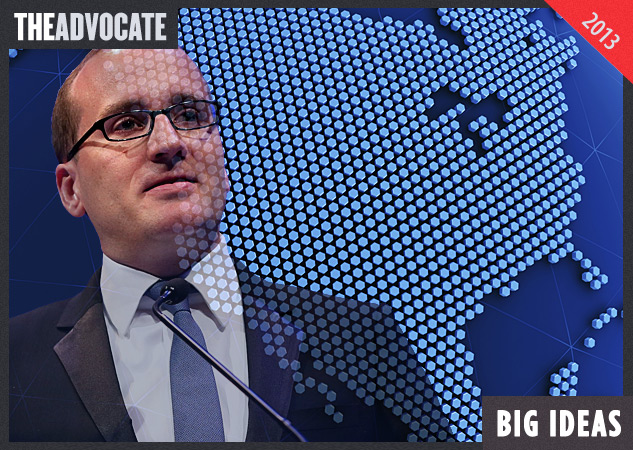 Chad Griffin's 50-State Strategy Seems Feasible
Hours after the U.S. Supreme Court struck down part of the so-called Defense of Marriage Act and, on a technicality, California's constitutional marriage ban, Human Rights Campaign executive director Chad Griffin proposed an audacious goal.
"Within five years, we will bring marriage equality to all 50 states," he said in June.
The idea may have seemed a bit too optimistic even in that moment as people celebrated the major win for LGBT rights. After all, it took nearly a decade after Massachusetts became the first state to establish legal marriage equality for 11 additional states to follow suit.
But in the months following Griffin's pitch, however, three more states (New Jersey, Illinois, and Hawaii) enacted marriage equality, and New Mexico has extended marriage rights in some counties. Furthermore, residents in states like Virginia, Nevada, Oregon, and Indiana are gearing up for either legislative campaigns or court battles to win the right to marry for all couples. In fact, HRC spokesman Fred Sainz says the five-year mark is a practical goal, given the timeline of cases like Perry v. Hollingsworth, which decided the fate of marriage in California.
"We tried to establish a reasonable time frame," Sainz said. "It had taken just over four years for the Supreme Court to decide Perry. The case was filed in May 2009 and decided by the court in June 2013. The next marriage case to hit the Supreme Court will more than likely be decided by the spring of 2017."
Sainz also points out that one of the most visible and vocal advocates on the opposing side of this argument more than agrees with Griffin.
"In fact, Maggie Gallagher [the former head of the National Organization for Marriage] has said that she believes it will happen in three years."
---
Links:
[1] http://www.advocate.com/
[2] http://www.shewired.com/box-office/2013/08/02/raven-symon%C3%A9-tweets-thank-you-government-allowing-her-get-married
[3] http://www.advocate.com/sports/2013/12/02/transcript-and-video-olympic-diver-tom-daley-comes-out
[4] http://www.advocate.com/arts-entertainment/people/2013/12/03/tom-daley-dating-oscar-winning-screenwriter-dustin-lance-black
[5] http://www.advocate.com/sports/2013/11/19/va-state-tennis-champ-comes-out
[6] http://www.advocate.com/acceptance-matters/2013/12/06/op-ed-why-i-filmed-my-coming-out-journey
[7] http://www.advocate.com/politics/transgender/2013/11/16/school-agrees-publish-tuxedo-clad-students-photo
[8] http://www.advocate.com/politics/transgender/2013/06/24/transgender-first-grader-wins-right-use-girls-bathroom
[9] http://advocate.com/year-review/2013/12/16/person-year-finalists?page=0,6
[10] http://www.advocate.com/society/coming-out/2013/08/21/wentworth-miller-comes-out-blasts-russias-antigay-laws
[11] http://www.theguardian.com/commentisfree/2013/dec/11/elton-john-why-went-to-russia-anti-gay-laws-hiv
[12] http://www.advocate.com/politics/media/2013/10/23/thomas-roberts-russia-have-little-faith-me
[13] http://www.advocate.com/politics/2013/12/17/obama-biden-wont-be-olympics
[14] http://www.indiegogo.com/projects/from-sochi-with-love
[15] http://www.advocate.com/politics/2013/11/07/breaking-senate-approves-enda-initial-vote
[16] http://www.washingtonpost.com/blogs/monkey-cage/wp/2013/11/20/polls-say-enda-has-majority-support-in-every-congressional-district/
[17] http://www.advocate.com/politics/2013/11/14/watch-boehner-sees-no-basis-or-need-enda
[18] http://www.advocate.com/politics/2012/09/30/california-officially-bans-ex-gay-therapy-youths
[19] http://www.advocate.com/politics/2013/06/14/new-jersey-moves-one-step-closer-banning-ex-gay-therapy
[20] http://www.advocate.com/politics/religion/2013/06/20/breaking-exodus-international-shuts-down-end-ex-gay-movement
[21] http://www.advocate.com/sports/2013/04/29/nba-star-becomes-first-openly-gay-player-major-league-sports
[22] http://techcrunch.com/2013/10/21/netflix-orange-is-the-new-black-most-watched/
[23] http://www.advocate.com/politics/marriage-equality/2013/06/26/5-years-marriage-equality-all-50-states
[24] http://www.advocate.com/evan-wolfson
[25] http://www.advocate.com/freedom-marry
[26] http://www.advocate.com/lambda-legal
[27] http://www.advocate.com/year-review