---
The 6 Best Parents of 2013
By Alex J Davidson
Originally published on Advocate.com December 23 2013 5:00 AM ET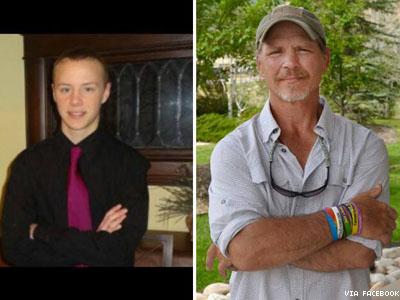 Father From Oregon Killed on Walk Memorializing Gay Son
Joe Bell, the father of Jadin Bell, who committed suicide after being bullied at school and online for being gay. Joe Bell embarked on a Walk for Change across the country but was killed by a semi-truck in Cheyenne County, Colo., along U.S. Highway 40. Joe Bell had intended to walk from La Grande, Ore., to New York City, where his son had hoped to go for college.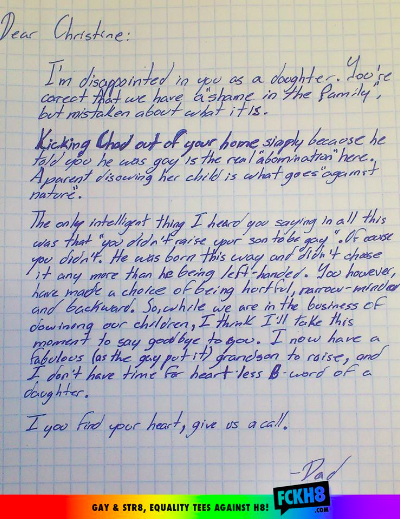 Cool Grandpa Who Shamed His Daughter for Disowning Her Gay Son

The grandfather who wrote a letter admonishing his daughter for disowning her gay son. The grandfather, who was not otherwise identified, wrote, "He was born this way and didn't choose it more than he being left-handed. You, however, have made a choice of being hateful, narrow-minded and backward. So while we are in the business of disowning children, I think I'll take this moment to say goodbye to you. I now have a fabulous (as the gay put it) grandson to raise, and I don't have time for heartless B-word of a daughter."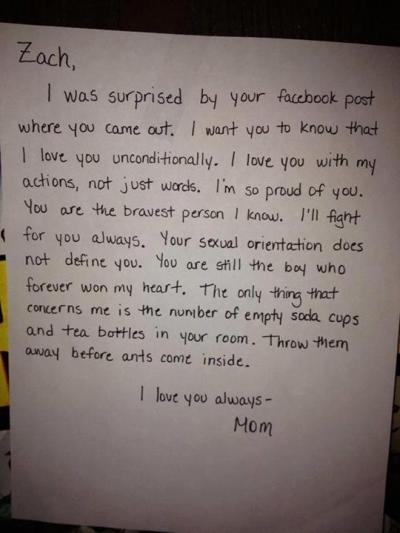 The Mom Who Wrote a Loving Letter to Her Bi Son

Missouri's Michelle Conway McClain who wrote her bisexual son a letter after learning he came out through a Facebook post. The letter reads, 

Zach,

I was surprised by your Facebook post where you came out. I want you to know that I love you unconditionally. I love you with my actions, not just my words. I'm so proud of you. You are the bravest person I know. I'll fight for you always. Your sexual orientation does not define you. You are still the boy who forever won my heart. The only thing that concerns me is the number of empty soda cups and tea bottles in your room. Throw them away before ants come inside.
I love you always —
Mom


Dad's Letter Helps Son Come Out

The father of a closeted gay teen who wrote a letter to his son after overhearing a conversation his son was having about plans to come out to his family. The letter reads:

Nate,
I overheard your phone conversation with Mike last night about your plans to come out to me. The only thing I need you to plan is to bring home OJ and bread after class. We are out, like you now.

I've known you were gay since you were six. I've loved you since you were born.

- Dad

P.S. Your mom and I think you and Mike make a cute couple.

Father and Son Who Biked 1,800 miles to Protest Boy Scout Policy

Dave McGrath, who with his son Joseph biked from Idaho to Texas to protest the Boy Scouts of America's proposal to no longer deny membership for gay youths, but still keep the ban on gay adult leaders. The elder McGrath has two gay sons for whom he is riding, and his identical twin brother, Geoff, is an Eagle Scout and also happens to be gay. McGrath himself has served as a scoutmaster for 20 years.

MSNBC Cohost and Mom Who Discussed Same-Sex Marriage With Her Young Daughter

Krystal Ball, cohost of MSNBC's The Cycle, endured the ire of conservatives after talking about same-sex marriage with her young daughter for an online segment. The frank back-and-forth with Ball's daughter inspired comments from Glenn Beck and Doug Powers, who called the question-and-answer session a form of child abuse.
---
Links:
[1] http://www.advocate.com/
[2] http://www.advocate.com/youth/2013/10/10/ore-father-killed-cross-country-walk-memorializing-gay-son
[3] http://www.gay.net/photo-day/2013/10/02/cool-grandpa-shames-daughter-disowning-gay-son
[4] http://www.gay.net/photo-day/2013/09/04/moms-awesome-letter-her-bisexual-son-goes-viral
[5] http://www.advocate.com/society/coming-out/2013/03/15/dad-helps-son-come-out-heartwarming-letter
[6] http://www.advocate.com/society/activism/2013/05/07/father-and-son-bike-1800-miles-protest-boy-scouts
[7] http://www.advocate.com/politics/media/2013/04/06/conservatives-outraged-msnbc-mom-talking-daughter-about-gay-marriage