---
The 6 Worst Parents of 2013
By Alex J Davidson
Originally published on Advocate.com December 23 2013 5:00 AM ET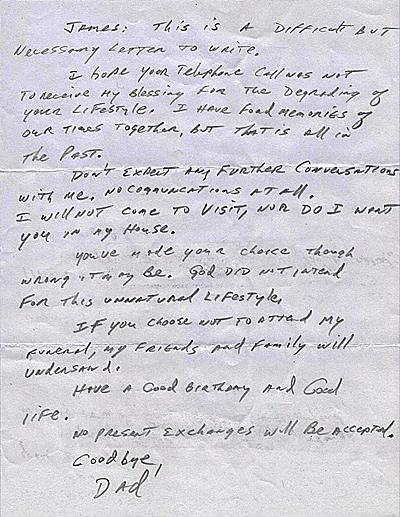 Father Disowns Son In Hateful Letter
A shockingly cruel letter sent from a father to his just-out gay son in which the father says, "You have made your choice though wrong may it be. God did not intend for this unnatural lifestyle. Have a good birthday and a good life." The letter is brief and shows that not all families accept a child unconditionally.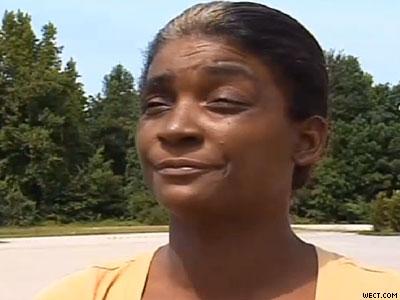 Mom Tells Son to Beat the Gay Out of Brother
Mary Gowans, a mother in rural North Carolina, who reportedly ordered her 12-year-old son to beat her 15-year-old son with a belt in an attempt to make the older child heterosexual. Gowans told TV station WECT that she doesn't agree with the "gay lifestyle" but also admitted that she thinks her son might be gay.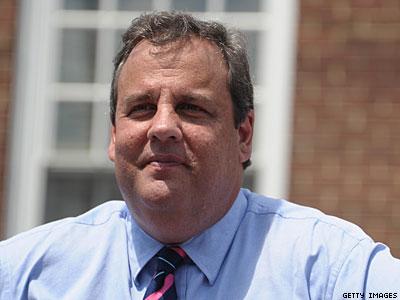 Gov. Christie Says He Wouldn't Support Same-Sex Marriage, Even If It Was for His Child
New Jersey governor Chris Christie, who said during his reelection campaign that he wouldn't support same-sex marriage even if one of his children came out.

Christie talked about marriage equality and LGBT rights at the final gubernatorial debate with then Democratic opponent Barbara Buono at Montclair State University, Politico reported.

"My children understand that there are going to be differences of opinion in our house and in houses all across this state and across this country," Christie said at the debate.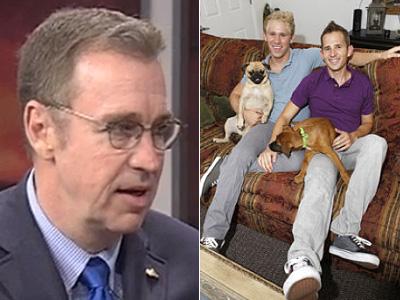 Ariz. Rep. Denies Equality for Son
U.S. representative Matt Salmon, an Arizona Republican, who despite having a gay son does not support marriage equality.

"I don't support the gay marriage," Salmon, a Mormon representing Arizona's Fifth Congressional District, told Phoenix's 3TV News. "My son is by far one of the most important people in my life. I love him more than I can say. … I'm just not there, as far as believing in my heart that we should change 2,000 years of social policy in favor of a redefinition of the family."
Antigay Activist Lisa Biron Found Guilty of Child Pornography After Videotaping Daughter
Lisa Biron, a New Hampshire lawyer who worked with an antigay Christian right organization, who was found guilty of child pornography after she videotaped her daughter having sex with two men on several occasions.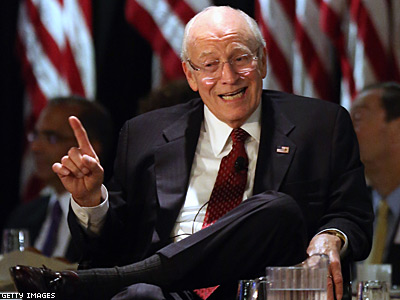 Dick Cheney, Because No List Is Complete Without Him
Dick Cheney for being, well, Dick Cheney. His daughters are publicly feuding about whether same-sex marriage should be legal and he has yet to quell the family dispute. He claimed this year to have supported same-sex marriage back in 2000 but, well, no one can remember when and where he took such a position.
---
Links:
[1] http://www.advocate.com/
[2] http://www.advocate.com/society/coming-out/2012/08/08/shocking-letter-father-disowning-gay-son-goes-viral
[3] http://www.advocate.com/youth/2013/08/29/mom-orders-son-beat-gay-out-your-brother
[4] http://sundance.advocate.com/politics/marriage-equality/2013/10/16/christie-would-oppose-marriage-even-if-his-child-came-out
[5] http://www.advocate.com/politics/marriage-equality/2013/04/01/watch-ariz-rep-says-gay-son-doesnt-change-his-opposition?fb_comment_id=fbc_143227912522456_180583_143433049168609
[6] http://www.opposingviews.com/i/society/anti-gay-activist-lisa-biron-found-guilty-child-pornography-after-video-taping-daughter#
[7] http://www.advocate.com/politics/marriage-equality/2012/07/30/former-vice-president-dick-cheney-claims-he-supported-gay
[8] http://www.advocate.com/year-review